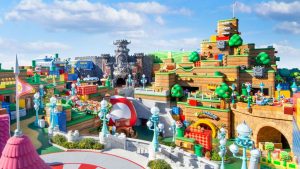 Konohana, Osaka, Japan
November 30, 2020 – Universal Studios Japan announced it will open the long awaited Super Nintendo World to guests on February 4th, 2021. The new themed area featuring augmented reality attractions, including the world's first interactive Mario Kart theme park ride, were unveiled to the media.
Guests on the Mario Kart: Koopa's Challenge! ride wear AR goggles while in 4-seater vehicles accompanied by Mario and his twin brother Luigi. They can throw turtle shells just like in the video game and overturn opponents' cars. The attraction is located inside of Bowser's Castle, that's also inhabited by King Koopa.
The new area also features Peach's Castle and the family friendly Yoshi Adventure attraction that allows visitors to ride on the dinosaur from the Mario series and search for eggs while looking at a map.
The opening of Super Nintendo World was originally scheduled for the summer, but was postponed due to the coronavirus pandemic.
Universal Studios Japan has reduced the number of visitors to about half of capacity to prevent the spread of the COVID-19 virus and will also limit admission to the new area.
See what our members are saying about the exciting announcement in our Forum discussion.