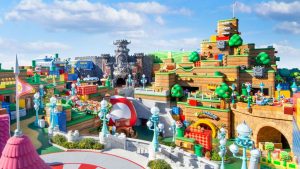 Konohana, Osaka, Japan
January 14, 2021 – Universal Studios Japan announced it will delay the opening of the new Super Nintendo World area themed around the Super Mario Bros. game series, marking the second postponement due to the coronavirus pandemic. Originally scheduled to open in 2020, the park announced a February 4th opening last November.
The new opening delay was announced a day after Prime Minister Yoshihide Suga widened a state of emergency to cover Osaka and six other prefectures due to a spike in confirmed COVID-19 cases beyond the Tokyo metropolitan area.
A total of 11 prefectures, including Tokyo and three neighboring ones that came under the state of emergency last week, will remain under the measure through February 7th.
The park stated the opening date for the new Super Nintendo World area, featuring augmented reality attractions such as the world's first interactive Mario Kart theme park ride, will be announced after the state of emergency is lifted.
The new area will also feature the family friendly Yoshi Adventure attraction that allows visitors to ride on the dinosaur from the Mario series, in addition to the Mario Kart: Koopa's Challenge! ride, which is located inside of Bowser's Castle, that's also inhabited by King Koopa.
See what our members are saying about the exciting new area and the opening delay in our Forum discussion.