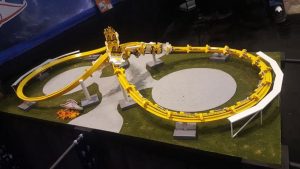 San Diego, California, USA
July 29, 2018 – SeaWorld in San Diego has submitted plans to build a new "roller coaster" for the 2019 season. The proposed new 22 foot (6.7m) high attraction will cover approximately 800 square feet (244m2) with a figure eight layout.
Considering that the park added Electric Eel, a Premier Rides Sky Rocket II roller coaster, this year and judging by the ride dimensions and layout, the new attraction will likely be a Skywarp by Skyline Attractions. Unlike Harley Quinn Crazy Coaster, a standard Skywarp model that is scheduled to open at Six Flags Discovery Kingdom, this will be the Horizon Skywarp variation with lower height and a slightly wider footprint to make it more family friendly.
According to the planning document (below), the ride will be located on the eastern edge of the park between Cirque Stadium and Shipwreck Rapids. An existing restroom facility will be removed to make room for the new ride.
See what our members are saying about the proposed new ride in our Forum discussion.