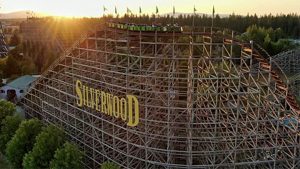 Athol, Idaho, USA
May 12, 2020 – Silverwood will open its gates on May 30th and 31st, and both Silverwood and Boulder Beach will open for daily operation starting Saturday, June 6th. This is the first announced major park opening in the USA, as America starts to rebound from the Coronavirus pandemic. The State of Idaho and local health district have approved the opening during Phase 3 of the state's recovery plan.
Extensive social distancing and cleaning protocols to reduce the risks to guests and employees as much as possible during their time at the park will be implemented. These include reduced park and queue line capacity, so all tickets sold will be reservation only. Complimentary masks will be available for each guest upon arrival, added sanitation wipe down procedures between ride cycles, and alcohol-based hand sanitizing stations throughout ride exits, venue entrances, and other high touch areas, are other steps being taken to ensure public safety.
Season pass holders will have the option to roll them over to 2021, if they are not used by September 27th, 2020.
See what our members are saying about how the COVID-19 pandemic is affecting the theme park industry in our Forum discussion.