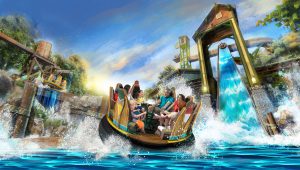 Branson, Missouri, USA
August 13 2019 – In 2020, riders will be able to make a splash on the "tallest river raft drop in the Western hemisphere" when they take on Mystic River Falls at Silver Dollar City!
Replacing the now removed Lost River of the Ozarks river rapids ride, the new $23,000,000 rapids ride will be the centerpiece of a new area called Rivertown. The ride will feature have a five minute duration, where rides will travel nearly half a mile experiencing a 180 foot (55m)  long elevated river channel and a 45 foot (14m) drop. Rivertown will also feature a new Smokehouse restaurant.
Like all the attractions at Silver Dollar City, Mystic River Falls will be superbly themed and feature loads of hidden things rewarding those who look the hardest. After all, the park says the new area will lead riders in search of "secret passages" and that the "greatest adventures lie ahead"!
Chat about this ride and more on our Forum discussion!