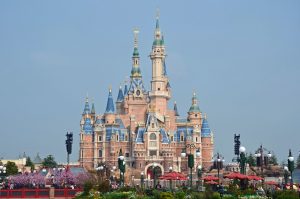 Pudong, Shanghai, China
May 11, 2020 – Shanghai Disneyland reopened after being closed for three and a half months due to the coronavirus pandemic. On reopening day, guests were at less than the recommended 30% capacity and required to wear masks, have their temperatures taken and socially distance. Guests were primarily residents of Shanghai and surrounding provinces due to travel restrictions, as well as some Chinese locals and foreigners who live in the country.
In order to visit, guests must book timed entry tickets online to space out the crowds. They must also show a green QR Shanghai health code, which is the government's color-coded way of contact tracing to determine potential exposures.
The majority of the park's rides and attractions were open, except for the children's play area and other interactive attractions that tend to involve touching surfaces. On the ground, yellow tape marks 6-foot (2m) distances to help families separate from each other while waiting in line for rides or watching some live shows.
Guests can no longer high-five or hug to characters in costume. Instead, they must rely on safe selfie distancing for photos.
See what our members are saying about how the COVID-19 pandemic is affecting the theme park industry in our Forum discussion.