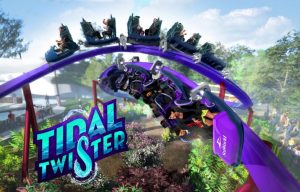 San Diego, California, USA
October 9, 2018 – SeaWorld San Diego confirmed what we predicted a few months ago with the announcement of Tidal Twister, the Skyline Attractions Skywarp that will be coming to the park in 2019. Unlike Harley Quinn Crazy Coaster, a standard Skywarp model that opened at Six Flags Discovery Kingdom in Vallejo, California this summer, this will be the Horizon variation with lower height and a slightly wider footprint to make it more family friendly – making it the first of its kind and only the second Skywarp to be built.
Tidal Twister will stand around 30 feet (9m) tall, with two sixteen passenger trains that feature face-to-face seating which will reach a maximum speed of 30 mph (48 km/h) around a figure eight track. The track crossover features an air-time hill on top and a zero-g roll underneath with the trains loading at opposite ends of the figure eight layout.
See what our members are saying about this new addition in our Forum discussion.