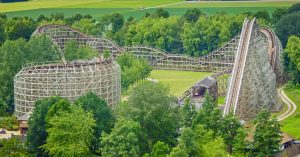 Biddinghuizen, Flevoland, the Netherlands
February 6, 2018 – The Robin Hood wooden coaster at Walibi Holland will be closed for rebuilding until 2019, according to an announcement on the park's Facebook page. The park's official press release confirmed that the re-design will be done by Rocky Mountain Construction (RMC) of Idaho, USA. RMC has previously done extensive conversions of several wooden coasters, altering their layout and adding new elements and inversions, which is made possible by replacing or reinforcing wood track with steel. These techniques are respectively known as I-Box track and Topper Track, the former is usually applied for coaster conversions. The first coaster to receive this treatment was Texas Giant at Six Flags Over Texas in 2011. Since then, the company has rebuilt six other coasters (all in North America), with three more due to open in 2018. RMC has also built Topper Track coasters from the ground up, including Outlaw Run at Silver Dollar City and Wildfire in Kolmården, Sweden.
Robin Hood was built by Dutch manufacturer Vekoma in 2000, being one of only three Vekoma wood coasters in the world. It currently stands at 105 feet (32m) tall and 3,396 feet (1035m) long, but these figures are expected to change after the conversion. It is known in the Netherlands for being one of the country's largest wooden coasters, but internationally it might be more famous for its appearance in the classic coaster game Rollercoaster Tycoon 2 from 2002, where it was recreated along with the rest of the park. Vekoma is RMC's official partner in Europe, and this will be the first case of RMC converting a Vekoma coaster.
Walibi Holland's history goes back to 1971, when it opened under the name "Flevohof". It was bought by the Walibi group in 1994, which sold it to Premier Parks in 1998, which again was bought by Six Flags in 2000. The Six Flags ownership was short-lived, lasting only until 2005. The park operated under the name Walibi World from 2005 to 2010, but has been known as Walibi Holland since then. Six Flags invested heavily in the park during its short ownership, and the year 2000 saw three steel coasters opening alongside Robin Hood, with another opening two years later. During the Walibi World years the park received little in the way of coasters, but opened Lost Gravity, a Mack Rides wing coaster, in 2016.
Read more in our Forum Discussion.