Ocean City, New Jersey, USA
January 30, 2021 – A four alarm fire broke out at Playland's Castaway Cove on the Jersey Shore, causing major damage to the boardwalk amusement park. According to officials, no injuries were reported and there does not appear to be any structural damage to the boardwalk. In a text to CoasterForce, park owner Scott Simpson stated that no rides were affected and the park will open this spring.
The popular amusement park and arcade were among the several businesses that were heavily damaged after the large fire erupted early Saturday morning. Arriving fire crews found flames quickly moving through a building structure that includes the Playland's Castaway Cove arcade and offices, Hamburger Construction Company restaurant and Dairy Queen.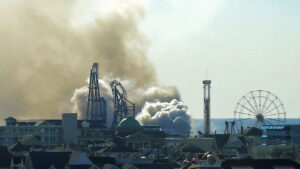 The Ocean City Fire Department responded to the fire around 7:40 a.m. Police, firefighters, and rescue squads came from more than a dozen shore towns to help and the firefighters got the blaze under control shortly after 11:30 a.m. The cause of the fire is unknown at this time and remains under investigation.
In addition to the arcade and offices, the park was storing some ride parts in the building for the winter. Also destroyed was the iconic facade with it's pirate ship rooftop. The arcade building was also the main entrance to the park, but a secondary entrance one block off the boardwalk will be used until the building can be restored.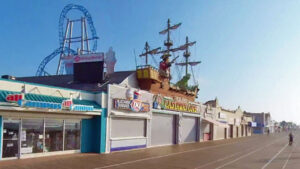 It's been a tough few years for the park, that is coming off a reduced 2020 season due to the COVID-19 pandemic. Prior to that, their new major roller coaster, Galeforce, was scheduled to open in 2016, but needed a new section of track and a re-designed train to operate properly. When it finally opened in 2017, it was determined that the Italian manufactured track was substandard and the entire layout was replaced with new track during the off-season.
Playland's Castaway Cove website