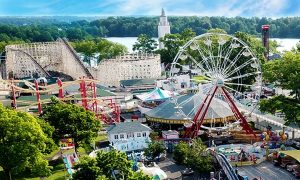 Rye, New York, USA
June 30, 2020 – Playland Park will remain closed for the rest of the 2020 season due to coronavirus risks.
Westchester County Executive George Latimer expressed concerns during a press conference for Playland Park's ability to continue normal activities while maintaining social distance and proper cleaning practices between visitors.
"We're very concerned that something we do could reignite the contagion," Latimer said.
Playland Beach, mini golf, the boardwalk and the Seaside Walk and the Edith G. Read Wildlife Sanctuary will remain open with certain restrictions, according to the park's website.
The beach is open to county residents only. Food concession is only serving take out and seated outdoor dining. Park visitors must wear masks if they cannot maintain a standard social distance of six feet. The park will also host drive-in movie nights throughout the summer.
Amusement parks are not listed in the governor's industry reopening plans for Phase Four, meaning Playland will need to await Gov. Andrew Cuomo's green light to allow full capacity operation. The same goes for nearby Luna Park in Brooklyn's Coney Island.
See what our members are saying about how the COVID-19 pandemic is affecting the theme park industry in our Forum discussion.