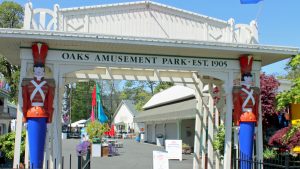 Portland, Oregon, USA
May 26, 2020 – Oaks Amusement Park is replacing its most popular ride with a more extreme attraction. The Scream'n Eagle KMG Fireball rotating pendulum ride will be replaced due to the age of the attraction. It has been the park's most popular ride for the past 15 years, according to a spokesperson, who says the new attraction, the AtmosFEAR, will be a more extreme version of the Scream'n Eagle.
AtmosFEAR will stand approximately 100 feet (31m) tall when in full swing, according to officials. The ride features a pendulum version similar to the ride it is replacing and a 360-degree over-the-top setting for more adventurous riders. Our best guess is that the attraction will be a SBF-Visa Group Maxi Dance Party 360, similar to SpinCycle at Silverwood Theme Park in Idaho (see videos below).
The park anticipates opening the attraction either when they are able to reopen for the year or shortly thereafter. The park says it is waiting for COVID-19 safety guidance from state and county officials for when it will be able to reopen.