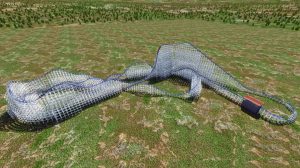 Nagashima, Kuwana, Mie, Japan
September 24, 2018 – According to Japanese Television reports, Nagashima Spa Land has named the RMC (Rocky Mountain Construction) I-Box track conversion of the park's former White Cyclone wooden coaster Hakugei, which translates to White Whale. The steel hybrid coaster is scheduled to open in March 2019 and will feature a 180.4 foot (55m) 80° drop, three inversions, a double-up, an outward banking turn, a double-down, and a top speed of 66.5 mph (107 km/h) over 5,020 feet (1,530m) of track.
Renderings and a model also confirm the removal of the iconic giant mid-course helix White Cyclone was known for. Hakugei is one of two RMC I-Box track conversions scheduled to open in 2019, along with the former Robin Hood wooden coaster at Walibi Holland. Both are also RMC's first overseas I-Box track conversions, with 9 of the previous 10 located in the United States and one in Mexico City.
See what our members are saying and follow the coaster's conversion construction in our Forum discussion.