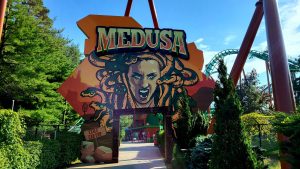 Jackson, New Jersey, USA
July 21, 2022 – Medusa is back! The myth and legend of the snake-haired Gorgon from Greek mythology has resurrected at Six Flags Great Adventure. Originally unveiled as Medusa in April 1999, the world's first floorless roller coaster was re-branded to Bizarro a decade later. Today this epic B&M (Bolliger & Mabillard) scream machine returns to her original form, but showcases a new color palette, logo, Gold Rush-era backstory and theming.
Standing 146-feet (43m) tall, Medusa features a 132 feet (40m) drop, a 114 feet (35m) tall Vertical Loop, a 96 feet (29m) tall Dive Loop, Zero-G Roll and interlocking Corkscrews, all while reaching speeds up to 61 mph (98 km/h). The relentless three minutes and 15 seconds ride experience also includes huge fire effects, in addition to the seven inversions.
The backstory is depicted throughout the ride queue and on the park's YouTube channel. The tale surrounds Greek immigrant brothers who traveled to California during the Gold Rush in 1874 — exactly 100 years before Six Flags Great Adventure opened its gates. Their harrowing quest for riches led them to Death Valley and an unforgiving town of outlaws named Exile Canyon. Earth tremors, mine shaft collapses, a rattlesnake infestation and underground coal fire plagued the outpost and its dwellers. The brothers were convinced that Exile Canyon was cursed by an evil sentinel holding sway over the settlement. Their whispers took hold and earned the town the nickname "Medusa" — the Greek word for "guardian." The town met an unfortunate end as it was wiped off the map in a ferocious flash flood. While the brothers were never seen again, the snakes remained as a solemn reminder of the legend that gripped this doomed outpost.