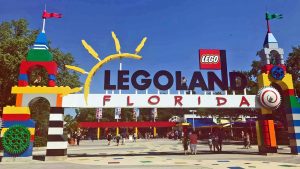 Winter Haven, Florida, USA
June 1, 2020 – Legoland became the first major theme park in Florida to resume operations when it reopened, ending a 76-day closure due to the Coronavirus pandemic. Attendance was light, so there was no need to take any action to control crowd size. Legoland will restrict admissions if necessary to limit the park population and promote healthy distancing.
Precautions were on display beginning in the parking area, where guests were encouraged to leave spaces on either side of their vehicles. At the entrance park staff checked guests' temperatures and handed out face masks, urging guests to wear them although the practice isn't required. All employees wore masks, and some also donned clear face shields and gloves. Visitors also found hand sanitizers at each ride and signs encouraging social distancing.
Newly installed signs throughout the park also conveyed an emphasis on public health and in some areas imprints on walkways shaped like Lego bricks with the words "Stand here" were set six feet apart. Retail outlets like the Minifigure Market, as well as the Fun Town Pizza, Pasta Buffet and some other eateries were closed, further reflecting the emphasis on social distancing for guests.
The theme park is open with limited hours from 10 am to 5 pm for the present, and Legoland Water Park is only open from noon to 4 pm.
See what our members are saying about how the COVID-19 pandemic is affecting the theme park industry in our Forum discussion.