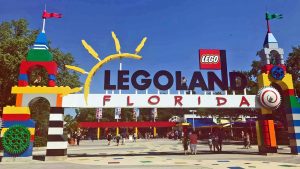 Winter Haven, Florida, USA
December 12, 2020 – According to local news reports, Legoland Florida has submitted planning documents that show the park would like to clear 4.5 acres (18,211 m²) of their parking lot to build a new themed area. It's not known this early on what the area would be themed to, although in the application the plan is referred to as Project Venus. However, the project name may not actually be tied to the land's theme.
The submission shows that the new area would be located near the front of the park in part of the parking lot currently separated from the main park by backstage areas and a road. There looks to be several new rides and attractions on the plans (below), including a large main building, an outdoor amphitheater, a water play area, a roller coaster, a tornado flying-spinning ride, a drop tower, another spinner ride, and some sort of track ride.
Overall, the area appears to be similar to the current Duplo Valley at Legoland Windsor in the UK, but that park recently announced Lego Mythica: World of Mythical Creatures expansion for next year and this could be another version of that. Although nothing has been announced, the park will have its 10th anniversary on Oct. 15, 2021, which gives plenty of time for the new area to be part of the year-long celebration.
The strange part of the proposed area (below in blue) is the lack of any connection to the main park (green) or the water park (red). Both the marked "Theme Park Entry" and "Exit Portal" on the plans are from the parking lot near the bus loop roadway. There are several gates depicted, but they are all for maintenance access and the crosswalk is from the employee parking lot.
The number of rides and attractions is more than double last year's Lego Movie World expansion, so could this be a separate upcharge area or perhaps some sort of exclusive area for hotel guests, as they now have three different overnight options for the resort? With the 10 anniversary right around the corner, an announcement can't be far off.
See what our members are saying about the expansion in our Forum discussion.