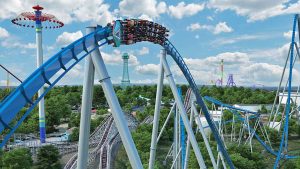 Mason, Ohio, USA
August 15, 2019 – Kings Island confirmed the long rumored giga coaster for 2020 with the announcement of Orion, the park's 15th coaster. Standing 287 feet (87.5m) tall with a top speed of 91 mph (146.5 km/h), the B&M (Bolliger & Mabillard) built ride qualifies as a giga coaster due to its 300 foot (91.5m) drop. The out and back style ride features seven large hills, including a wave turn, over its 5,321 feet (1,622m) of track.
Themed to the park's new Area 72, Kings Island's tallest, fastest and longest steel coaster will be located where the former Firehawk, a Vekoma Flying Dutchman that operated from 2007-2018, was located. One of only seven giga coasters in the world, Orion will be the park's third B&M coaster along with Diamond Back (2009) and Banshee (2014).
See what our members are saying about this exciting new coaster and follow its construction in our Forum discussion.