Louisville, Kentucky, USA
February 23, 2021 – Kentucky Kingdom and Hurricane Bay has been sold to Herschend Family Entertainment, the company that owns Dollywood in Pigeon Forge, Tennessee, and Silver Dollar City in Branson, Missouri, among other properties. The announcement was made at a press conference in the Kentucky Expo Center that featured Gov. Andy Beshear and Mayor Greg Fischer as well as Kentucky Kingdom President and CEO Ed Hart and several other state officials.
"For me personally, I certainly understand that all good things come to end. It's been the opportunity and joy of a lifetime to lead Kentucky Kingdom — not once, but twice," Hart said.
Kentucky Kingdom published a video teasing the sale last week, showing Louisville circled on a map connected to other cities in the region that have properties owned by Herschend. That video was no longer available on Kentucky Kingdom's social media, but we captured a screenshot of it before the removal.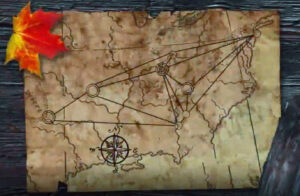 Herschend  CEO Andrew Wexler said the company first saw the potential in Kentucky after taking over Newport Aquarium in 2008. When asked if there would be any big, noticeable changes at the park this year under new leadership, Herschend officials said that they want to evaluate the potential for additions.
"We do open in 10 weeks, so we've got a lot of work to do just to get the park open," said Craig Ross, the chief operating officer of the Growth & Opportunity Group of Herschend Enterprises. "But, we're going to go to work immediately to determine where we want to go with making Kentucky Kingdom a bigger and better and greater park."
Ross, who is also rumored to become the general manager of the park, added that a big focus would be expansions of the parks' season and that they also want to add "experiences" that attract younger and older crowds.
"Thrill rides are really important," said Ross. "They're the lifeblood of our business, but rides that families can enjoy together, likewise, are critically important."
Initially built in 1987, Kentucky Kingdom was purchased by Hart in 1990 and sold to Six Flags in 1998. It closed in 2009 amid Six Flags' bankruptcy filing but was reopened by Hart and his ownership group in May 2014, with owners spending more than $43 million to renovate the park.
The coronavirus pandemic closed doors at Kentucky Kingdom and Hurricane Bay, the water park that shares the grounds with the theme park, earlier in 2020, but the business was allowed to reopen with safety precautions in place in June.
The new operators assured pass holders not to worry about arrangements already made for 2021, as those passes and privileges will be honored under the new management.
See what our members are saying about the selling of the park and it's new ownership in our Forum discussion.