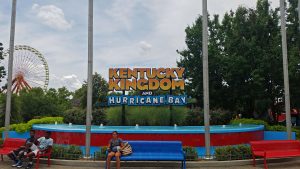 Louisville, Kentucky, USA
November 2, 2017 – On the heels of a very successful season, Kentucky Kingdom announced the park's lineup of new attractions for 2018. These include a new "Scream Xtreme" Zamperla Endeavour thrill ride, a new "Rock 'n' Roller" family ride, and two new films for the 5D Cinema, "Happy Family, The Ride" and "Journey 2 the Mysterious Island," the latter starring Dwayne "The Rock" Johnson.
In addition, the park's classic Thunder Run wooden coaster is undergoing extensive track work, which will deliver a smoother and faster ride.
"We're pleased to report that the park had another record year in 2017," President and CEO Ed Hart said. "My partners and I have invested $70 million in Kentucky Kingdom. In doing so, it's always been our goal to restore Kentucky Kingdom to its former status as a regional destination.
"Before we reopened Kentucky Kingdom in 2014, the park had a total of 27 theme park and water park rides. Since then, we've more than doubled the number of rides and water attractions. These additions include two highly acclaimed roller coasters, Lightning Run and Storm Chaser, both of which are on the list of the world's top steel roller coasters."
Scream Xtreme is inspired from the classic Enterprise attraction and features open air, suspended passenger vehicles that give riders the sensation of flying 60 feet (18.3m) through the air at 25 mph (40 km/h). Rock 'n' Roller is a SBF Mini Himalaya.
Read more in our Forum Discussion.
More information about Zamperla can be found on our Manufacturer's page.