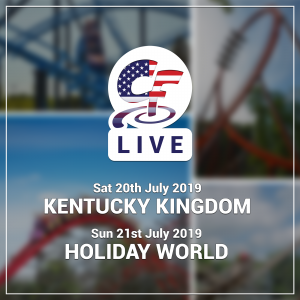 We're heading from fabled Churchhill Downs to the North Pole of the Midwest for our second U.S. CF Live.
Kentucky Kingdom is back on the map yet again with another beautiful woodie, Kentucky Flyer. This brand spanking new ride might be small in size but if it's anything like its sister coasters, will pack a punch you won't soon forget. The park itself is dominated by the water park (BRING YOUR TRUNKS AND SUITS!!!), but you can never avoid the beauty of Storm Chaser and Lightning Run, two airtime machines that will blow your socks off and stimulate your senses in all the right ways.
Holiday World brings you on a Legendary Voyage while you hear a Thunderbird and Raven in the distance (see what we did there?). If you love wood and airtime, Holiday World is the place for you and VOYAGE AT NIGHT IS SIMPLY MAGICAL! If you don't take advantage if this park when you can, you're missing out on an enthusiast bucket list item.
Kentucky Kingdom is located in wonderful Louisville, Kentucky with all the bars, food, and delights you can imagine from any midwest town and Holiday World is in Santa Clause, Indiana. Yes. That Santa. While the town is very small, the local area features many farming towns worth a visit and major cities such as Cincinnati and Indianapolis a short drive away. Join CoasterForce as we revisit these two wonderful parks and show Ed Hart all of our love.
Ride with us!
Meet Up times are 9:15am at the Kentucky Kingdom front gate and 9:30am at the front gate of Holiday World.
This CoasterForce Live is being organized by Snoo, Antinos, and Tomahawk.
Keep an eye on this page and our Forums for important information.
Directions and ride information can be found on the Kentucky Kingdom and Holiday World websites.