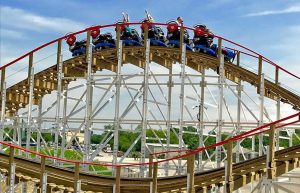 Louisville, Kentucky, USA
April 26, 2019 – Kentucky Flyer, the much anticipated Gravity Group family roller coaster, opened at Kentucky Kingdom. This out-and-back wooden coaster has a minimum height requirement of just 40 inches (110cm), compared to the usual 48 inches (122cm), which means that young ones won't have to wait and can ride with the rest of the family.
Standing 47 feet (14m) tall, the hybrid coaster reaches top speeds up to 35 mph (56 km/h) over some 1,288 feet (392.5m) of wooden track that features 54° banked turns and a dozen airtime points.
Kentucky Flyer is the park's sixth coaster and the third since the park reopened five years ago when owner Ed Hart purchased the park back after selling it to Six Flags in 1998.
See what our members are saying about this fun family coaster in our Forum discussion.