Tampa, Florida, USA
November 28, 2019 – Busch Gardens Tampa has topped off Iron Gwazi's 206 foot (63m) tall lift hill. The tallest RMC (Rocky Mountain Construction) coaster in North America uses a steel lift hill, similar to Goliath's at Six Flags Great America and Wildfire at Kolmården in Sweden, that doesn't require the usual amount of supports found on the company's other hybrid coasters. and is scheduled to open for the 2020 season.
In addition to being the continent's tallest, it's also the world's fastest and steepest hybrid coaster. Along with the mammoth lift hill, the records include a 91° first drop and a top speed of 76 mph (122 km/h). The I-box steel track conversion of the former wooden coaster will also feature three inversions and a dozen airtime hills spread along its 4,075 foot (1,242m) layout.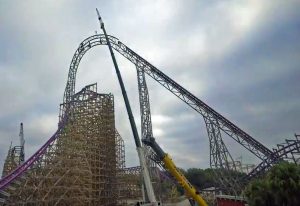 See what our members are saying and follow the construction of this record breaking  coaster in our Forum discussion.