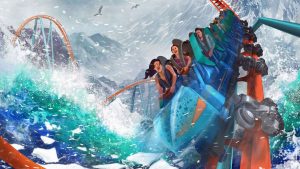 Orlando, Florida, USA
September 12, 2019 – At the same time that Busch Gardens Tampa held their press conference, SeaWorld Orlando announced details of their new for 2020 Premier Rides quadruple launch roller coaster called Ice Breaker. Not only is this the park's first launched coaster, it's also the first custom variation of the popular Premier Rides Sky Rocket II models. The ride will launch forward and backward four times, instead of the usual three, to get the trains up to the top speed of 52 mph (83.6 km/h) and the 93 feet tall (28m) backward spike will curve up at a beyond vertical 100 degrees. Other elements along the 2,750 feet (838m) of track include a 80 foot tall (24m) top hat, a swooping turnaround hill, wave turn and variety of air-time hills.
Ice Breaker will be located near the Wild Arctic attraction and the park will be partnering with the Alaska SeaLife Center to help visitors learn about conservation efforts in the Arctic region.
See what our members are saying and follow the construction of this custom launching coaster in our Forum Discussion.