Sydney, New South Wales, Australia
November 23, 2020 – Luna Park's iconic grinning facade is about to get a $30 million facelift.
The upgrade will include nine new rides, featuring the debut of an Intamin Hot Racer – a concept coaster first revealed by the company in July. Named The Big Dipper in homage to the park's original coaster that operated from 1935-1979, it will be a multi-launch, single-rail coaster. The 85-year-old park is also getting a Gerstlauer Family Boomerang, an indoor kiddie coaster, a frisbee, and six children's rides.
The park will close for renovations on January 27 and is expected to re-open in mid-June, 2021.
The Hot Racer comes in three different "off the shelf" models called Overdrive, Infinity and Autodrome, with each model offering a different experience. This one will be the Overdrive non-racing/dueling version.
Every ride and attraction will comply with regulations relating to noise, height, lights, and hours of operation that had been in place at the harbor-side park since 2004. The investment will create more than 2500 direct and indirect jobs during construction, boost tourism, and help in the economic recovery of New South Wales post-COVID-19.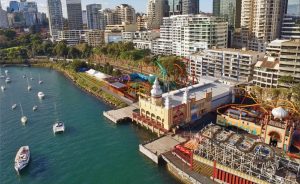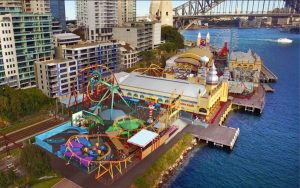 See what our members are saying about this exciting announcement in our Forum discussion.