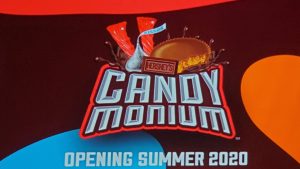 Hershey, Pennsylvania, USA
July 24, 2019 – Candymonium was officially revealed as the centerpiece to Hersheypark's massive new Chocolatetown development opening in Summer 2020. The park's 15th roller coaster will be it's tallest, fastest and longest. Themed with chocolate colored track and candy colored trains, the B&M (Bolliger & Mabillard) hyper coaster will be 210 feet (64m) tall, 4,636 feet (1,413m) long and reach speeds up to 76mph (122.3 km/h). It will also feature the most airtime of any coaster in the park with 7 Camelback hills as well as a 123° Hammerhead curve.
At a cost of $150 million, Chocolatetown represents the largest capital investment in Hershey Entertainment and Resorts' history. The new 23 acre (93077m²) themed area will feature a brand new park entrance, restaurant with bar and patio, large flagship store, and a Hershey's Kisses themed water fountain. Other additions include Confectionary Scratch Kitchen, where guests can watch candy makers at work, and an ice cream parlor as well as a new home for the Carousel, which is turning 100 years old next year.
See what our members are saying about the new coaster and park expansion in our Forum discussion.