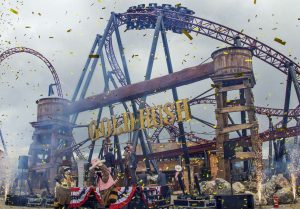 Slagharen, Overijssel, Netherlands
Aperil 13, 2017 – Attractiepark Slagharen opened Gold Rush, the park's new Gerstlauer triple LSM launch coaster today. Using a shuttle style launch where the train goes forward and backward and forward again through the station, the coaster reaches a top speed of 56 mph (90 km/h). At an estimated $5.3 million (€5 million) cost, the coaster also features two inversions – a dive loop and a first-of-its-kind sling loop.
"With the introduction of this first triple launch roller coaster and the fastest in the Netherlands with two inversions, we think we have the perfect successor for the oldest looping coaster in the Netherlands: the Looping Star," said park manager Wouter Dekkers.
Gold Rush replaced Thunder Loop, the park's classic Schwarzkopf Looping Star coaster that operated from 1979-2016.
Read and view more photos and videos in our Forum Discussion.