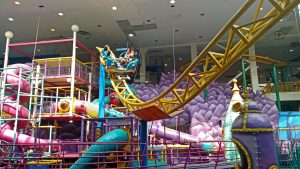 Edmonton, Alberta, Canada
October 10, 2020 – The Galaxyland indoor theme park at West Edmonton Mall reopened with coronavirus safety measures in place, including limited capacity, maintaining social distancing, mandating the use of masks and keeping some attractions temporarily closed, including the Mindbender roller coaster.
Following a closure since March, more than 50% of the rides opened including the Galaxy Orbiter coaster, the carousel, the Cosmic Spinner, bumper cars, Dragon Wagon and Lazer Vault. Galaxyland chose family-friendly rides to minimize any potential spread of the virus and prevent masks from coming off when rides are in motion, so in addition to the park's largest coaster, the fast-spinning HAVOC also remains closed.
In order to follow public health guidelines only 600 people are allowed in at a time, that's roughly 10 per cent of the park's capacity. Alberta Health Services (AHS) recommended 33% capacity but the park wanted to be extra cautious for its return.
Physical distancing is required while in line and access is limited to the two mall entrances near the food court and Dollarama. Masks are mandatory while in the park and rides will be wiped down after each use. Similar to the waterpark, which already opened, Galaxyland will also be gated.
General admission has been reduced from $49 to $30 and the park recommends visitors purchase their tickets online rather than at the door to prevent congestion.
See what our members are saying about how the COVID-19 pandemic is affecting the theme park industry in our Forum discussion.