So after all the sh*t they had, Walibi Belgium is back. And they have promised us the biggest Halloween event they ever had in their history. Not much is known yet. But what do we know already?
* A brand new haunted house: Lost Forest.
* Only 4 mazes instead of 6...
Official poster for this years event: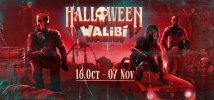 Picture by Walibi Belgium -
www.walibi.be
Last edited: