With the news that Weiner Prater was getting Olympia Looping till the end of the summer I needed to get myself (finally) over to Vienna. With a Bank Holiday approaching fast and without any plans Benin and I finally decided to throw money at a little trip over there (due to flight costs we came back on the Sunday night - glad we did as I
needed
that Monday to sleep).
Saturday 30th April
Our very long day began with a 5:30 meet up at East Croydon for a train to Gatwick airport. Gatwick airport had a weird vibe going on, it was quiet (on a Bank holiday?) and their IT systems were down meaning manual check in/security. All flight gates and times were being updated via random staff with their phones out. All very weird. Even Wetherspoons was pretty empty.
We finally got on our plane and everyone was settled in. We didn't go anywhere. Due to having to do everything manually they were having to do all their pre-flight safety checks by hand which took forever. The staff were being rather light-hearted about the whole thing with even the pilot quipping "this is going to be like a Monty Python sketch" as he reveals that anyone with a checked in bag would have to get off the plane, claim their bag to put in the hold and then get back on the plane. It was like organised and amusing chaos and it was all treated in a very British way. Finally everything was ready and we were ready to go and according to the pilot "we've been given the go ahead by Easyjet management to go as fast as we can".
As you can imagine we got into Vienna airport a bit later than planned but it didn't really affect our day. We sorted out our city based travel ticket and got on the next train to Sudtiroler Platz Hauptbahnhof. We grabbed some lunch while we adjusted our plans and decided the best option would be to get a taxi to our first cred of the day.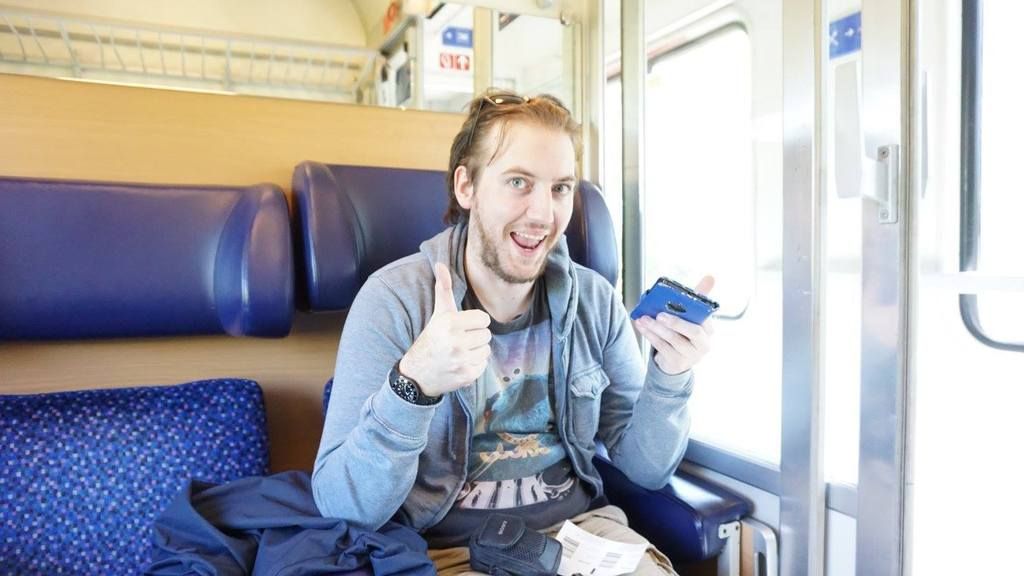 Being about 10 minutes away by car but with only 1 train an hour, Böhmischer Prater has one kiddy cred called Shark Trip. It's a rather unusual "park". Living on the edge of a rather large hilly park this is essentially a road with various rides and things to do in plots of land you'd expect to see houses on.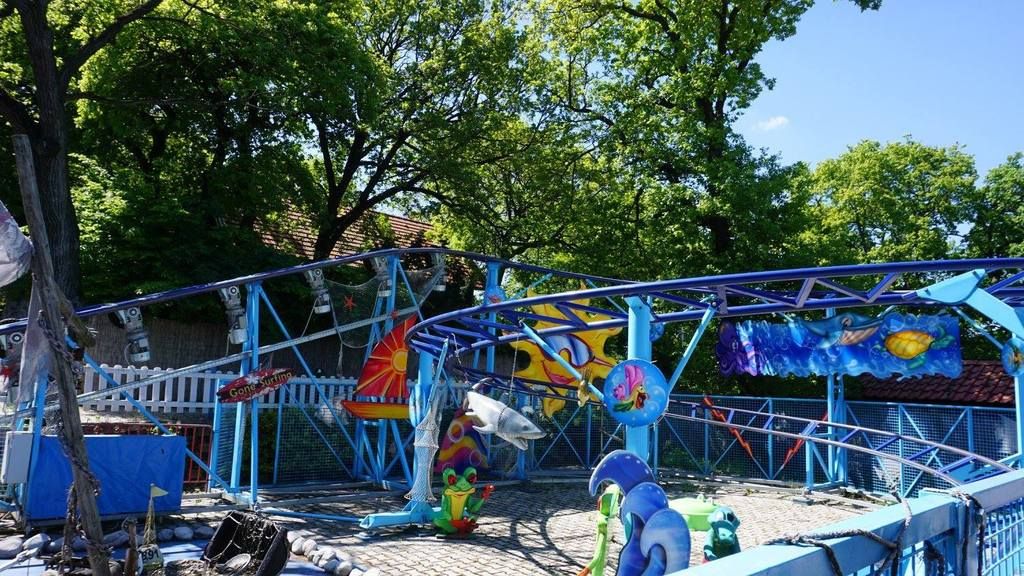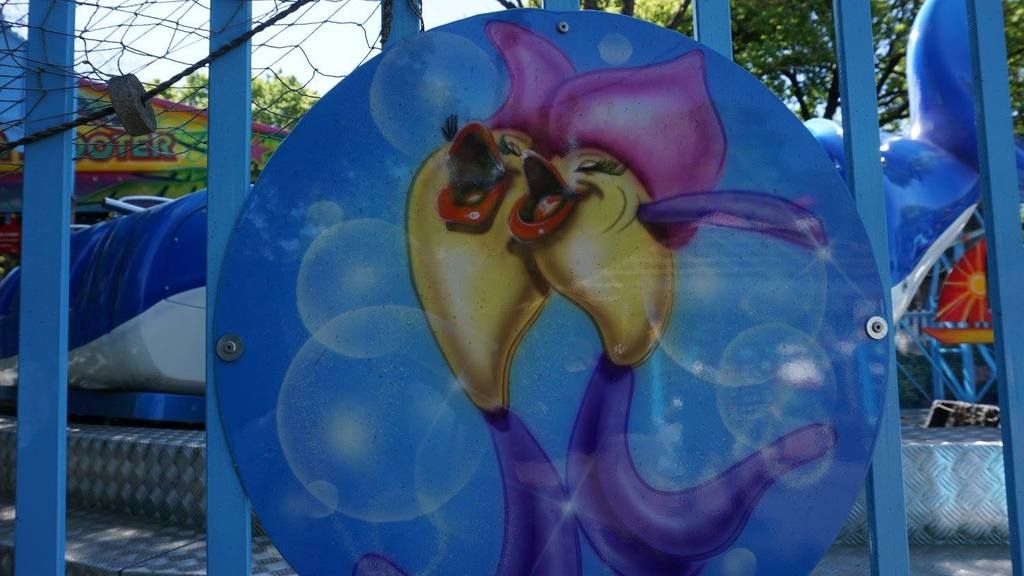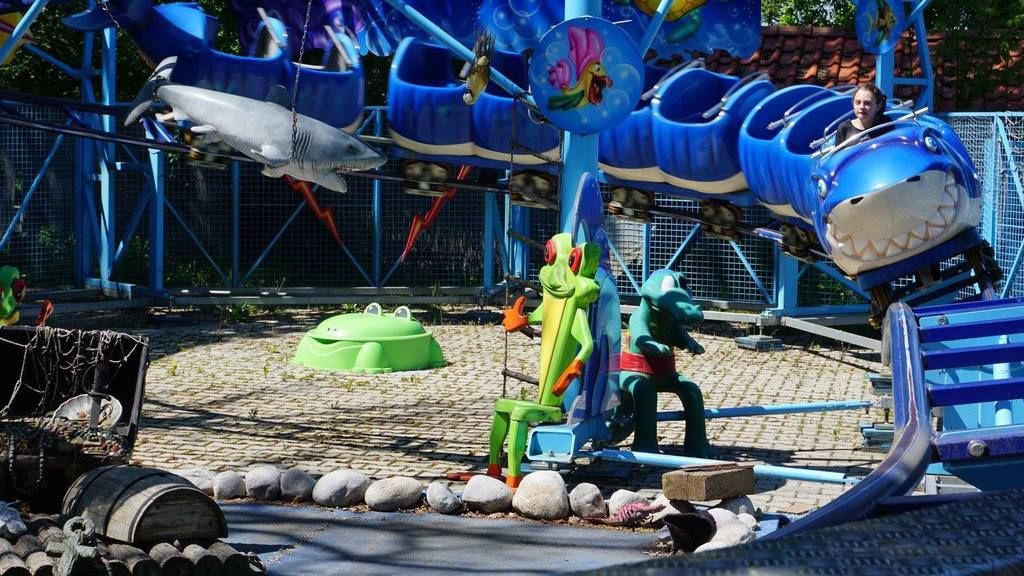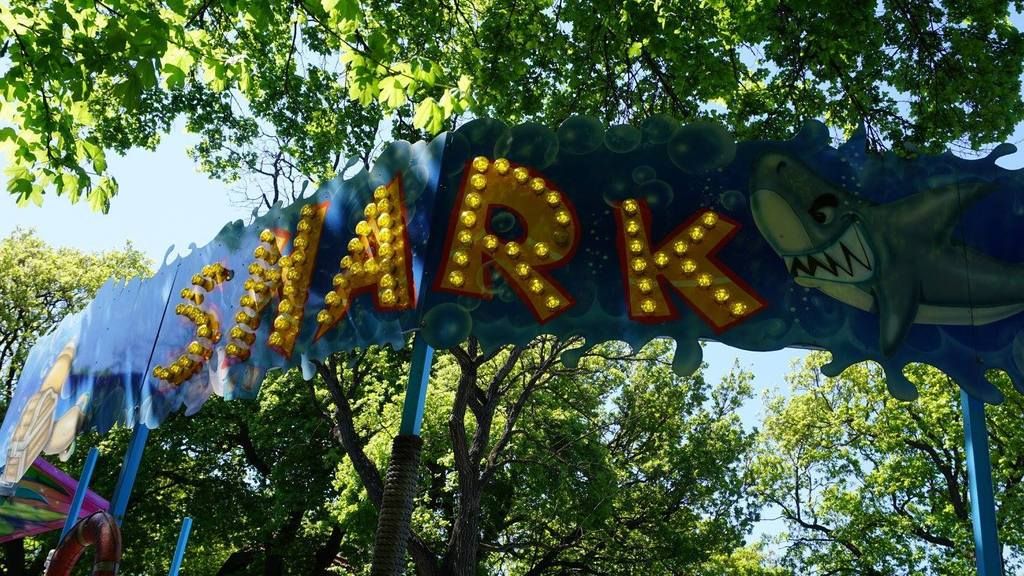 We were amused that there was an old lady operating both the cred and some dodgems from her little box. The cred did about 15 burdenous circuits. Boy do these little coasters pick up some speed by the time they get to the bottom of the helix. Have some photos of the rest of the "park"...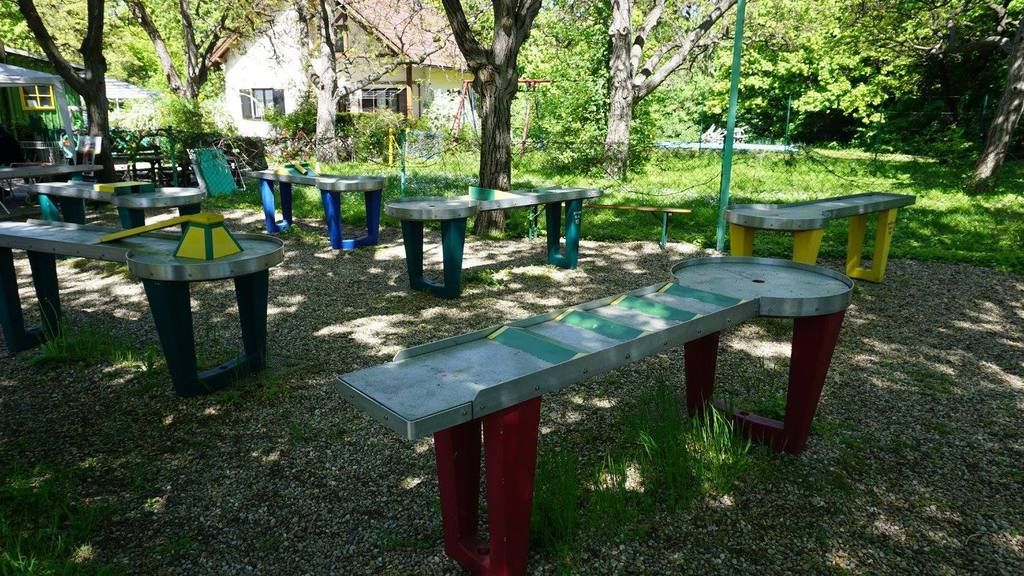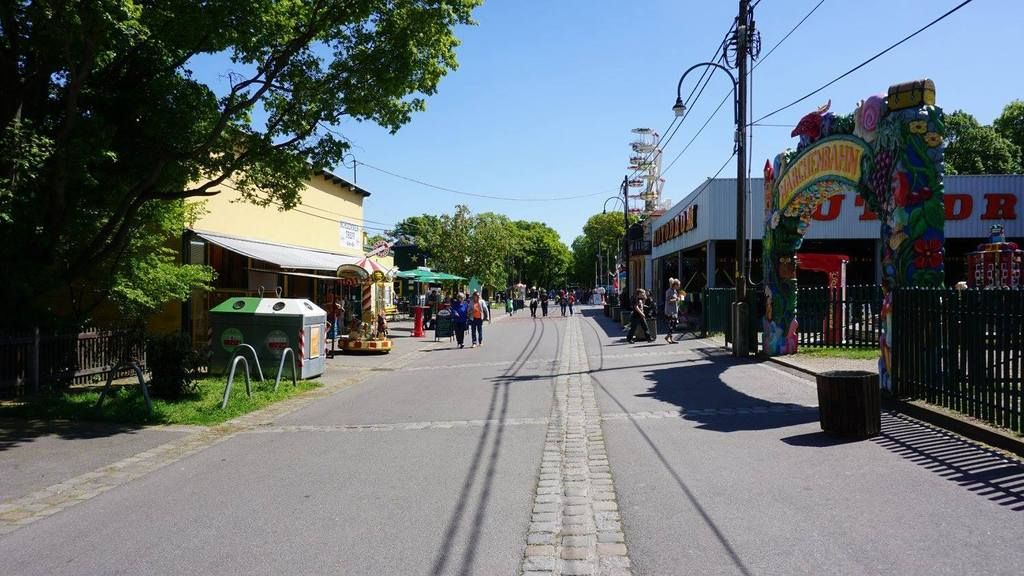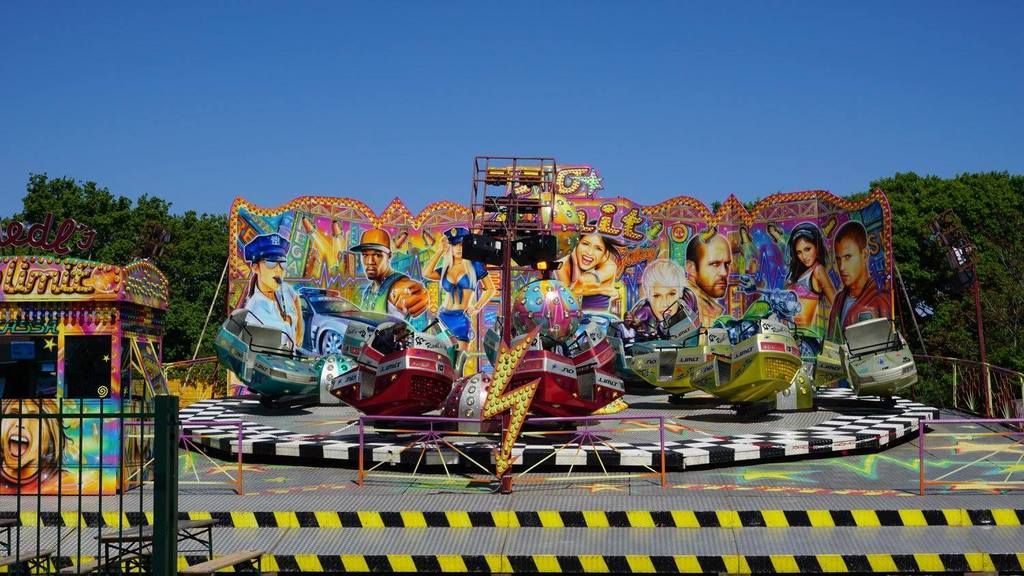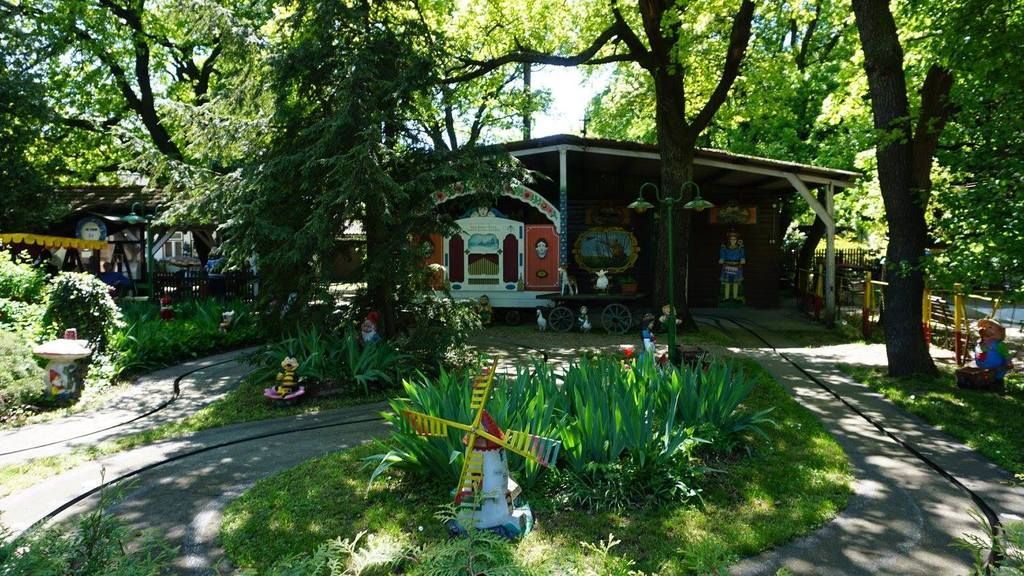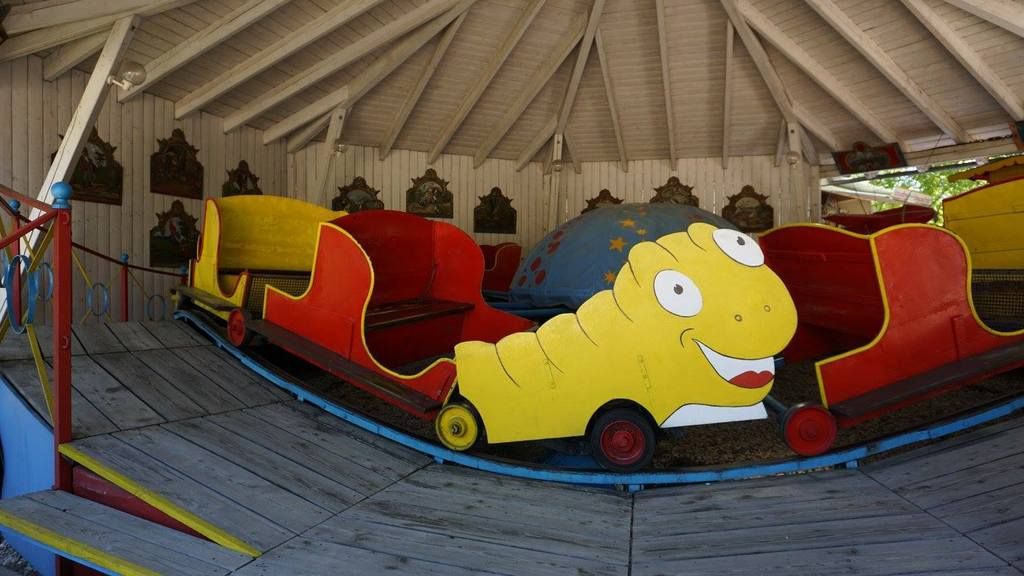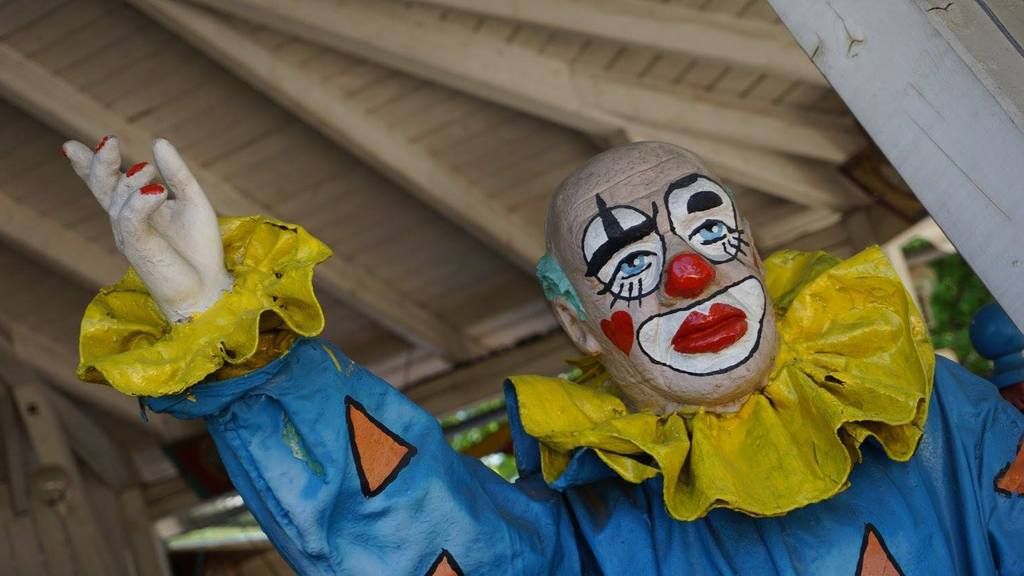 I should mention that it was hot and we now needed to make our way to the train station. Luckily it was downhill and just as we were getting close to the station the train stops and leaves the station (sad face). No worries, for another 20 minutes walk away is a U-Bahn station. We then get a couple of trains up to Praterstern station.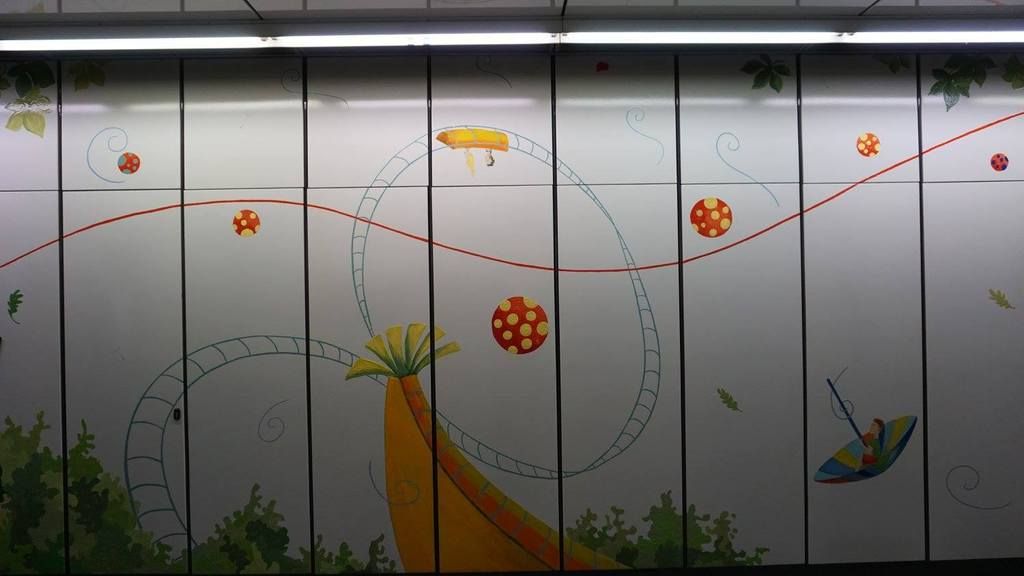 A good clue as to what's here
We decided that we should check in before doing anything else. Luckily our hotel (Motel One Wein-Prater) was practically at the park. Getting rather excited at the site of the long-awaited Schwarzkopf coaster...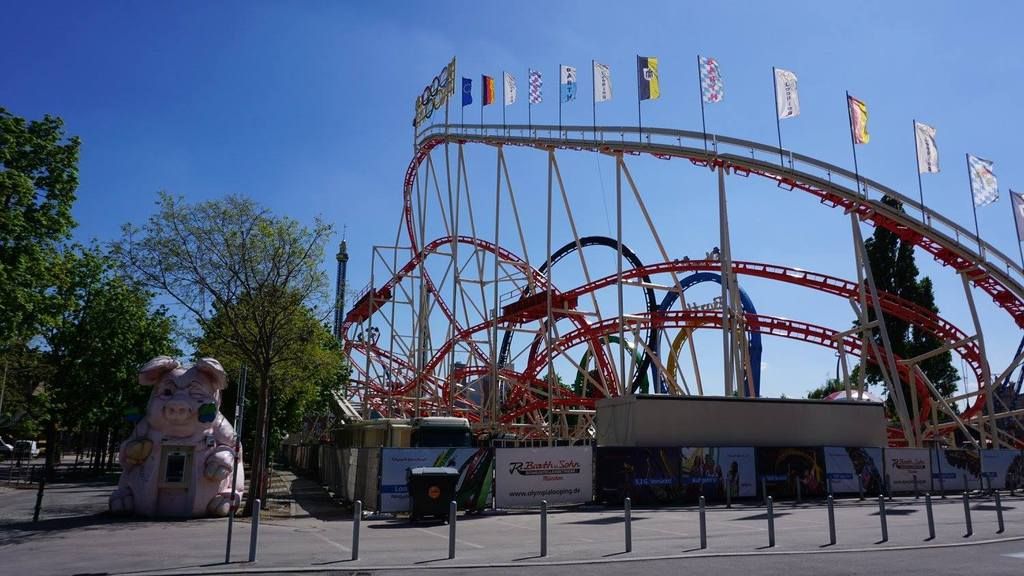 Oh look, our hotel is opposite!
The hotel was uber posh and modern, we loved the reception/bar area (which was actually being used by loads of people in the evening).
The room was a decent size but wow the excitement levels when we were realising that our room would be facing Olympia Looping was insane.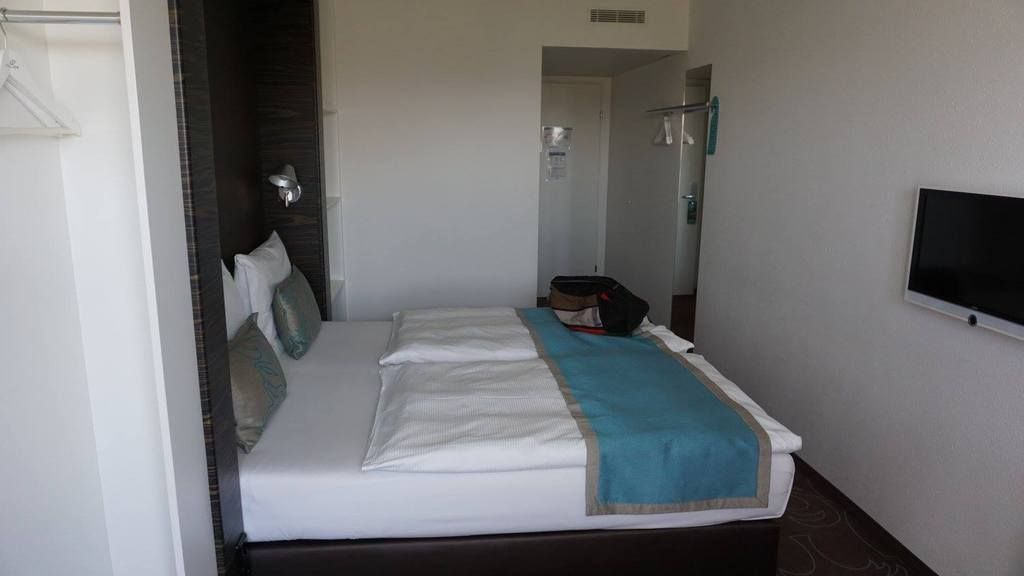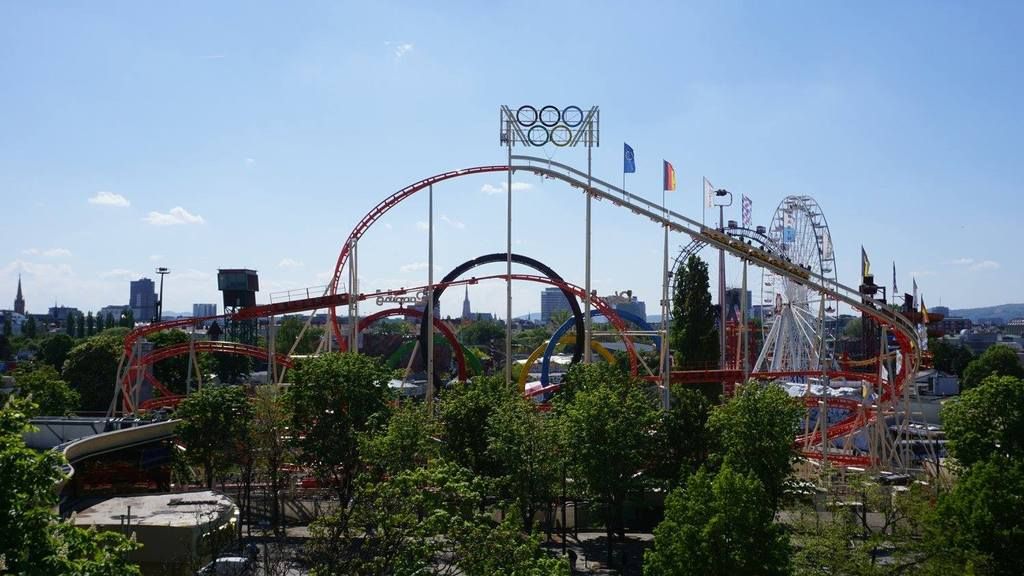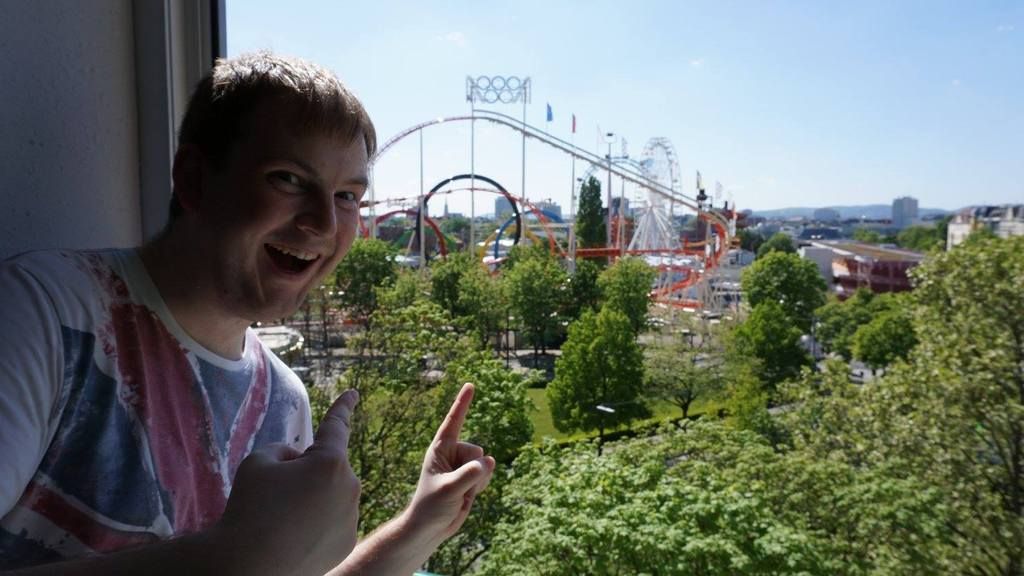 We were going to go do culture and then come back to the prater but just seeing it there we couldn't wait and as soon as we freshened up we were throwing money at the lady so we could get on Olympia Looping.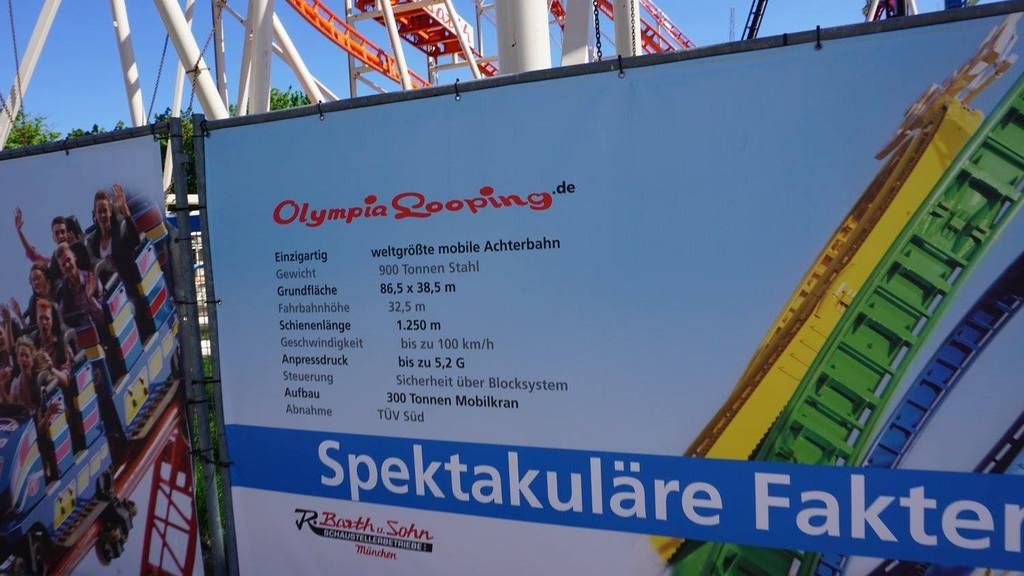 *voms*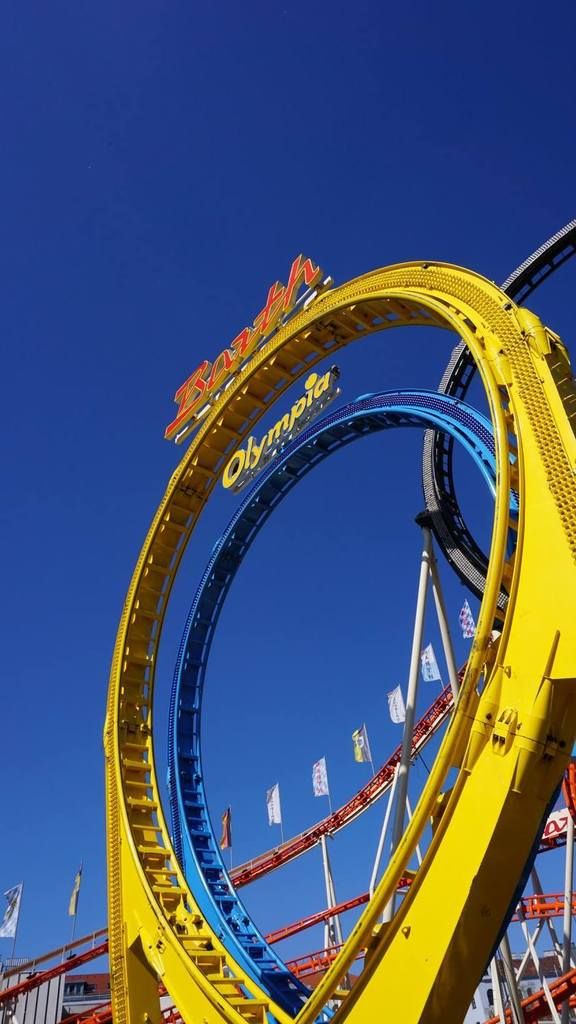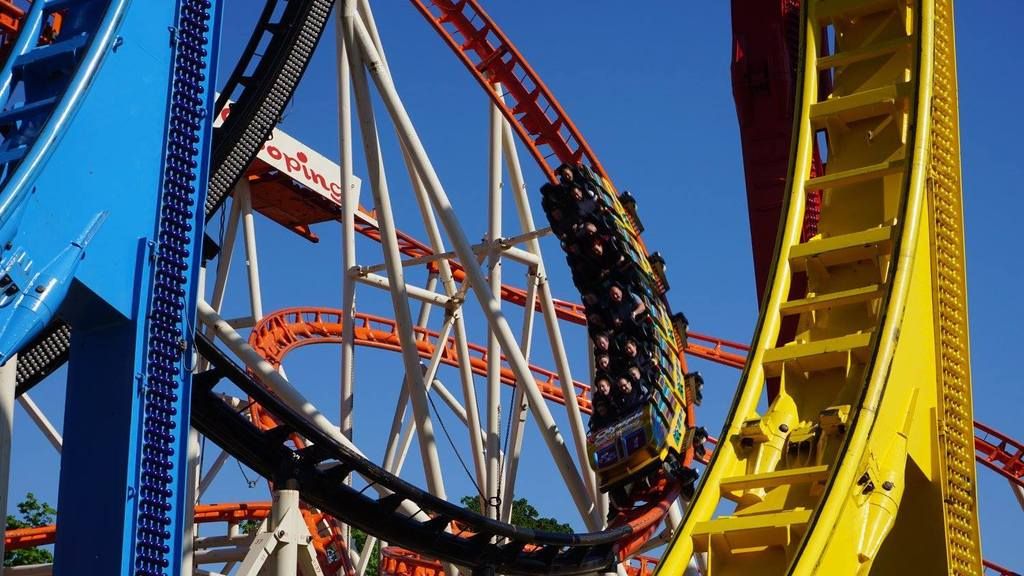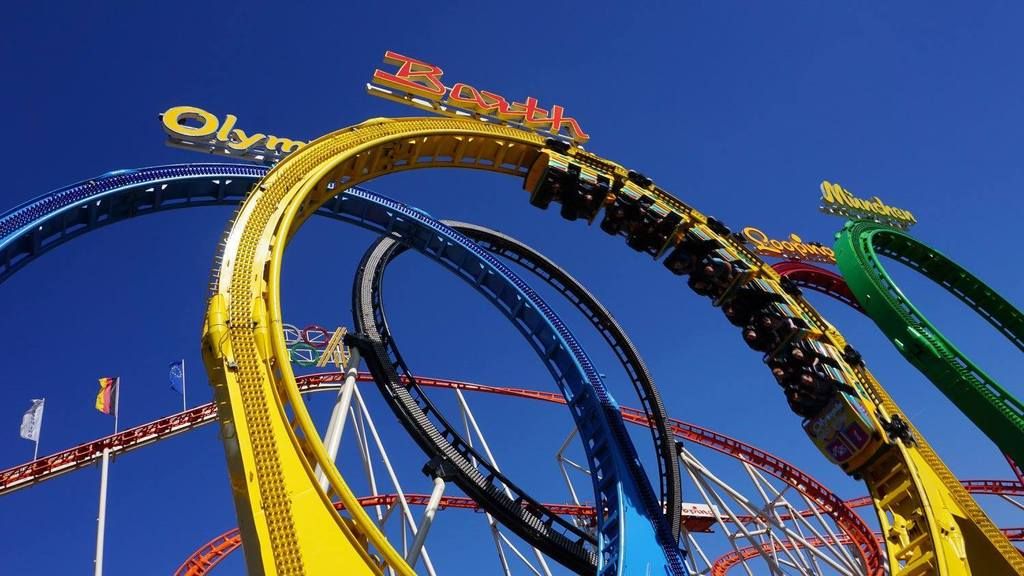 After years of waiting, what did I finally think of it? I really enjoyed it, it wasn't as intense as I was expecting it to be but it was really fun. It was just annoying we couldn't keep re-riding it.
Onwards then and we were intrigued by the icy shooty ride. Not interested enough to throw like €4 at it.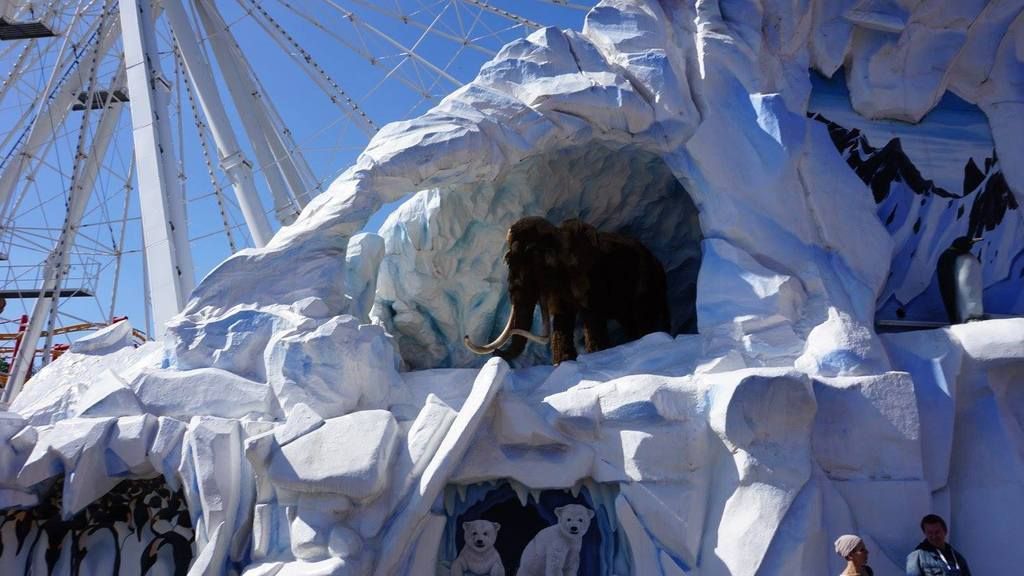 I liked the themed snack stall...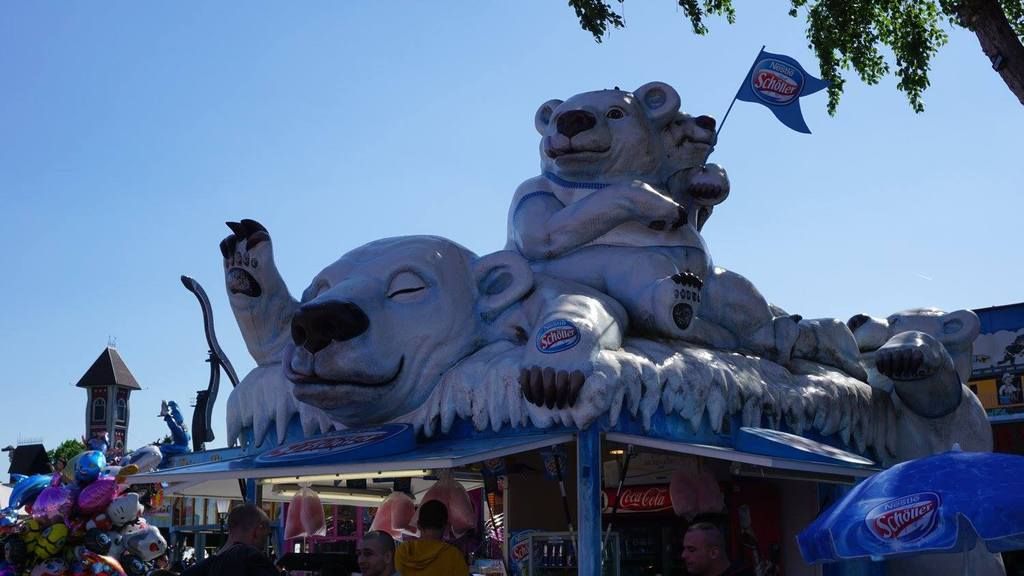 There was a breakdance but it wasn't being run as insanely as I was expecting.
I have no idea what these tall things were but they were spinning and people were trying to stay on...
Next up was our third cred of the day, the Volare! This was only my second one (first was at Canada's Wonderland, which I thought was ok) and I expected bad things but apart from a bit of head bashing on a turn or two I don't think it's that bad? I really enjoy the inversions on them.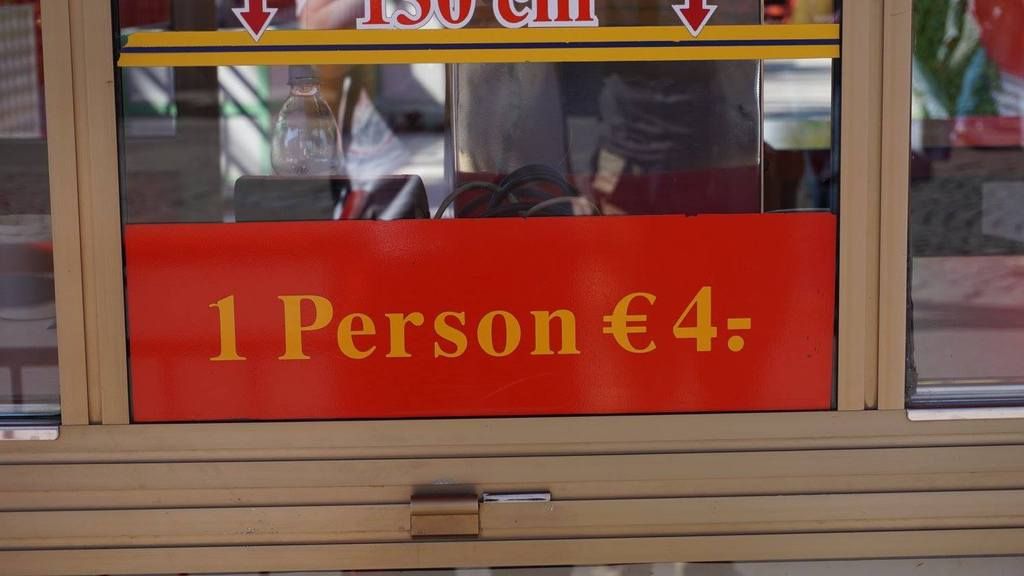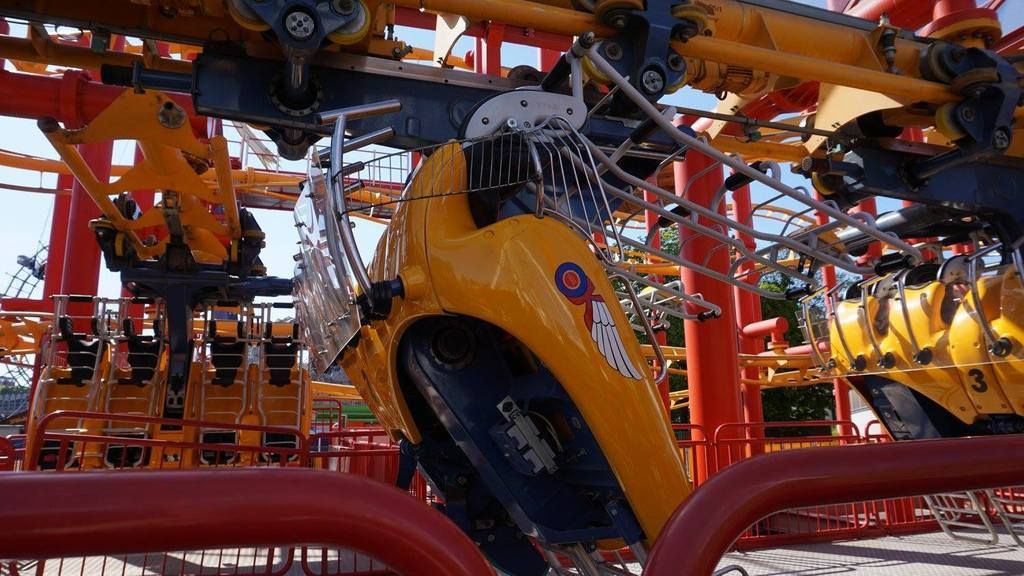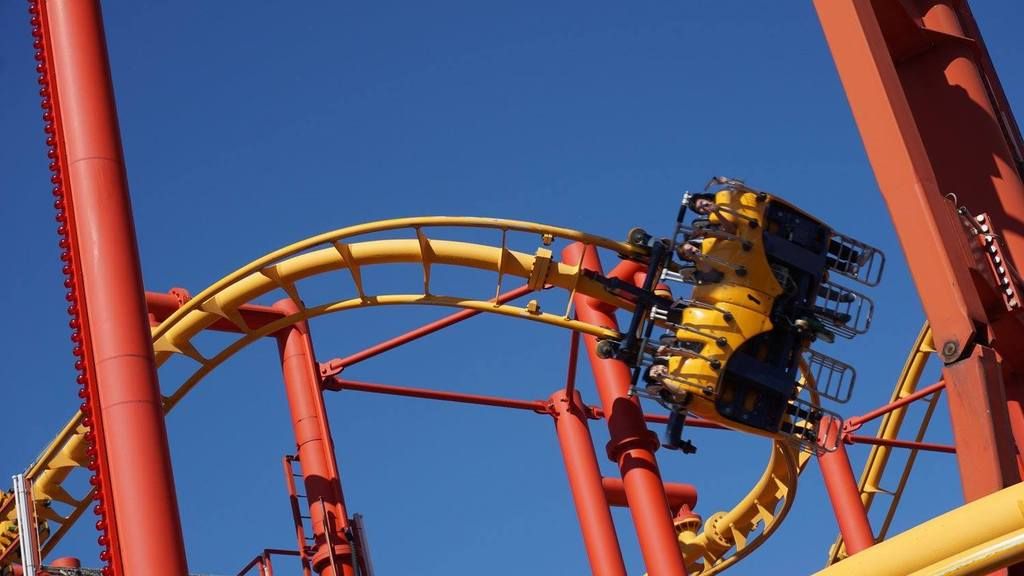 There were plenty of ghost trains, most of them looked rubbish.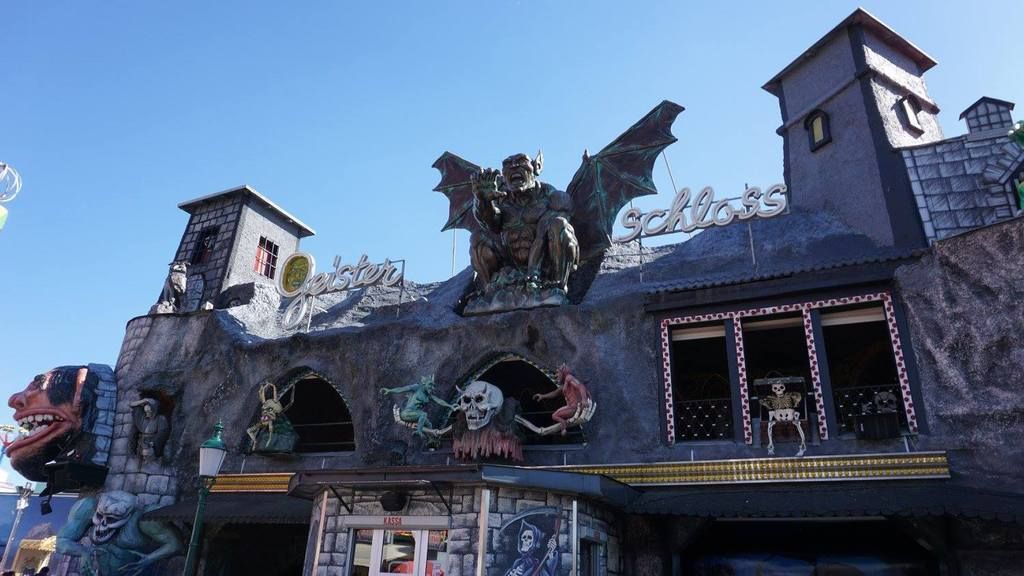 I loved how epically themed their rapids ride is, due to the heat it was very popular. It looked like a fun ride but the day was already going to cost a small fortune.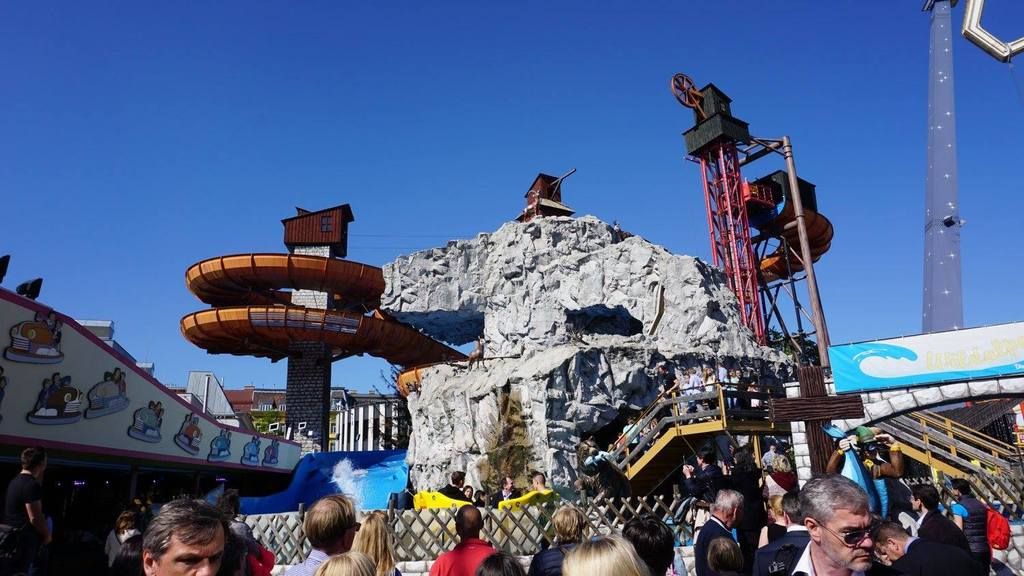 All the toilets seemed to have themed signs which were all rather odd.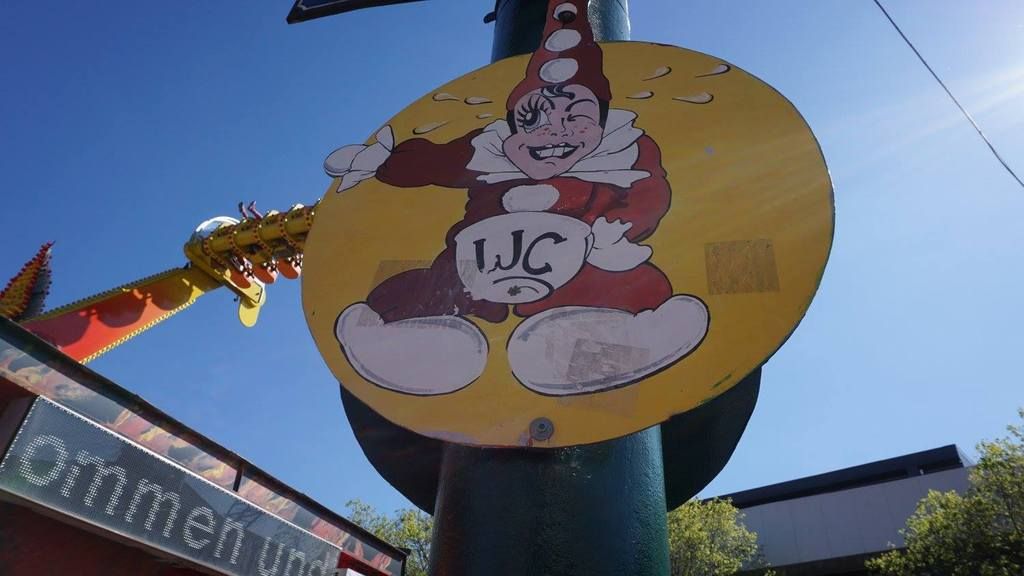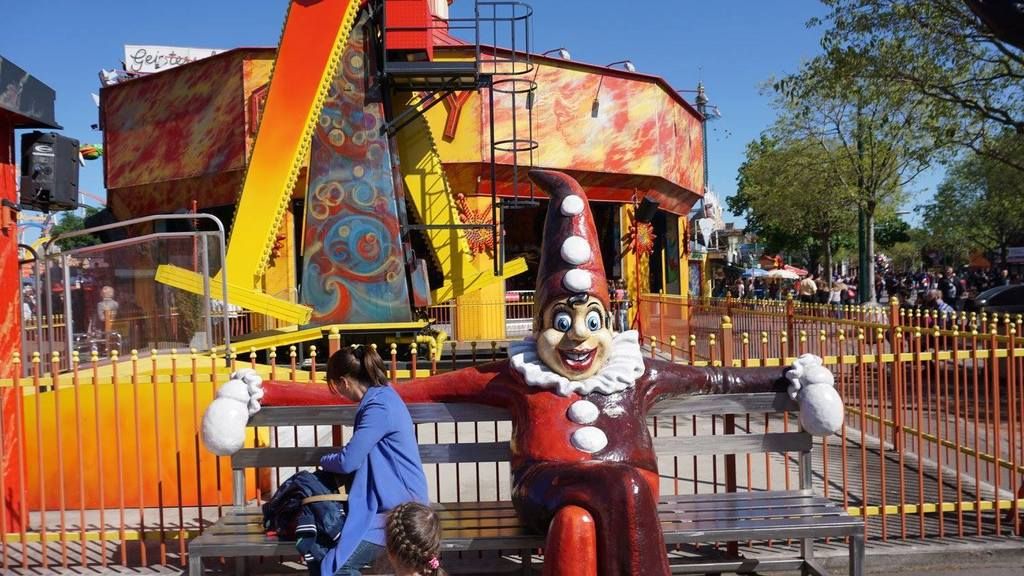 Our next coaster of the day was Insider. An indoor spinning Maurer. Note: There are lockers before the queue which require a €1 coin to use. The queue was quite long and incorporated a really dark and mysterious mirror maze and a corridor with lasers. Once on the ride it's a standard layout but there's some cool lasers going on which was nice.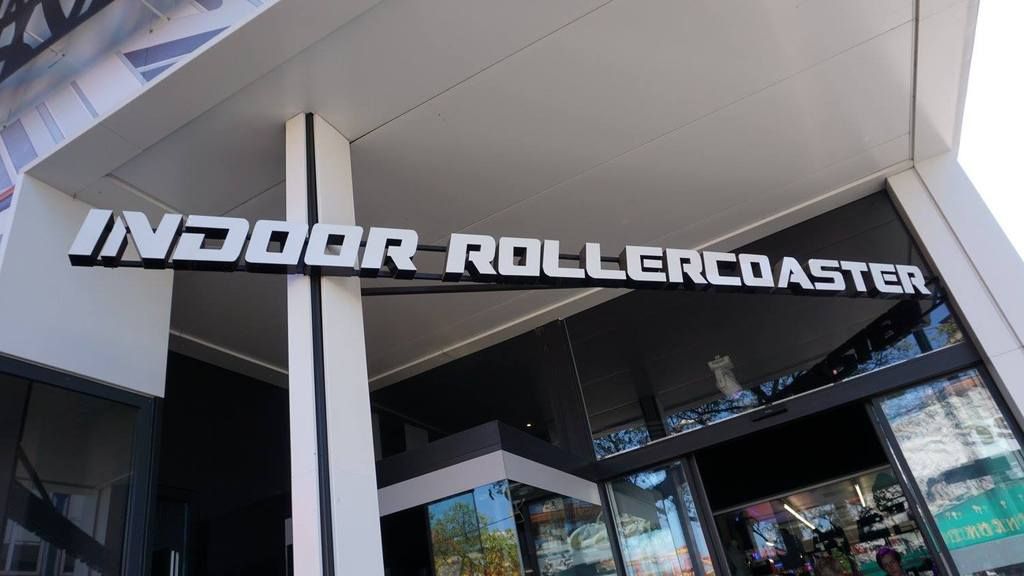 Random question time! Is the below ride on fire or does it just have an epic smoke machine?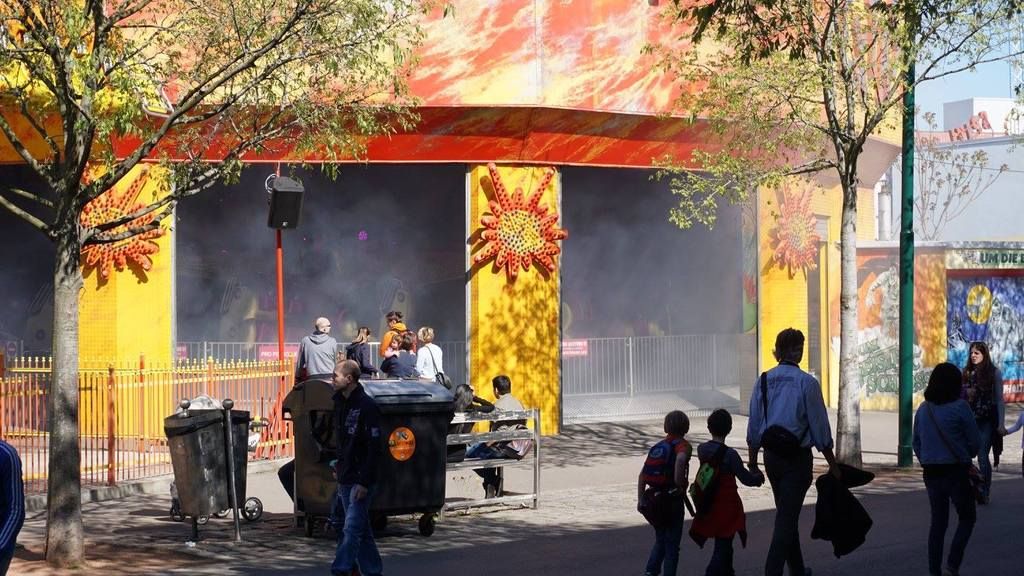 Answer: An epic smoke machine!
We found ourselves in the sort of main entrance area which has a Madame Tussauds and (recently opened) rollercoaster restaurant...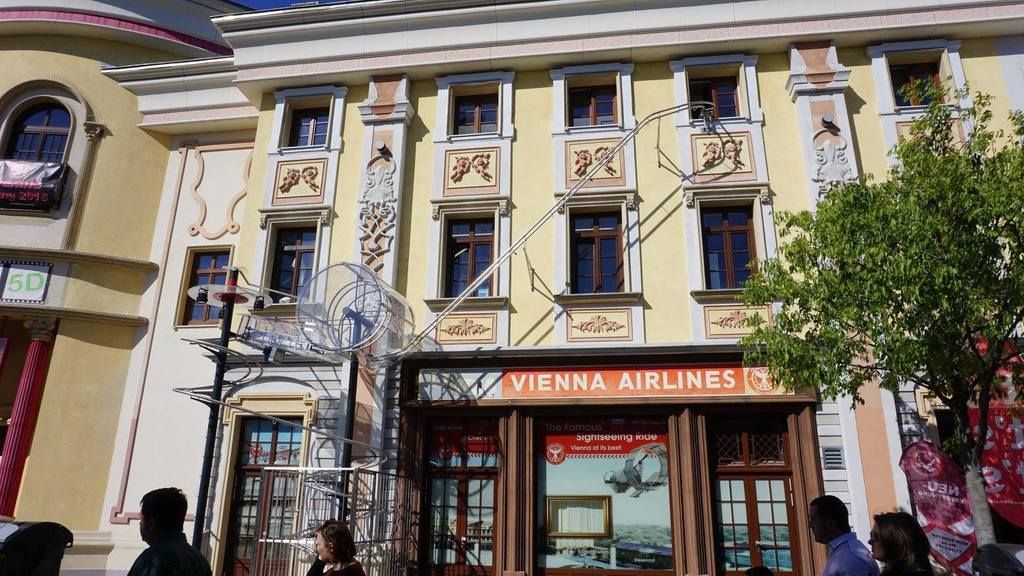 I loved the style of this area, a shame it's not a continued theme throughout the park. I also love the old wheel. Our next rollercoaster was the rather inspired Dizzy Mouse coaster. Urgh, ridden so many of these. I liked the random lion themed tunnel though.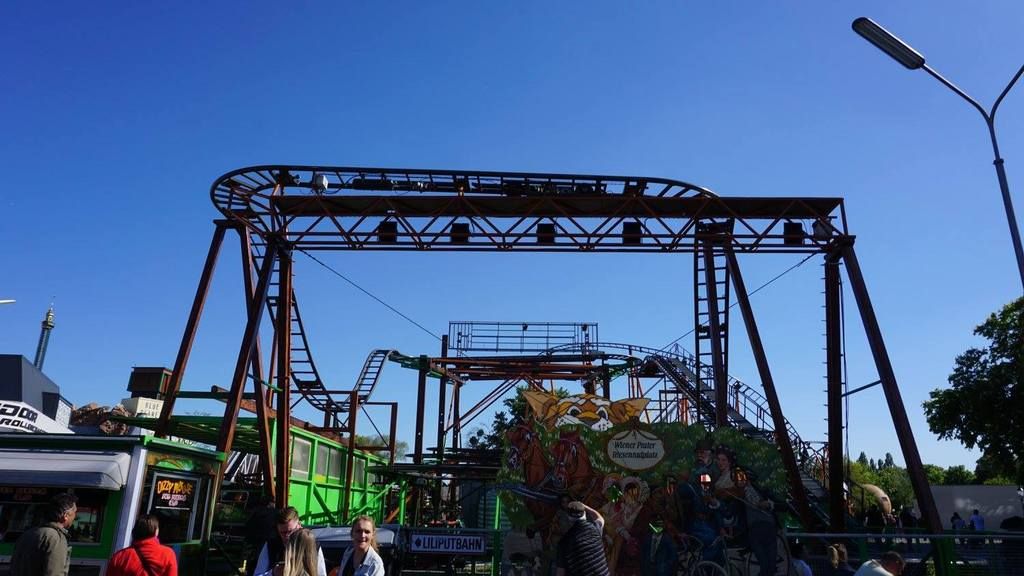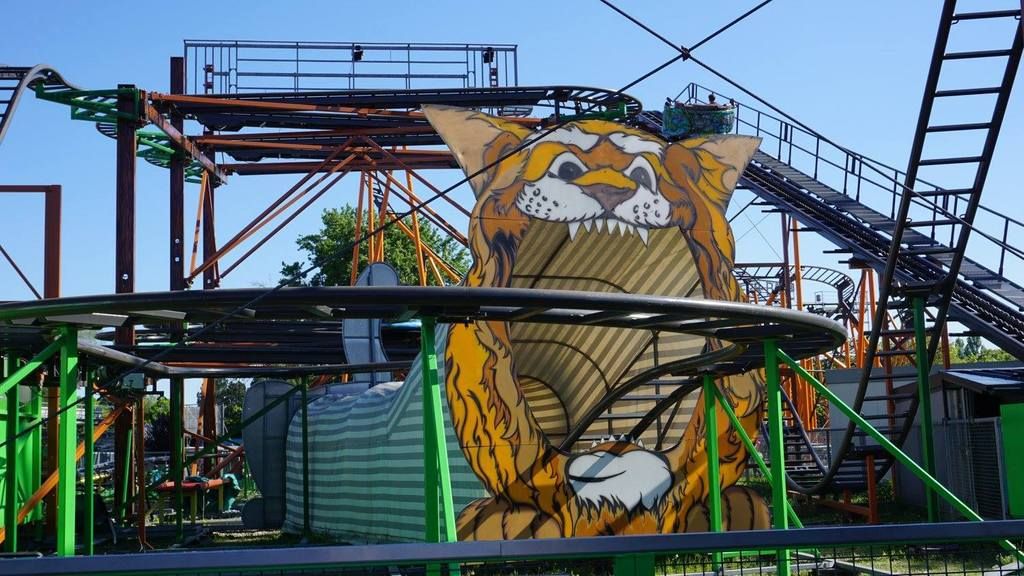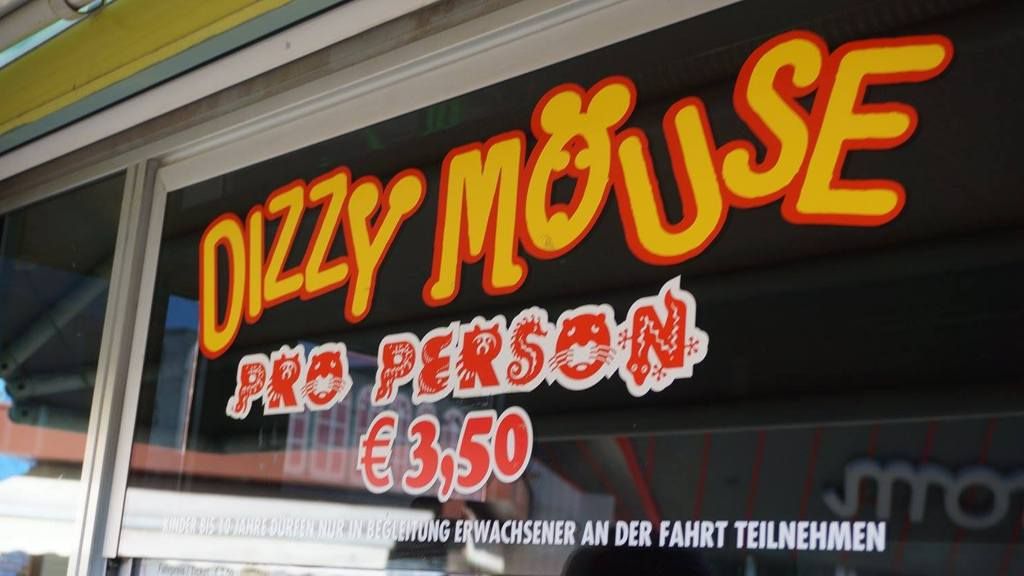 Then it was time for the interesting-looking Super 8er Bahn...
[youtube]http://www.youtube.com/watch?v=LRopB7yGAXE[/youtube]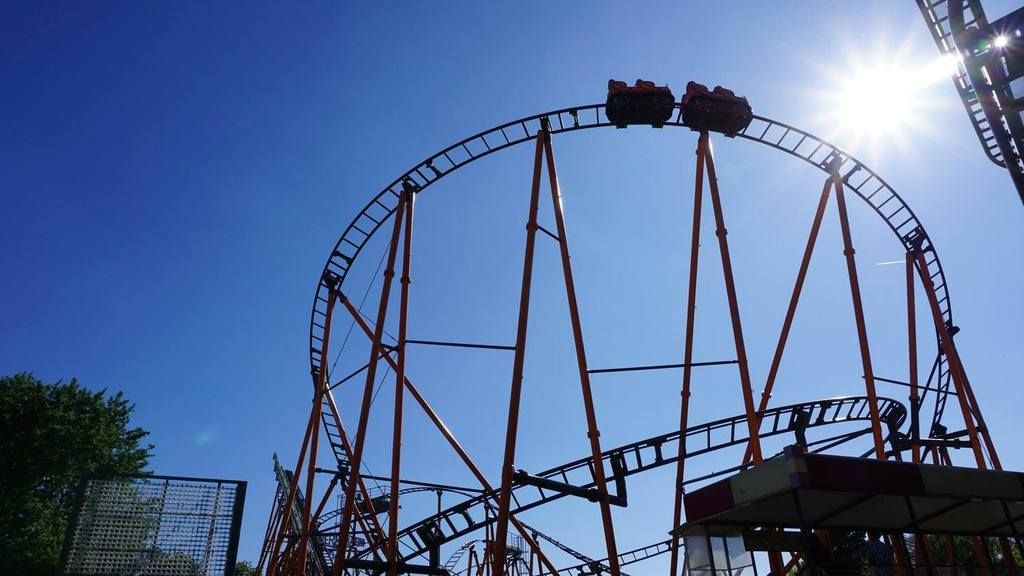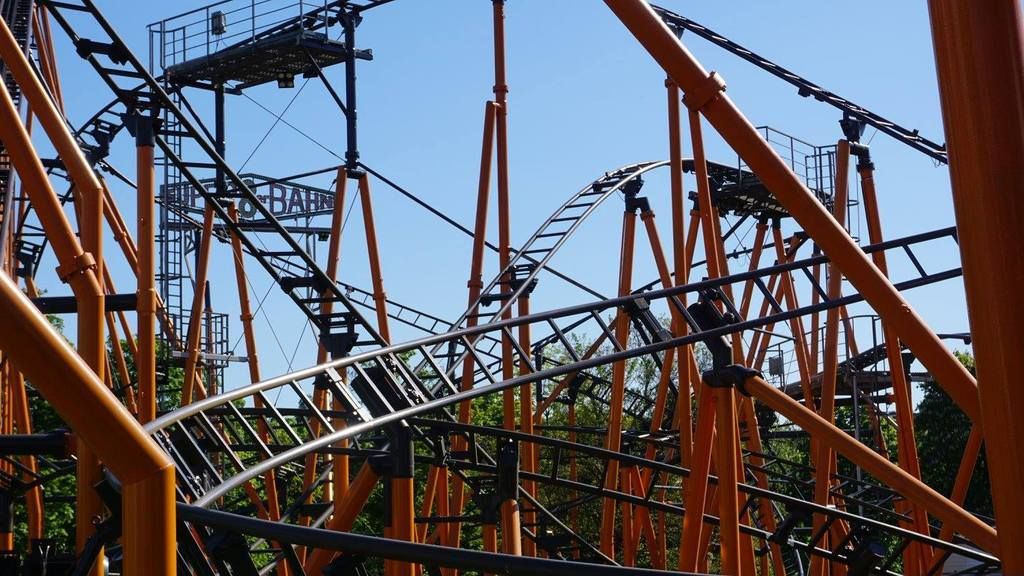 It was ok, a little rough around the edges. I think this was my first time on a Pinfari that was just very different to the standard models though so I appreciated that.
The log flume sitting next to it looked awesome and even had an air time hill!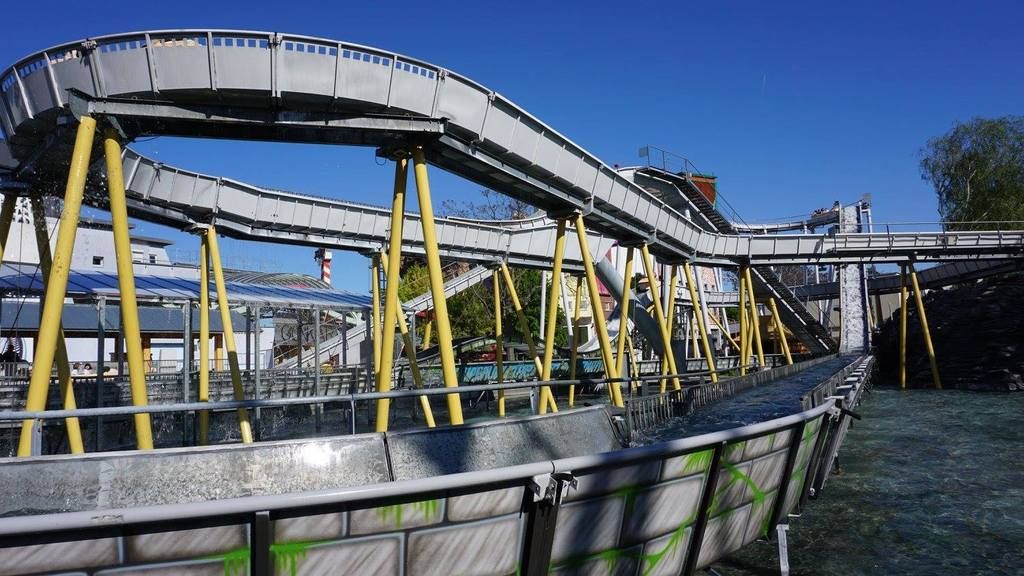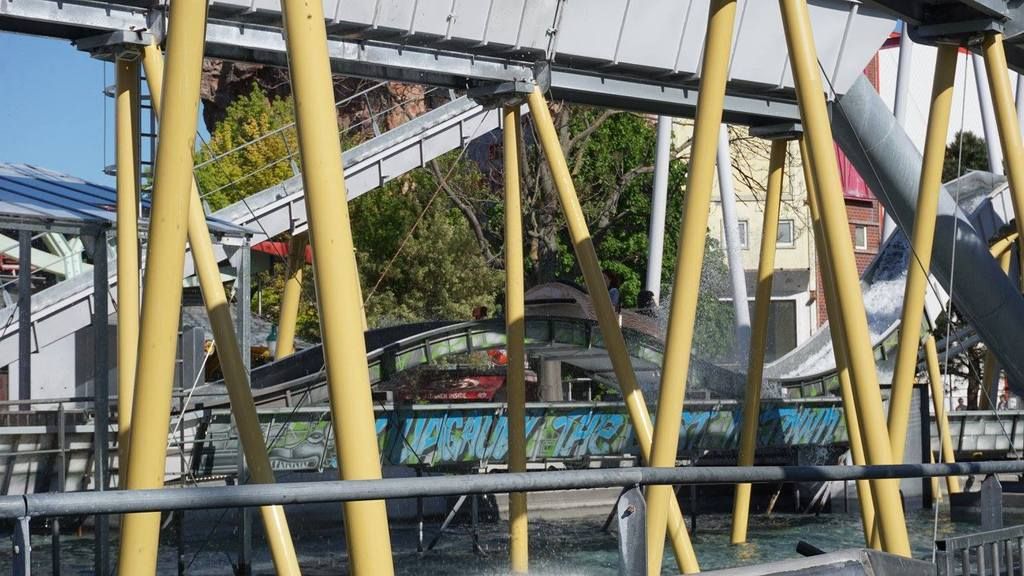 Not yours...
Benin decided to use the powers of a map to discover where the next coaster was hiding...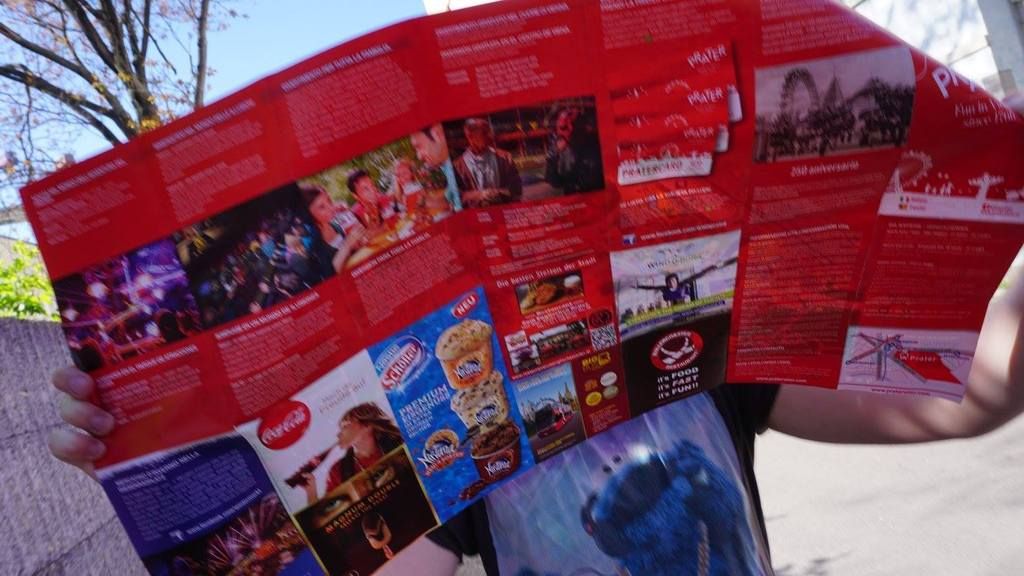 Anyone know what this used to be? Benin thinks it was used for a zipline but the build of it makes me think it was more of a ride?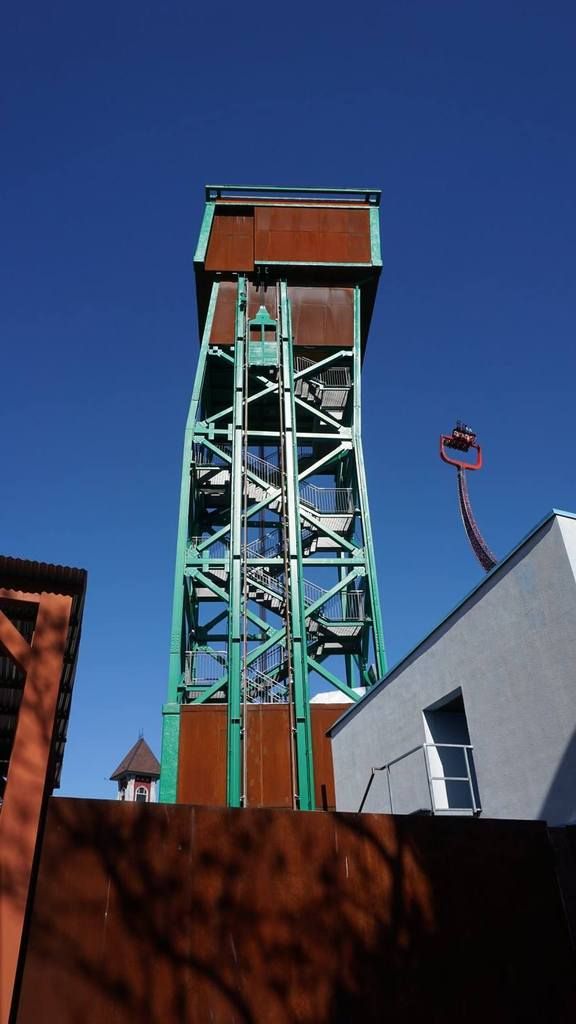 Found a more substantial looking ghost train, actually looked awesome but at €5 I was a bit put-off...
Anyway, next cred! Der Zug des Manitu is a little kiddy coaster which is really nicely themed, even has a tunnel!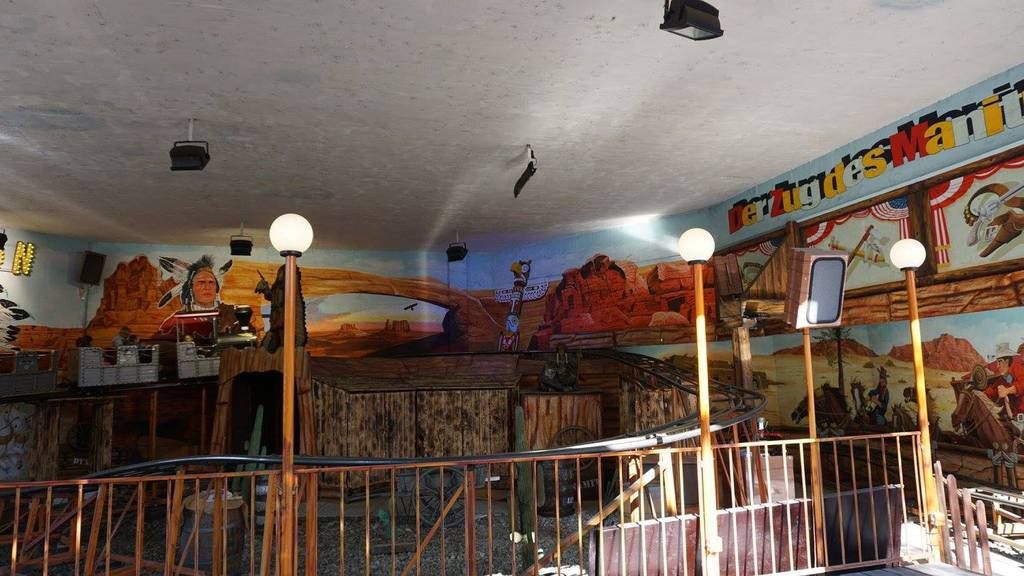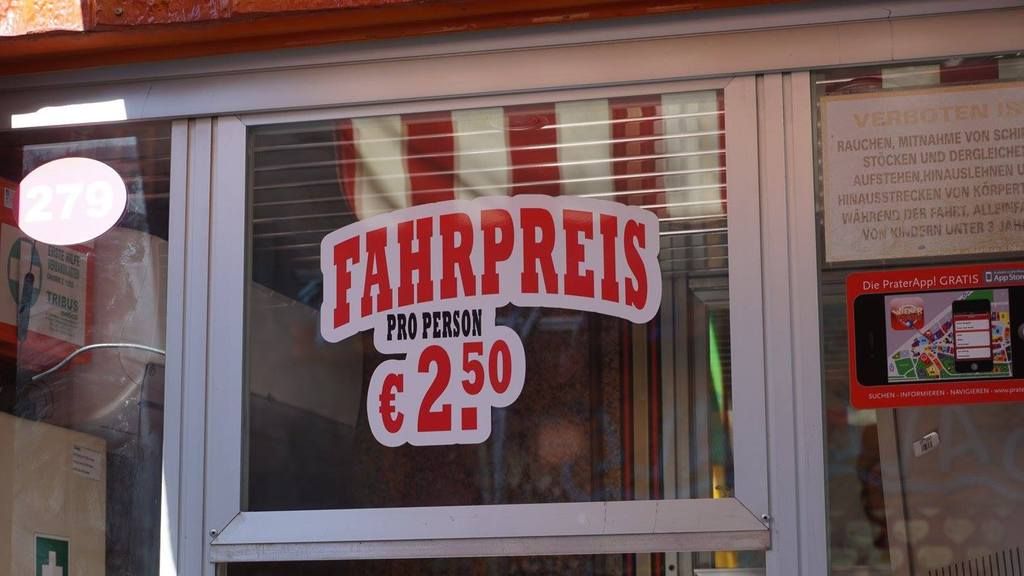 The Black Mamba ride looks cool but on closer inspection looked like a rather bland ride experience. It had one of the longest queues we saw all day though!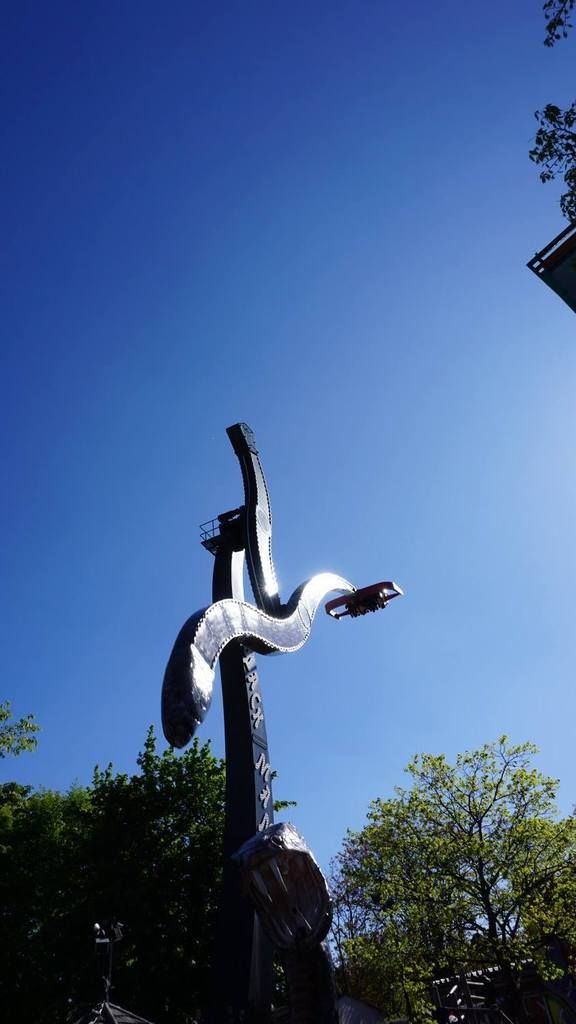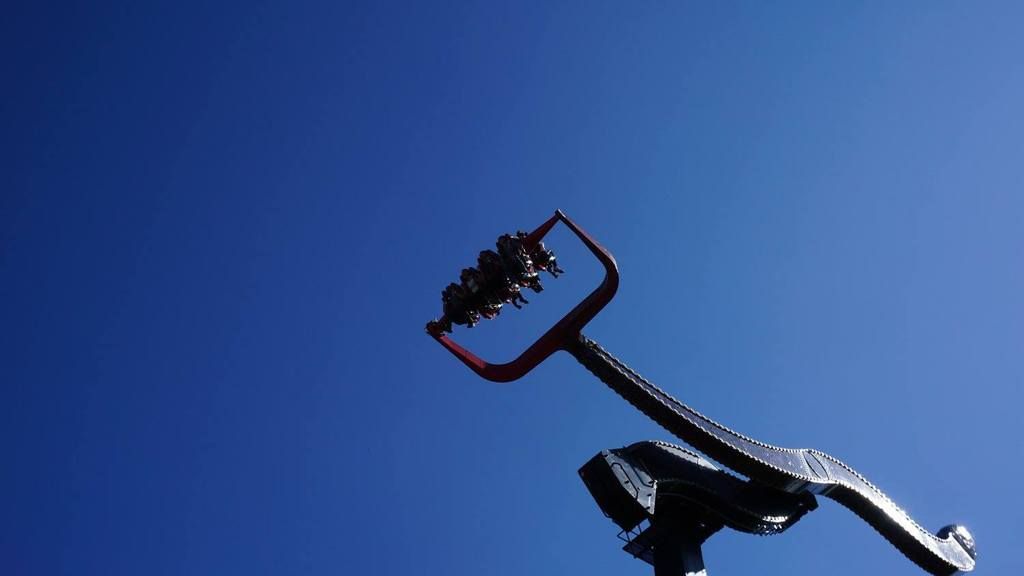 Urgh, next was another mouse coaster...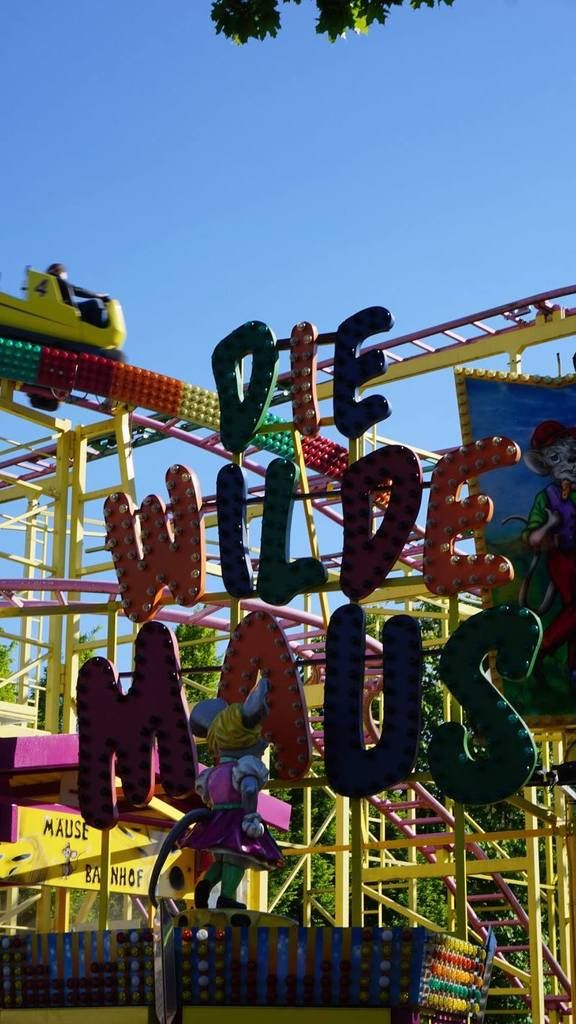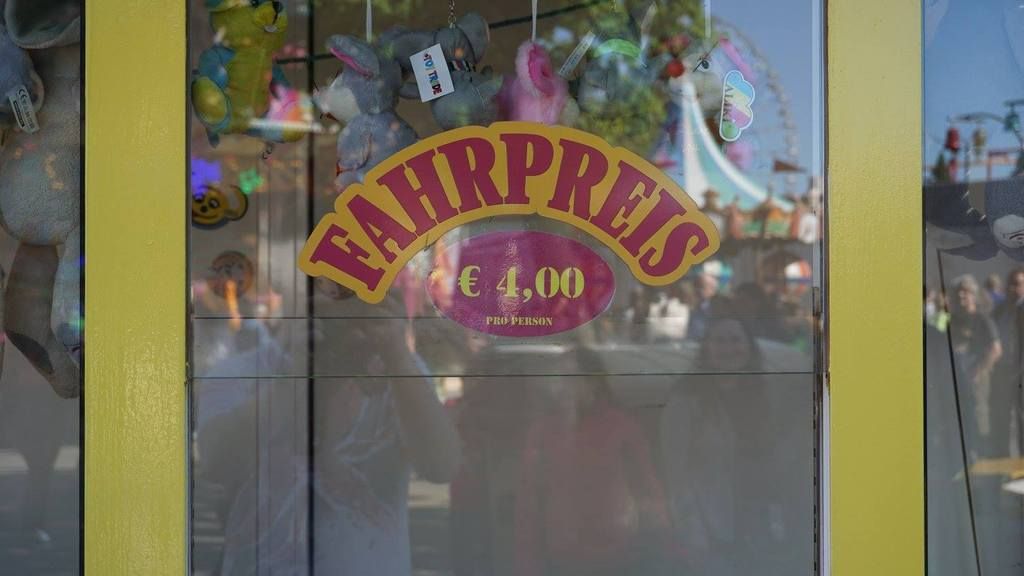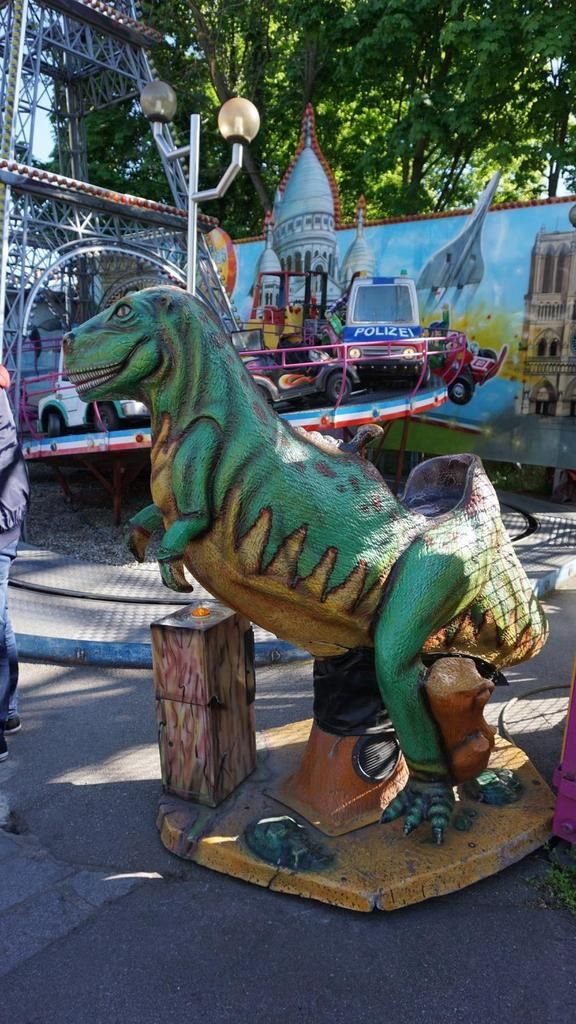 This looked more fun
Next was Maskerade which looked really cool. Frustratingly it does that annoying thing where it's an indoor coaster with lighting but decides it needs to go outside rendering all indoor lighting completely useless. There's a randomly themed corridor before the lift hill which is cool though. I thought it was a nice smooth coaster though, just annoys me that the whole indoor aspect is ruined.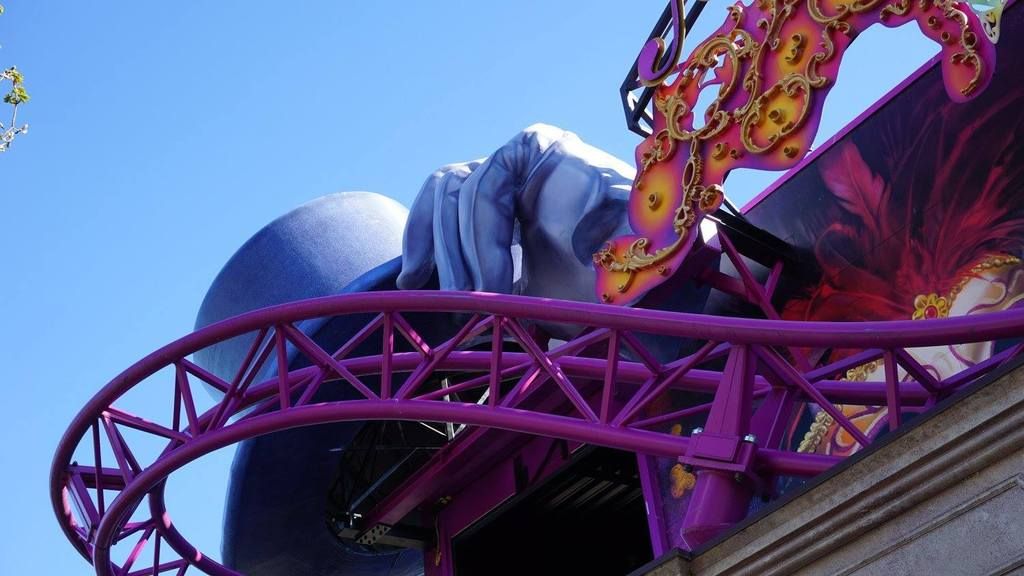 Hochschaubahn was our next rollercoaster of the day and probably the only one we queued for. It was rather popular and lots of peeps were in traditional Austrian outfits which made me happy. It's quite nicely themed and it's a nice fun layout. Oh and there were two random jets of water that we had to duck under which I thought was a fun touch. Some child in the second car totally spited everyone by sticking her hand in, hehehe.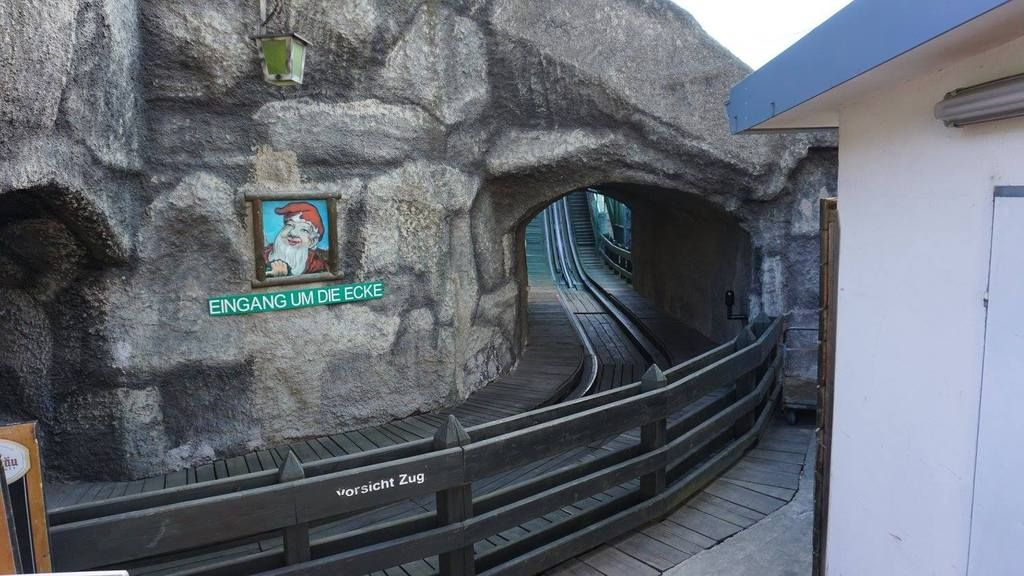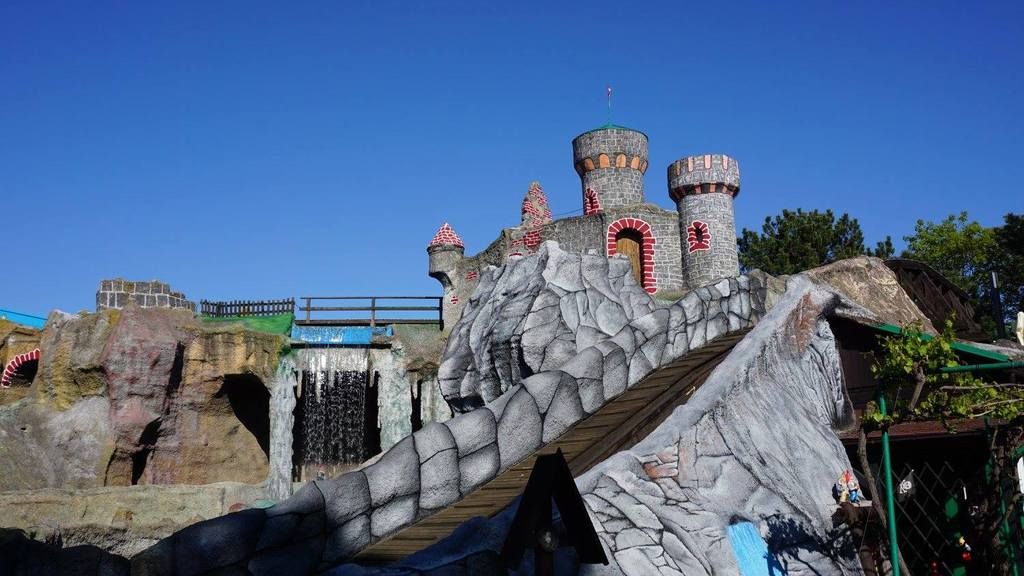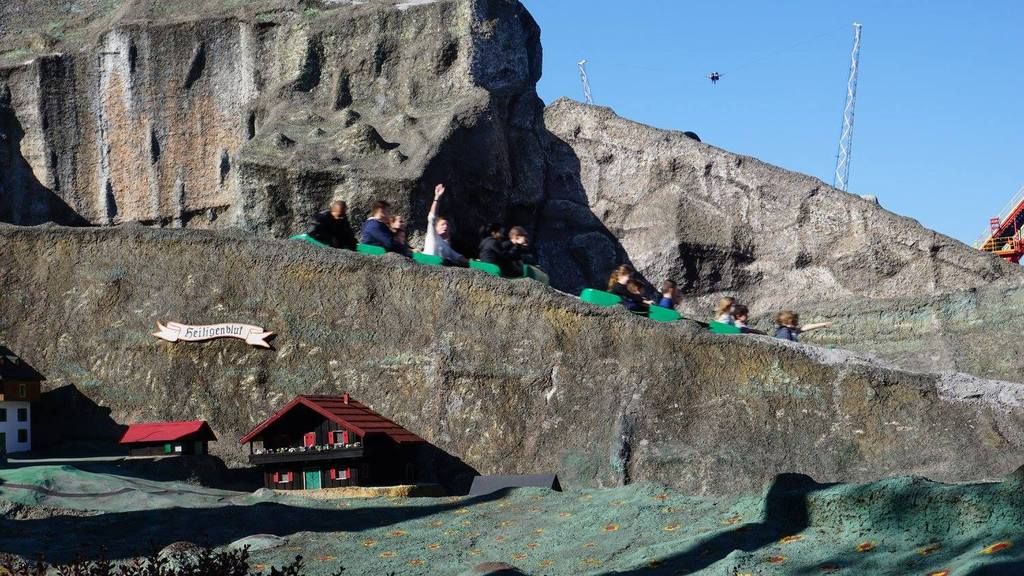 It was then time for the Race, another small SBF visa kiddy coaster. These had a different train design though which were much more forgiving for adults. There was a small water fountain going off at random intervals which was nice and refreshing in the heat.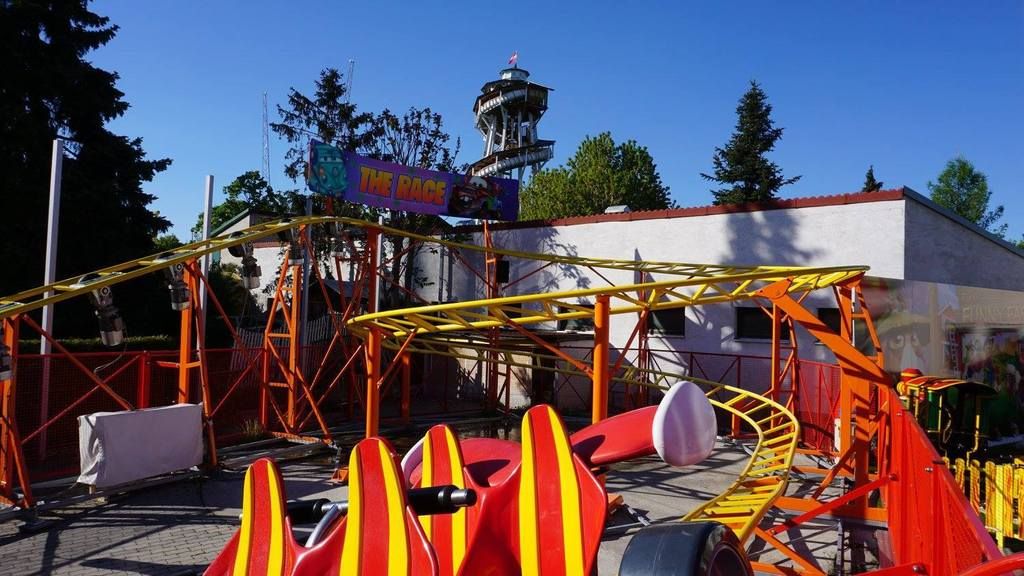 The starflyer and the area around it were really nice. I love the colours they've gone for, it looks much nicer than most.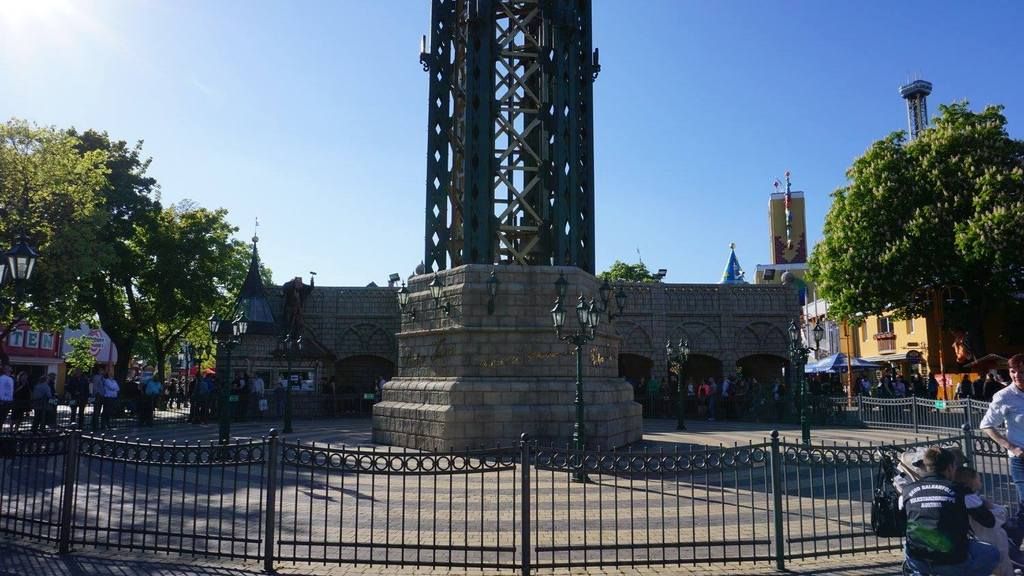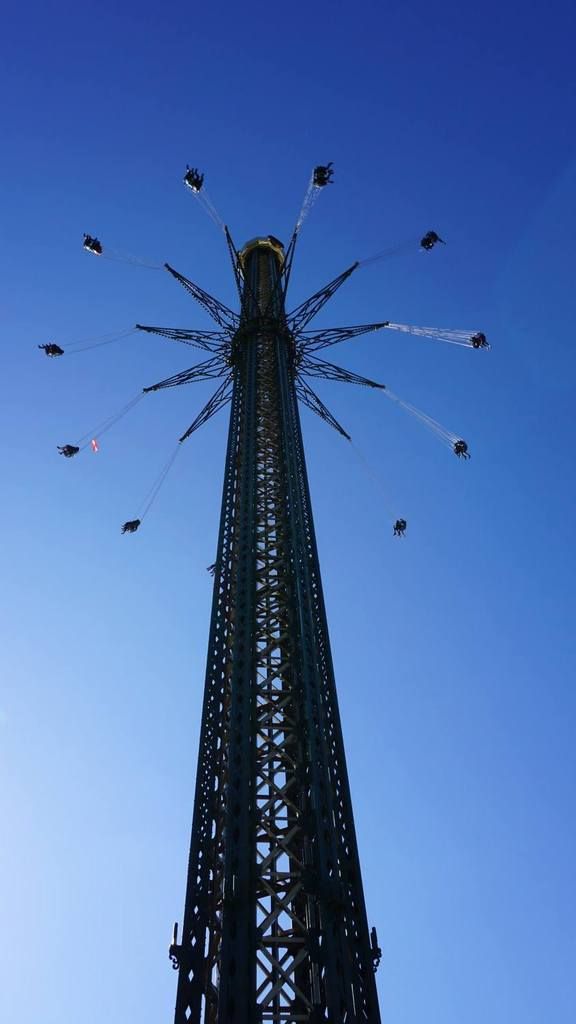 We then passed the path of creepy clowns to get to the Boomerang.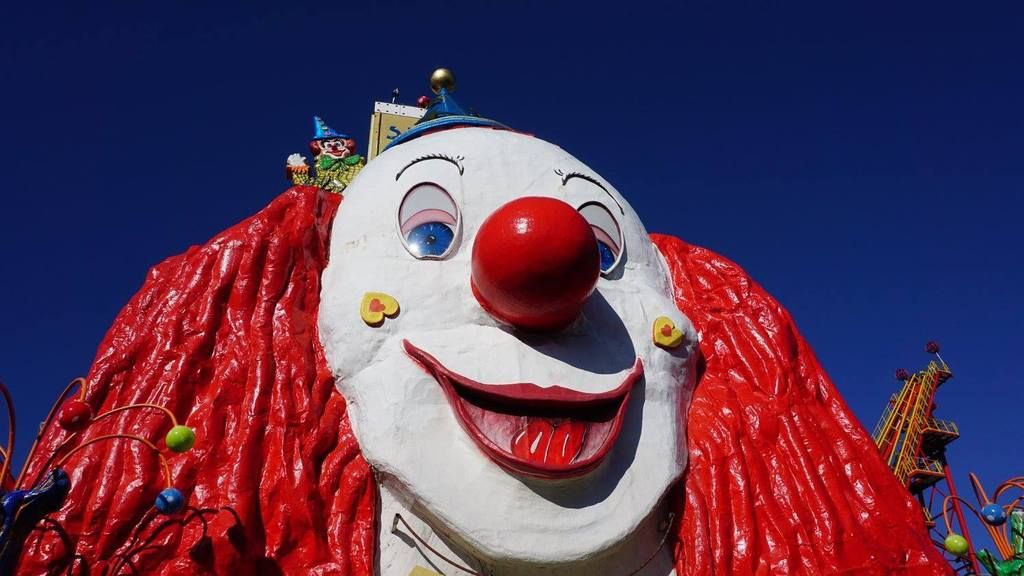 I was maybe a bit too excited by the fact that the Boomerang had a random tunnel. Oh and it has weird bare-metal lap bars. Nice and open but also terrifying as there's nothing to really hold on to. It was very enjoyable and surprisingly forceful.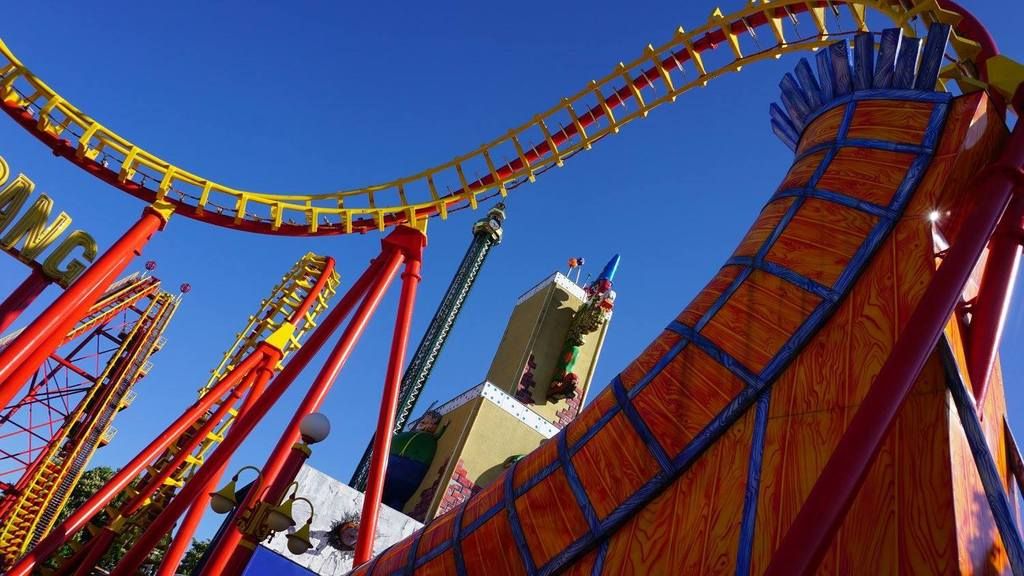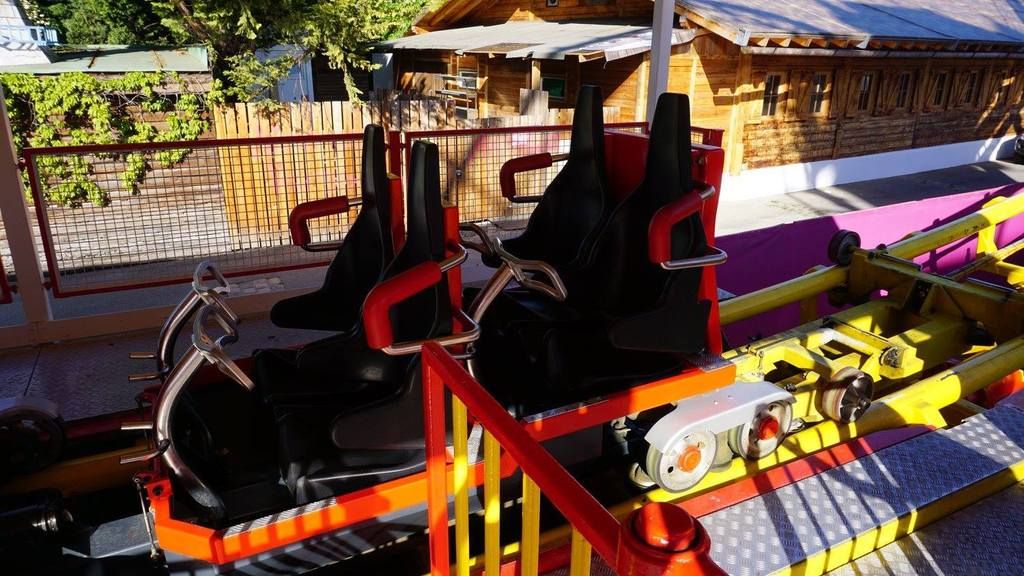 Our last coaster of the day was MegaBlitz, a custom Vekoma with those weird bobsled-esque trains. This thing was fast and forceful and really fun. Why the hell aren't there more of these?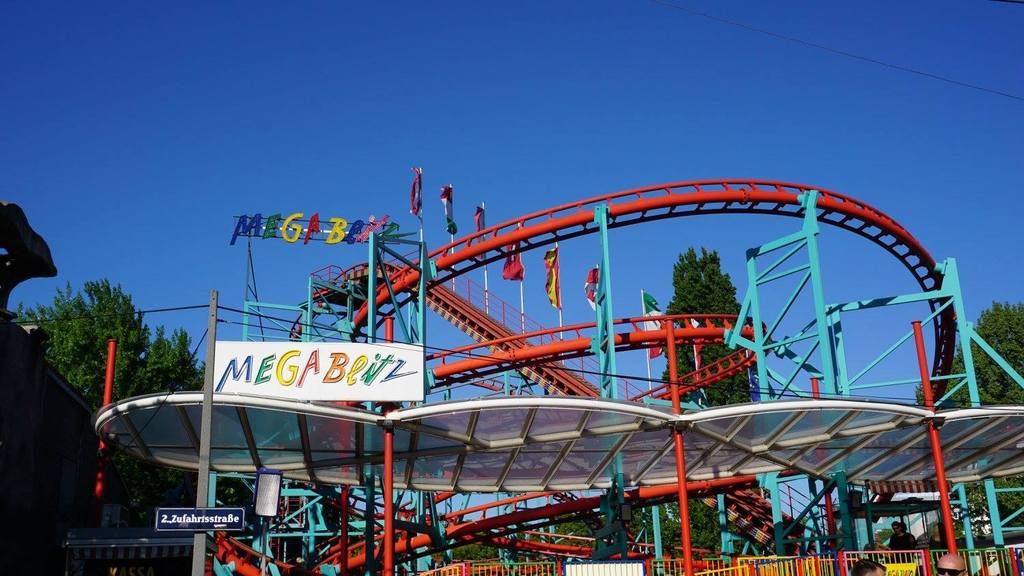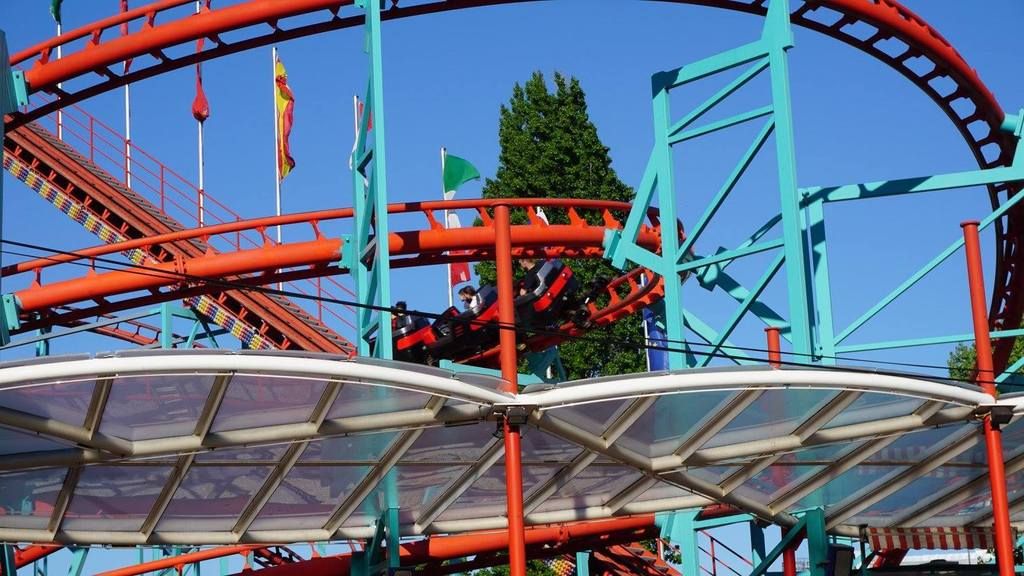 We then stared longingly at Olympia Looping some more and then walked to the underground to head into the city centre.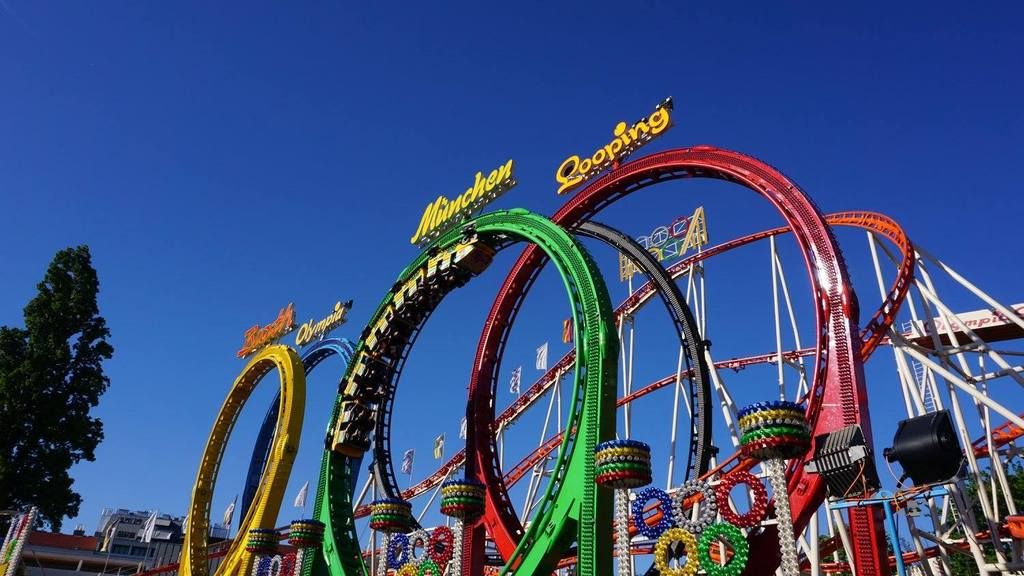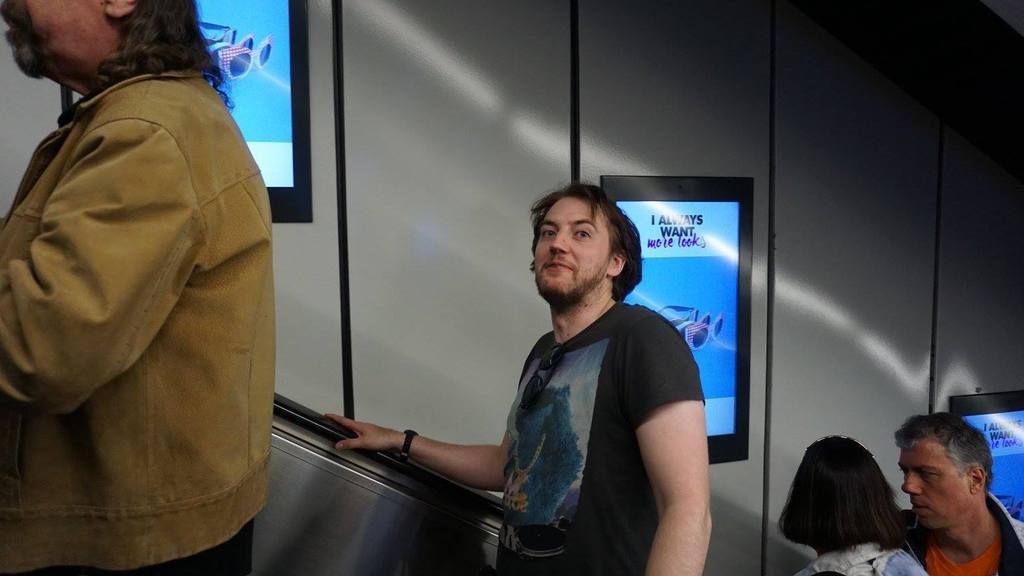 We got off at Stephansplatz where there's a giant religious building. It was cool.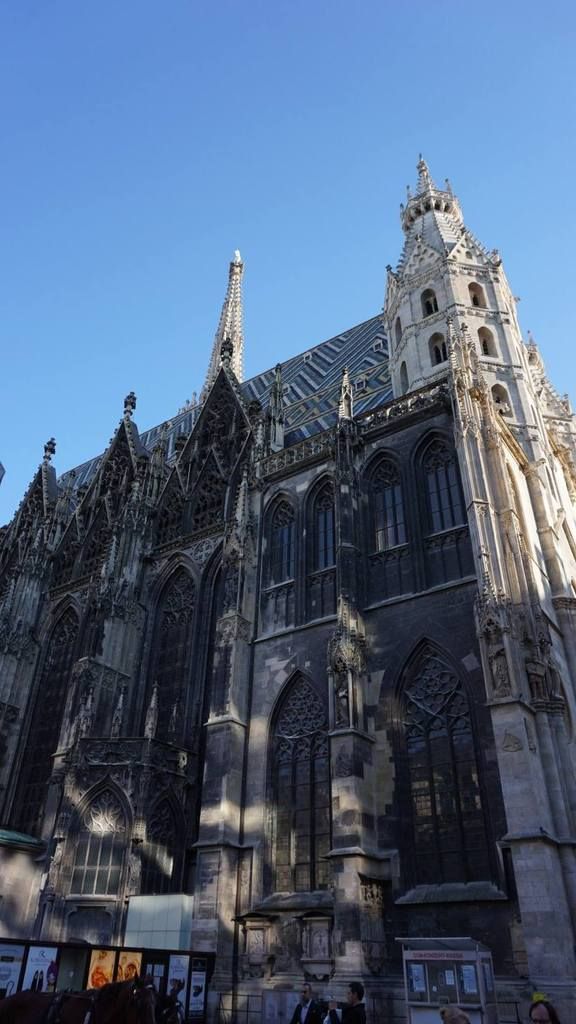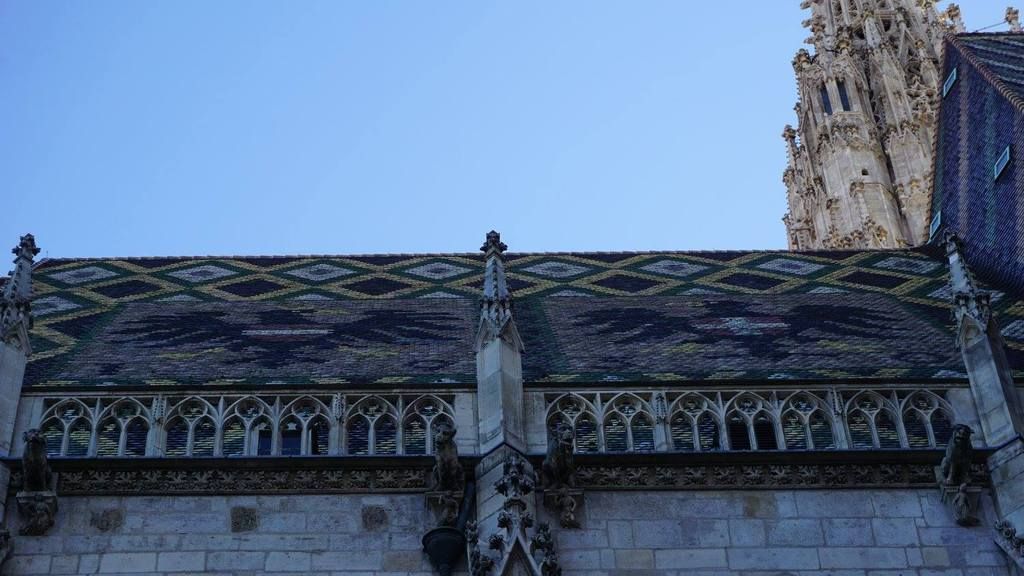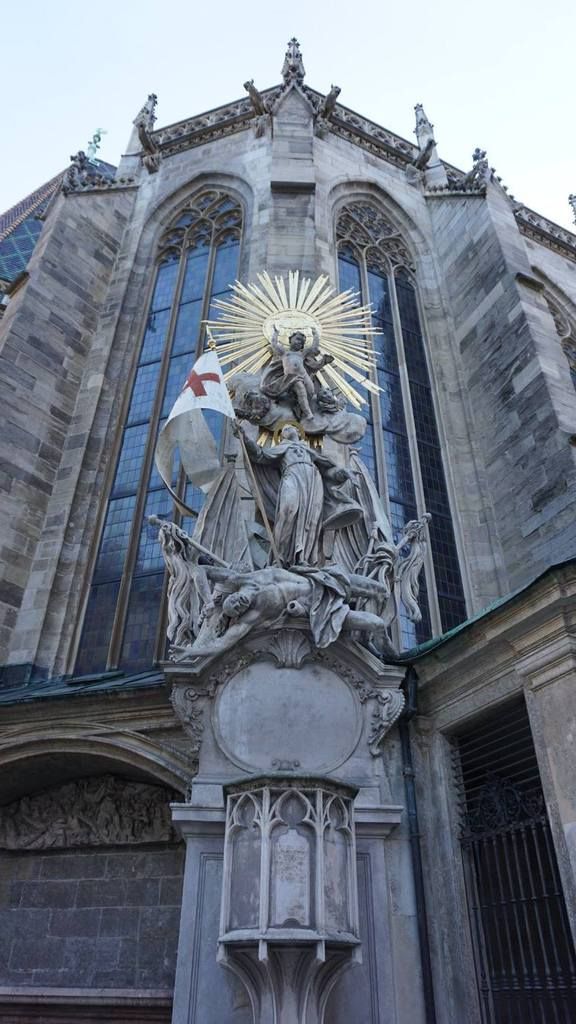 We then began a sort of tour where it was like...
*point at cool looking old thing*
- walk over to it
"Oh look, another cool looking old thing"
- Walk over to it
*and repeat*
So, I present to you our random findings....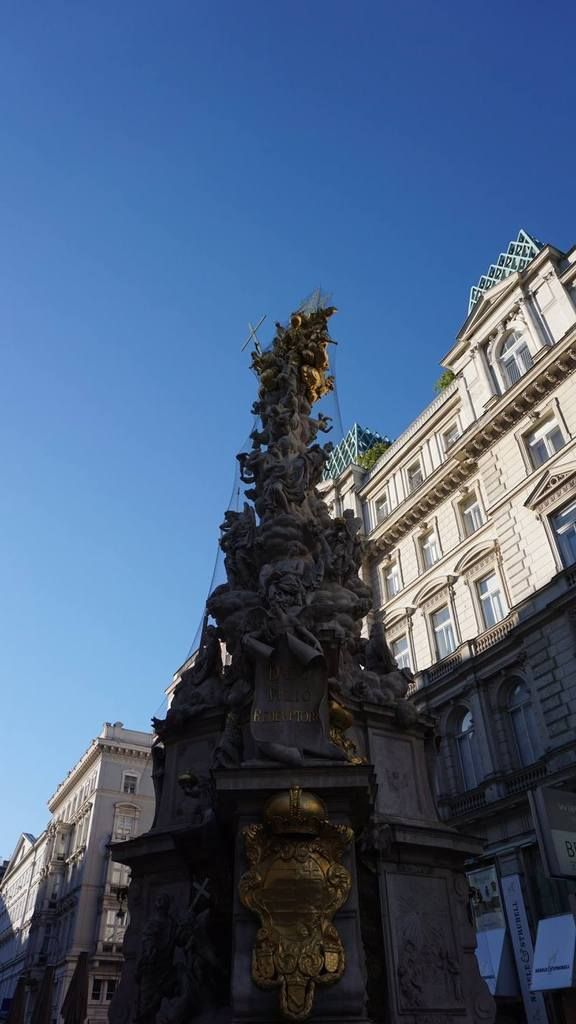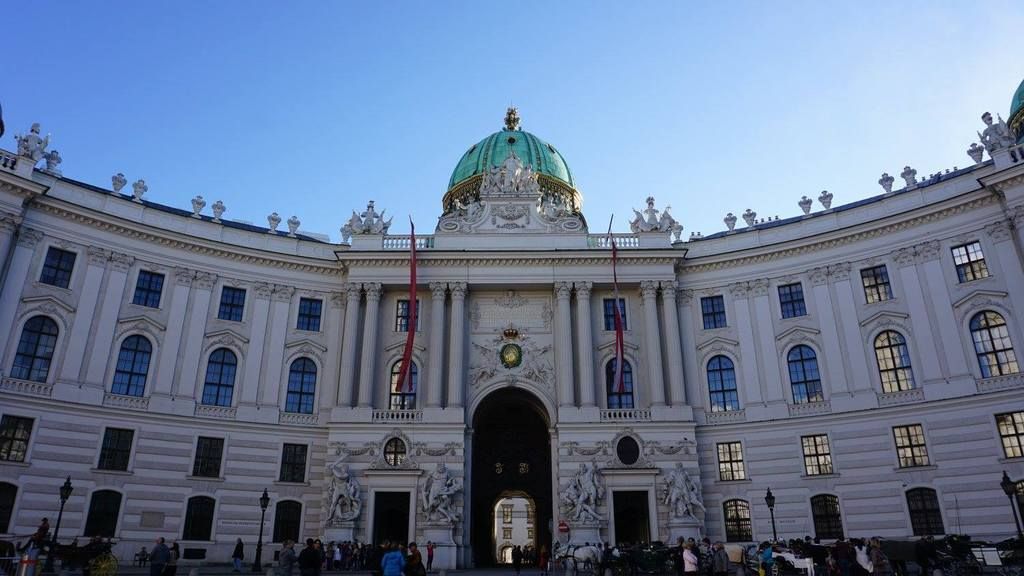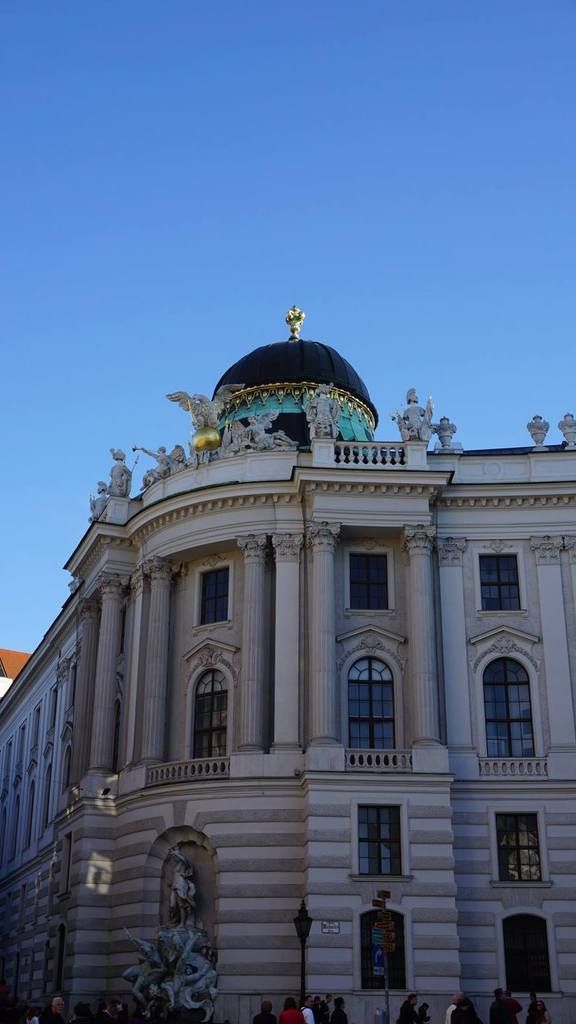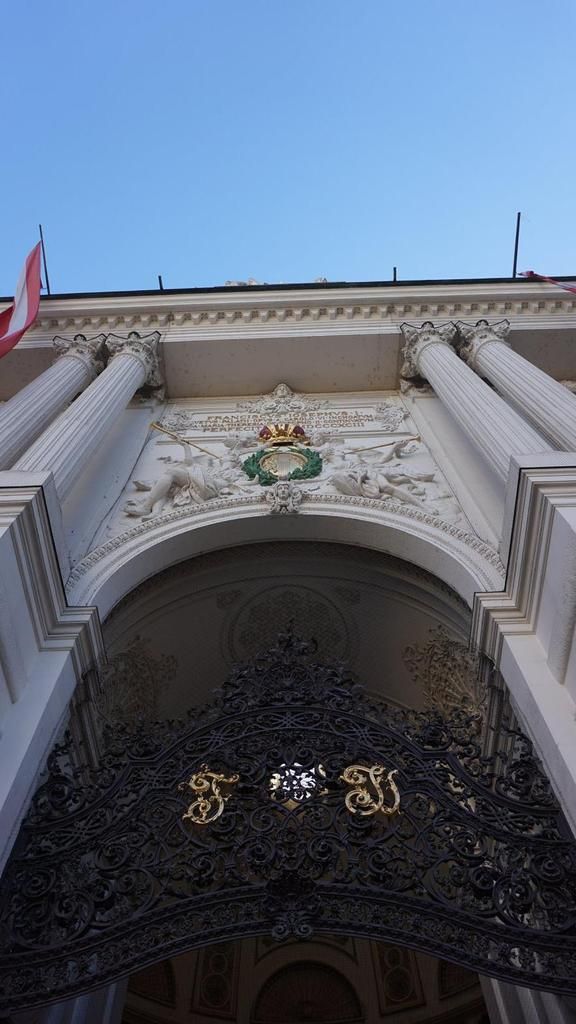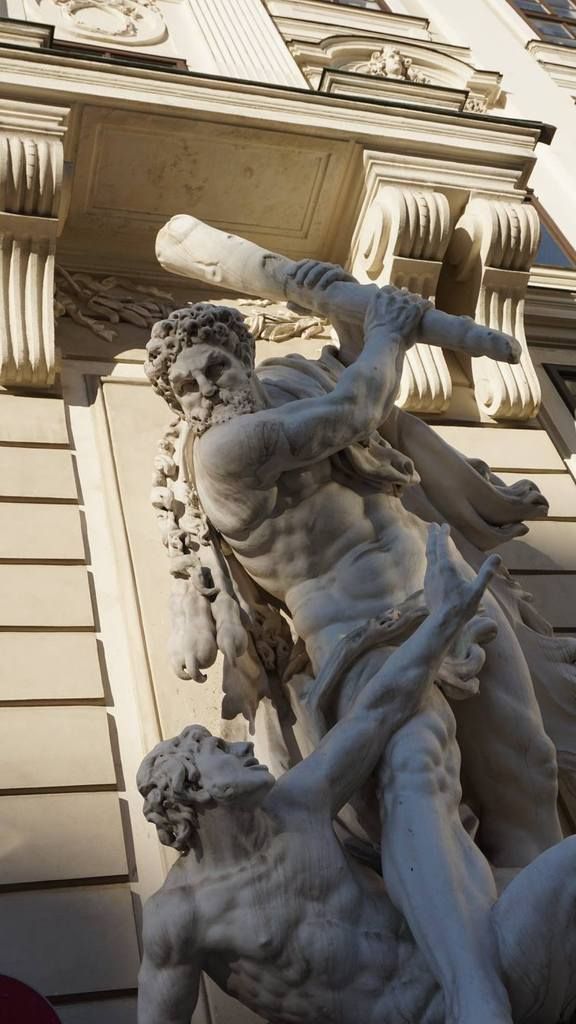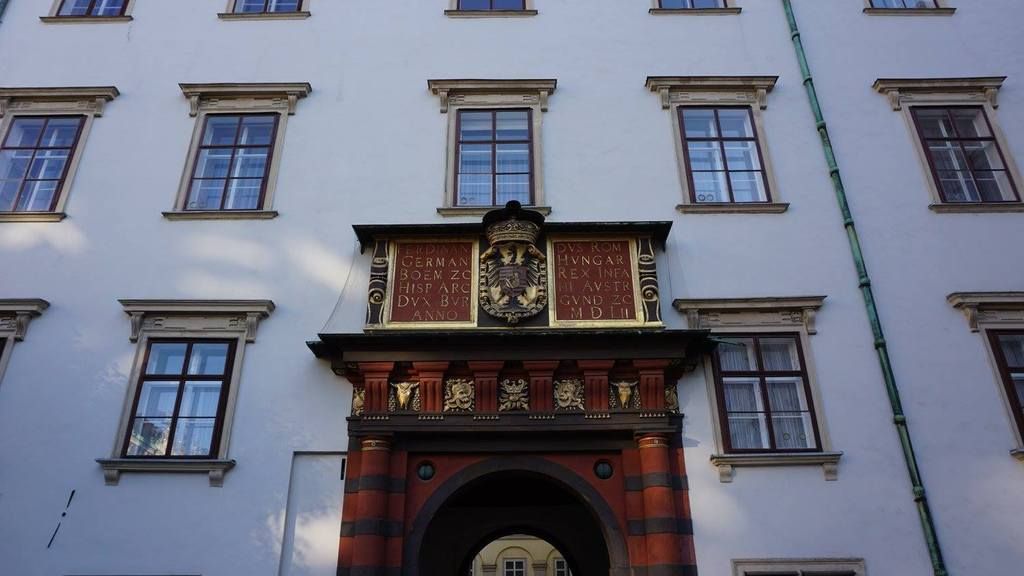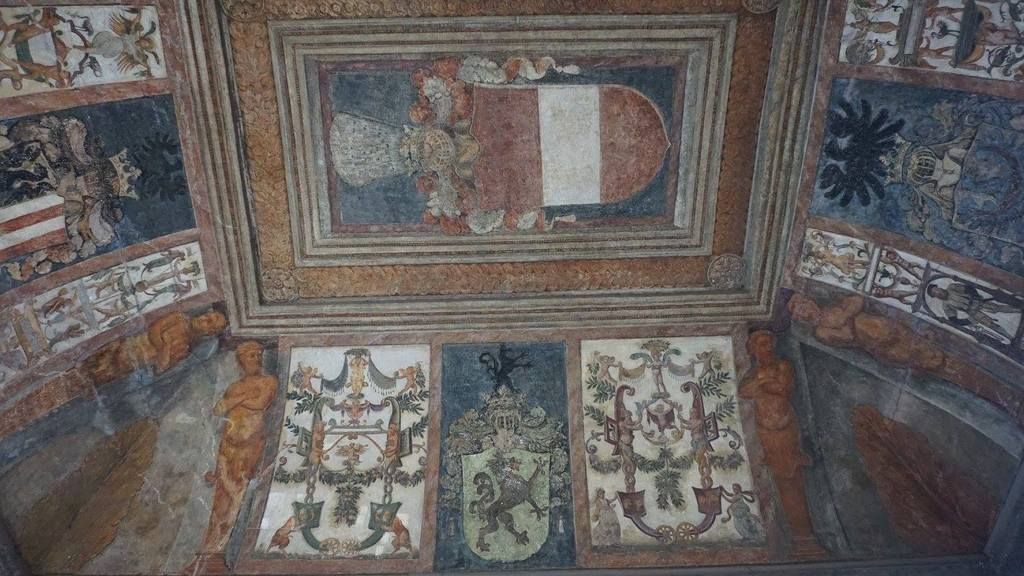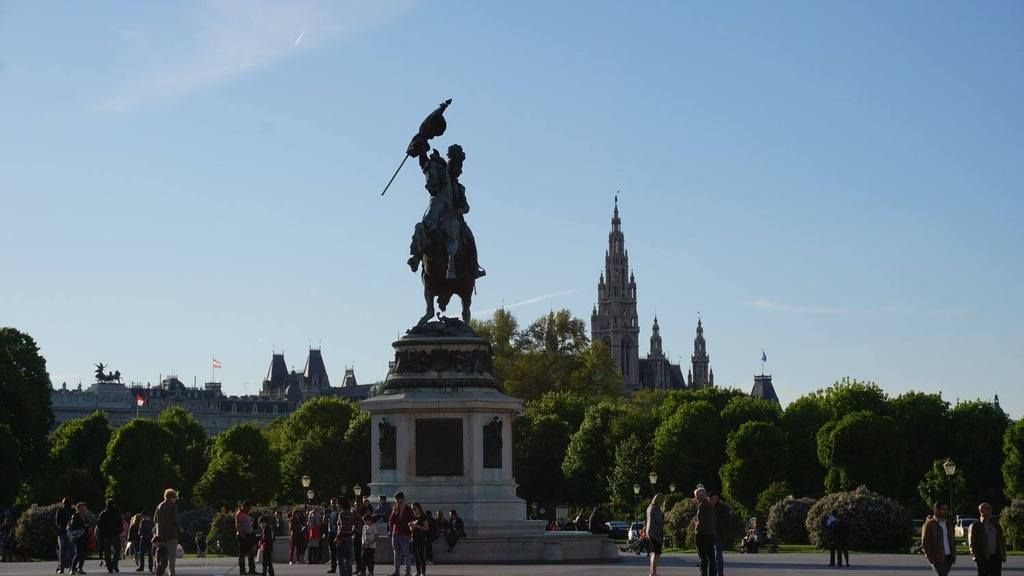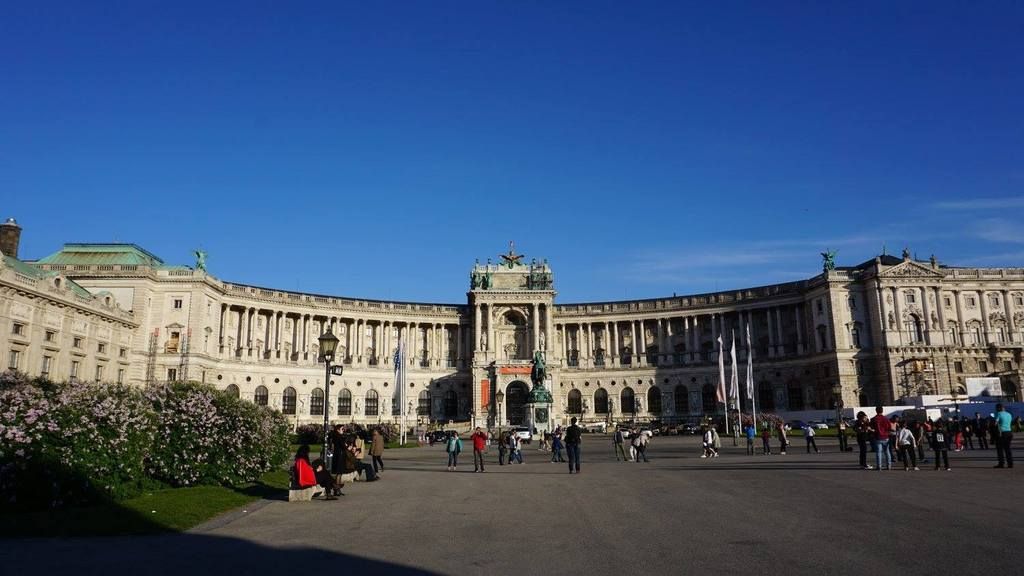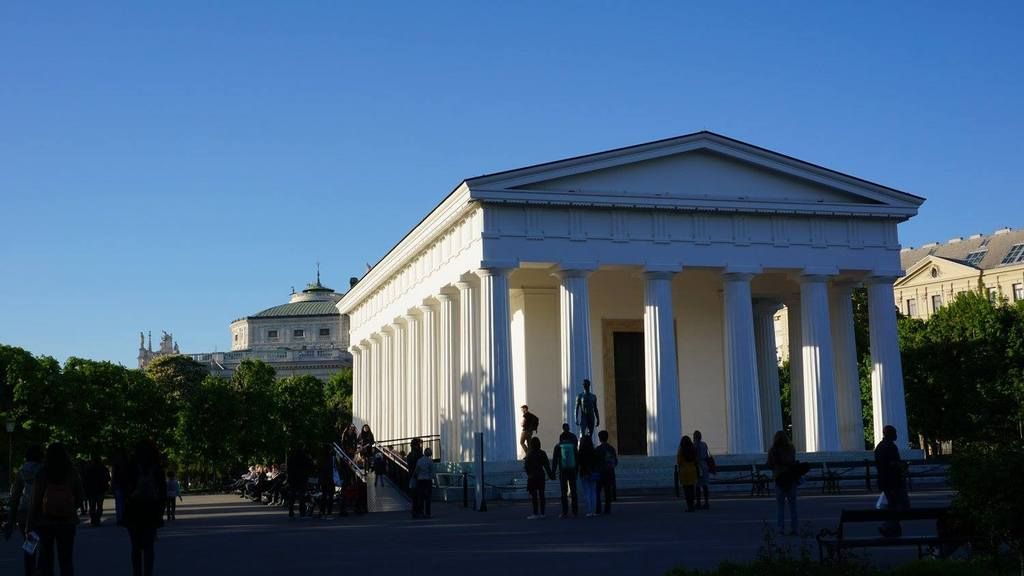 OK so their traffic lights are adorable...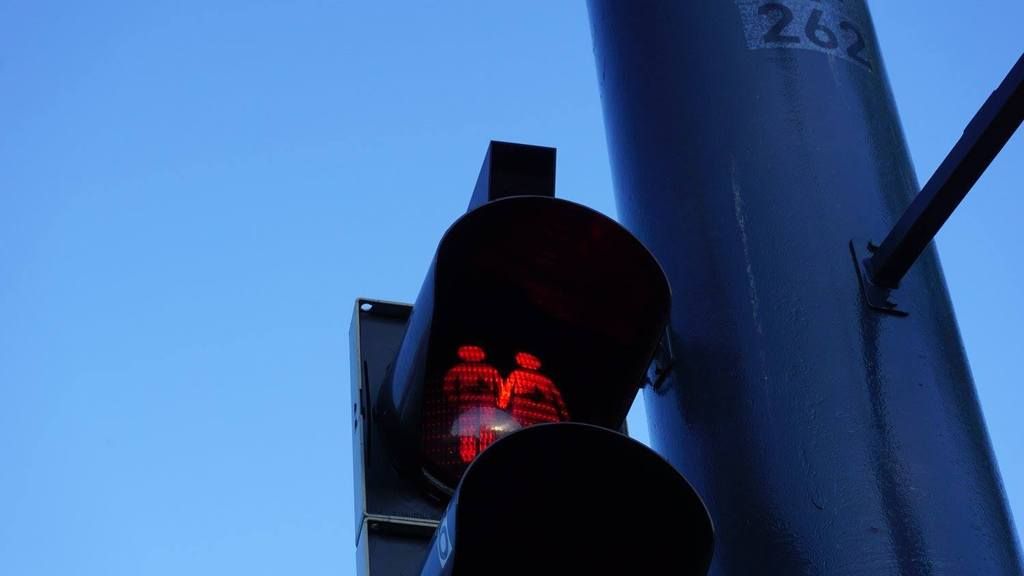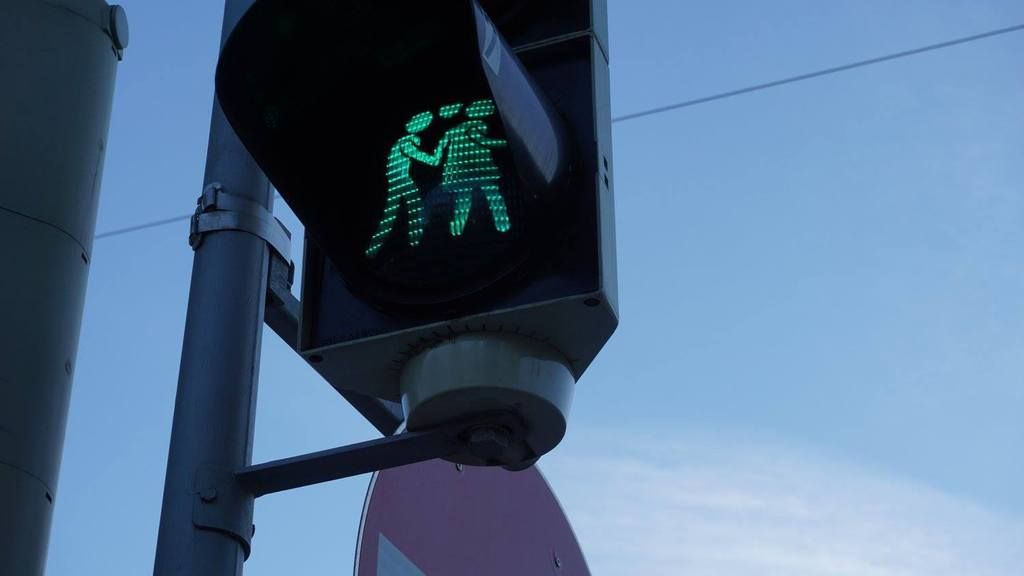 *back to tour*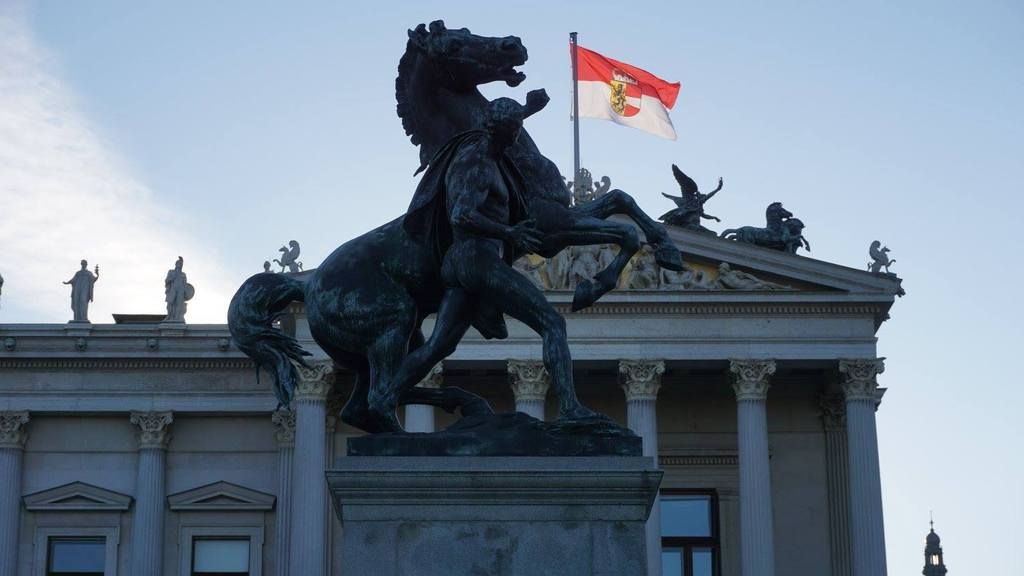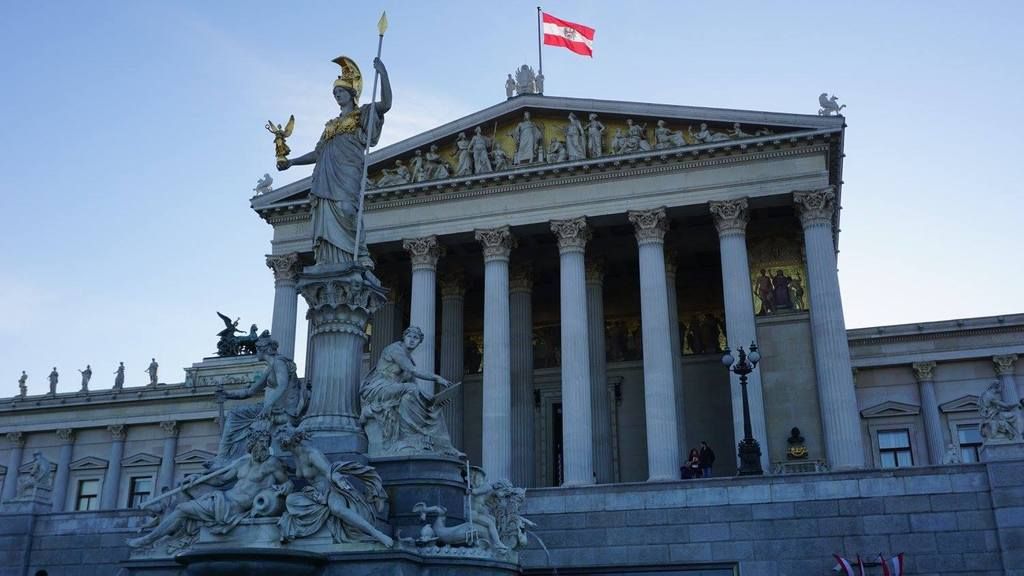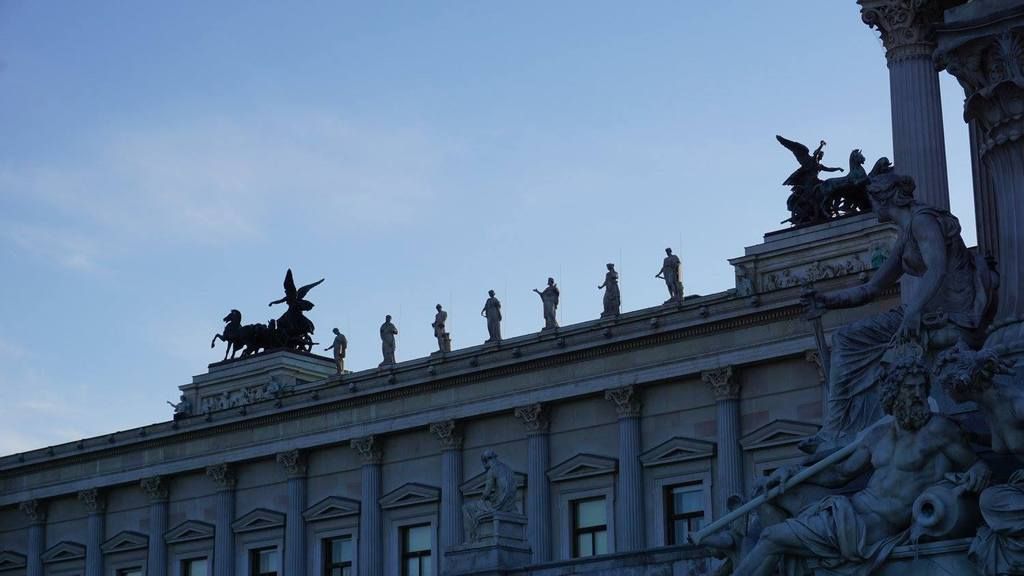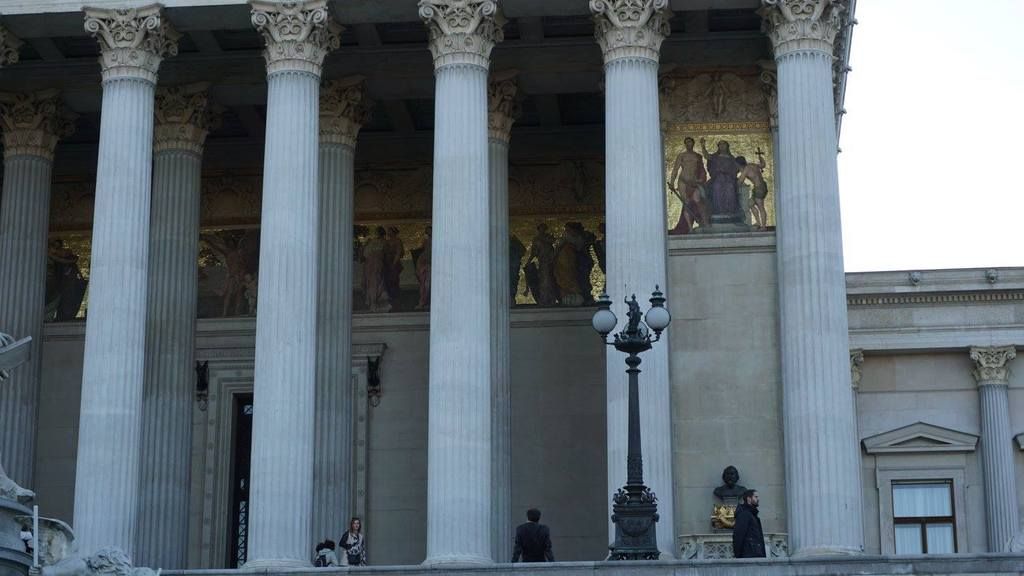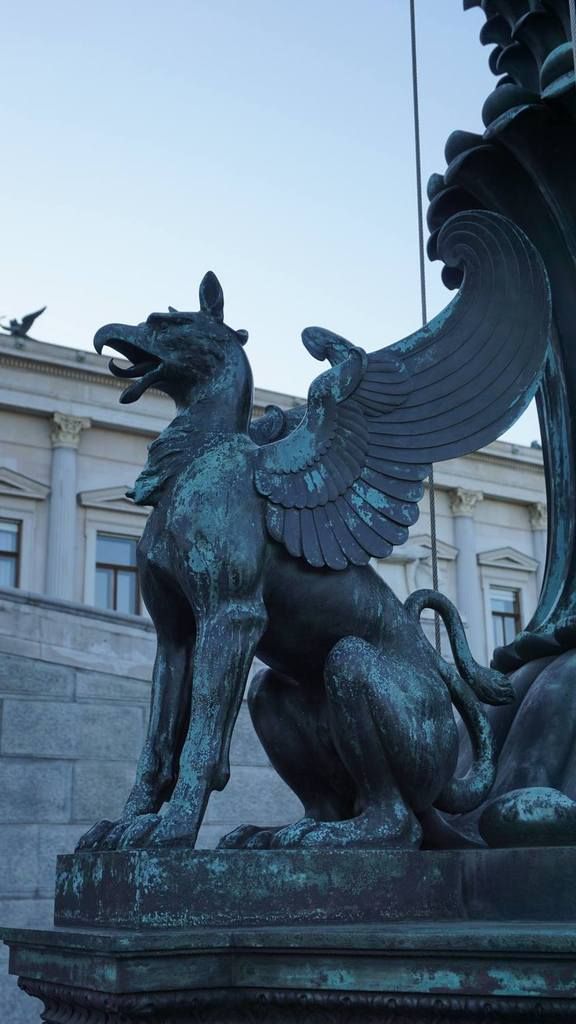 We loved that most of these epic buildings had little signs with flags to say what it was and who built it...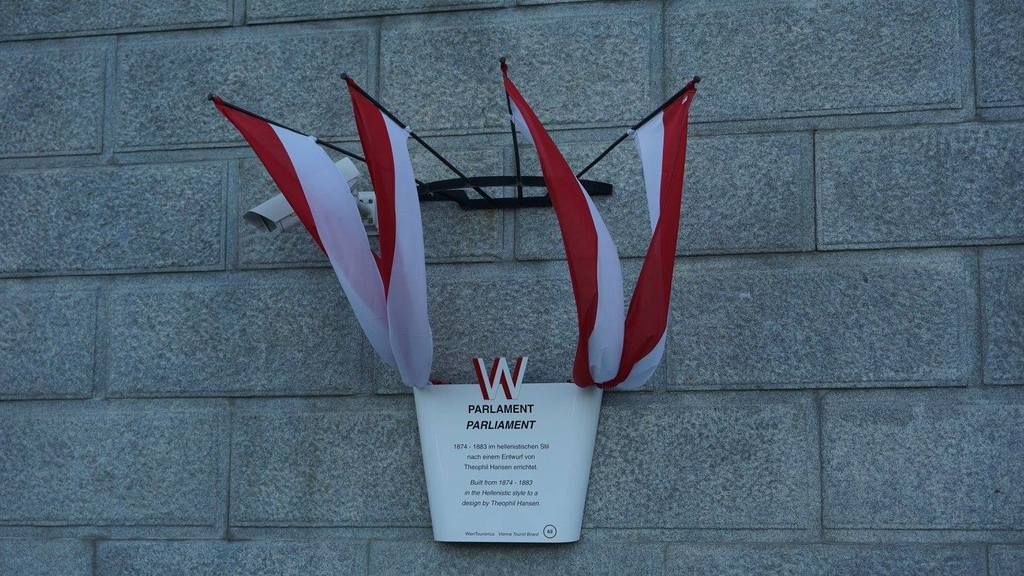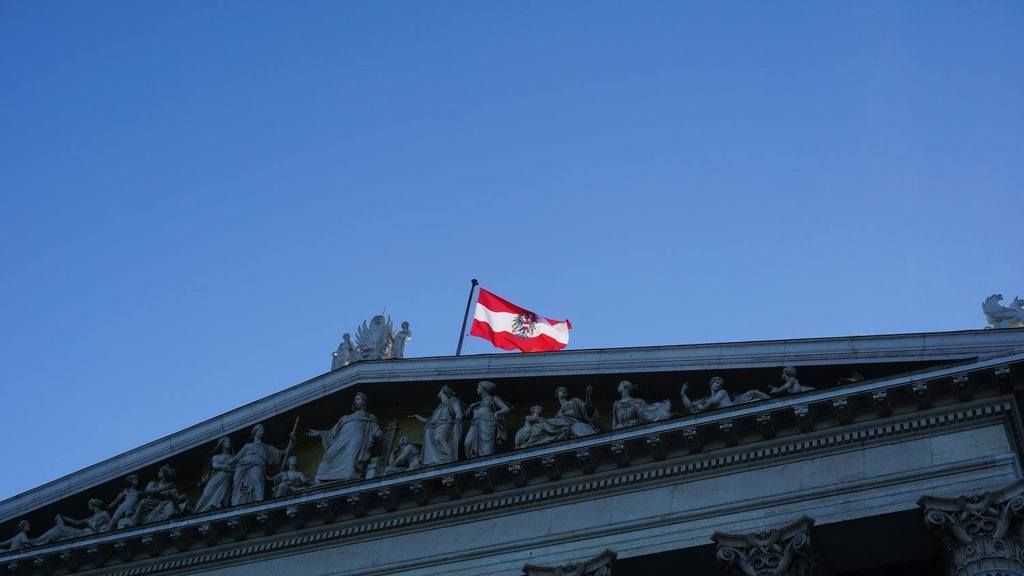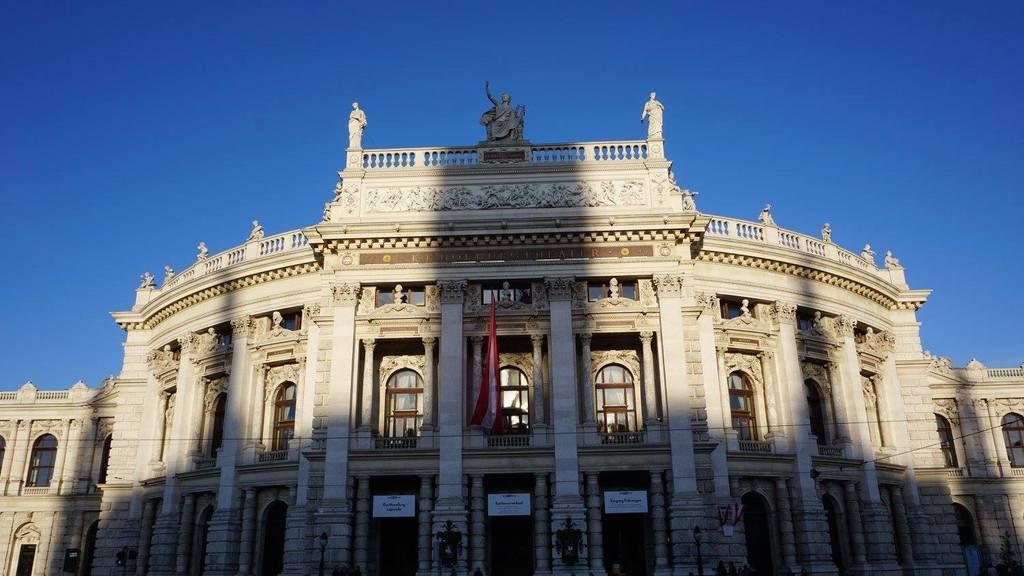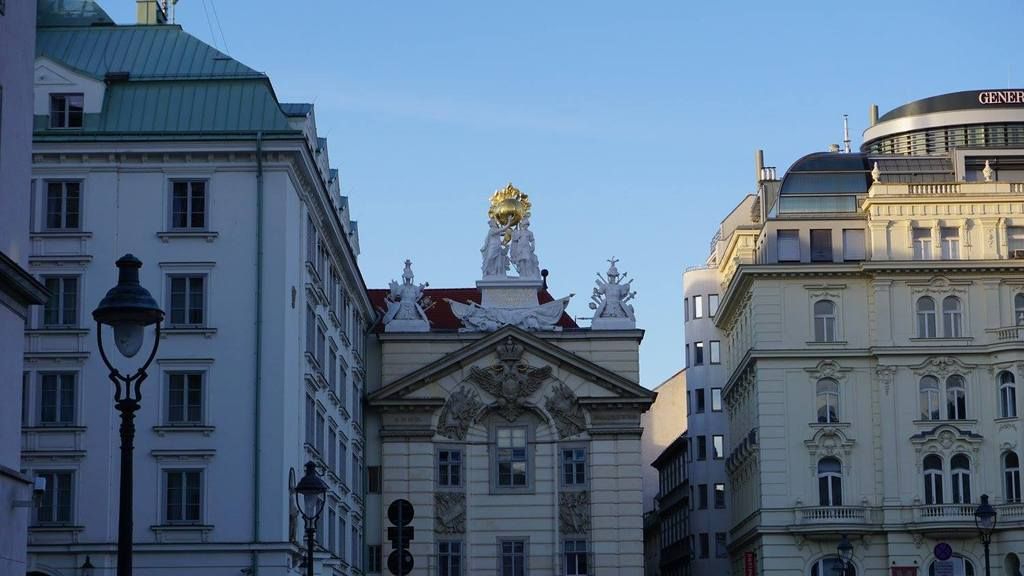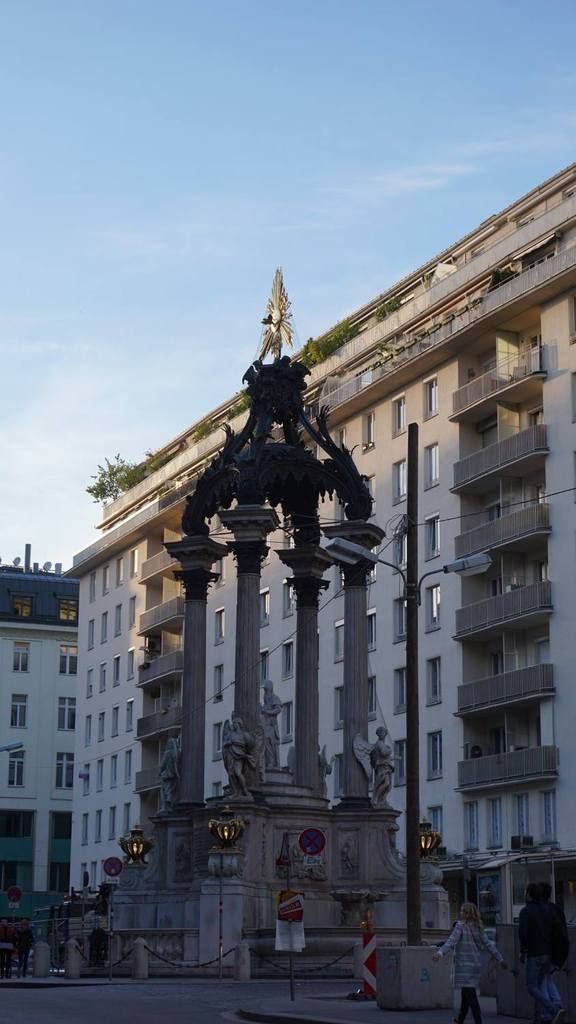 That concludes our amazing tour of the old awesome things of Vienna.
We then proceeded to grab some dinner at Hard Rock Cafe #Cultured before heading back to Weiner Prater, looking mournfully at our wallets and proceeding to throw some more monies at some rides. So, as with most fairgrounds, the park really comes alive at night although in terms of people it had died. Like, it was super quiet. However there were mega May day celebrations going on the next day so we think people would have had a quiet night on the Saturday.
The breakdance was running a lot quicker in the evening, yet still not as insane as some I've seen.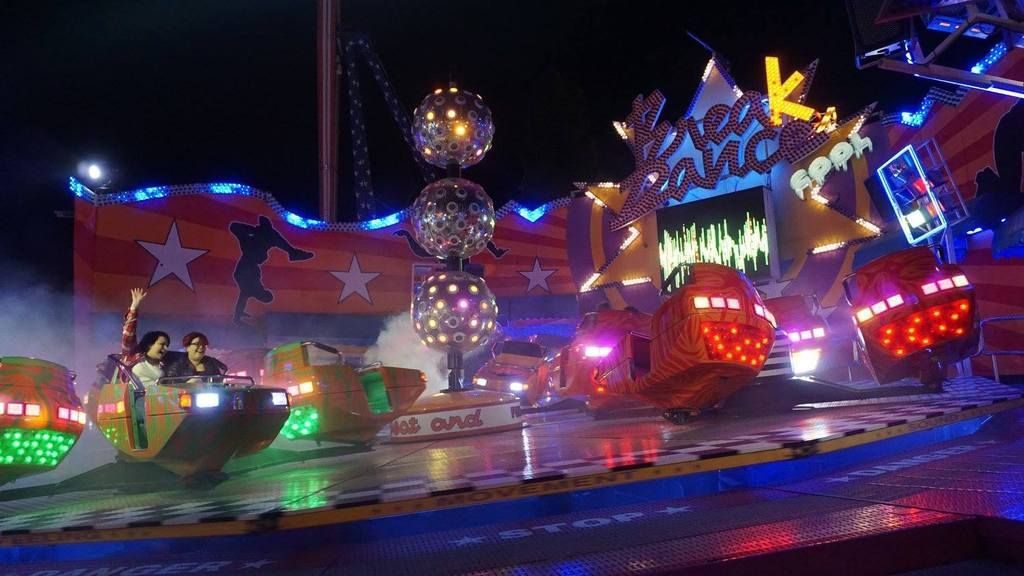 The Tagada was amusing to watch, mainly because some older dude was just totally owning it...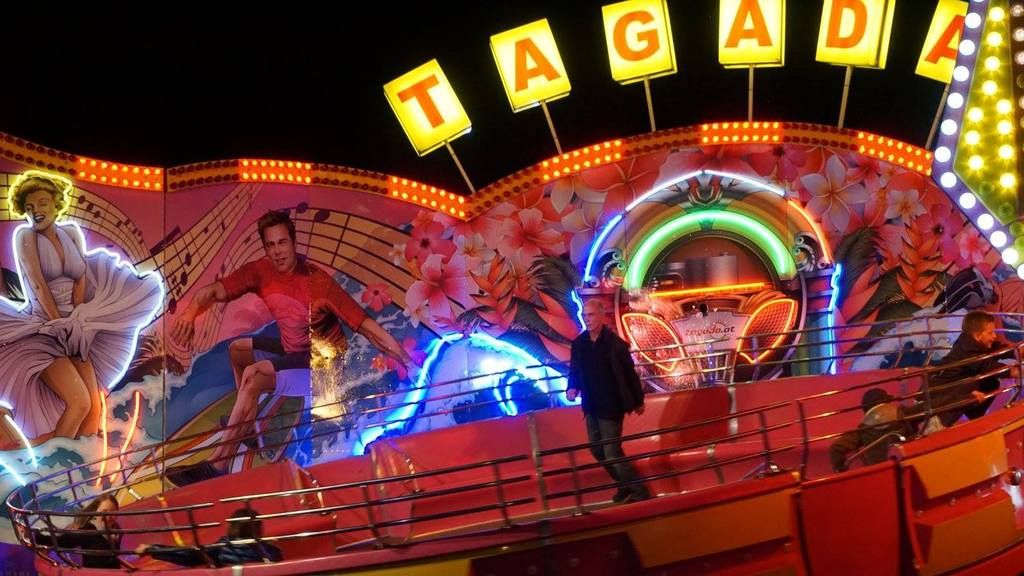 I very nearly threw money at the dinosaur dark ride thingy. I ended up resisting though, maybe another time.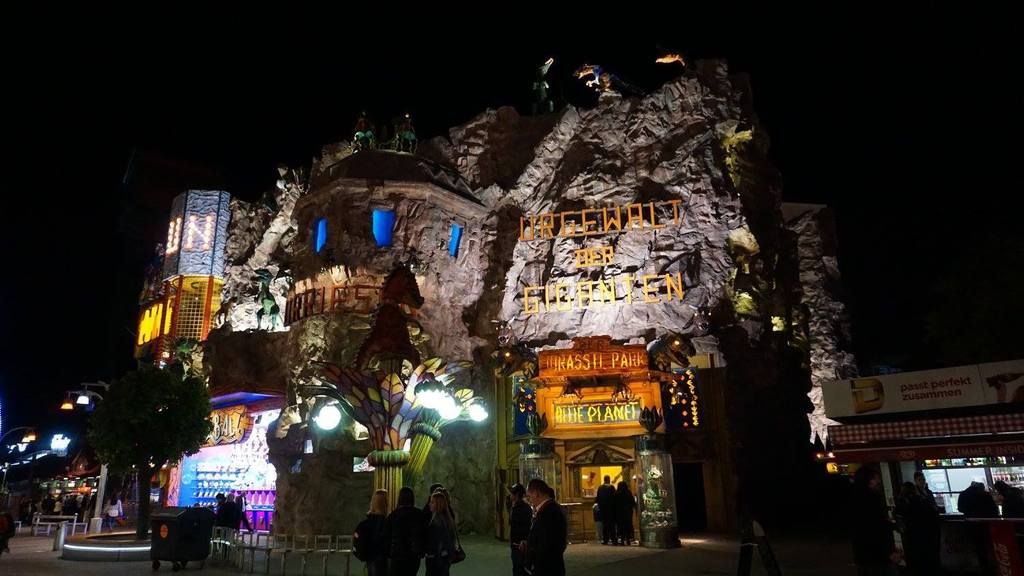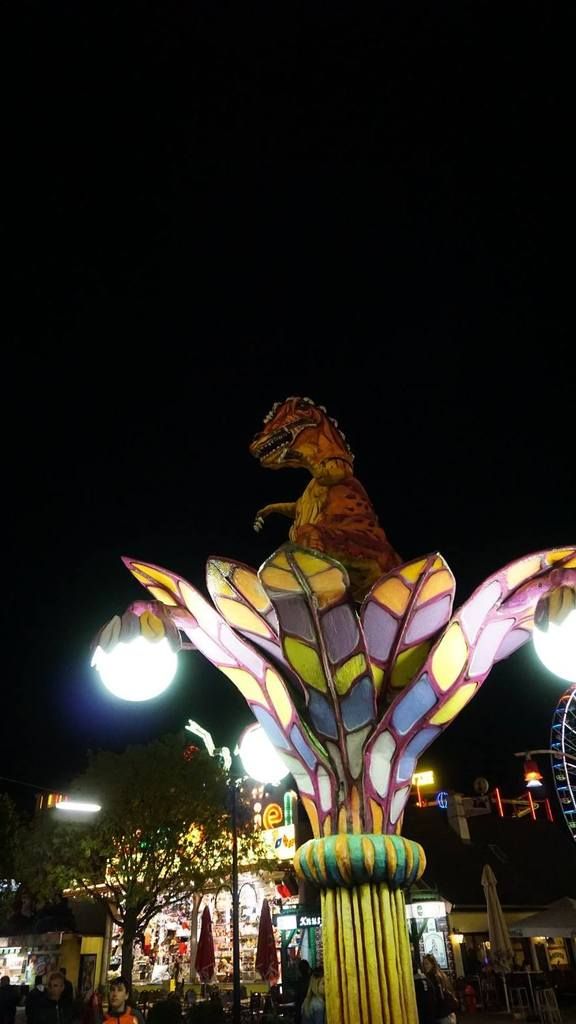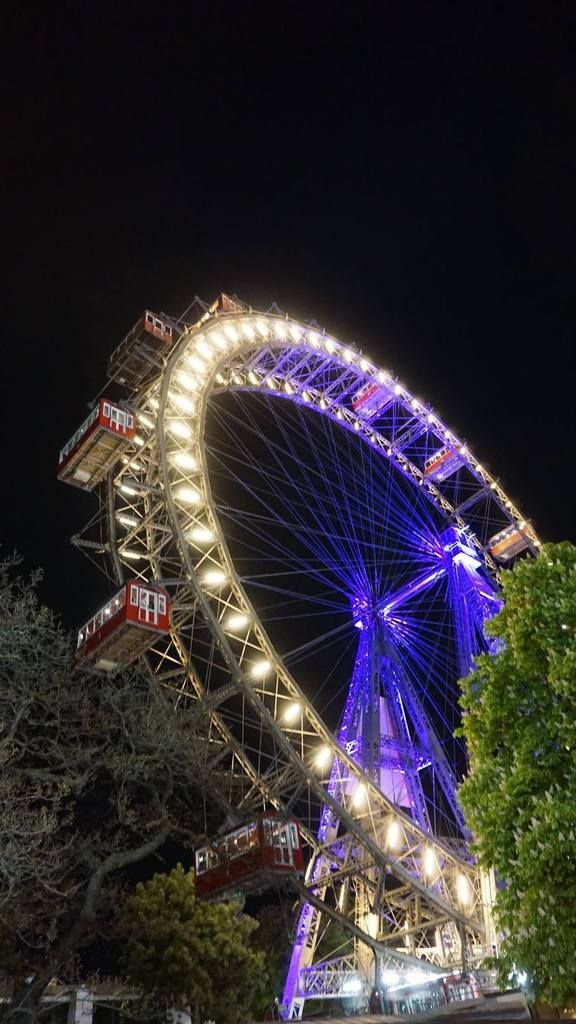 Such a cool building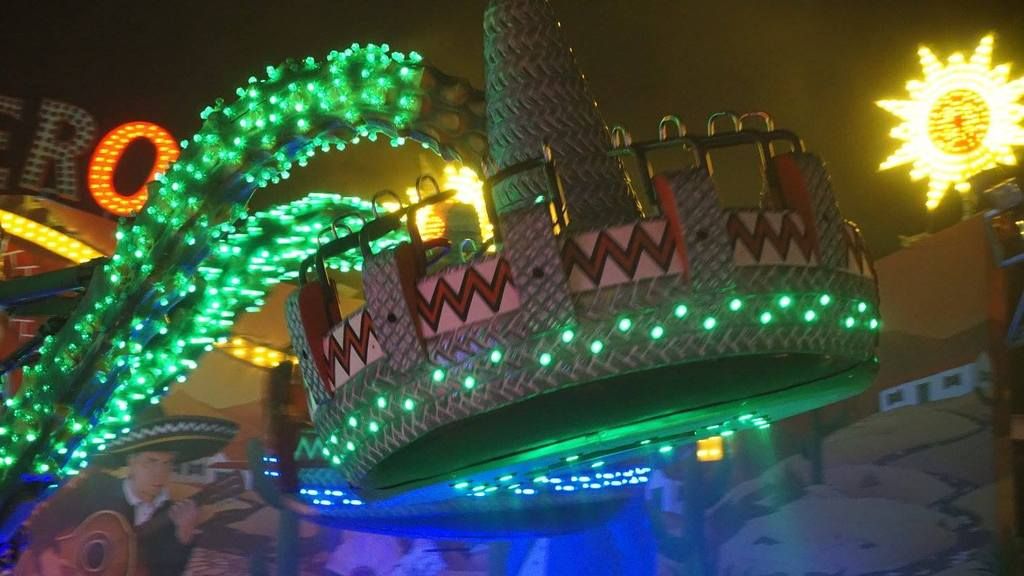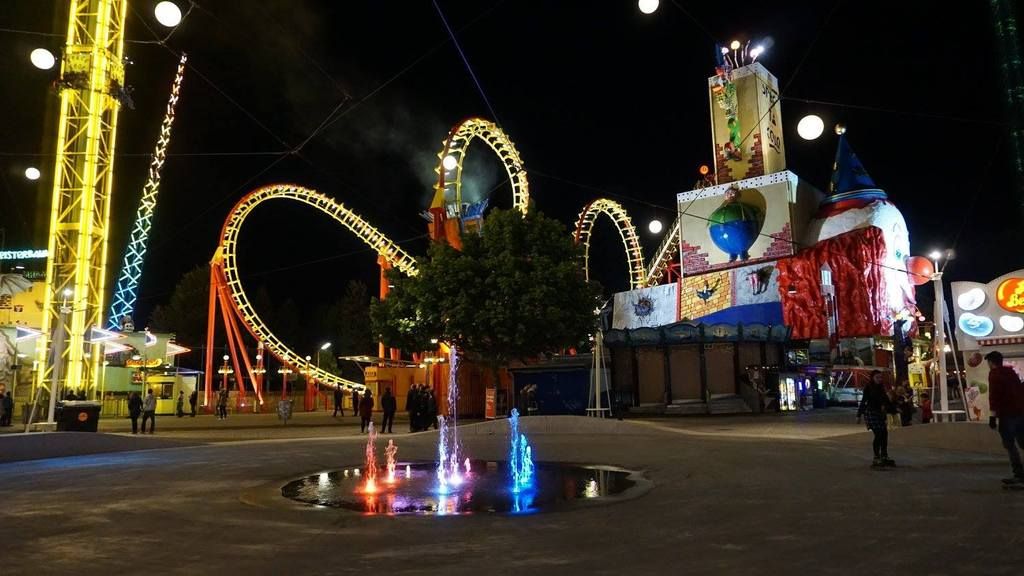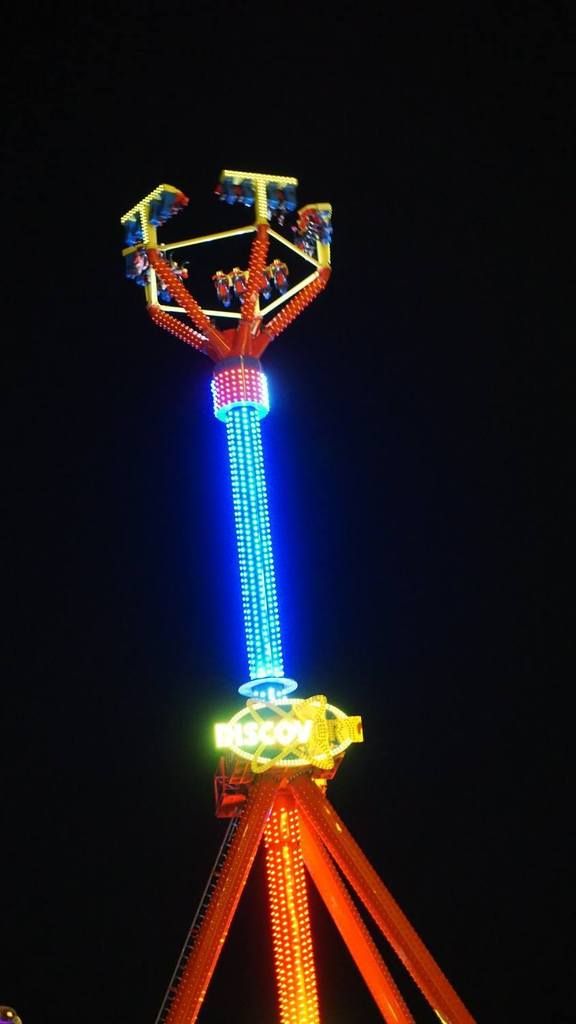 The tunnel actually had a smoke effect!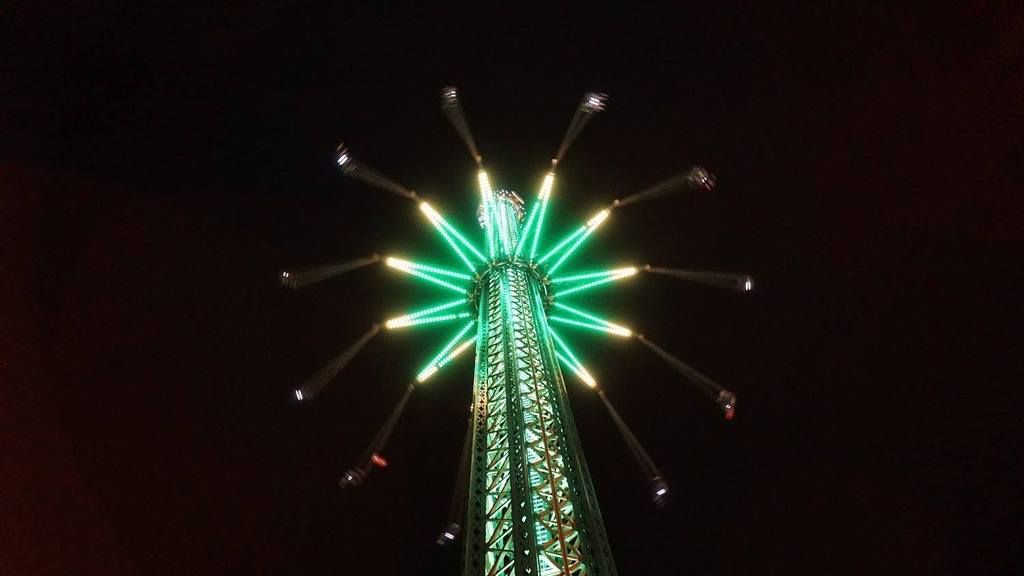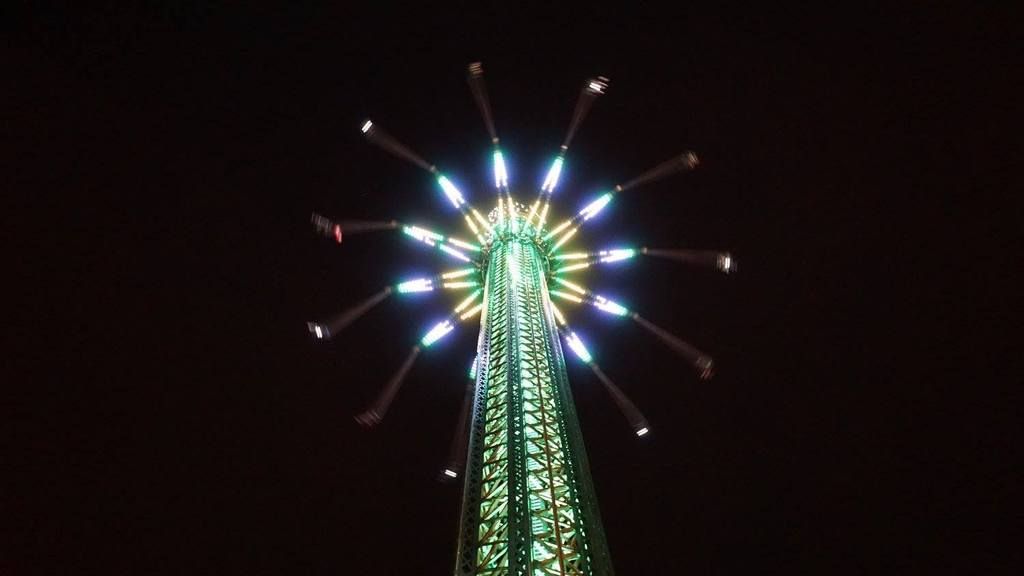 We decided to actually ride the star flyer in the end. It got bloody cold at the top and then towards the bottom it started spinning like a maniac which is when we like froze to death. Glad we did it though as the views were nice.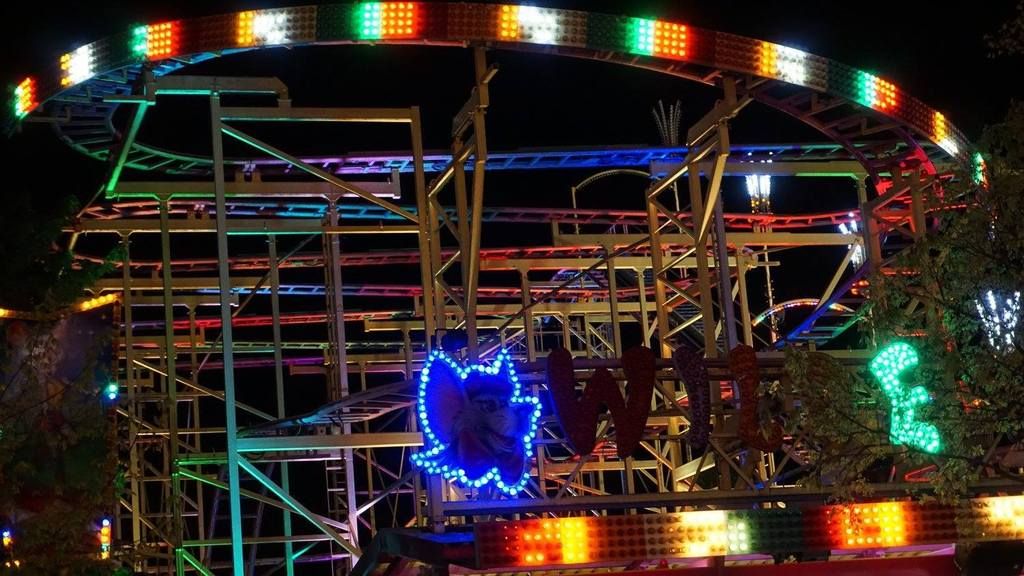 We loved the lights on all the supports
We ended the night with a go on Megablitz (still epic) and Olympia Looping.
As we were waiting for Olympia Looping some dudes ran past the ride and then like 15 policemen turned up, caught one of the dudes and threw him up against the exit. We didn't leave the station for ages as everyone was too busy watching the drama. Also randomly there were some fireworks going off in the distance and we were on the last ride of the day. It was just one of those moments that felt very surreal. Oh so I filmed a POV...
[youtube]http://www.youtube.com/watch?v=lN6rntwDxV0[/youtube]
We then headed back to the hotel (so glad it was close by) where we crashed out pretty quickly after such a long, exhausting day. Stay tuned for more ridiculous peep and Benin adventures soon...
Thanks for reading!