I strongly suspect it's a ride from Hafema, but Intamin did built one raft ride in Germany with a whirlpool.
Tusenfryd Invests 45 million NOK (5,4 million USD) in a new attraction!

Opens 500m (1 640 ft) long family rafting in spring 2016

TusenFryd will build Norway's toughest water-based attraction, unique of its kind in Northern Europe. An exciting river rapids over half a kilometer will be constructed, and in the wild rapids await several waterfalls, a maelstrom and other challenging obstacles.

Again TusenFryd invests considerable resources to offer the public a new, unique experiences in the park.

"Rapid River" is the project name of the concept which has been planned for several years. In all, 18,000 m3 (4,4 acre) masses will be removed, which corresponds to 1,200 truckloads. Thereafter, 2.000 m3 (0,4 acre) of concrete cast on an area equivalent to 3,500 square meters (0.8 acre). When construction is completed 1.3 million liters (343 423,6 gallons) of water filling the river, and two large pumps that push each 2,200 liters (581 gallons) of water per second will create a strong current in the river.

Intense experiences awaits the guests

The attraction has a capacity of 900 guests per hour. The guests will board one of nine rafts that each takes nine passengers. Along the river, they have to go through two waterfalls, a swirling maelstrom, a tunnel and other exciting challenges. The whole attraction comes with a Norse theme, in keeping with the design of "Thor's Hammer" which is another well-known guests favorite in the park.

The river will follow the falling terrain and be located close by "Thor's Hammer" and "Supersplash" and then sling 500 meters on the plot.

- This is a great family attraction. We are proud to offer our audience new unique quality attractions, and look forward with expectation to be able to wish guests a thrilling ride with the new family attraction in the spring, says Andersen.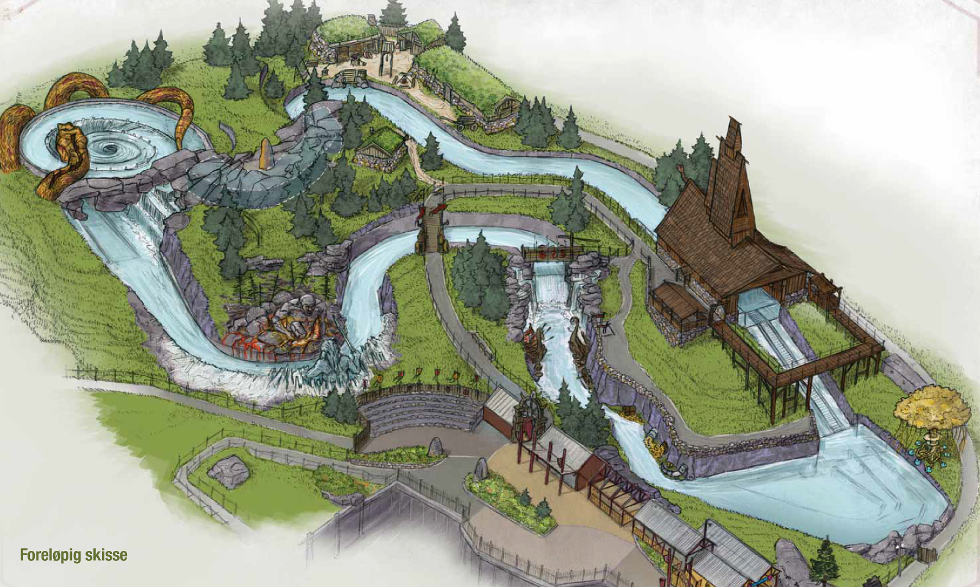 Source