I wasn't quite sure whether to put this in the trip reports thread, but it seems that last year people ended up using this section for discussion and reports of events, so maybe as well chuck it here (mods feel free to move!)
Was really fortunate to attend the VIP preview night for Fright Nights last night as part of Thorpe Park Mania. With that pesky Covid thing, I've been a bit worried how the few open UK scare attractions would really feel, but having done every Fright Nights so far, it felt like a safe bet to see what the baseline is.
In general, the actors did a great job at social distancing. I believe that as much as possible they try to stay at least 2m away, but because they're all wearing masks and all guests are wearing masks, they can go up to 1m for short periods of times. Still a very different set up to how Thorpe usually do it (since they like to resort to touching and invading personal space as much as possible). Maze groups are of course just restricted to your household, so groups of 6 - much lower than the standard 12-20 they usually send you through.
For those unaware, Thorpe changed their line up a lot this year, going for just 2 mazes, accompanied by a lot of new scare zones, something which the park haven't really done.
Roots of Evil
The 'new' maze for this year, replacing Blair Witch. In all honesty, this isn't much different to Blair Witch. In fact, it seems to be the exact same layout as Blair last year, with the ever dense shrubbery and buildings too. The buildings have been rethemed to look like tree roots are taking over them.
I think Roots suffers from Covid restrictions though in a major way: actor numbers. Because of the dense forest area, there's not many place where the actors could interact with you without breaking social distancing. This means that in moments when you need there to be actors, it can fall a bit short. Many of the actors that are there are military personal to guide you through (because of the story), or covered in trees to blend into the environment.
The upside is that at points you do feel very secluded and alone. Mix that in with the household only thing, and that will get a lot of people on edge. Didn't do much for me personally, but the casual goer will love it.
Platform 15
The route has been reversed this year (I imagine, in part, to solve the problem of to achieve social distancing down a 100m long pitch black tunnel). This means the maze starts in the 'village' section. Not many actors and all a bit meh. You come to the old Thorpe Park train, which is now tipped on its side.
From the train, however, the actors did a good job. Quite a few hiding spots (including the old Love Island cabins which have been repurposed), and lively actors bashing against the metal walls. It's basic stuff, but it's the best they can do with what they have I think. And like this Roots of Evil, it will get people. The ending features a 'fake' ending (but the type where it's obvious it's not the end), followed by a group of actors along with a train effect.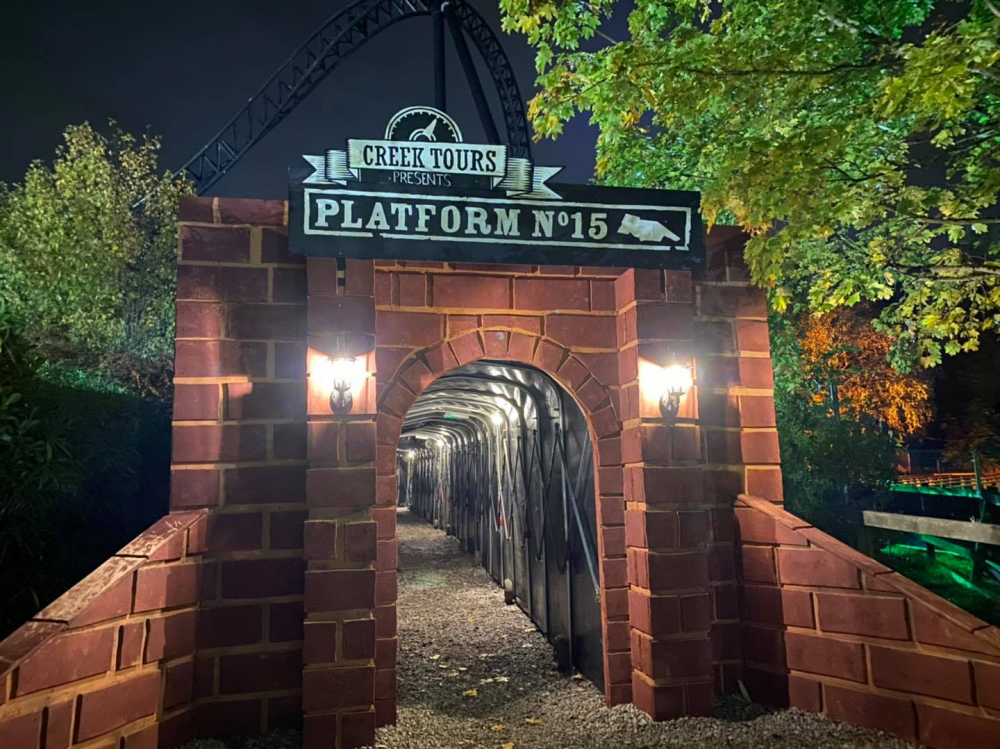 The endless tunnel of boring nightmares has been transformed into the endless tunnel of queueing
Put simply, the mazes aren't that strong. Roots of Evil doesn't have enough actors or suspense to be effective, and Platform 15 is too open. On the other hand, I don't know what else the park really could have done. None of their indoor spaces were suitable for mazes I believe (lack of ventilation and the like), and the outdoor mazes work around the restrictions in place as much as possible. It's very much a case of making the best of it out of a bad situation.
Thanks to only going within your group though, it means that the experiences are a lot more personal, and I think that again, more casual goers will be really unnerved by that. For the more enthusiastic people who have experienced many mazes, not so much, but for the wider audience, that'll be a big plus. Maybe doesn't justify the £10 uncharge for the mazes though.
As for the scare zones...
The Fearstival Arena
. Taking place outside the Ghost Train, it's basically a group of carnival acts and freaks that creepily roam around. Lots of great character work, with a bit of humour mixed in too. Also has a stage where the actors sometimes perform a show, or where a mini fire show takes places.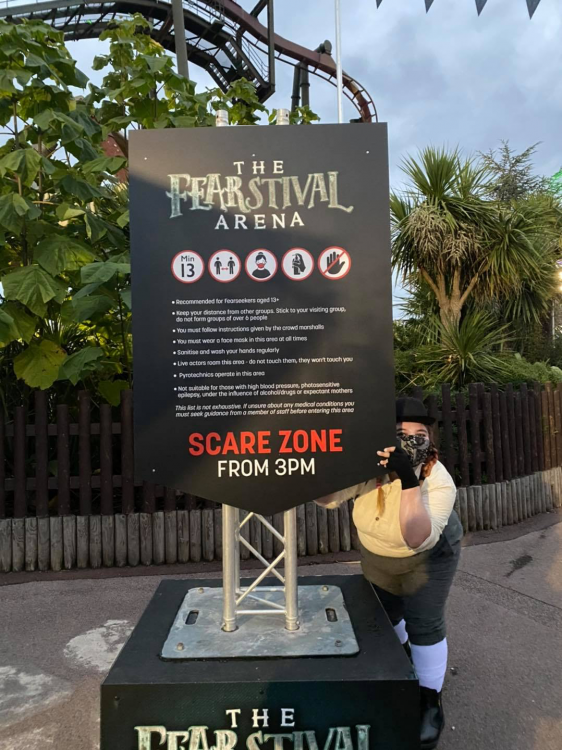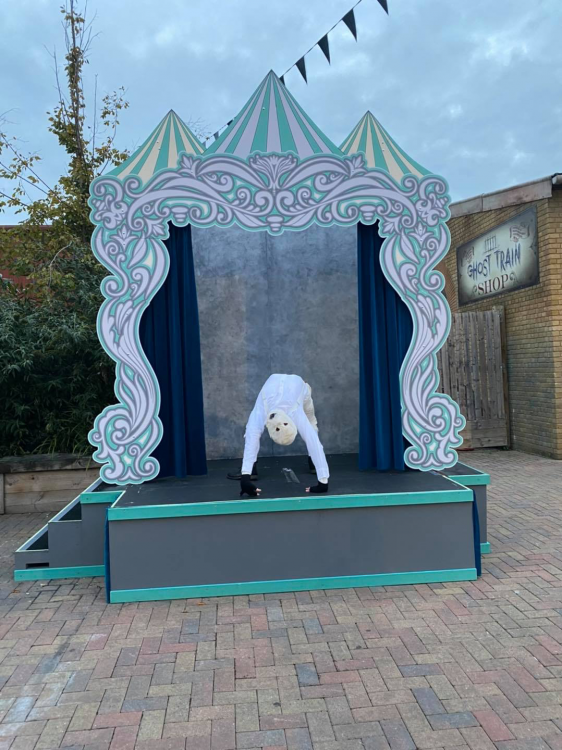 I was asked to join the carnival, but because I'm not this flexible, I would have to settle for being a bearded lady. I politely declined...
Creek Freaks: Unchained
. The principle is the hillbilly like characters, the Buckwheats, from last's new maze have escaped and run havoc round the Old Town area of the park. It works more like a mini scare maze being a one way route and such. It's great fun though.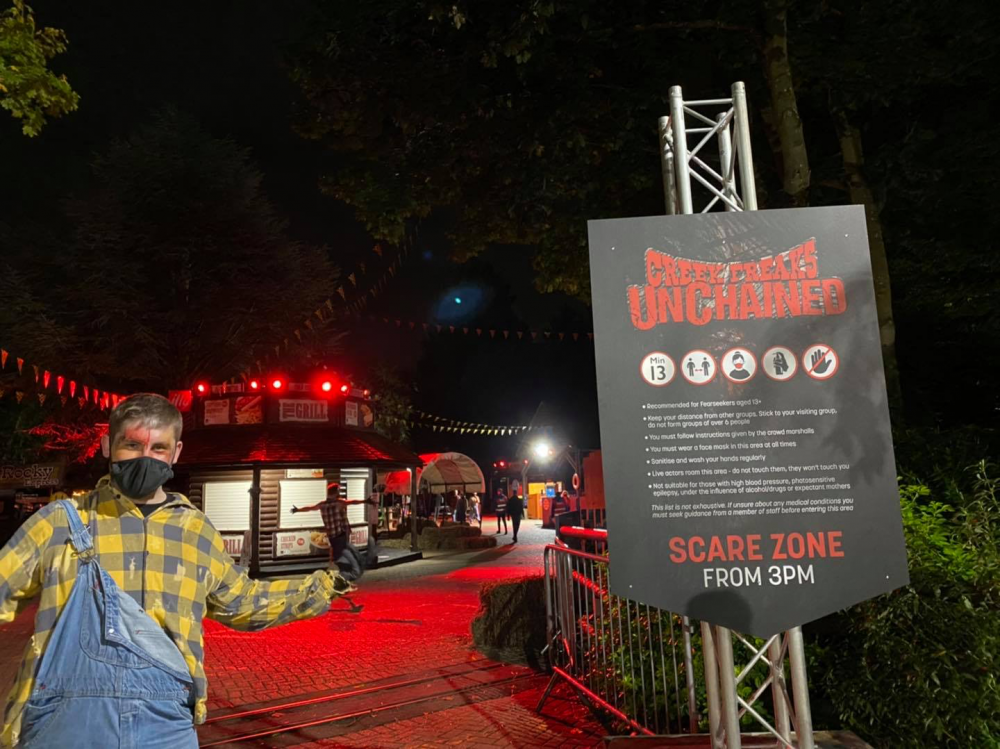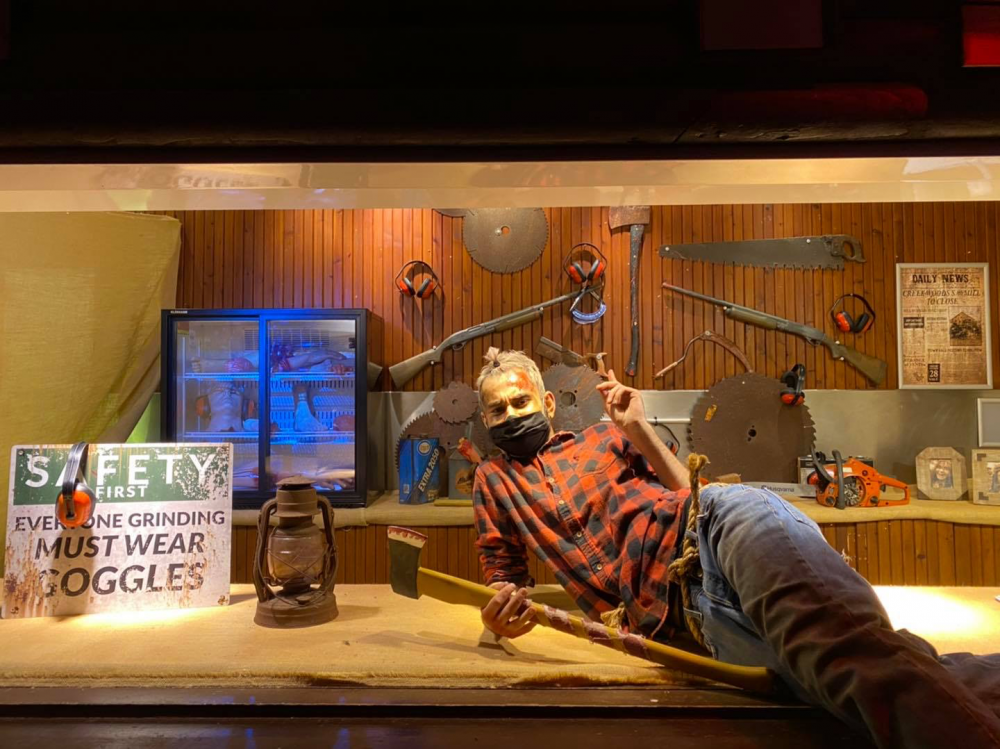 Paint me like one of your French Buckwheats?
I may have been asked to join the carnival, but I think I'm a Buckwheat by blood
(NB - photo was taking socially distancing, despite it not looking like it..!)
Terror at Amity High
/
The Howling of LycanThorpe High
. A flash mob show between two competing schools of vampires and werewolves, plus actors who roam around their own individual areas. Very similar to last year's show.
The Swarm: Invasion
. A few military-like characters and conspiracy theorists (like the Lez Cougan character used in the build up to the ride) roam the area. Felt less like a scare zone and more just a few characters used to extend the story. They're very much take it or leave it - you could walk through the area and basically ignore them, or not even notice them, or you can take your time and really absorb everything that happens with them.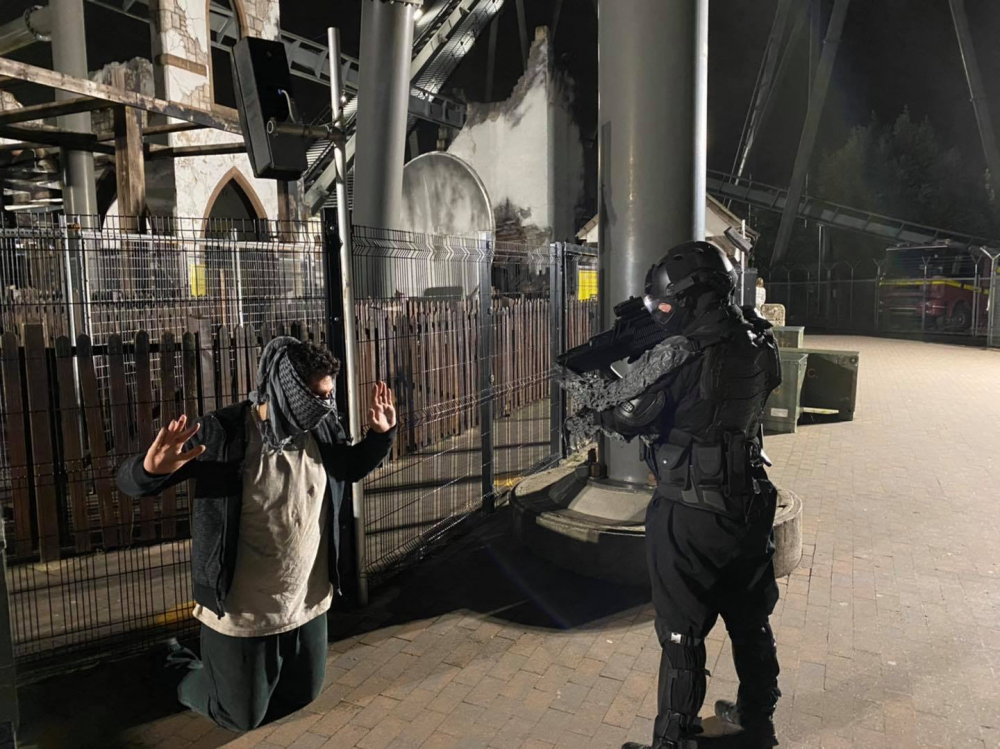 They also have some short horror films play in the 4D cinema (they're the same that have played the last couple of years, and they're terrible), which also has a mini introduction from some actors, as well as roaming scarecrows, which are brilliant costumes.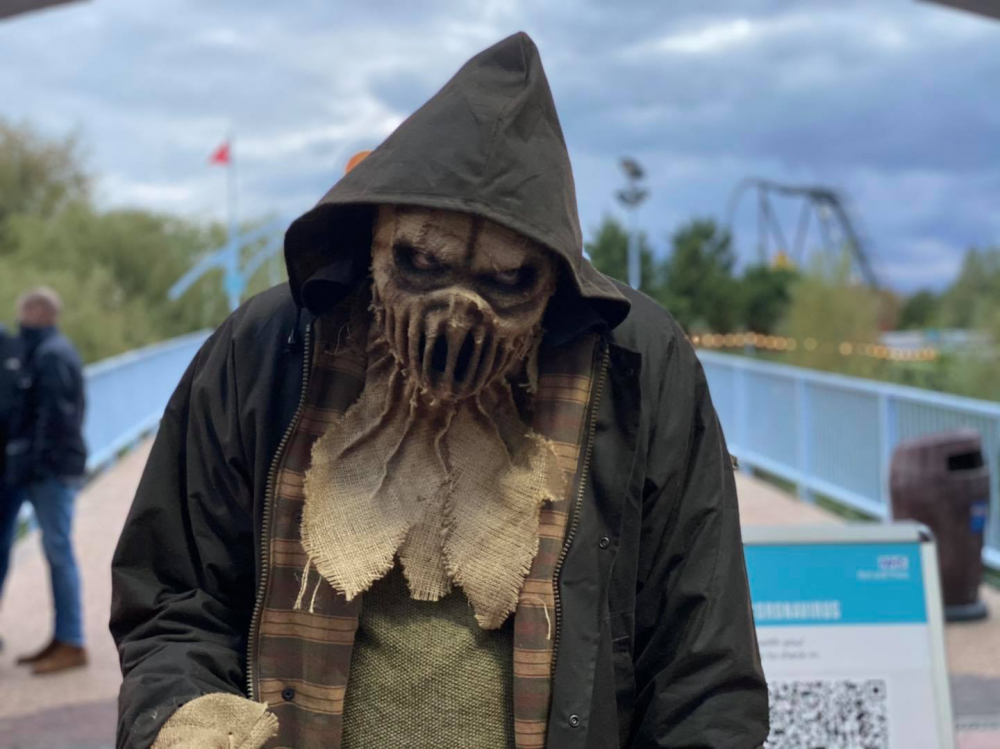 Genuinely great costumes - some of my favourites to come out of Fright Nights!
All in all, it's actually a decent Fright Nights event, thanks to the atmosphere that the variety scare zones created. The Covid situation really does seem to have affected maze quality, and I'm not really sure I'd want to experience a new-to-me event (or even a brand new-to-me maze) under the current circumstances. So Fright Nights will probably be my only scare event this year. But I'm okay with that, as it's enough of a little fix to bring something to Halloween. And I'm sure that for the wider audience, a lot of people will still really enjoy what the park have put out!