Well I was going to Chicago for a week at the end of August so I was going to spend a day at Six Flags Great America as well. I chose the Thursday 27th to visit the park which unfortunately turned out to be a VERY wet day
. I kind of expected rain due to the forecast but hoped it would clear early like the day before.
I initially assumed there would be a direct bus to the park from Chicago but a few weeks ago I found out there wasn't which put the trip to the park in jeopardy. I quickly looked for alternatives and found the best way was by Metra train to either Waukegan or Libertyville and get a taxi from there to the park. I have to say the Metra website was very easy to use, all I had to do was type in Six Flags Great America and it told me how to get to the park and a list of train times.
So we left for Ogilvie train station in Chicago at 7.45am for the 8.35am train to Waukegan. The train took around 1h 20mins and we quickly got a taxi straight away.
We arrived at the park around 10.20 to a near empty car park :--D . Sadly the rain hadn't stopped so I feared they wouldn't open the coasters in the wet weather. We proceeded straight through the turnstiles with our online tickets and as I walked straight through I was stopped straight away as I didn't even notice they had metal Detectors... first time i seen that at a themepark!
We were greeted by allot of friendly staff at the entrance plaza and got a photo taken with Mr. Six himself
.
Due to the terrible weather and with Illinois schools back that week, crowds were extremely light that day with all rides being walk-on! :shock: First stop was:
Superman: Ultimate Flight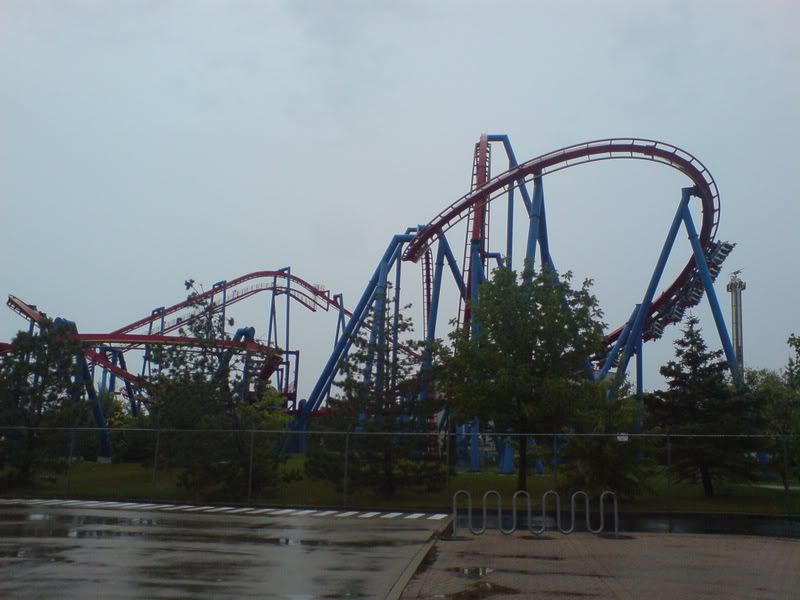 This was my 2nd Ultimate Flight clone (the other being SFGadv's) and my 3rd B&M flyer overall. I took the back seat for my first ride and wow, the Pretzel loop was INSANE. I don't remember it being that intense on Gadv's but maybe the wet weather made it run a little faster? This version also has nicer landscaping with more trees planted around the layout. The drop was fun and the pretzel loop was fantastic then it was a bit average after that.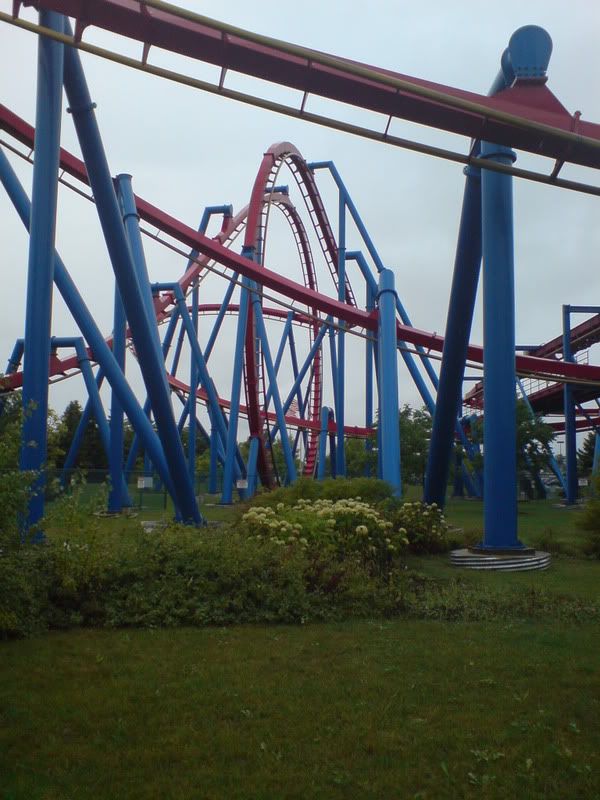 Overall I think I slightly prefer Air as Superman just dies off after the pretzel loop and Air has nicer landscaping but Superman was still a great ride and I love the flying gimmick.
8/10
V2: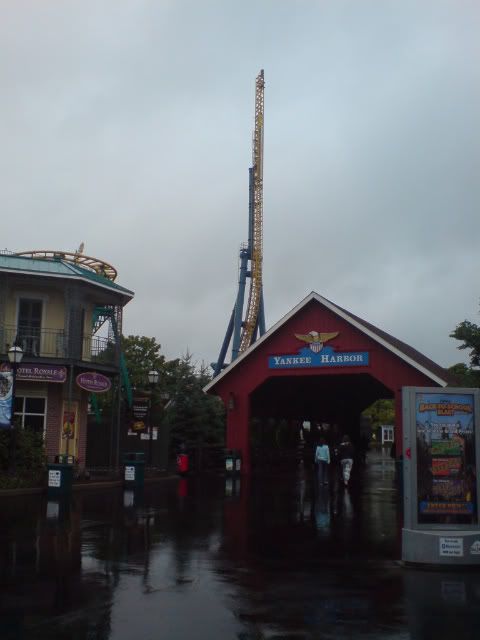 This was my first Intamin Impulse coaster and I was a little excited to ride it. It's awesome watching the ride launch in front of you as you wait which got me excited.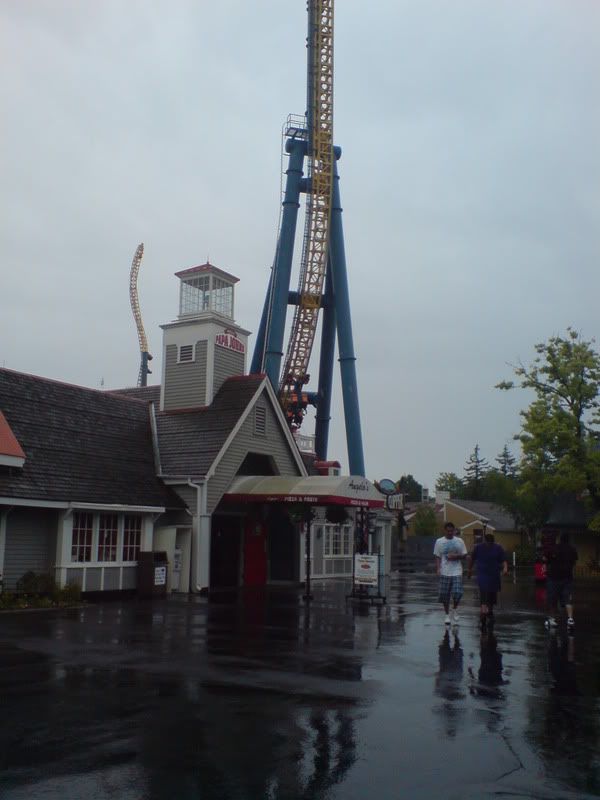 The initial launch is pretty weak but still fun and the boost as you speed backwards through the station was awesome. The holding brake isn't on (or working?) this season but it was still quite fun.
7.5/10
Batman: The Ride
This is B&M's first Inverted coaster and my 3rd Batman clone. Fun as always but definitely not as intense as Madrid's version. It has a few bumps here and there but nothing major and was generally quite smooth. I found it to be more intense in the middle of the train than at the back.
8/10
Raging Bull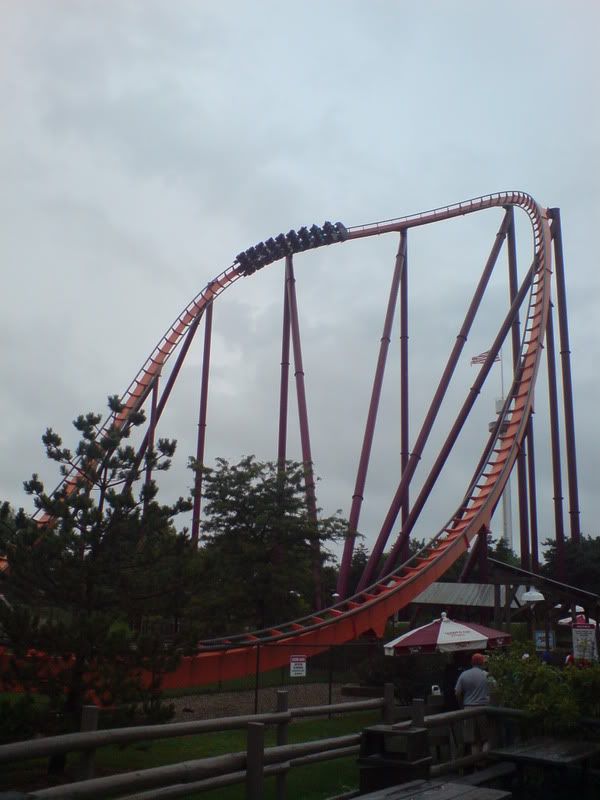 My 2nd B&M hyper and I read allot of negative reviews so I wasn't expecting too much. I took my first ride in the back row which provided great airtime on the first drop.
Fun so far through the turnaround then......TRIM :evil: !!!!! And it was on bloody hard too killing allot of speed which meant no airtime over the first hill. The back provided slight floater on the drop out of the hill.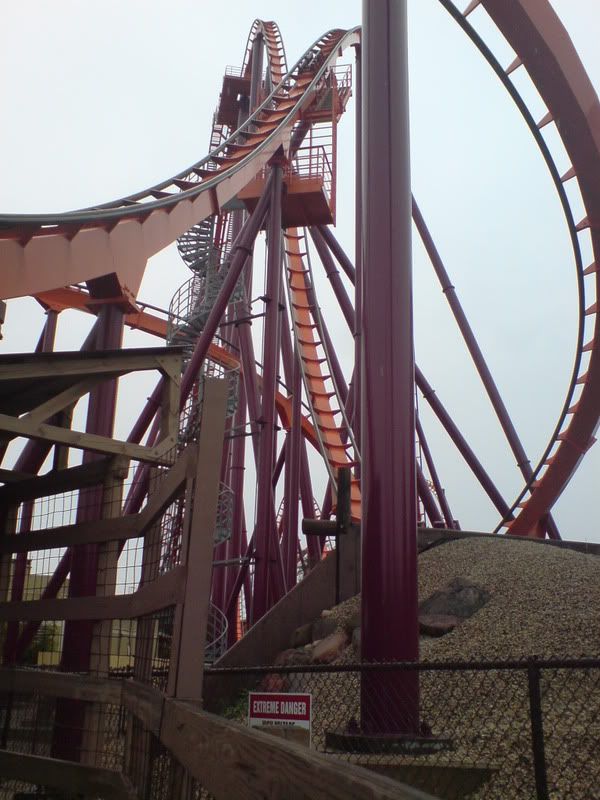 Sadly the following banked hill over the station was taken far too slow as was the next turnaround ruining the pacing of the 1st half of the ride. Then up to the MCBR and surprisingly it flies through it! I'm surprised it didn't bring it to a near stop
. So there was some nice airtime on the drop out of the MCBR and on the following airtime hill and the small hills provided a nice little pop of floater then another TRIM! It wasn't on as hard as the first but still took away from the final helixes.
While I knew it had 2 trims its quite annoying how much they affect the ride bringing the first half to a near crawl! It's a fun ride and provided a few pops of airtime in the back but it would be a really great coaster without the trims IMO. The 1st trim was on extremely hard but luckily it ran a little better later on in the day and was quite fun overall.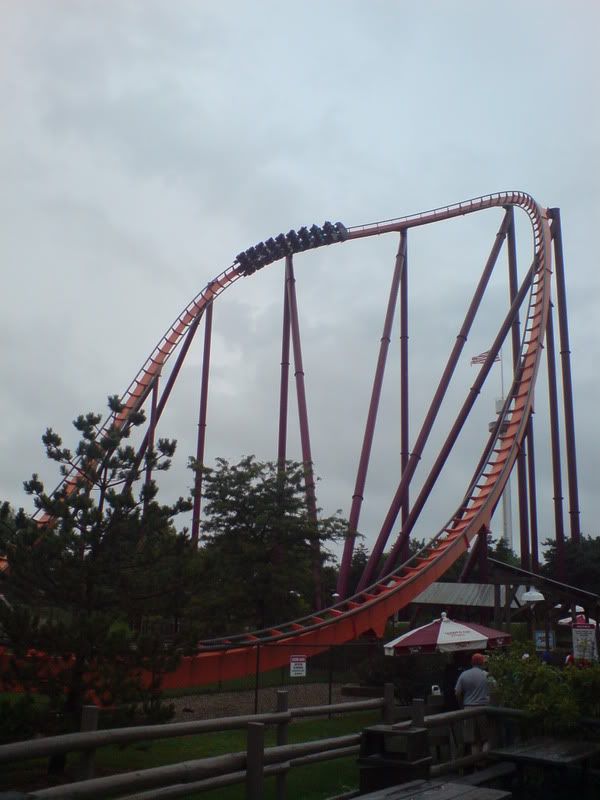 Not as good as Nitro but still a fun:
8/10
Viper: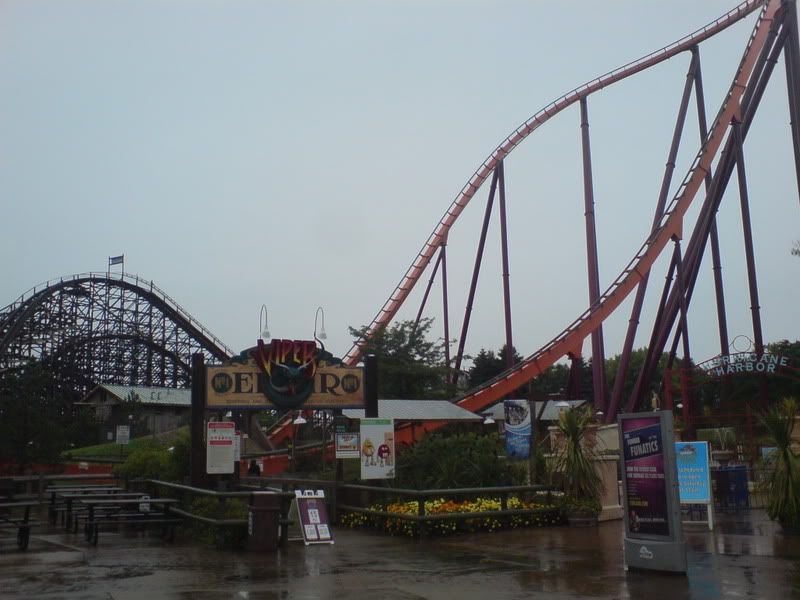 I haven't heard much about this woodie before but it was alright. Not too rough and provides some nice lats and a little airtime but with a little more speed over the hills it would have been allot better.
7/10
Iron Wolf: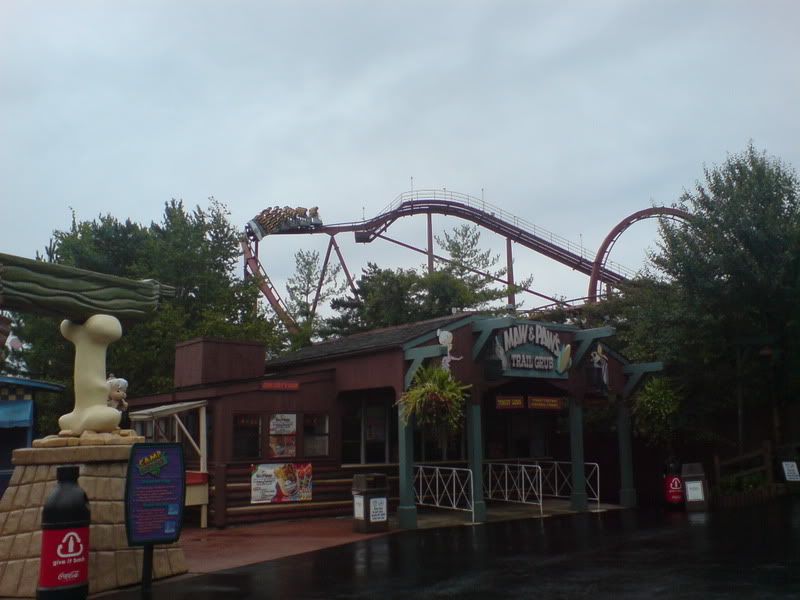 B&M's first ever coaster and my first stand-up! I was expecting the worst after reading all the reviews and it sort of lived up to them. It was only rough in a few places but those few places had allot of head banging which ruined the ride. Luckily I didn't have a headache after but my ears were still sore.
By far the worst B&M I've done and the stand-up gimmick is pointless!
4/10
Demon: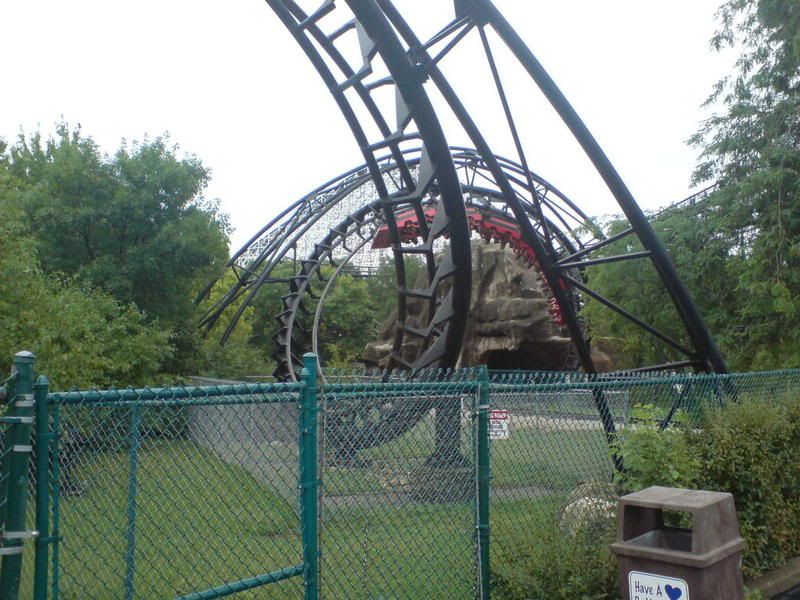 It was alright nothing amazing, not too rough the tunnel with lights is cool but meh.. oh and wtf is with that transition into the corkscrews?
5/10
American Eagle: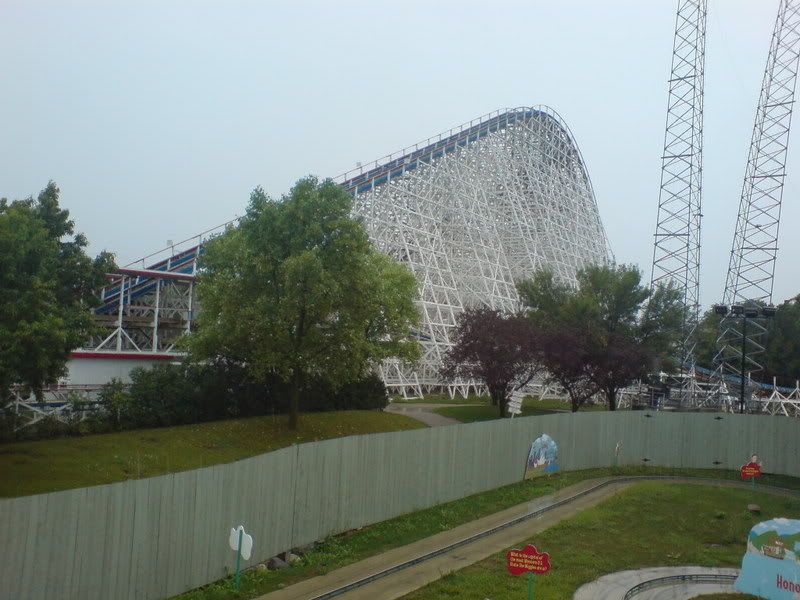 The surprise of the trip! I was expecting a rough old woodie like Rolling Thunder but I found it to be allot of fun. It was pretty rough in places and the top of the massive helix is trimmed to death but it gains allot of speed throughout the helix and the last half of the ride has that out of control woodie feeling and was pretty awesome.
8.5/10
Giant Drop: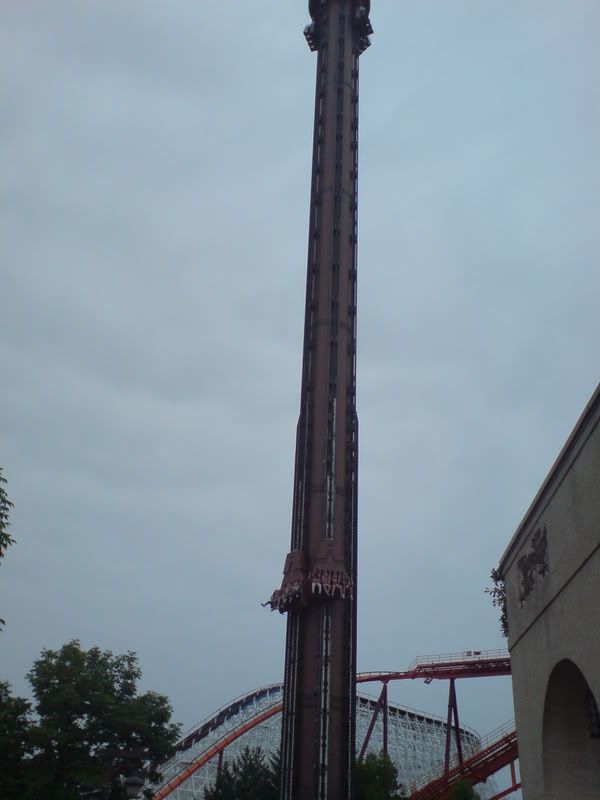 Basic drop tower, nice view of the park and decent drop. Compared to Hurakan Condor it was nothing special.
7/10
Sadly due to the weather combined with the very light crowds the following rides were closed:
The Dark Knight
Rajin Cajun
Whizzer
One side of American Eagle
The Rapids
The Flume
I wasn't too bothered by these being closed except maybe Whizzer as it looked like fun but I've done Dark Knight at Gadv and I've done plenty of crappy Wild Mouse coasters. It was far too wet for any water ride but Buccaneer Battle was still open even though I didn't see anyone riding it all the day.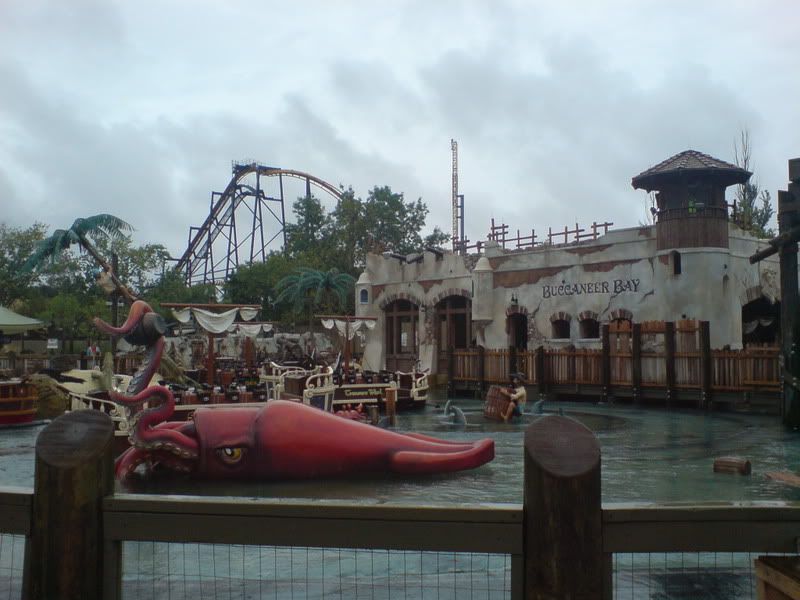 All coasters were running 2 trains except V2(Obviously) and Superman but they later took off the 2nd train on Batman but it was still walk on! While it rained most of the day except for 2 hours it kept the crowds away so I wasn't bothered by it. Luckily I didn't purchase the Gold flashpass online before I went as I would look like some idiot
.
Ride Count:
Superman x3
Batman x3
V2 x4
Raging Bull x3
Viper x2
American Eagle x1
Demon x1
Iron Wolf x1
Giant Drop x1
The park looks very nice with some nice theming. They have music playing throughout the park which sets off a nice atmosphere and I wasn't bothered by the amount of advertising. But I have to say, I know themepark food is overpriced but bloody hell over $30 for a chicken strip meal and a burger meal with a drink is ridiculous!
Overall park rating:
8/10