Parque Warner Madrid - August 2012 PTR
The trip to Madrid began with a train journey from Crewe to Manchester Airport, after being robbed of £15 for a 45 minute journey, I had a decent journey to the airport, no delays, no faffing and we got there in good time, so after accepting that no transport or drive in the car is cheap these days, I was relatively content with it all. I had a 15 minute wait for Peter to turn up and his train was on time, so after finally getting into the lift in the airport and going to just about every floor we didn't want, we finally got into terminal three and from there it was all very straight forward, no plane delays or any faff like that thankfully, the most annoying thing in the airport was waiting behind someone who tried to use his bank card a few times to pay for a £3 sandwich, and his card continued to be declined to the annoyance of the lady serving him and the queue which was getting longer by the minute.
The flight time seemed to go pretty quick, probably helped by the fact I was listening to music and playing fruit ninja on my phone, plus the food situation turned out to be quite amusing too. Peter suggested we get tea on the plane instead of searching Madrid at midnight for food in places we didn't know, so I odered a regulation cheese burger on the meal deal, however the staff got confused, forgot to charge the right amount and it turned out that most people on the plane got a good deal and the food a lot cheaper than expected. It was like Fawlty Towers meets Ryanair. There was a lovely sunset to see out of the plane window, which was considered as the first photo oppourtunity of the weekend;
The plane touched down in Madrid on time and we got the standard Ryanair landing announcement, something a bit like this;
http://www.youtube.com/watch?v=LmRrQw4Us9o
:lol:
After getting off the plane, I was a little unsure how we would get to our hotel, however Peter said he'd got some information about train times, metro stations and maps, so I was happy enough to trust the information he had and it turned out to be a very well planned out route back to the hotel, starting with the metro journey from the airport to a station I cannot spell or pronounce, so I'll pass on naming the place lol. At the unnamed station, we had about two minutes to catch the train, with lots of stairs and gates to go through, and the task of buying tickets on a machine that wasn't willing to accept coins or notes, thankfully it accepted Peter's credit card, however it took it's time about it and by this point the train was pulling up, so after a sprint up some steep steps, we just about made it onto the train. I'd forgotten the effort required when it comes to running to catch a train lol. We arrived in Pinto in good time, and then I was wondering if we would find our way to the hotel with ease, which we did, seems as Peter had also done research on the route from the station to the hotel.
We found the hotel with great ease, and once we got checked in, it was finally time to get some sleep and prepare for the following day at Parque Warner.
Parque Warner was scheduled at 11am to midnight, with the shops in the park staying open a little bit later than the rides. We arrived at PW for 10:45 which proved to be a mistake, they open the gates at 11, they don't open the rides until half 11 and they don't let you near the rides until half 11 either, but they are very clever with it because they keep you contained between the entrance and all their shops around the entrance, including food and drink establishments, so we all do what they would hope for, look around the shops, buy a drink etc, it may be frustrating but it's good business sense, especially with the merchandise being very well branded and very well priced so it's hard not to talk yourself into buying park merchandise.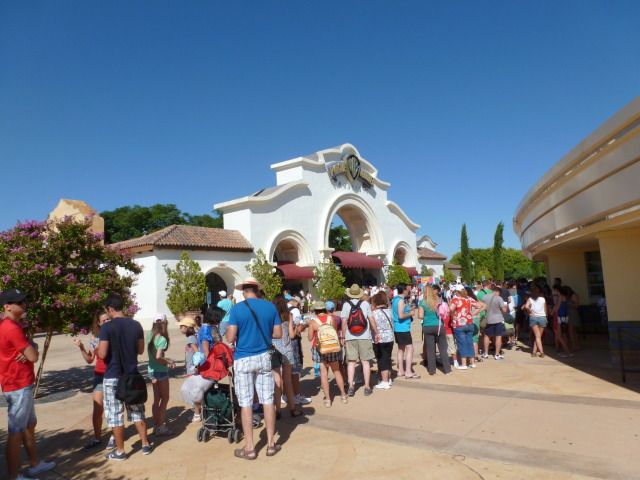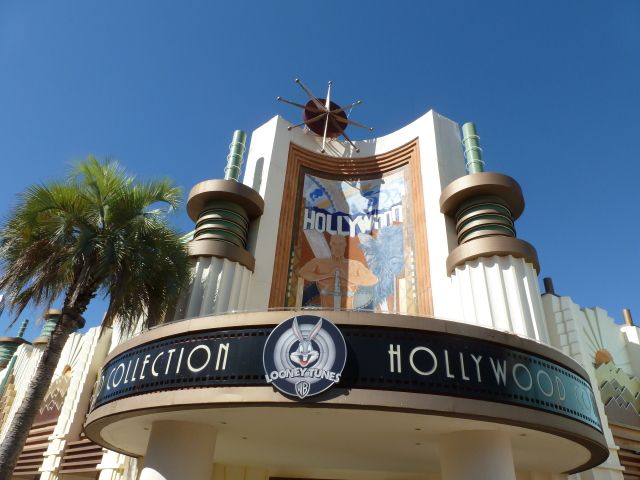 Our first ride was Cine Tour, which was basically a vintage cars ride with WB characters around the circuit of the ride, it was ok but it was a family ride more than a thrilling ride, but it wasn't bad to start the day off with. I did a full ride video of this, which I'll post a bit later on in the trip report.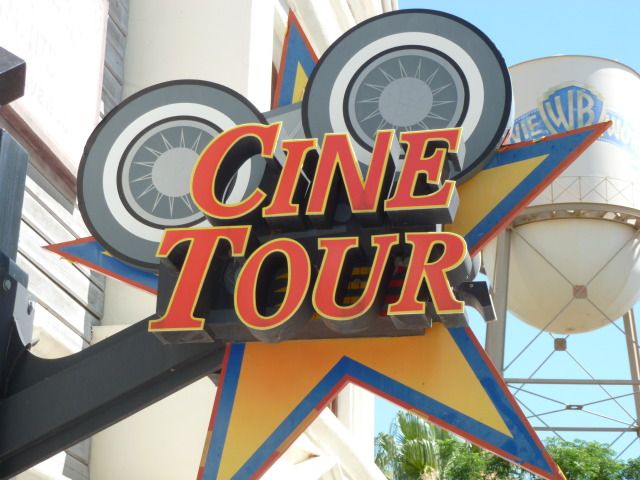 The first major coaster we did was Superman la Atracción de Acero which is a B&M floorless rollercoaster, a coaster concept previous to this visit, I hadn't done before so I really didn't know what to expect, especially as I've not read many good views about floorless coasters. We took a few photos before joining the queue, and then we entered the queue, which we could see was quite long but thankfully no cattle pens.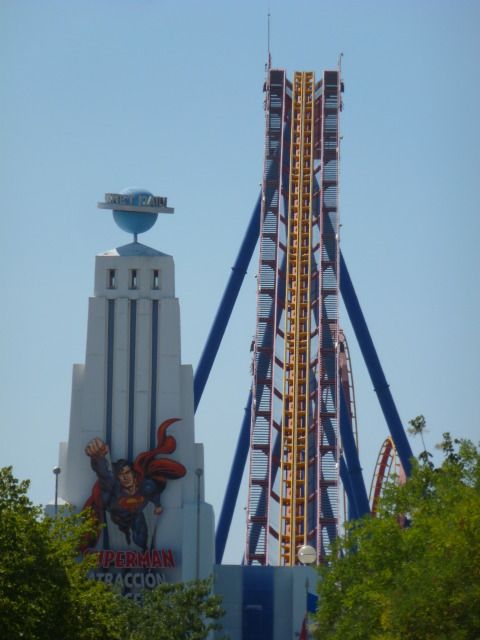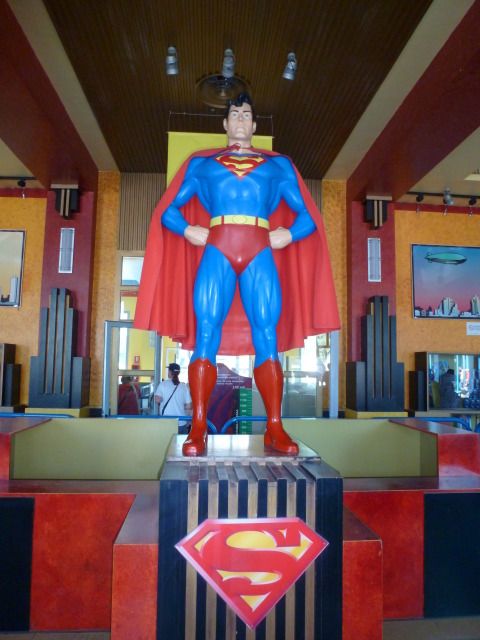 It was only when we got into the queue we realised it was being run on a one train service, which at the time was very frustrating, however as this report progresses, you'll see why it was no problem in the end. My thoughts on Superman were very positive, in terms of the layout it's similar to Dragon Khan but features an airtime hill and a few banked corners towards the end of the ride, it's well paced from start to finish with the first drop being very good and airtime filled. The inversions are intense, and the airtime hills are insane, there's no where your bum stays on the seat regardless of how tight the restraints are on you. There's also quite a lot of foot chopper moments too if you're sat on the end seats.
We moved on, bypassing the Batman rides for the time being knowing the queues were lengthy at the time, so we called into the Gotham City Grill for dinner, which was very nice and made very easy to order by using machines to pick exactly what you wanted, it helped to avoid any issues with the language barrier.
After dinner we strolled over to the Old West area which proved to be a plesant area of the theme park with a good vibe to it. We decided to ride Coaster Express next, the queue wasn't a fast mover again due to one train but we got on it in 30 minutes. I had read a lot of unpleasant reviews about it, suggesting it's rough, it's dull and has no character, all of which were proven to be wrong. Coaster Express isn't your normal woodie, it's not out and back, but it's not really like Stampida either, but even so it was a fun coaster with plenty of speed behind it, and while it did have a few bumpy moments it's not a ride I would call rough, however it isn't one for the faint hearted.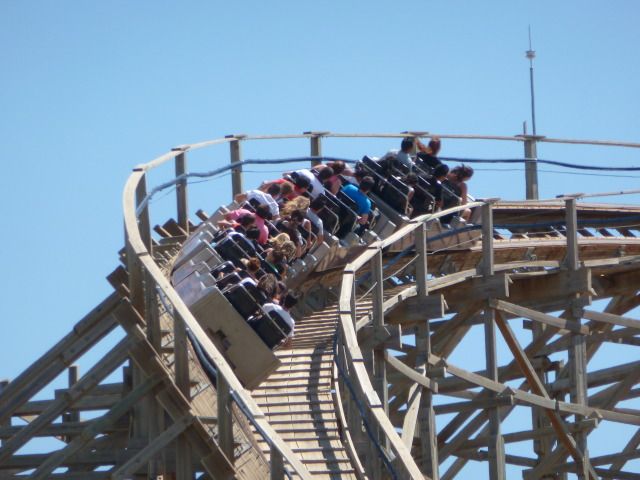 We headed back over to the Batman area, on route checking a map to see if we could work our way to the S&S drop tower which is themed around the Riddler's revenge, I am not exactly sure on the name of the ride. As we were checking the map, Peter was given a scare as someone threw a water bomb in our direction and it was very close to taking Peter's head off and soaking him in the process, which I gotta say, was very funny especially with the reaction it got from everyone around the area. We were still non the wiser about finding the tower ride, so moved onto the Batman attractions, starting with Batman Knight Flight, which was a simulator.
It started off with a queue outside of Wayne Manor, and when we finally entered into Wayne Manor (Batman fans will probably know what I mean here), we waited for something to happen and eventually everyone was asked to sit down, while a pre-show was on in Spanish.
After the pre-show, we moved forward into the Batcave, where there was something going on, on the Bat computer and eventually a Batman figure appeared sat in front of it, then said something in Spanish and we moved onto the next stage of the ride, which turned out to be a simulator of the Batwing chasing around various DC comic character villians, it was OK but it lacked in any realism and it turned out to be one of the more disappointing attractions of the weekend.
It was time to move on, and we got round to doing Batman La Fuga, Parque Warner's B&M invert. I was very hopeful about this ride, and my expectations were met quite early on, where the queueline theming was spot on, they really didn't miss a trick with it and I am pretty sure most fans of the Batman films and comics would really appreciate the efforts put into the queue line theming alone.
We got more than half way through the queue, and still didn't see anyone, eventually getting to the station to find it was walk on, including the front row, so of course we opted for front row. On the lift hill, I noticed the queue for Superman had disappeared and suddenly, the park had gone dead and that explained why they were so reluctant to run rides to capacity earlier in the day, knowing the crowds wouldn't last long. The first drop on Batman La Fuga is very similar to Inferno's, straight into a vertical loop and straight away you can feel the intensity of this ride, which like Inferno is quickly followed by a Zero G Roll, then followed by another vertical loop and high paced corners leading into two more corkscrew inversions and finally into the brake run. For me, with the theming, the setting of the ride, the intensity and the way it maintains its speed from start to finish, it has blow away Inferno and Nemesis, and stands proudly as my favourite B&M invert, at this point I'd probably rate it above Furius Baco, so now see it as my second favourite coaster.
The staff were quick to encourage all the riders to stay on, so most of us took up their offer and after another two rides on Batman La Fuga it was time to move onto Superman again and take advantage of the queues being empty. Both of the comic book hero coasters remained walk on for a few hours, which was great for clocking up a few rides on them.
After taking advantage of the quiet queues, we went on to look for the S&S tower, which again we couldn't find and ended up in the Cartoon Village area, which is home to the wettest Rapids ride I've been on yet. The Rapids did have a queue, but a well themed queue and a fast mover too, plus I was surprised to find this is a Rapids ride which starts with a lift hill and doesn't use a turntable.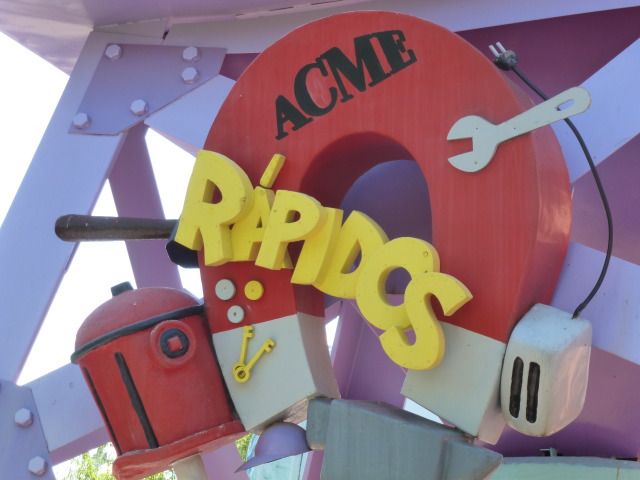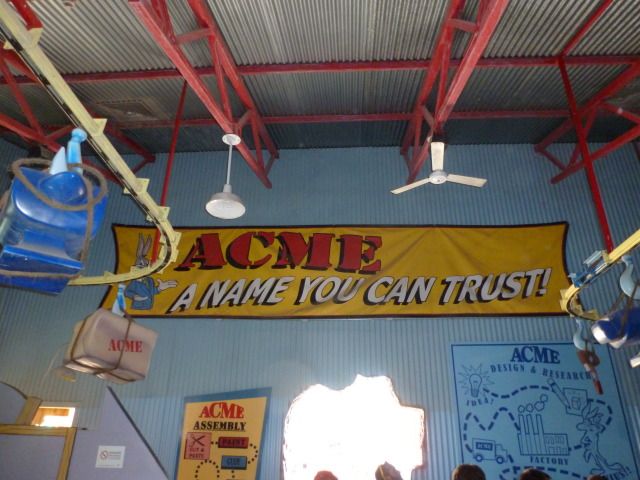 I wouldn't rate the Rapids above those at Port Aventura, but there is no escaping a soaking and the final stretch back to the station is just madness, it slams the boat into the sides and usually results in everyone being thrown into the middle of the boat. We also rode the family coasters in that area of the park, to get them out of the way.
Once again we consulted a park map and finally found our way to the tower ride, which is very imposing from anywhere you look at it. There is three sequences to this ride, shot only, combo (shot and drop) and drop tower, we managed to get the worst of the three to start with, riding it on shot only, where it did have a more forceful launch than Ice Blast but lacked any airtime at all which was a huge let down. We did ride it again two more times the following day, once in combo mode and another time as a drop tower, which was better on both occasions than the first time.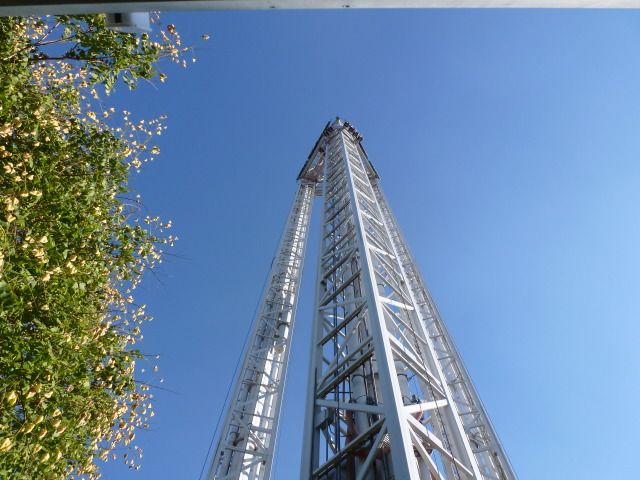 At the Superman area of the park, was a ride called Lex Luthor Invertatron which was no different to Ripsaw, apart from the fact there was no water sprayed at the riders which in the Madrid climate, was a bit of a surprise.
It is also worth noting that Stunt Fall was closed throughout the visit, but that was to be expected as it has been shut all year round but is supposed to be back next year.
Parque Warner by night was a very special experience, in some ways reminded me of PB and further made me wish they would take the risk of staying open until 11pm. PW was very well illuminated, except for the pathways, which made for a great effect especially in the Gotham City area, the lack of lighting between there and the Superman area was very fitting to how it would be in the films.
Day two;
After learning from the mistakes of day one, we got to the park an hour later, to find the queues had spread out much better than the previous day and once again, there was a big rush to do all the rides early from the locals, so we headed to the back of the park going to Coaster Express first, riding it four times without seeing any queue for it. Coaster Express seems to get better with every ride.
We decided to ride Rio Bravo whilst we were in that area of the park too, which proved to be a quality water ride featuring a backward double drop! Rio Bravo was all round a very good water ride, not too wet but did enough to cool the riders down in the sunny climate.
The merchandise throughout the park is brilliant, there is more than enough merchandise for every area of the park and all reasonably priced, plus a lot of the shops offering 50% off a second purchase. It is also worth noting that the staff were very helpful throughout the park, and very efficent too.
My main issue with the park was that their catering outlets are a bit hit and miss in terms of them being open, they all seem to be on rotation, because none of them were open all day round.
We watched the Police Academy show around 4pm ish, which was very popular with the locals and we could see why, I covered it in greater detail on my camcorder. It was a very good show with some impessive stunts.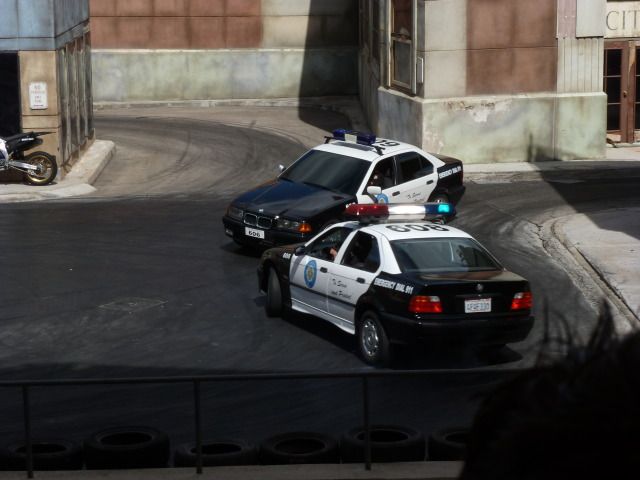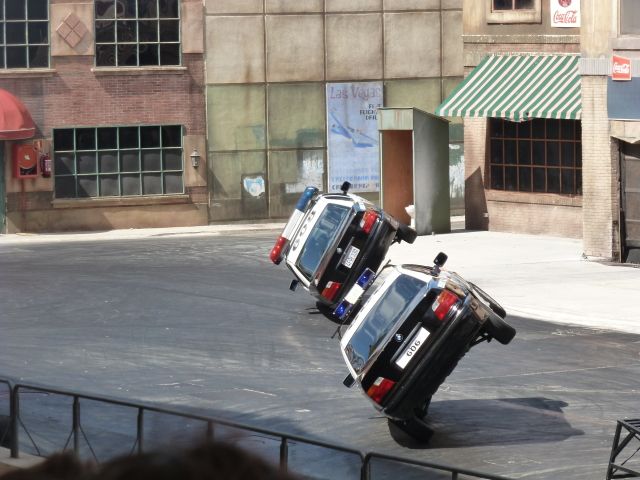 We also watched the Batman 15 minute show not too long after the Police Academy show, it wasn't brilliant but it was funny to watch and featured music from films old and new.
The same on Sunday happened as it did Saturday, the longer the day went on, the quieter it got, so the rides were very quiet which meant the staff were more than happy to encourage riders to stay on instead of walking around to go on again, something all the UK parks should learn from.
Day 3;
Madrid open top bus tour was very good, saw a lot of the City I didn't see in June.
Here's the best of the rest of my photos from the first of two days at Parque Warner, Madrid;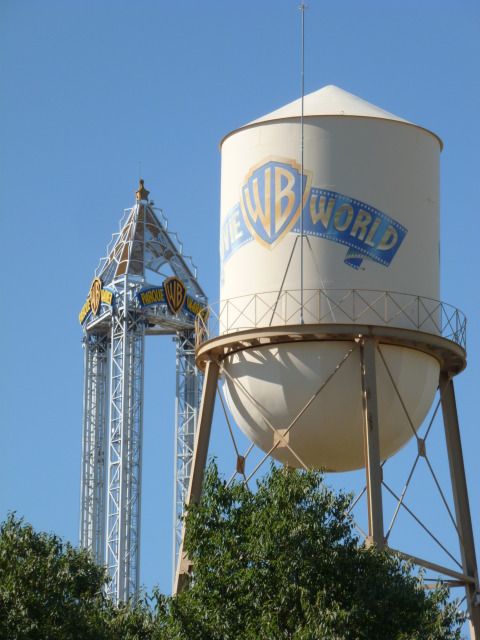 Peter looking pretty happy;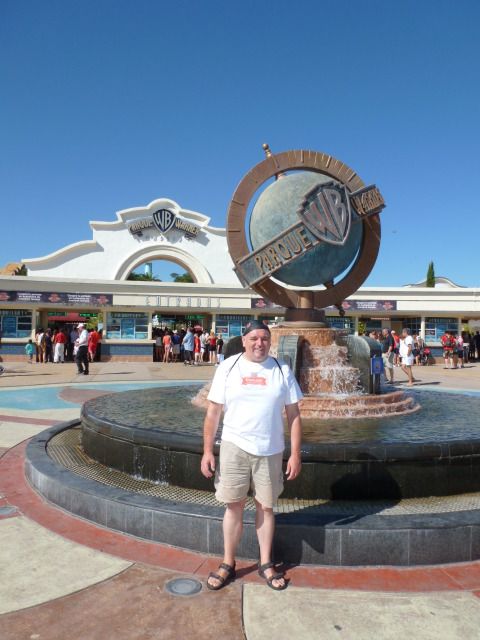 The Dark Knight Rises;
Just incase you've forgotten where you are;
Testing, testing;
A very pleasant setting for a fireworks display;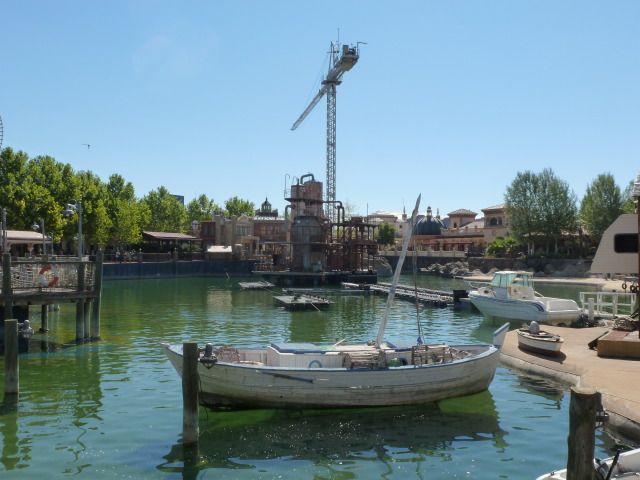 Just like Port Aventura, nothing looks out of place;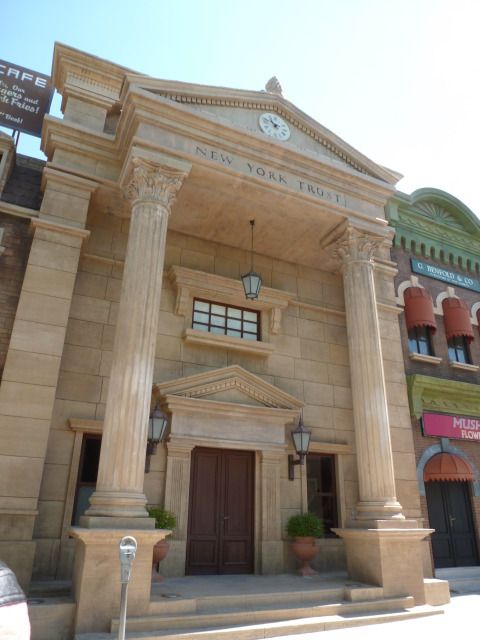 My camera was attracted to this ride;
This is a photo hotspot;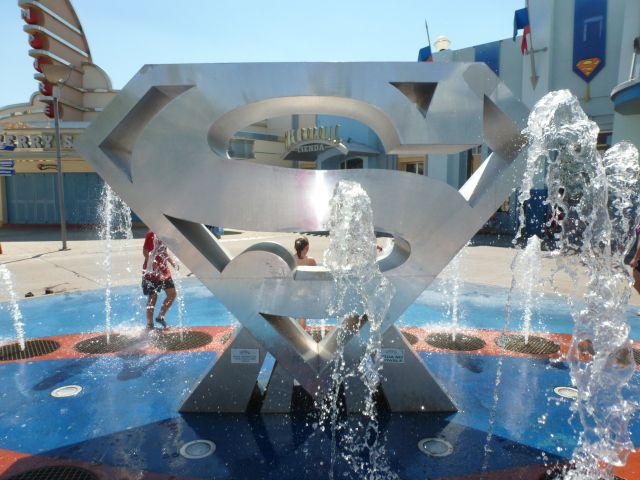 I like the Superman films, and I like fountains in theme parks, this photo had to be taken;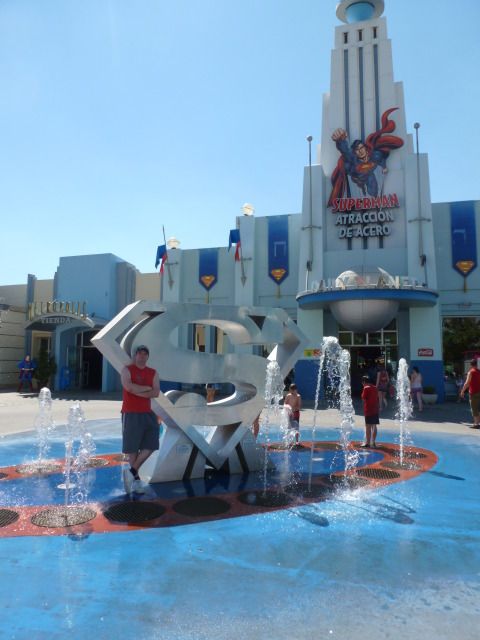 DC Comics;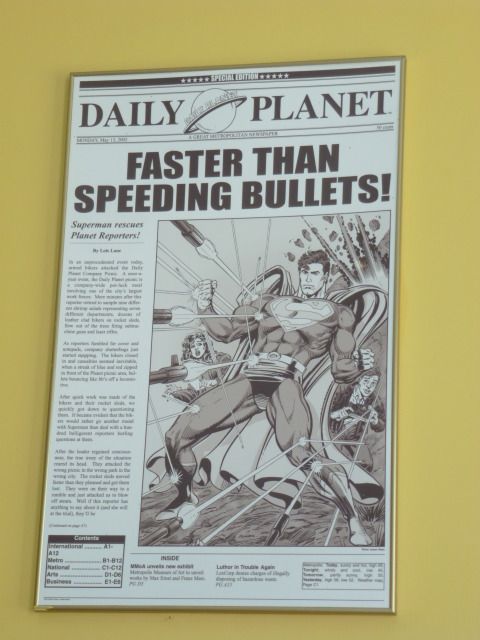 Sadly we couldn't use these to drive around the park;
One of the better B&M coasters I've ridden;
Superman stats in English;
Ride information in Spanish.
The station area;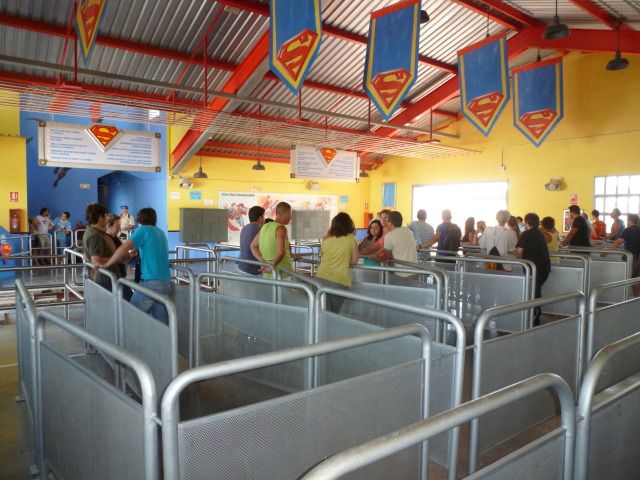 Gotham City;
More advertising for the new film;
And a building which looks very similar to a place used in the Batman & Robin film brought out in 1997;
Looking through the gates into the queuing area for the Batman simulator;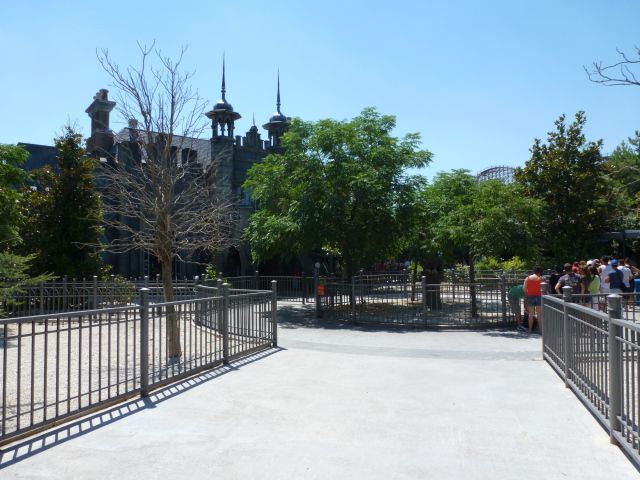 Coaster Express;
Cold Creek Falls;
Superman La Atraccion de Acero;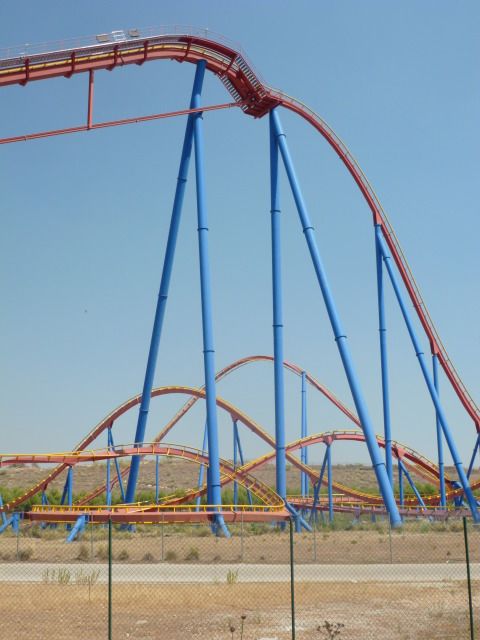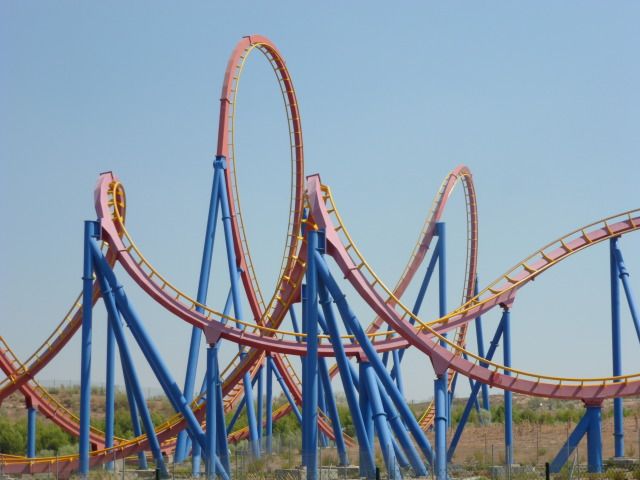 From the viewing point;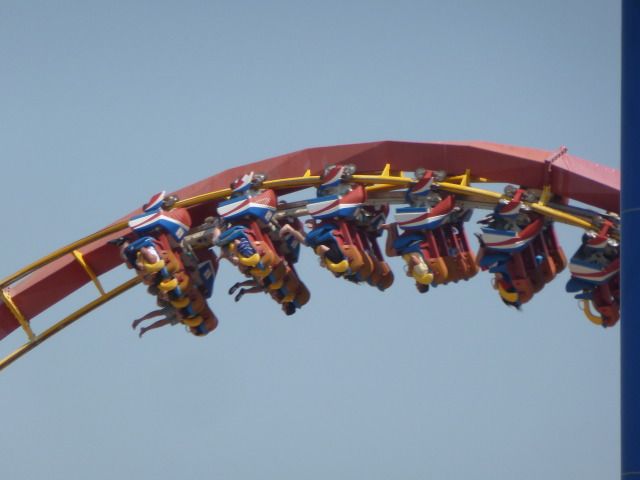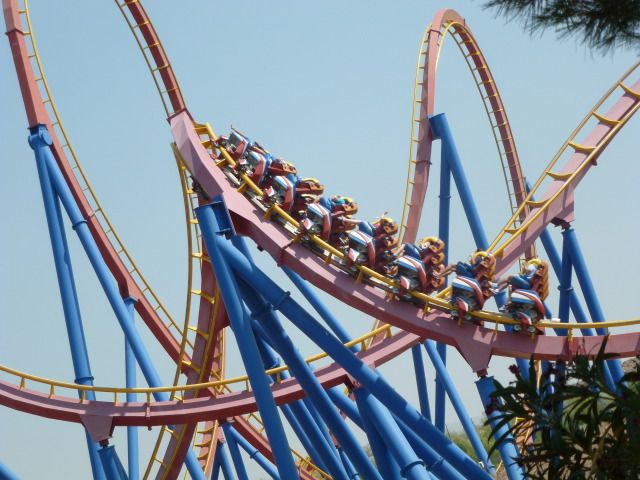 Batman La Fuga;
No prizes for guessing which queueline these were in;
My feet were sore!
Peter: "I won't be posing like this for a photo.....oh no, you didn't did you?" :lol: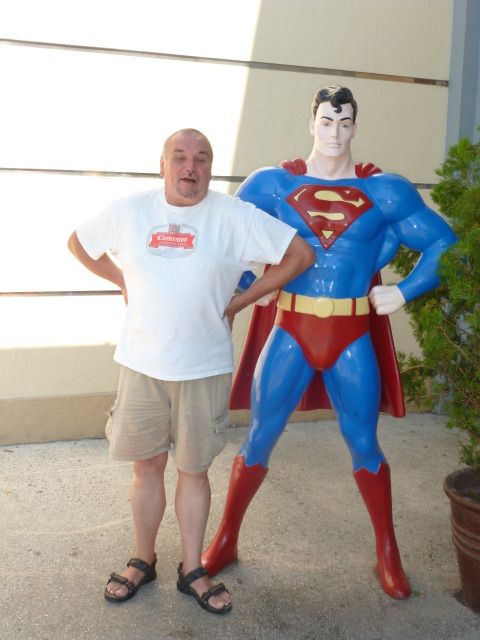 Dodgy but not as bad as Peter's pose.
Peter;
Peter the biker!
Stunt Fall;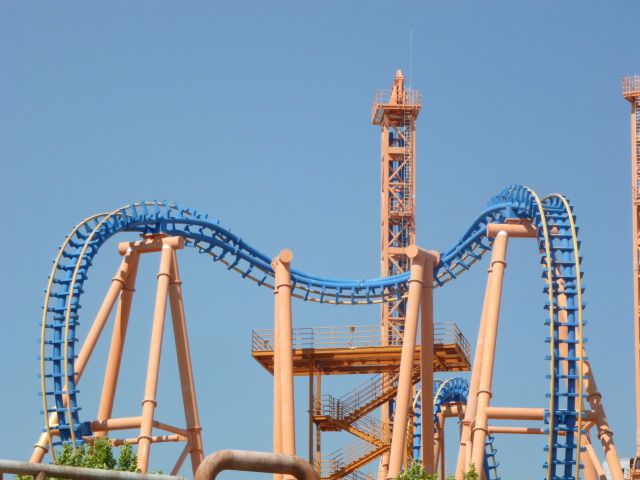 If you wanna cool down, a rotating Bug's Bunny will be there to help!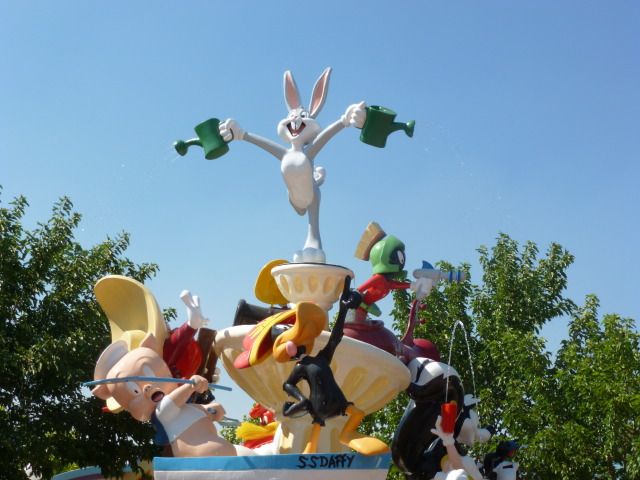 Classic WB;
Rapids;
Tom & Jerry coaster;
Characters roaming around was quite a common thing;
Back to the entrance;
Riddler's Revenge (I think it's called that);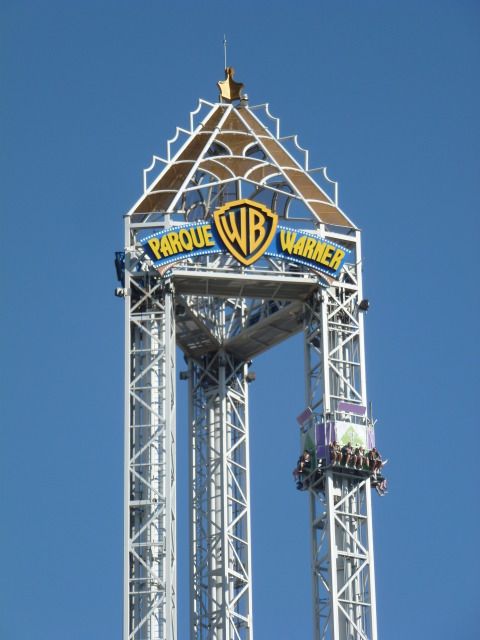 There's not many places you can't see it from;
Not one for the faint hearted!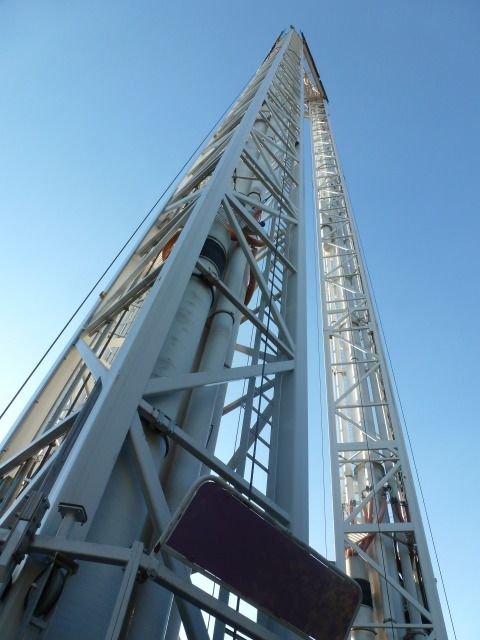 Rio Bravo;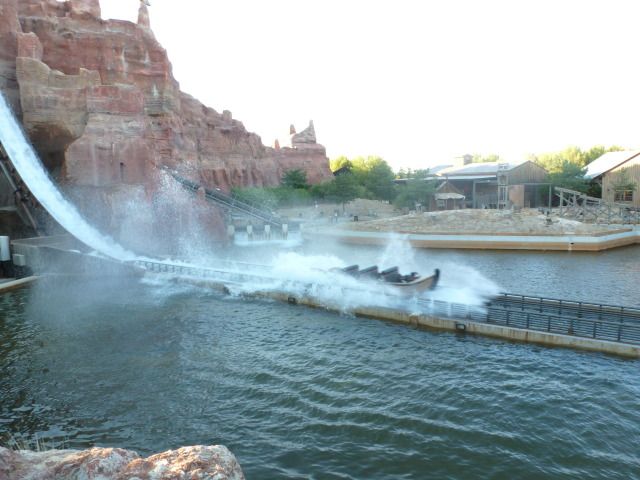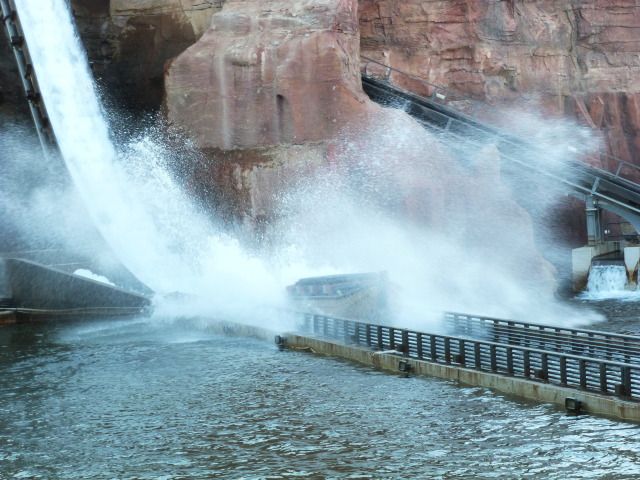 Cold Creek Falls again;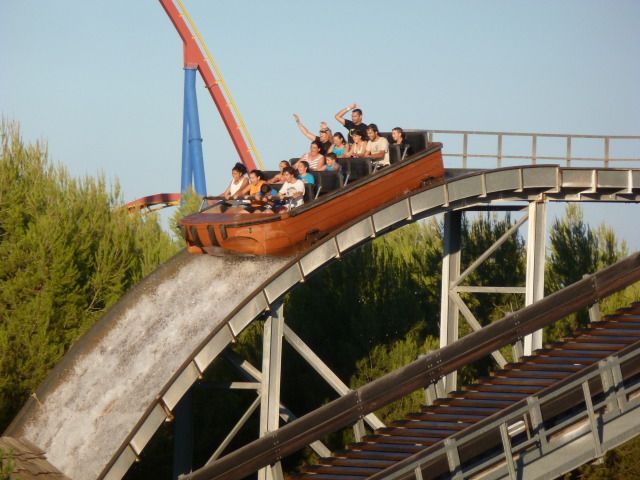 Coaster Express;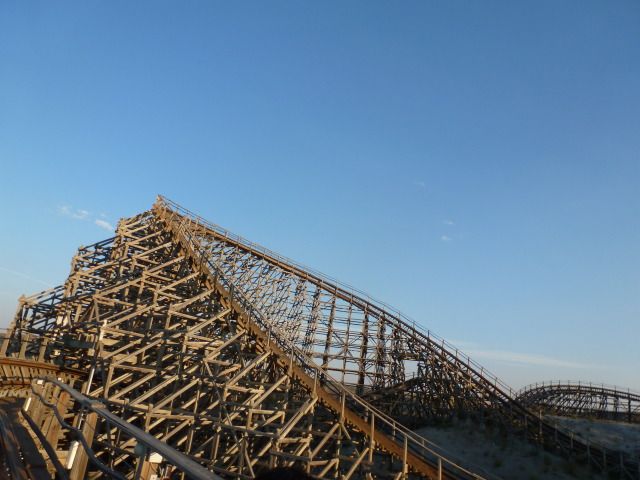 Peter;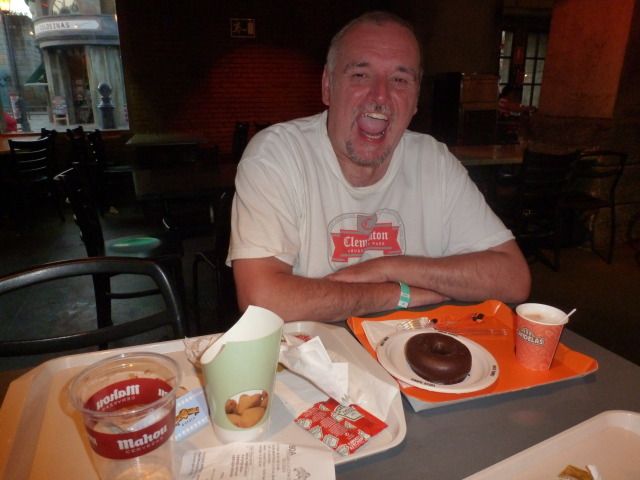 Poison Ivy;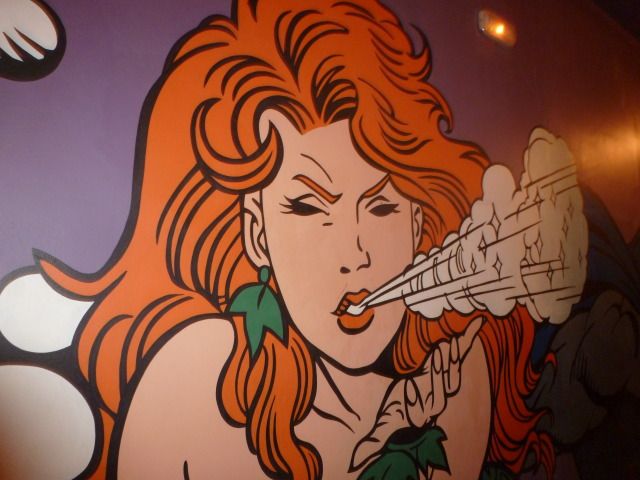 A pair of Jokers.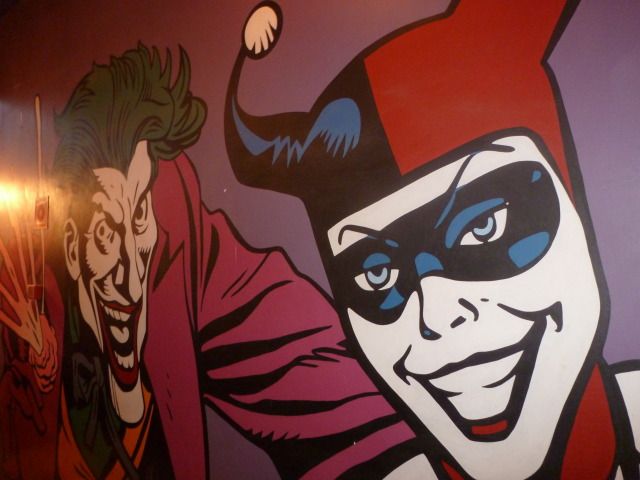 Batman La Fuga, station area;
The whole park looks great at night;
Superman waiting for guests;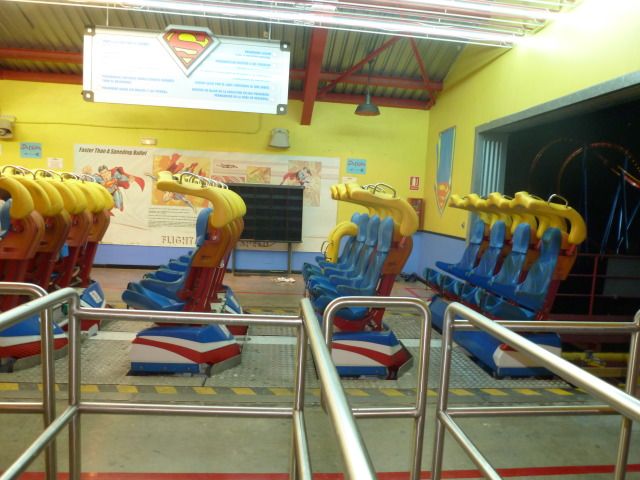 Illuminated fountain;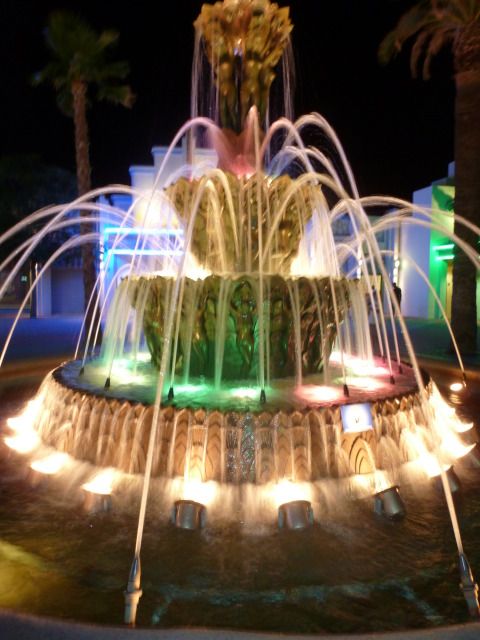 And the end of day one;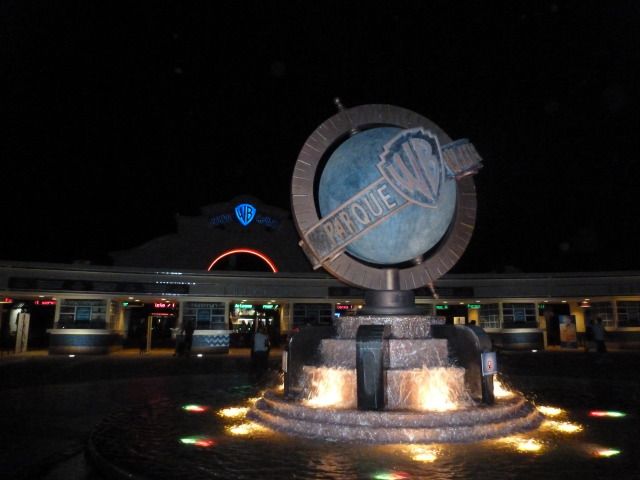 Day two begins, and here's a very good fountain feature at the entrance.
Peter who said he'd not be buying any merchandise, was getting dangerously close to buying merchandise.
I think the effects of the sun were kicking in early on, on day two.
My camera was once again attracted to this ride;
Which cycle would it be on this time? Who knows?
Testing;
It's quite tall you know;
Batman La Fuga;
Gotham City;
Coaster Express;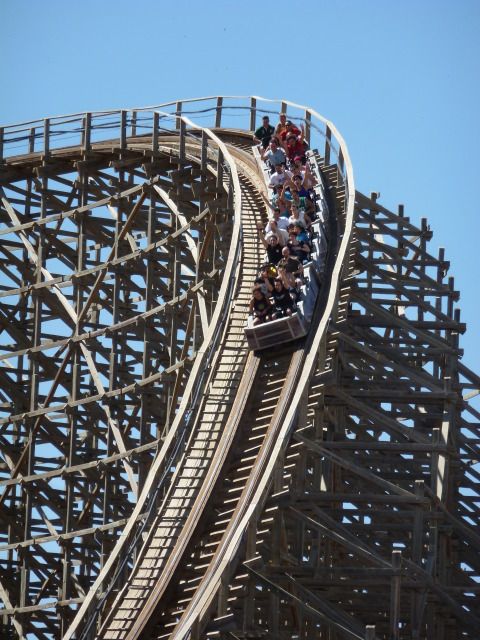 Rio Bravo!
The name of this ride escapes me, but it didn't look to be on a good setting;
Superman;
The only viewing point of the whole ride, I like the fact PW have made a viewing area for it, it's a nice touch;
The entrance to the Batman queue;
Batman La Fuga, queueline theming;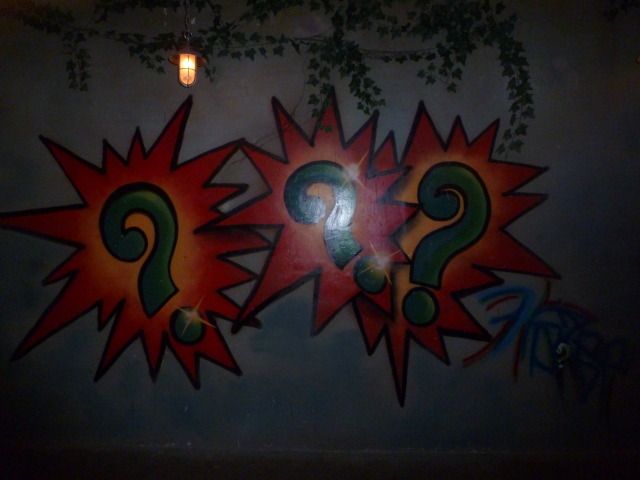 What's funny?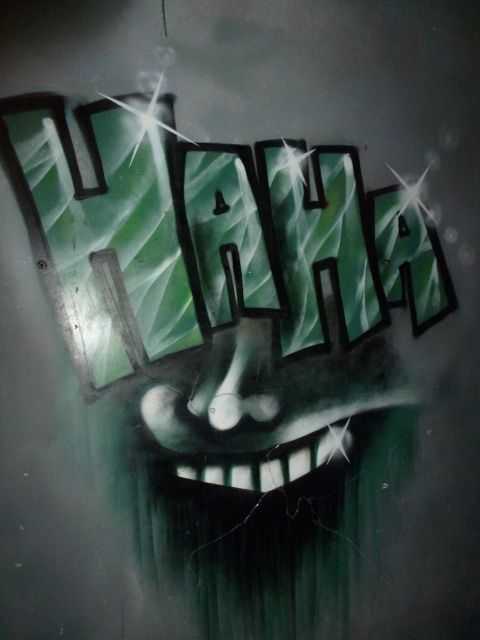 Gotta go;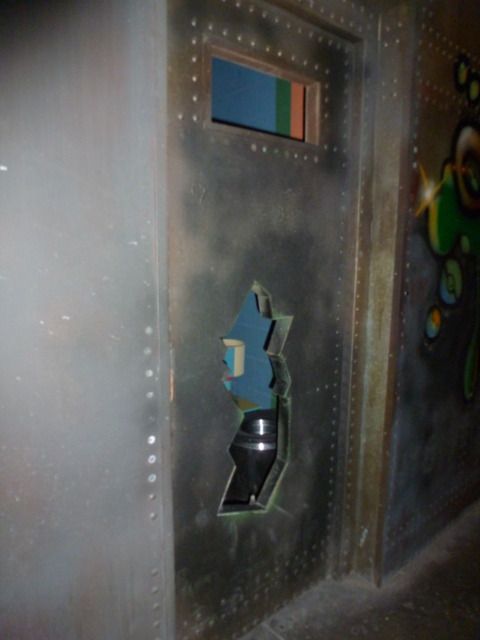 Attention to detail is spot on;
The first drop;
Vertical loop #1;
Superman again;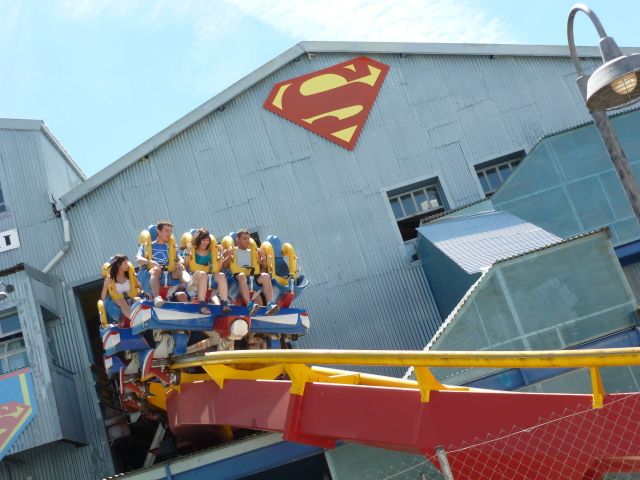 Superman area;
It's a shame we don't have a WB associated park in the UK tbh;
This was like Trauma Towers meets Hex;
PW driving school;
Rapids!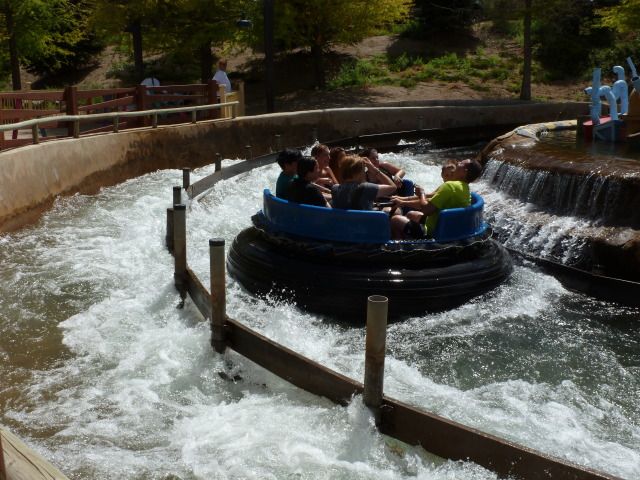 Tom & Jerry coaster;
And back to Superman again;
An airtime hill, looks like these three were bricking it! :lol: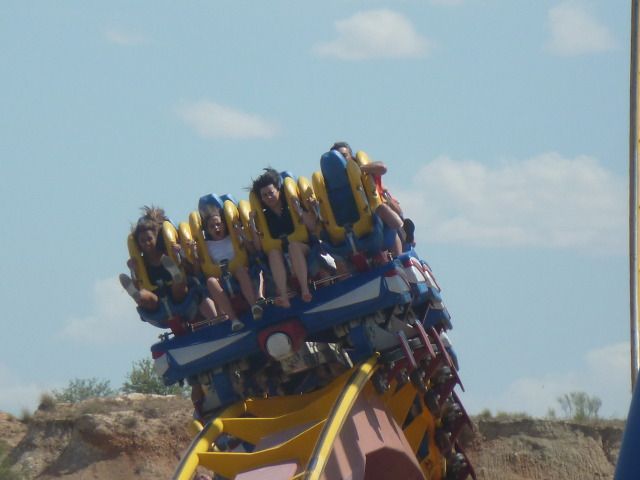 The police academy show started off with a stunt man on a bike;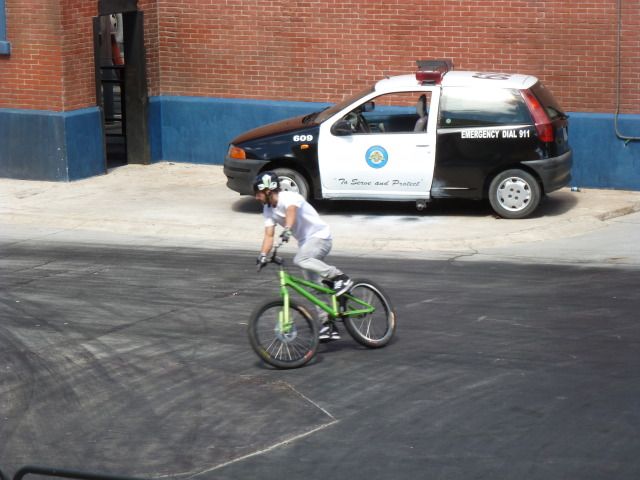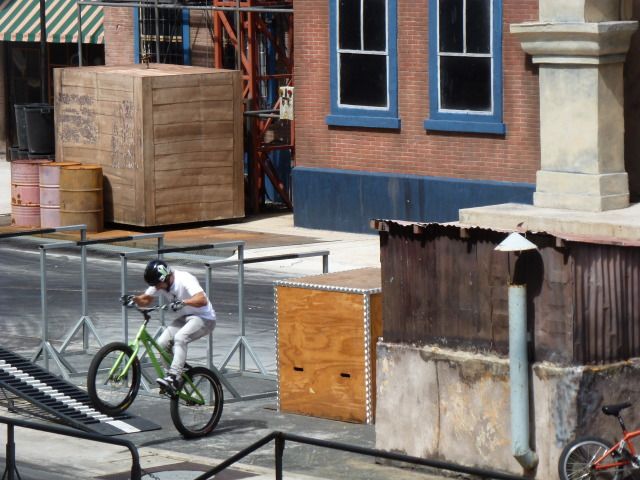 And now for the old bill;
There was a lot of noise and razzing around going on, the video I got shows it all a lot better than photos do.
I still find this amazing, just how do they do it?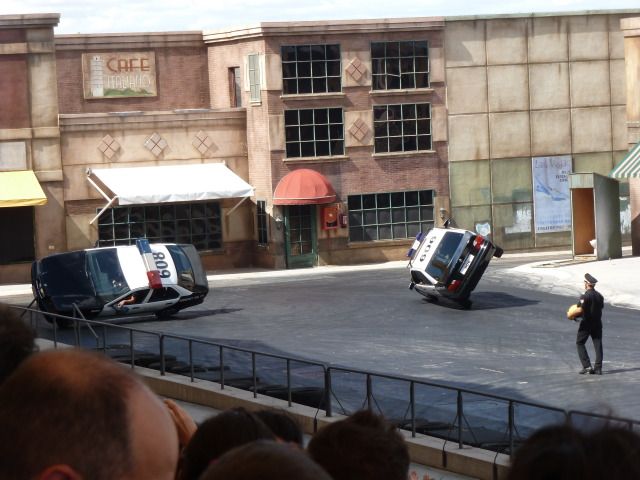 It was a random show, but flowed very well;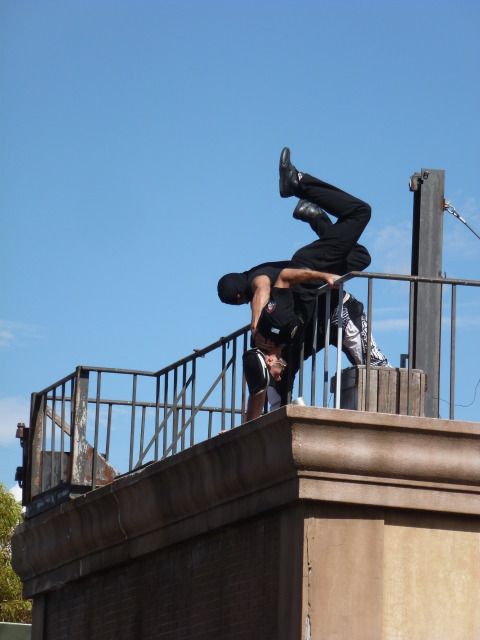 Typically random for a Spanish park, in a wild west themed area;
Coaster Express;
Batman begins.
The auditions for the new village people act wasn't going so well.
Everybody move your feet!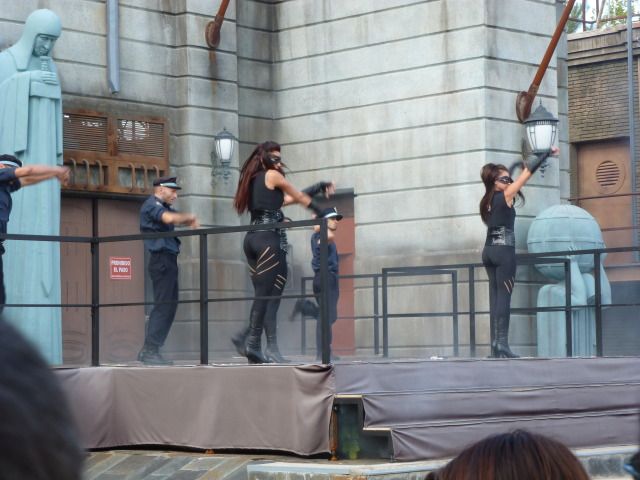 It was like High School Musical meets Catwoman, in the strangest kind of way;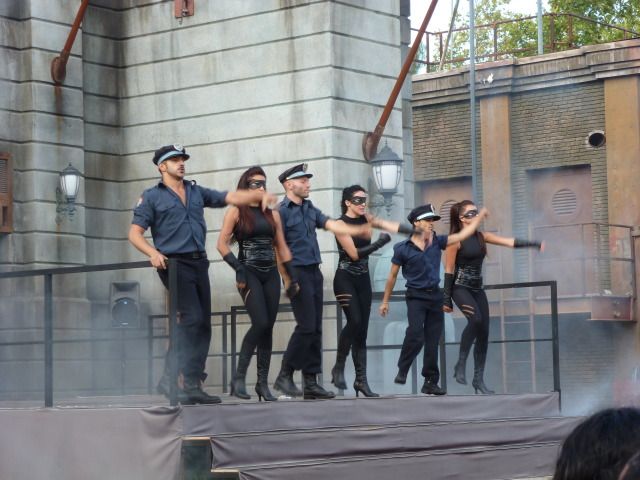 Ah, this is what we were waiting for, Batman hardly featured in his own show;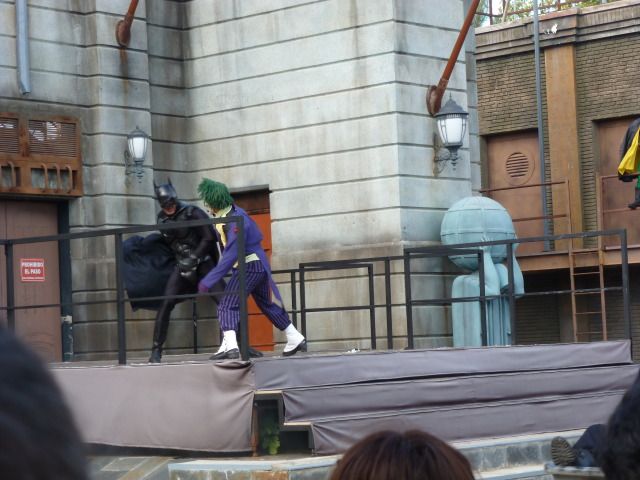 Can I get down from here yet boss?
Two very good B&M coasters.
Batman La Fuga;
I am not going on Ripsaw it's too wet....I am not going on this, there's no water fountain! :lol: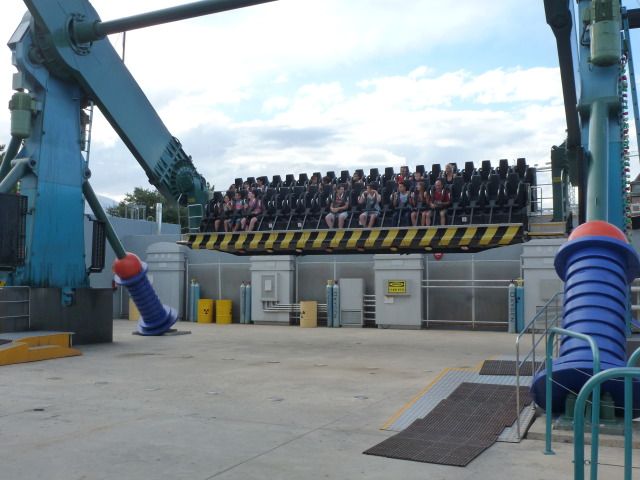 Mr Freeze;
Wouldn't it be nice to see this on a Sunday in the UK?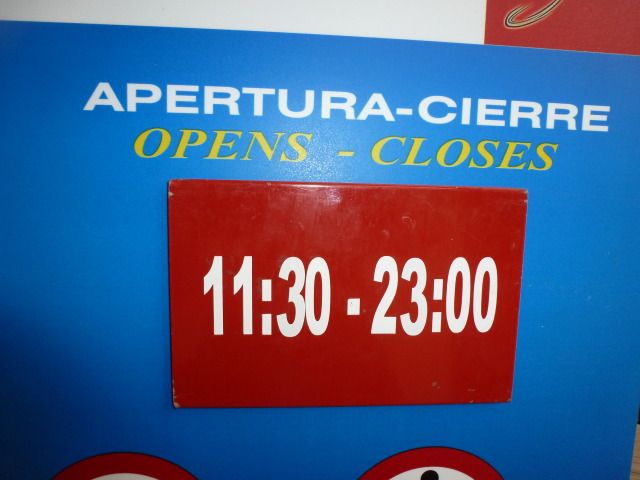 Gotham city illuminated;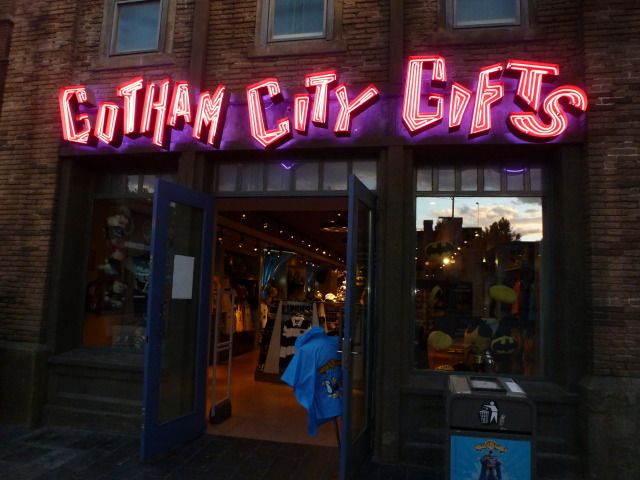 Superman!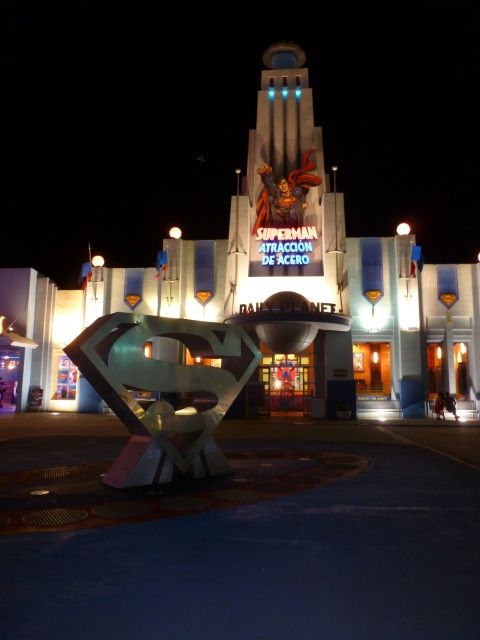 I should smile more...
Almost the end of two very good days;
Good artwork!
Attention to detail, spot on;
Closer to a smile.
Peter didn't plan to get caught doing the same pose again, whoops. :lol: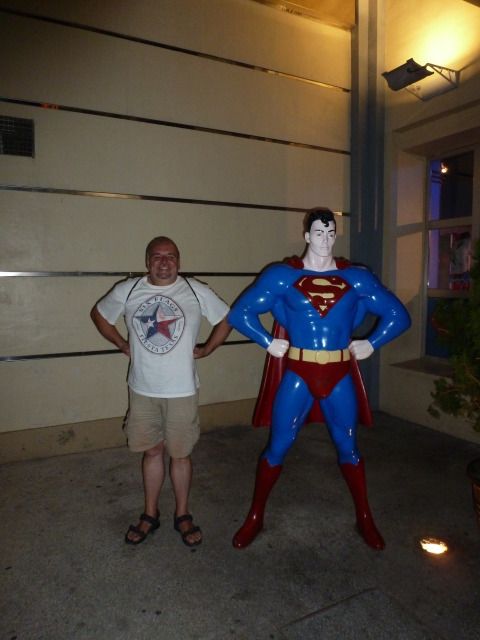 That's all folks.
Thanks for looking, feedback on the photos, review and questions about the park more than welcome.