SBOPD
Staff member
Administrator
Moderator
Notable Losses​
Nothing lasts forever (except maybe Twinkies). Over the 100+ years of rollercoasters, thousands of coasters and hundreds of parks have gone forever. I'm going to take a look back at the last 20 years of closures. I've picked out the ones that I've found most interesting (or been most personally involved with) over the last two decades.
While this topic is a little melancholy, it's worth noting that in my research, park and ride closures actually seem to have been on a downward trend over the last decade or so. Although this could of course be because there are so few left to close
It's also not all bad news. Some removals (not many, but some) have made way for great new developments.
Along with each of the losses in this list, I've attached a couple of snippets of things linked that may be of interest. These rides and parks may be gone, but out there somewhere, is a wealth of fascinating information to research and new things to discover.
Feel free to post about any losses you think were more significant (or just more significant to you) in the topic. There are certainly some notable exceptions in this list...
- - - - - - - - - -
2001​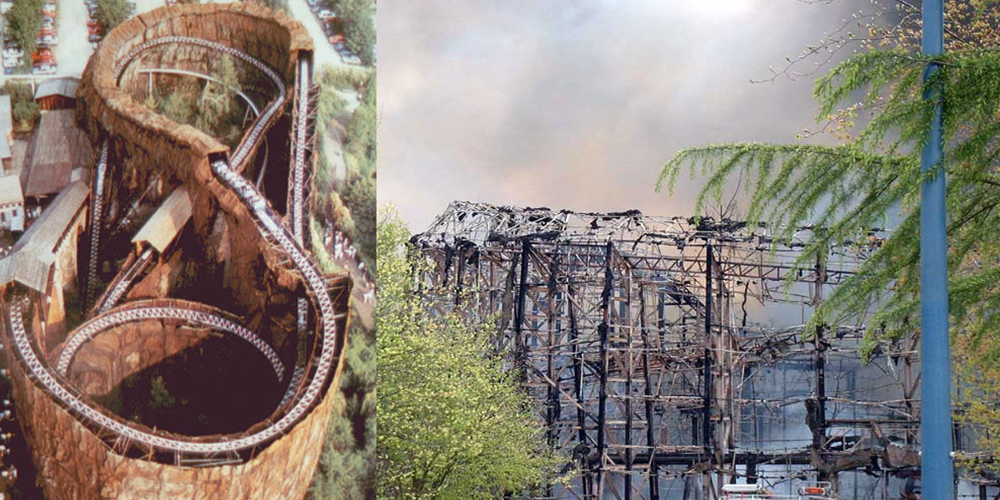 Photos: Left -
schwarzkopf-coaster.net
| Right -
phantaweb.de
Gebirgsbahn - Phantasialand, Germany:
Phantasialand has a long history of compelling, over-the-top theming. Their 1975 Schwarzkopf coaster, Gebirgsbahn (also known as Bob 1/Bobbahn 1) was no exception.
Harking back to the glory days of the Scenic Railways in the early 20th Century, Gebirgsbahn had an enormous facade surrounding the structure, giving the surrounding area a rocky mountain theme.
Sadly, fire broke out in the area in May 2001, destroying not just this, but also another coaster in the same area (Grand Canyon Bahn).
You may also be interested in:
Taron - the theming around Taron shows the difference in skill for producing this kind of rockwork theming around a ride.
BMRX at Kobe Portopialand (before it was moved to Camelot as Knightmare). This is another Schwartzkopf steel coaster that was highly themed.
- - - - - - - - - -
2002​
Photos: Left - ©
Dr Neil Clifton
(
cc-by-sa/2.0
) | Right -
Joyland Books
Aerial Glide - Shipley Glen UK:
Opened sometime (probably) in the decade between 1900 and 1910, the Aerial Glide was the oldest operating amusement ride in the UK. A mix of chair swings and suspended rollercoaster, it's one of the earliest known examples of a metal structure being used in this way. It also, arguably, holds the title for "first inverted coaster".
While the ride was closed in 2001 (due to increased maintenance costs and low footfall at the park), an emergency listing application was made in 2003 to stop the demolition of the ride. This was overturned, but the ride also remains the first ever to have an application for listed building status in the UK. The listing application is
here.
I spent some time in the late 90's in Yorkshire and visited Shipley Glen. Unfortunately the park was closed during my visit. I saw a tantalising glimpse through some closed gates though.
The ride was finally demolished in 2004 and the park closed soon afterwards.
You may also be interested in:
Historically, the UK was covered in "Pleasure Gardens" and the like. There were many parks like Shipley Glen which sprang up all over the country in the late 1800's. They often contained menageries and had early rides and coasters like Switchbacks or railed bicycle rides. Some continued to build through to the 1970's park crash (such as Dreamland, Rhyl Ocean Beach, Battersea Park). Others, such as Matlock Bath (which also had a cave with bears in it - rescued by a fledgling Chester Zoo) vanished.
The Skytrack ride at Granada Studios in Manchester. Arguably the first ever "flying" coaster in the world. It lasted an impressive, single season.
- - - - - - - - - -
2003​
Photos: Left - Unknown | Right -
Ultimate Roller Coaster
Flashback - Six Flags Magic Mountain, USA
: Flashback was, thankfully, the world's first and only Intamin "space Diver" coaster. Originally called "Z-Force", it was passed around Six Flags parks like a rotten egg. The ride ended its days at Magic Mountain as Flashback from 1992.
The design seems to have been a brain fart by somebody looking at a child's "click-clack" toy, where a car or marble rolls down a series of slopes. Being through down a series of slopes in a marble, may have been slightly less painful.
However, the ride was a glorious statement in the history of amusement park bad ideas. For every bad idea like this, a good one stuck. You don't make an omelette without breaking a few eggs (or riders).
You may also be interested in:
Screaming Squirrels. Proof that you can take a bad idea and make it worse.
Other rides fabricated or built by Giovanola, which include Shockwave at Drayton Manor and Anaconda at Gold Reef City
- - - - - - - - - -
2004​
Photos:
Plan Projekt
Galaxie Express - Space Park, Germany:
They say that those who do not learn from history are doomed to repeat the same mistakes. Galaxie Express was the first "Virtual Reality" coaster, and nobody seemed to learn from its history. Opened in 2003, this Mack powered coaster had a drop-down VR screen that "engulfed" the rider. Imagine the VR equivalent of an Alien Face Hugger, only without the sweet, sweet release of death at the end - only nausea and loathing.
It lasted - along with the park - for a single season. While the ride being closed was a result of Space Park failing as a commercial venture, it's telling that the ride was never picked up by anyone else.
You may also be interested in:
Alpen Express at Europa Park. This ride was the first to use "modern" VR as a concept as part of a coaster.
Duel at Alton Towers, Tomb Blaster at Chessington, Spooky 3D at Oakwood and any other rides that have been "upgraded" with annoying features like guns or 3D glasses.
- - - - - - - - - -
2005​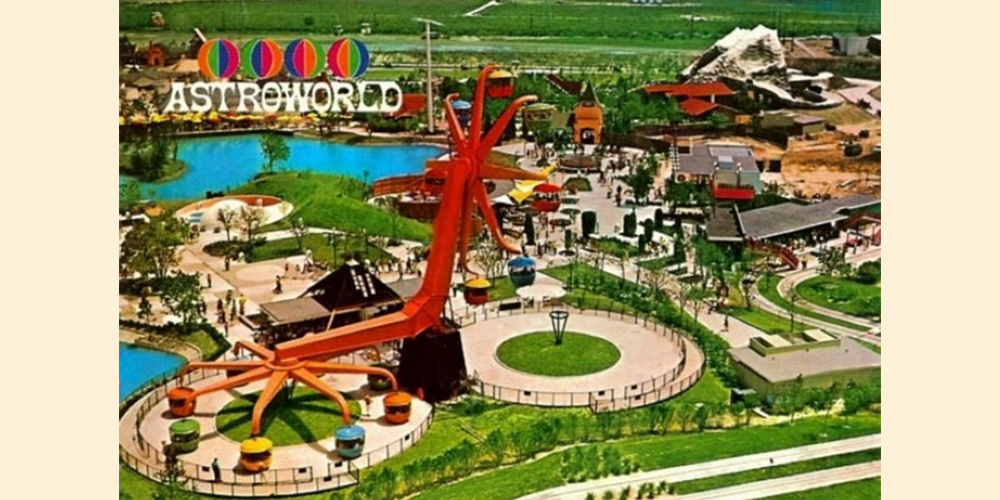 Photos:
Bisnow – Remembering AstroWorld
Six Flags Astroworld - USA:
In 1968, a new and exciting park was opened in Houston, Texas. Astroworld was right in the middle of a busy area of the city. In 1975 though, the park was sold to emerging theme park conglomerate, Six Flags. During its life, the park would host the usual Six Flags staples (Batman, SLC, etc.), but there was one ride that stood out a something... Different.
In 1976, a copy of the Coney Island Cyclone was erected at Astroworld. There had been talk of the Coney Island Cyclone being demolished. An attempt was made to buy Coney's Cyclone, but it fell through due to the complexity of moving the ride. A copy was designed that was a mirror of the original, but also taller and faster. So not so much as a copy as an homage. In honour of the original ride, it was named the "Texas Cyclone".
Determined to close with the same run of oddities it performed while open, the reasons for Astroworld's final breath are also... Different.
Along with the standard reasons of poor attendance and increasing land value, it seems as much to do with car parking. The park had an agreement for visitors to use the nearby football stadium's car park. This agreement ended in 2005 and with nowhere to put customers the following year, this was the final nail in the coffin. The park was closed and demolished over the winter of 2005/2006.
The land still stands empty today (well, it's a car park), and every few years, the rumour mill likes to come around and suggest somebody is going to use it for a new park development - spoiler: they won't.
You may also be interested in:
Other rides designed by William Cobb. These include the "Cyclone" at Six Flags New England, which has since been given the RMC treatment.
The Coney Island Cyclone, which is still operating today, almost 100 years on.
- - - - - - - - - -
2006​
Photos:
@furie
's personal postcard collection
Cyclone - Southport Pleasureland, UK:
At the end of 2006, Southport Pleasureland closed its gates at the end of the season as always - ready for the upcoming 2007 season. It was a bit of a shock then, when bulldozers moved onto site and started to demolish rides and attractions.
A decision had been made to close the park (the usual poor attendance/high maintenance reasons), remove any rides of value (Traumatizer went on to become Infusion at Blackpool for example) and flatten the rest.
The Cyclone was designed by Charlie Paige and opened in 1937. It was an odd ride, with the world's slowest turnaround at the beach end. It also had a ridiculously crooked lift hill. It was almost, but not quite, totally rubbish.
There are, however, two reasons The Cyclone makes this list for me.
Firstly, the demolition team also had a bit of a shock, as two Southport residents climbed the structure of the Cyclone and sat in protest of the demolition. This caused the usual storm-in-a-teacup the British excel at, for the few days until they were removed.
Secondly, it mobilised a team to try and save The Cyclone (and a few other structures) by having them marked as listed buildings. This is similar to the (failed) listing at Shipley Glen (see 2002) and the (successful) listing of the Scenic Railway at Margate. I was involved in preparing information and research for the listing application.
The application failed and demolition continued over the winter months.
You may also be interested in:
The Grand National at Blackpool - another of Charlie Paige's coasters - and without doubt a better ride.
- - - - - - - - - -
2007​
Photos:
@davidm
Batman and Robin: The Chiller - Six Flags Great Adventure, USA:
The road to hell is paved with good intentions, so the aphorism goes. The road to coaster hell is likewise paved with good intentions, more often than not by Premier.
In 1996, Premier had some success with LIM launched coasters. Not being a company to rest on their laurels, they sold an ambitious design idea to Six Flags Great Adventure. Not just a single LIM launched coaster, but two that would duel. Not only that, but each coaster would have a different layout. With a year's LIM experience under their belt, they set to deliver it in 1997. While it did open briefly in 1997, it was closed due to technical issues for almost the enitre 1997 season.
By the time it actually fully opened in 1998, the ride was already plagued with problems. One side was usually down for some form of maintenance while they ran the other side. Riders complained of headbanging from the OTSR.
It was a beautiful idea, badly implemented. During the 2006 season, the ride was closed for extensive work. The zero-g rolls were removed, and the ride reopened in 2007. After another run of problems, the decision was made to close the ride permanently about halfway through the season.
In a final pique of bravado (after some years of track in storage), Six Flags sold the ride to Beto Correro World in Brazil, where it was eventually scrapped without being assembled.
You may also be interested in:
Phobia Phear Coaster at Lake Compounce – have Premier finally got their LIMs right?
Vertigo at Walibi Belgium, an even less successful new concept coaster.
- - - - - - - - - -
2008​
Photos: CoasterForce YouTube videos
1
&
2
Corkscrew
- Alton Towers, UK:
It would not be an exaggeration to say that 1980's The Corkscrew at Alton Towers, was pivotal in producing the UK's current Theme Park industry.
In a perfect embodiment of "right ride, in the right place, at the right time", John Broome kickstarted a whole new amusement boom out of a decrepit and failing UK amusement park industry. Don't get me wrong, Geoffrey Thompson also played his part over at Blackpool Pleasure Beach, but Broome saw something different.
The Corkscrew, headlining a newly revamped Alton Towers, promised to bring the idea of the America Theme Park to Great Britain. It was a massive hit, and this often cloned Vekoma beast set the scene for the next generation of rides and attractions in the UK.
It was never going to last forever though. The ride was never smooth and comfortable when new. After almost 30 years, it needed to be retired (though not in the good way with biscuits and slippers). In 2008, there was a farewell party in its honour. Thousands of riders came on a wet and windy October day to say their good bye's/riddance's.
The ride will never be forgotten, as the iconic double corkscrews still stand as a monument, over the entrance plaza to the park.
You may also be interested in:
Final Destination 3 – it features mixes of a Vekoma coaster in the initial accident.
John Broome's attempts at making a theme park in Battersea Power Station.
- - - - - - - - - -
2009​
Photos: Left -
Johnny Upsidedown
| Right -
Theme Park Insider
Freestyle Music Park/Hard Rock Park - USA:
This is such a difficult park to write about. It's hard to see, in terms of quality and content, where the park went wrong.
The original park had everything, like a sensible enthusiast and a keen music fan got together to produce the perfect park for both.
B&M Multi-looper blasting out Led Zeppelin while you ride? Yep, got that.
Psychedelic dark ride based on the seminal Moody Blues "Nights in White Satin" by the superb Sally Rides? Yep, got that.
Play areas that can play tunes? Aye-aye.
Review on the billboard by our very own "Brian from CoasterForce"? Hell yeah.
Freaky prototype Premier rides (them again) coaster? Okay, maybe we're seeing some cracks.
Massive investment in a park in an untried area of the US as a recession hit? Okay, the writing was probably always on the wall.
The park was sold off after a single season and reopened as Freestyle Music Park for the 2009 season. Unfortunately, the new owners continued to be plagued with financial issues (they'd taken on debt for former employees for instance) as well as other lawsuits. It never opened its gates again and the rides were mostly sold off.
You may also be interested:
Dragon Park Ha Long, Vietnam where the Led Zeppelin coaster ended up as "Dragon's Run".
- - - - - - - - - -
2010​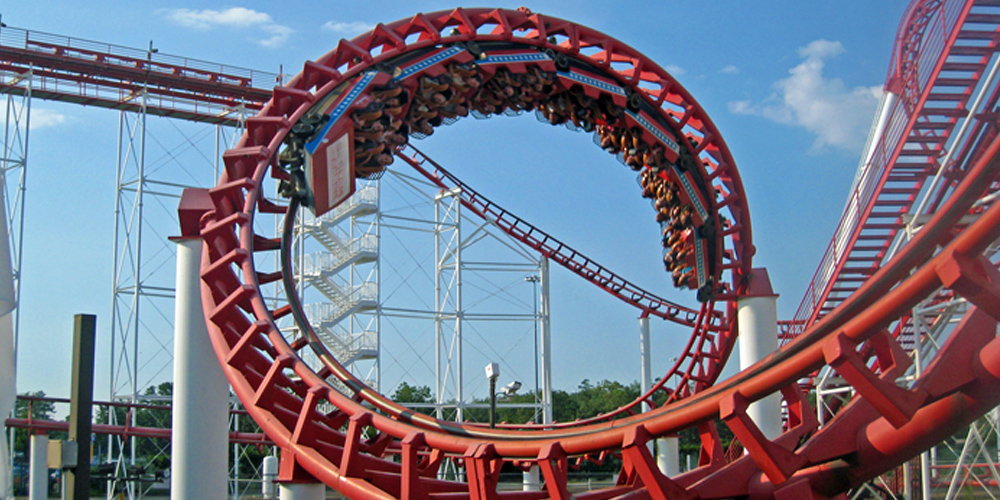 Photos:
@ECG
Great American Scream Machine (or GASM)
-
Six Flags Great Adventure, USA:
2010 was a good year for coaster enthusiasts, but a poor year for anyone writing about notable losses in the amusement park industry.
There were very few notable losses in 2010, so this 1989 Arrow Dynamics looper gets a mention almost by default.
Great American Scream Machine was notable for a being quite smooth for an 80's Arrow looper, possibly making it even less remarkable than it otherwise could have been. I rode it in 2009 and it has left no lasting memory at all.
I'm beginning to wish I'd written about Beastie leaving Alton Towers now.
To be fair, Arrow dominated the 80's with rides like this. While their ideas and technologies were being outstripped by the time GASM was built, their rides built the amusement industry we know today. To add insult to injury, the ride was replaced by a fairly mediocre, relocated B&M stand up coaster – B&M probably being the company that helped put Arrow out of business.
You may also be interested in:
Chang at Six Flags Kentucky Kingdom. The ride that was moved in to replace GASM. A world record breaker when it was built.
Beastie at Alton Towers. A Pinfari kiddie coaster.
Phantom's Revenge to see what you should actually do with your old Arrow looper.
- - - - - - - - - -
2011​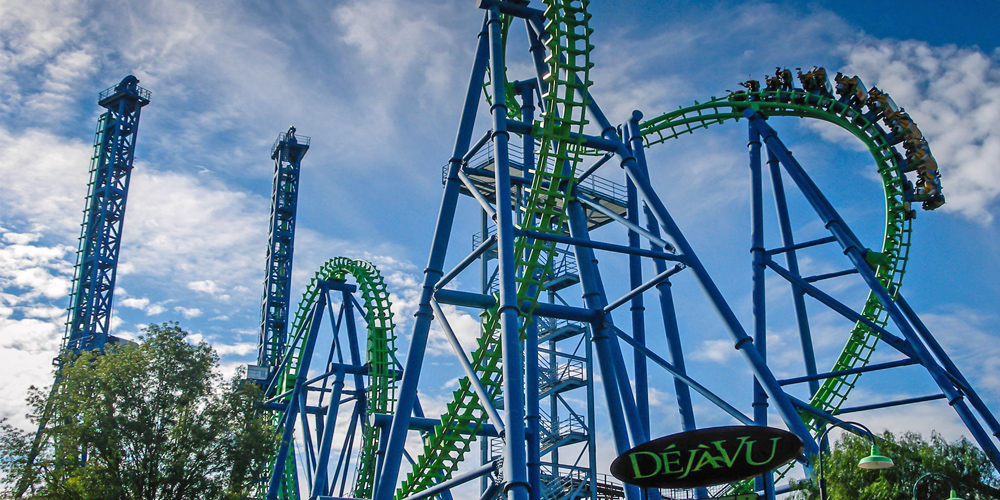 Photos:
@davidm
Déja Vu - Six Glags Magic Mountain, USA:
Ahhhh… The Giant Inverted Boomerang (GIB). I can't confirm how the process for this design happened at Vekoma, but I can guess…
Having both the successful Boomerang and SLC models in the wild, the idea was born to merge the two. I assume that the thought was "two negatives make a positive" and the "Invertigo" was the bastard lovechild. A suspended Boomerang that was as horrific as can be imagined (the first one actually missed our 2002 loss spot).
Having produced this (I'm sure, much maligned) Frankenstein's monster of a coaster, Vekoma doubled down on the idea. The Giant Inverted Boomerang was born – and Six Flags Magic Mountain got the first one in 2001.
There's no denying it, these rides are absolute beasts. If there was a coaster equivalent of Godzilla, these are it. Tall, overbearing, noisy and likely to break you.
If you ever get to ride one - that isn't in an extended period of downtime - they're incredibly thrilling in-between the bouts of unconsciousness.
I do have a confession to make here though. 2011 was an even slower year for notable closures than 2010. This GIB is still operating at Six Flags New England (I'm not sure what the East Coast did to deserve this, but I assume something utterly heinous).
The ride was relocated at the end of the 2011 season, rather than closed and reopened in 2012. Still, New England's loss is California's gain…
You may also be interested in:
Kong at Six Flags Discovery Kingdom. Actually named after a giant monster AND a Vekoma!
Hangover – either the medical condition or the Invertigo that was at Liseberg – there's little difference between them.
- - - - - - - - - -
2012​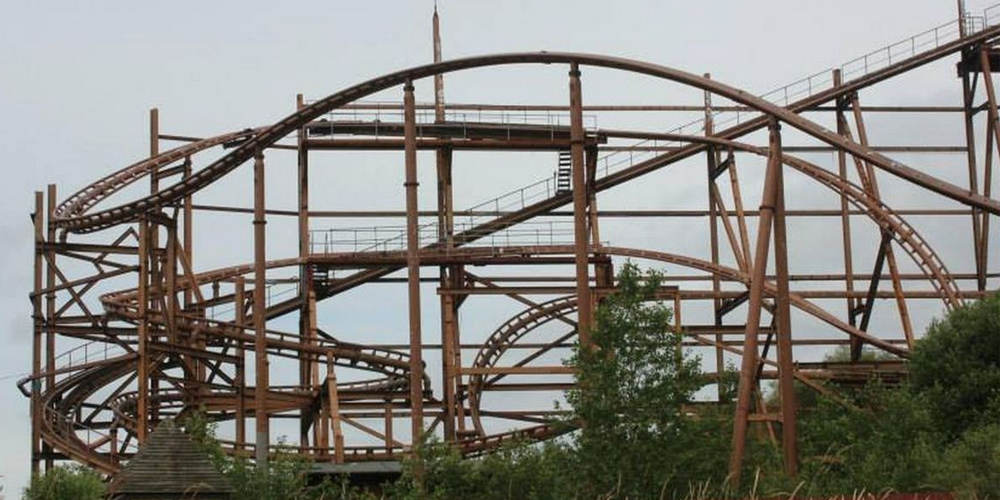 Photos:
LancsLive
Camelot Theme Park - UK:
How am I to write this without succumbing to a reference to "Monty Python and the Holy Grail"? I shall just have to be strong.
Camelot opened in 1983, and for the last 10 years of its life, it seemed to always be teetering on the edge of disaster and closure. It finally succumbed in 2012. To be fair to the park, the tried one final "hurrah" when they imported BMRX from Japan – renamed Knightmare – in 2007.
The park was subject to the classic mix of poor investment by a series of desperately uninterested investors. You can see parks like Camelot (and one-time sister park, American Adventure) freefall in a death spiral. Poor investment results in poor performance that results in further poor investment. Once the damage is done, it's hard to fix.
The installation of Knightmare was very well done. The groundwork and landscaping around the ride was top-notch. Unfortunately, the rest of the park suffered from years of semi-neglect. Dirty dioramas near the stench of open sewers seemed to bring to life medieval times, but not in a good way.
That said, there were some absolute gems at Camelot. The shows were exceptional for a UK park. The jousting show was really excellent entertainment, as was the magic show and the wandering entertainers. These are things that much larger park chains can't get right, but the entertainment team at Camelot were truly wonderful.
There were also some fantastic little quirks in the park. The diesel engine "Dragon Flier", that was like something Land Rover and British Rail had come up with one lunchtime, was a prime example.
I first visited the park in 1983 on a school trip. It was a mix of assault courses, massive inflatables (the likes of which I wouldn't see again until Saturday tea-times in the 2000's), incredible (for 1983) animatronics and… A wild west town with a wild west show. It was great to see the park expand from those roots, into what was – for a short time – an excellent little park.
It's always sad to see a park close, especially one you can still see abandoned and unused from the M6 motorway (just by Charnock Richard services). Local opposition will mean that the park will never reopen.
'Twas a silly place (dammit!)
You may also be interested in:
The Ultimate – which was actually made in partnership with British Rail
Free Fall coasters made by Rainbow Rides, Pakistan.
- - - - - - - - - -
2013​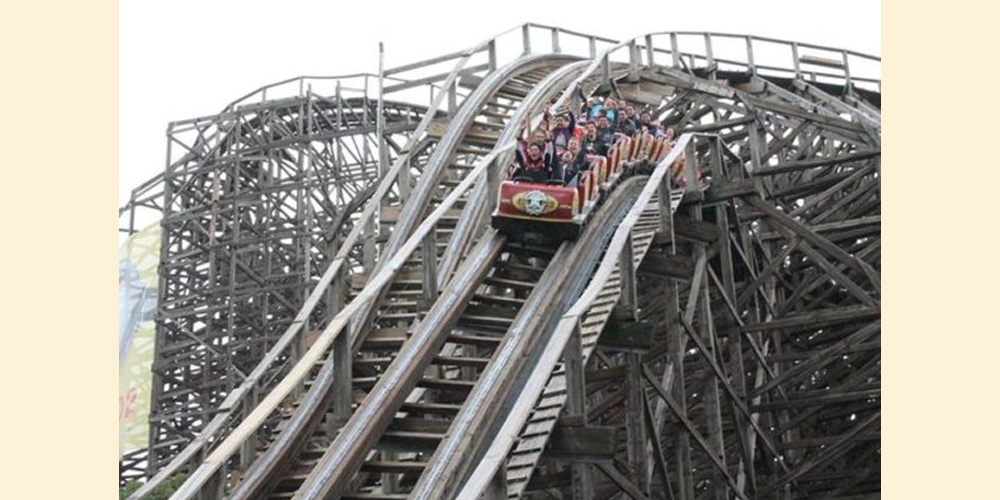 Photos:
Coaster101
Medusa - Six Flags Mexico, Mexico:
In the year 2000, Custom Coasters International were at the top of the wooden coaster game. They had a string of highly regarded woodies under their belt already, and Medusa continued that trend.
The ride was a fantastic mass of wooden latticework supports. It had the steep drops and long, sweeping, beautifully crafted curves that marked CCI's best work.
Sadly, the good always die young. Just a teenager, Medusa's life came to an end.
However, like the Titan it was named for, it underwent a massive transformation. From elegant beauty to harsh lines and starkness. Medusa was converted by RMC into a steel hybrid. What it lost in wooden beauty; it now makes up for in malicious thrill.
You may also be interested in:
Titan at Six Flags over Texas.
Greezed Lightnin' at Kentucky Kingdom
- - - - - - - - - -
2014​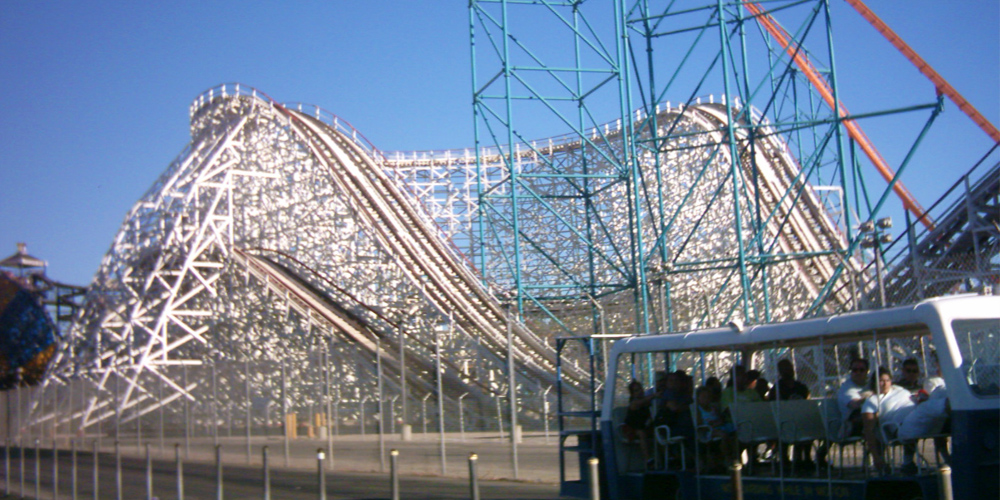 Photos:
Wikimedia Commons
Colossus
- Six Flags Magic Mountain, USA:
Medusa was the first ride I've mentioned that was closed for an RMC makeover, Colossus is the second, and probably more deserving.
Colossus was one of a multitude of a "wooden coaster revival" in the 70's. Built in 1978, it suffered like all the other of this era. The better engineering skills made the designs generally "better" than the original wooden golden age coasters from the 20's and 30's – but somehow less thrilling. They were taller and longer, but the never quite captured the – often accidental – madness of the classics.
The ride was immense though, a double tracked duelling coaster that dominated the area.
Colossus went through several reprofile changes to improve the ride, but it never rose above mediocrity. Outpaced by the new wave of wooden coasters from the 90's, Colossus had a Sisyphean task ahead of it.
It was put out of its misery in 2014 and Six Flags used the footprint to make Twisted Colossus.
You may also be interested in:
Florida Hurricane, another woodie that also opened in 1978
Montaña Rusa in Mexico. A sixties coaster that is/was also a Mobius looping coaster (Twisted Colossus used the original layout to become a kind of Mobius coaster).
- - - - - - - - - -
2015​
Photos:
Coaster101
Thunder Road - Carowinds, USA:
At this point, I'm thinking that the mid 2010's section of this article should have just been a single line of "You may also be interested in: Wooden coasters removed to make way for newer, more exciting rides".
Thunder Road is very similar in a lot of ways to Colossus at Magic Mountain above. It was a double track duelling wooden coaster, built in the 70's (1976 in this case). It was never an outstanding ride, but filled a gap in Carowinds line-up (every serious park has a woodie, after all).
So, what made Thunder Road special? Its most astonishing feature was that it crossed the state line between North and South Carolina.
For those of you now in a state of despair at the loss of a coaster that accomplished such a feat, it's okay, Fury 325 which opened in 2015 also crosses the state line. We can all sleep safely in our beds once more.
You may also be interested in:
Rebel Yell "Racer 75" at Kings Dominion has pretty much the same layout that Thunder Road had. Although Thunder Road never starred in a film about rollercoasters.
Timber Wolf at World's of Fun, also designed by Curtis D. Summers
- - - - - - - - - -
2016​
Photos: CoasterForce
Tsunami - M&Ds, UK:
Before I start with Tsunami, let's remember that amusement parks and rides are incredibly safe. Accidents and injuries are few and far between.
Sadly, in 2016 there was one of these rare incidents. A catastrophic failure caused an entire train to derail. 2 adults and 8 children were injured in the accident.
The ride had been running since 2004 without incident (beyond poor comfort, it wasn't a good ride). Investigations showed issues with welding on the wheel assemblies. The park pleaded guilty to the charges against them for breaches of Health and Safety laws.
It's a ride that will not be missed.
You may also be interested in:
Mindbender at Galaxyland which suffered a similar (though worse) incident
The numerous "Big Apple" coasters Pinfari make. Slow, safe and secure.
- - - - - - - - - -
2017​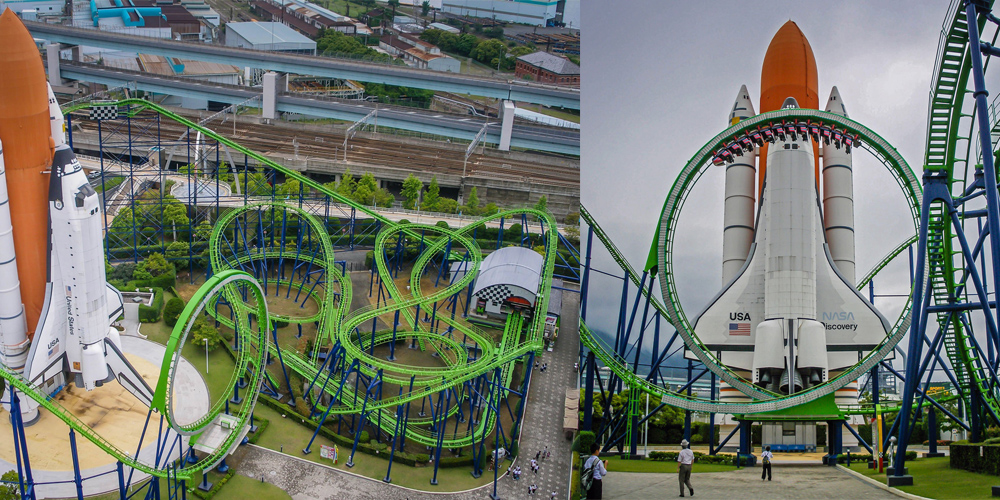 Photos:
@davidm
Spaceworld - Japan:
There are some images that last a lifetime. A snippet of something that grabs your attention and opens doors to further lines of inquisition.
The shot of a replica Space Shuttle with a coaster loop in front of it is one of mine. It was a shot that made me realise that there were coasters out there that I just had no idea existed, in countries I had never considered would have an interest in Theme Parks (how naïve I was).
Spaceworld wasn't with us for long, but the impact of this 1990 park was huge for me. Where was this coaster? What is going on with that giant shuttle? Should I be looking at expanding my horizons?
The park followed up on all this intrigue with a clone of Thorpe Park's Stealth.
Then nothing, other than an odd decision to make a skating rink, where the frozen water was filled with 5,000 dead fish.
It's unclear if the frozen fish escapade hastened the end of the park. It's worth noting that the park actually closed in 2018; 2 a.m. on January 1st to be exact…
You may also be interested in:
Crush's Coaster at Disney Studios Paris. The fish are also not alive in this attraction.
Flight of Fear by Premier rides, another space themed ride.
- - - - - - - - - -
2018​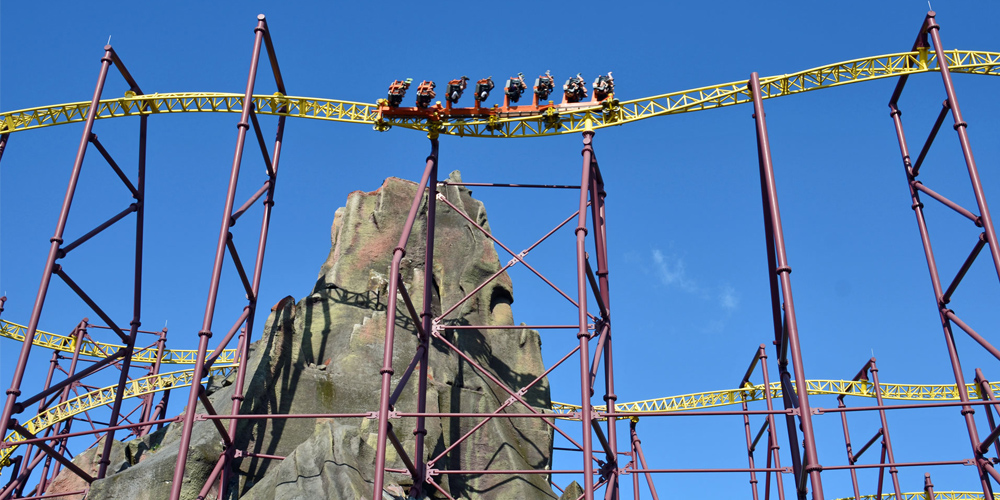 Photos:
@Hixee
Volcano: The Blast Coaster - Kings Dominion, USA:
1998 didn't know what had hit it when King's Dominion opened Volcano.
Of all the parks and rides mentioned in this list, perhaps Volcano is the one that we should lament the loss of the most. It's not that the ride was actually great (it was good fun), but that it was so "special".
It wasn't that anyone hadn't, or wouldn't, make inverted coasters. It wasn't that anyone hadn't, or wouldn't, make multi-launch coasters. It wasn't that anyone hadn't, or wouldn't, make a coaster themed to erupting from a volcano. It wasn't that anyone hadn't, or wouldn't, name their coaster in such a ridiculous fashion.
Intamin and King's Dominion did all of these things in one coaster. A coaster that sold more than it ever delivered, but the world is all the worse for it no longer existing. Unless you were unfortunate enough to have ever lost a loved one to an erupting volcano.
Sometimes, fortune favours the brave, and in Volcano's case, it was favoured indeed.
You may also be interested in:
Volcano Coaster at Jawa Timur Park 1. There wasn't much competition for Volcano named coasters.
X:\No Way Out at Thorpe Park, which probably holds the title of "most stupidly named coaster"
- - - - - - - - - -
2019​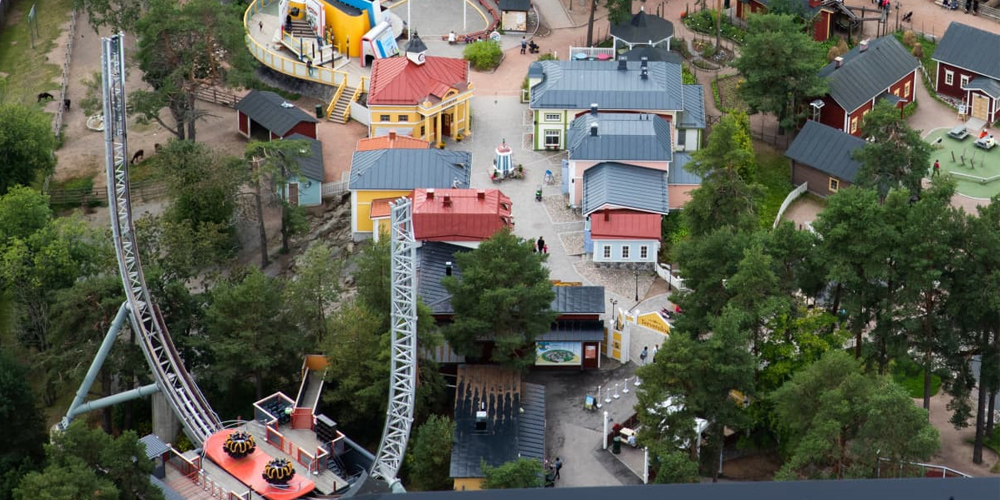 Photos:
Yle.fi
Half Pipe - Särkänniemi Amusement Park, Finland:
So far, there have been two controversial entries in this list – Déja Vu for relocating, and Spaceworld for closing at 2 a.m. on Jan 1st 2018.
This coaster is perhaps the most controversial ever.
Is it a coaster? If it IS a coaster, then why aren't Zamperla's Disk'o Coasters coaster?
The arguments rage and the sooner these rides are all gone, the sooner we can get back to normality and arguing over what counts as an inversion.
You may also be interested in:
The multitude of Butterfly coasters people also seem to think are coasters.
Arguing over inversions, molly orange and "is the dress gold or black?"
- - - - - - - - - -
2020​
Photos:
@ECG
Primeval Whirl - Animal Kingdom, USA:
It's very rare that Disney parks make a mistake. Primeval Whirl is one of the few.
What could be worse than a park, well renowned for exemplary theming and presentation, putting in a minimally themed standard spinning wild mouse?
Why, putting in two of them side by side of course.
They're the coasters enthusiasts love to hate. It seems every low budget park has them. They sit there, tantalisingly almost thrilling, but never quite. Not much more than Big Apple in terms of ride value. But they're there and need to be ridden as a penance and punishment for all the superb rides we get to go on (like Expedition Everest, for a close example).
While this is an excellent move by Disney, there are a host of dirty credit whores out there now who never got them, missing two new creds and reducing the cred count at Animal Kingdom to one. Cry me a ****ing river.
You may also be interested in:
Any other Disney Attraction. Even the urinals are better than these were.
Any coaster with the word "Crazy" in their name – it's probably one of these Reverchon Spinners.
- - - - - - - - - -​
Has anything here brought a tear to your eyes at all? I'll bet there's been a few, "it was never that long ago, was it?" thoughts.
What do people think this list will look like in another ten years? We've seen stuff here that survived for many decades, but are new coasters part of today's throw away society? Will we see any shocks as an outcome of the global pandemic? Are B&M's hitting their natural lifespans? Let us know below.