Slut for Spinners
Social Media Team
My apologies for the wait and thank you very much for being patient. It was a crazy week regarding school. Anywho, here's how you guys screwed me:
6th place
, with a total score of 18.67 points, is
Kraken's Revenge
by
BBH
!
I'm assuming this was one of your first tracks. It'll take some time to hone your hand building and develop certain methods, but kudos on entering.
5th place
, with a total score of 38.17 points, is
Coral
by
TomahawKSU
!
I noticed you made some changes after reading my critiques and as a result, your track was that much better than your last! I personally found the terrain and layout interaction to be really unique. My only beeves with your track are that the supports are strange, your segment lengths still vary, and a lot of transitions are messy (although I won't give too much flack for transitions since they're extremely difficult to master). Keep up the good work!
4th place
, with a total score of 45.5 points, is
Ignite
by
Treeis
!
Ignite was the most unique track as well as the only launcher. I found the layout a good fit for a launcher, although I felt that some of the turns were a bit too tight. I was very impressed with the transitions, especially in the helices.
3rd place
, with a total score of 46.25 points, is
Swamp Beast
by
Jer
!
Jer captured the Arrow feel the best. Everything seemed very Arrow - the layout, the aesthetics, the level of fun, etc. Props to him because Arrows are so unconventional now, it's hard to recreate their style in NL.
2nd place
, with a total score of 49.3 points...
is
Moccasin Bend
by
SFOGRICH
!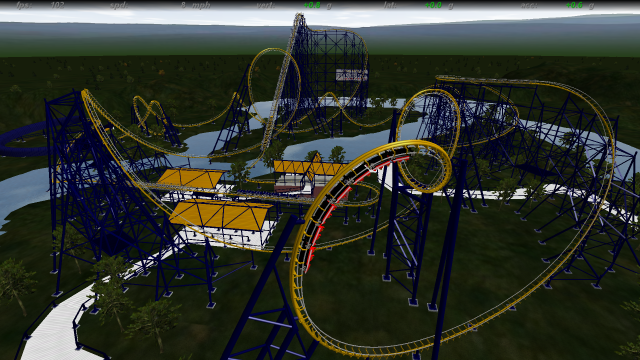 Both the 1st and 2nd place rides were neck and neck and this was my personal favorite by a smidge. The trackwork only lacked in the transitions, but the creativity and uniqueness surely made up for it. The supports and choice of inversions are key strengths for this ride and set it apart from the rest.
And the winner, with 50.6 points is
Inverted Mayhem
by
Xpress
!
Once again, Xpress' hand building skills refute any of the crap anybody gives him. This ride reminded me of a small, more aesthetically pleasing and much smoother Goudurix. The elements flowed seamlessly together, save the roll after the second loop (it just felt out of place). The supports were also great and the landscaping was nice. Congrats on the win!
Two down, hopefully many more to go! Thank you all for entering. Don't forget about contest number 3, Size Wise, going on right now. I look forward to your submissions for Size Wise.