Hello - first, a quick link to a young YouTuber's charity effort to ride Tidal Wave all day, which I thought was quite noble. If you take any enjoyment from this blog, like Thorpe Park or are just feeling generous, please show kindness and donate an affordable sum (to any charitable cause of your choosing).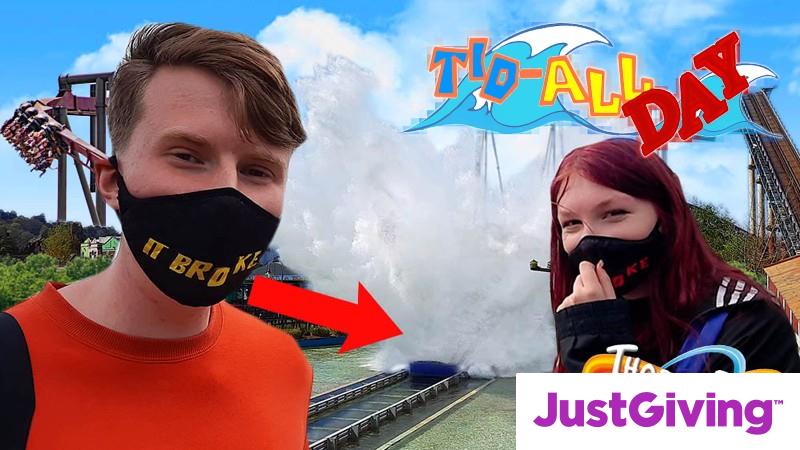 We're raising money to support The Brain Tumour Charity and MND Association, 2 charities very close to our hearts. Support this JustGiving Crowdfunding Page.
www.justgiving.com
*****
I don't know about you, but I have felt (for quite some time) that there just isn't
quite
enough
Thorpe Park content on these forums. I can't be alone. My hunger to read more about Thorpe Park reached dazzling new heights this weekend when I read an
astonishing three sentence trip report of
Six Flags Great Adventure
. Enough was enough. I promptly decided that Mrs. Nitefly and I would attend Thorpe Park on a viable day that would surely provide an exciting trip report and a predictably enchanting experience:
Bank Holiday Monday
*swell of dissonant music*
If you are still reading (and haven't punched your monitor yet) it would be polite of me to warn you that this post is aggressively long, very self-important and occasionally 'spicy'.
I have quite fond memories of Thorpe Park. My grandmother used to run a foster home and take all the children there on trips - I got to tag along too (this was when I was 5-10 years old, in the 90s). I remember all of the old rides quite well, including the boat ride, Wicked Witches Haunt and feeding the animals at Thorpe Farm. Later, I remember my Grandad taking me on the Rocky Express and me squashing him in the outer seat. Of course, it's all rather different now. No Thorpe Farm. No log flume either. Just lots of coasters, an upbeat vibe and a quiet sadness that the park no longer offers that wholesome family experience that I remember so fondly.
Having stopped at an inconvenient place for an emergency wee, we arrived (mid-dommy) at 09:40 in good time for opening at 10:00. So we thought. Ho - Lee - FFFFFFF! I'm pretty sure there has never been more people in any one place ever than the Thorpe Park entrance that morning. Bloodthirsty mobs were amassing into 'World War Z'-like climbable piles just to get over the gates. We were somewhat saved from the frothing masses (for now) as we needed to collect our fastpass wristbands from the ticket collection area (as we aren't
completely
sadistic). But this process was a whole load of bull****. They had sometimes two, but mostly only
one
, employee(s) dealing with issuing out all order collections and dealing with all other matters/enquiries at the ticket centre. Now, fair enough, make the fastpass guys wait, but this was affecting every single person who had something to collect and there was a
lot
of us. This process took us about half an hour. When we finally got our wristbands, at about 10:15, the same queue was about 3x as long and way over an hour's wait. Dang!
We would have been very upset at this point as we would have missed out on timed tickets for DGBT and BM, but to our absolute delight, a helpful employee told us that we could reserve ride times for these at the unmanned ticket machines located in the ticket centre itself (i.e. outside of the park gates). Mrs. Nitefly deployed herself to the machines and tickets were collected for the afternoon - phew!
By the time we actually got into the park it was about 10:50 (!). It became apparent during our queuing that, from a COVID perspective, the park was absolutely and utterly CFOC and I really do mean
chock full
. Basically, forget all social distancing and anti-COVID measures, because nobody cared. Enforcement was almost non-existent, except in the most baffling of circumstances (as I will explain later). Third wave, ahoy! Compared to my other recent park visits, there was a notable abundance of teenage scallywags on this hot hot day but generally most visitors were very much in a pleasant 'holiday mode' and the atmosphere was a good one. There was also a lot of (attractive) flesh on display and, despite my best efforts to be composed, I was in
Thomas the Tank Engine Mode
for most of the visit.
Strict chronology obviously goes out of the window at this point.
We headed over to
The
Swarm for our first ride of the day. I've long since held the view that this and Nemesis Inferno are boring, inversion-by-numbers B&Ms, but Mrs. Nitefly has always liked
The
Swarm and I willingly obliged her desire to go on that first. Aside from the incredibly unexciting grey track of the ride itself, it really is a rather nice (albeit oddly inaccessible) area. It is crying out for a black track or supports though. "Sounds like a -6db scoop on the 750hz", I thought, as the atypical guitar music played away. In the station, it became apparent that special bank holiday rules were applying: they were running
two
trains on a weekday (contrary to the well established Thorpe Park lore). Nevertheless, the OPs were horribad and the trains were waiting quite some time on the break run to get back into the station. I did really enjoy the look of the trains and they reminded me that I have a lot of Warhammer models to dry brush. "For the Emperor!", I declared loudly, to myself (in my head).
The wonderful surprise of the day was that the B&Ms absolutely kicked my ass. Again, go in with low expectations and you will only be delighted when they are surpassed. Our first ride on Swarm (...), on the back row, was glassy smooth, graceful yet... forceful? The big sweeping inversions all felt excellent and I gave a round of applause when the ride was over. Big smiles. We managed three rides on this in total and Swarm was dubbed the ride of the day. We agreed that the back inner seat was 'the seat' to go on. Weirdly, my ride on the outer seat on the back row was clumsy and 'clunky'. Weird variances on seats and trains would be an ongoing theme of the day.
After Swarm, Stealth was the next on the list. Mrs. Nitefly has never really enjoyed it to the point where Kingda Ka is her most feared ride, but was keen to give it another go. Walking passed Tidal Wave, it was very sad to see it closed and empty of water. The music and theming in this area is always surprisingly good and it is possibly my favourite themed area in the UK (I say this despite scoffing when someone else on here posted a similar view). I particularly enjoyed the skit near Stealth offering brown pants for sale. The ride itself was good, although naturally a bit rattly due to the speeds and these days I am most certainly a comfort rider. Mrs. Nitefly did enjoy her two rides but found the acceleration uncomfortable - not her favourite.
We then had a go on the Rumba Rapids. This really is quite a dull and dry ride by any comparative standards (compensating for Pop-Eye, I think) but it was one of the only opportunities to get away from the crowds. Our second ride, towards the end of the day, was one of my favourite moments, as we cruised round quite content and (by then) thoroughly sun-soaked.
We paused our riding and took an early Burger King lunch from near the log flume area (my first of the day, as I disgustingly had a second from the services on the way home - what a pig). Despite the harrowing short music loop in this area, I was absolutely delighted to find the fairly modern shooting gallery game and took childish glee in hitting all of the targets at Mrs. Nitefly's direction. The water effects weren't working but it was still by far away the best example of one of these I've seen recently. Certainly better than the one at Chessington that stole my money!!
Black Mirror - spoilers ahead. We were in quite speedily (I had feared a miserable 'technical difficulties' queue). We both had mixed views on the experience itself. Mrs. Nitefly was a more general 'meh' whereas I intensely liked some elements and found others disappointing. A glaring design gripe was that the exit to the attraction is at the entrance. That is very immersion breaking and feels lazy. Even a barrier of some sort hiding the expressions of those leaving the attraction would be an improvement. I do think the 'data mining' and face mapping elements are sensational and on point for the Black Mirror theme. On the other hand, I dislike that the 'hacker' character sounds like they are presenting on Blue Peter... and that the 'twist' identity of the hacker makes absolutely no sense whatsoever (unless the 'baddy' is only 'posing' as the hacker - which is also a bit underwhelming). The maze itself was fun though and, overall, I enjoyed it.
Saw time. What a ridiculous attraction. It's the only ride at Thorpe Park that I find particularly alluring because of its sinister and unusually industrial theme, whereas on paper I find the other themes at Thorpe Park quite dull. Our first ride was on the back row. I was very aware of the consensus that Saw is a rough ride and we braced ourselves appropriately. Mrs. Nitefly got bopped about a fair bit but I found it absolutely fine and a really good ride. What on earth is everyone on about, I said, loudly to the sky, tempting all gods that may have been listening. On our second ride, we got the front row. At the bottom of the first drop after the vertical lift hill, both of us simultaneously let out a loud "OWW!" as we were jolted with the roughest jolt I have ever experienced on a ride. The remainder of the ride was outrageously bad and jolty, more of an endurance than anything fun. Poor Mrs. Nitefly got the full Mike Tyson experience and both of us received banging headaches. Really, this was shockingly, unacceptably "it should not be allowed to run" bad - potentially injury inducing. I think I'd rather subject myself to an actual Jigsaw trap than ride the front row on this piece of **** again. That was coming from a perfectly acceptable first ride too.
Ghost Train next. They should keep the timed tickets for this indefinitely, as it was fairly painless to get on and off. I really want to like this ride and therefore I do like it. Unfortunately, it's mixed in execution. The headsets were temperamental and this time around they had added really quite unnecessary actors. The section in the room immediately after the intro video with an actor was really poor (through redundancy - not the specific actors fault) and a terrible 'remember the numbers' thing was added at this point that was painful. It was all far better without such tedium. Thinking about it, these scenes must have been added to extend the duration of the ride without 'waiting' - to help with COVID cleaning. The universal rule is that no actors in any attraction is almost
always
preferable, although I will say that one of the actors loading people onto the trains was actually really into it and quite good - he got quite stern with people faffing around which was a little uncomfortable but I did like that he kept in character and to be fair they were faffing big time - bunch of *****, feed them to the demon. People watching was further intriguing in the 'fake gift shop scene'. Even when the room was dimming and shaking, someone was harrumphing over the 'hold up' to get out. All things considered, I still applaud the effort and originality. On a side note, doesn't 'Derren Brown' sound like a 'Farrow and Ball' colour? Brb just popping off to B&Q to get some 'Derren Brown' made up in Valspar.
Nemesis Inferno O'Clock (although this trip report is so long it probably feels more like Dante's Inferno to anyone still reading). Weird colour scheme on this - sort of a 'regal furniture' vibe. I asked Mrs. Nitefly what she thought and she replied, without any hesitation, that Nemesis Inferno looked like a "beetroot poo". We had two rides on this, mid-train and the front row. The mid-train ride was super aggressive to the point where I greyed out, possibly even blacked out (!), on the loop. I say possibly as I couldn't remember the second inversion at all. So much for the tame B&Ms - they really socked it to me, POW! Still, I can't help but think that the ride ultimately feels derivative and by the numbers in my book, despite its impressive forces. For Mrs. Nitefly it was one of her favourites of the day.
But look at this bugly merch:
Who buys that!?
£10 down and 'no Snorlax' later, a ride on Detonator. This really is an excellent drop tower. Fast, funny and forceful. One of the best flat rides in the UK and certainly a contender for one of the strongest rides in the park. It was a great shame that Samurai was down to compare it with in a 'battle of the flats'. As a foot note, we were denied Storm Surge as it required at least four people to ride it, apparently (although I suspect this is a way of just keeping the queue times down in COVID times, which is fair enough). The queue for Storm Surge reached an astonishing 2 hours at one point in the day, which is absolutely insane.
It was then, errr, half-passed Collosus. The half-arsed theme doesn't help, but what a miserable looking ride. It does actually look better than last time as the faded yellow supports now look bone white in tone (which could perhaps offset Derren Brown nicely). They really cranked up the diarrhoea dial on the OPs on this, **** me. In addition to the agonising load time, they were only allowing one group per car. That means when me and Mrs. Nitefly are in a row, nobody else can be in that car. TBH the cars are so small that it should only be two people per car anyway. The diagonal flooring on these seats is unspeakably bad and I am going to give shade to Intamin for designing such ****balls cars. Incidentally, we were both in agreement that the shade provided by Collosus's queue was better than the actual ride, which unlike it's aesthetics didn't do the whole 'so bad it's less bad' thing. It was just quite average. We were quite content with only one ride on this one.
After our final Swarm, we decided to end the day with a cheerful ride on my childhood favourite, the Flying Fish. I actually remember being too scared to go on this with my Grandmother! Alas, it wasn't such a cheerful experience as the poor ride OPs chap was dealing with some absolute morons. Not closing the exit gate, not leaving bags correctly, not observing the clear social distancing instructions that the ride OP was trying to enforce - it was maddening to watch even just waiting a couple of trains. At one point the poor ride OP was giving his colleague the universally known 'what's the time?' wrist tapping motion and you could just feel the steam coming out his ears when his colleague was barking over the tannoy during the ride "what do you want?". When we got on, the cheerful automated announcer perked up my spirits but not quite so much that I could ignore that the Flying Fish had clearly been smoking behind the bike sheds with Saw. Really rough for such a tame ride and, being observant, quite alarming how easily I could have injured myself on the support beams had I held out my arms and disobeyed the instruction to keep my fins inside the fish. I do wonder whether anyone got seriously injured when this thing was in the dark in the 80s.
That covers all the rides, so closing thoughts. Obviously to us enthusiasts, you would have to be an absolute maniac to go to a theme park on a bank holiday weekend (at least without some sort of fast pass). I overheard others complaining that they had only ridden a couple of rides in several hours and were therefore happy to "smash some pints" rather than waste their time with more queuing. That may sound a little thuggish, but it was probably a wise move to maximise enjoyment. Whilst we were able to hoon the rides, the fast passes did highlight the glaring problem with Thorpe Park, which is that even if you do have free time, there isn't really anywhere to take a quiet moment, or a peaceful walk. You may as well just keep on riding. So it was not a very balanced day and we were really quite 'rided-out' by the end. I would have loved to have taken an hour out to walk around 'the gardens'. I don't think I'll need to revisit Thorpe Park for another couple of years, at which point they will hopefully have the RMC they desperately need to keep things fresh.
A quick light note to end this saga - I have just set an alarm on my phone to remind me to call my Grandmother tomorrow to say how much I used to love our trips to Thorpe Park.
Thanks for reading.
Last edited: