See... 'Monster' because that's the name of the new B&M invert at Grona Lund, 'Monster-raving' because we all really liked it and 'Goony party' because this was a bunch of CF'ers larging it in Sweden for a long weekend. Geddit?
Quite pleased with that title, I must admit.
First of all, the obligatory paragraph detailing all the boring travel stuff:
Eight of us flew to Sweden and met up at Furuvik. Boom. That's that done.
There was me,
@DelPiero
,
@SilverArrow
,
@chainedbanana
,
@Mysterious Sue
,
@Mushroom
,
@Libby_Liz
and
@MouseAT
.
A fine selection of goons, I'm sure you'll agree.
Soooo, Furuvik then. S'alright. Probably best known for being the place where Alton Towers' Black Hole ended up, and when we booked the trip it was still in situ with its future uncertain but, alas, by the time we got there it had been completely removed. Bit of a blow to the Schwarzkopf fans among us but hey ho, what can you do? Go in and spend a nice couple of hours there anyway, that's what.
Pleasant little park to be fair. Nothing spectacular but clean and tidy, very green and woodland-y and not too busy. In fact, not busy at all, so there was none of that "queue time was advertised at 60 mins so we decided to give it a go" nonsense, we just walked up and rode stuff.
One running theme that might crop up in this report from time to time is funny sounding Swedish words. Here's the first of many:
Apparently, Tivoli means 'funfair' or 'carnival' in Swedish, so this is basically the bit of the park where the rides are at:
With the old Black Hole gone there's currently only 2 creds here, a Vekoma junior Boomerang called Fireball:

We rode it. S'alright. It's a case of 'ridden one, ridden 'em all' with these things innit. You know exactly what you're gonna get with a junior Boomerang - a smooth, comfortable and reasonably fun family coaster, nothing more, nothing less. Perfectly adequate for small parks like this. Big smiles all round: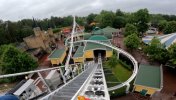 And then there's Draken, a Zierer Force One:
It was alright.
Other stuff we rode included the fairly obligatory chair swings:

A Mondial Topscan. Been years since I've ridden one of these, so that was quite nice:

And a creepy, dark ride shooter:

It was alright.
We also rode what are undoubtedly the world's slowest bumper cars and a small, very underwhelming drop/bounce tower and.... actually I think that might be everything? Like I said, there's not a great deal here to be honest. We did, however, see some more amusing Swedish words like:
and:
And that was pretty much it from Furuvik. A very pleasant afternoon for sure and a great little warm-up park to get us ready for what would be a fairly full-on few days. When you get to a certain age bracket you need to pace yourself, it's important not to go too big too early. I may have been the oldest of this particular group but let's face it, none of this lot are Spring chickens anymore, are they?
I wouldn't call Furuvik a must-visit park, definitely not worth flying to Sweden for alone, but only being an hour from Stockholm means it can be a nice little add-on to any Grona Lund trip. Of course, next year will see the arrival of The Black Hole's replacement, some sort of launched family roller skater from Vekoma which will undoubtedly make the trip that little bit more worthwhile.
It looks alright.
And with that it was back to the car for the short drive to Stockholm for food and drinks and larking around. Speaking of the car, one of the great things about Sweden is that you get decent rental cars. Check this out:

Brand new Jeep Compass hybrid with 10km on the clock, it was. Nice! Much better than the tin-pot Korean crap they fob you off with in France and Belgium, that's for sure.
Swedish car guy tried to sell it me as an upgrade at first (I'd only booked a basic Merc A class) which I declined, but then it turned out that Merc was due a service so he gave me the upgrade for free anyway. Ta very much, I said.
En route, another funny Swedish word was spotted:
Hotel for the next 2 nights was in the heart of Stockholm, a short ferry ride away from the amazing Grona Lund. But that was for tomorrow. Tonight, after checking in, a quick change, a brush of the teeth and a swill of the balls, it was back out for dinner and drinks at Miss Behave's Bar. Nice little place it was, on the boardwalk with a rather splendid view: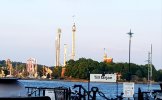 Happy goons.
Some hot air balloons floated overhead too. Here is a picture of a Shrek one:

Even our hotel room had a view of Grona Lund, looking resplendent with all its lights twinkling in the distance:
Sleep that night would be minimal thanks to it being hot, humid and the tendency of partygoing Stockholmers to sing ABBA songs in the street til the early hours but it didn't matter, tomorrow would be a monstrously good day.
In the next part then, fairly predictably... Grona Lund.
*Footnote. Apart from the first one and the last couple, none of the photos in this report are mine so big thanks to Mark, Emily, Tom, Sue, Harry, Liz and Andrew for letting me lift them from the group chat.
Last edited: