Might be jumping the gun here but Holiday World have started to clear the old Pilgrim's Plunge area, they seem to be leaving the station.
Walls have gone up around the large area and the water trough has been removed with the area being filled in and flattened.
Images of site as of 1/6/23 from
video source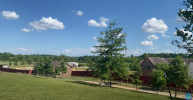 I would love to see a coaster and with the amount of land preparations they are doing I hope it is that, 2015 was their last coaster so a new one for 2024 or 2025 would be great. However there is a lot they could do with this space, water park expansion, utility area, flat rides or maybe just a tidy up. but with the size of the area my hopes are on a coaster.
Last edited: