My wife and I recently spent a week in Belgium, which allowed us to visit a couple of theme parks amongst other activities. Please excuse the mixed quality of photos - a combination of camera phone and 'proper' camera!
First up was Bobbejaanland on Monday 29th August. We travelled up from Brussels, which should've been an easy journey of just over an hour, but Sat Nav problems, crap traffic in Brussels and an unexpected rainstorm meant it was 45 minutes after opening time when we finally arrived. Our hope was that a weekday visit would mean less of a crowd, but one look at the entrance plaza dashed those hopes...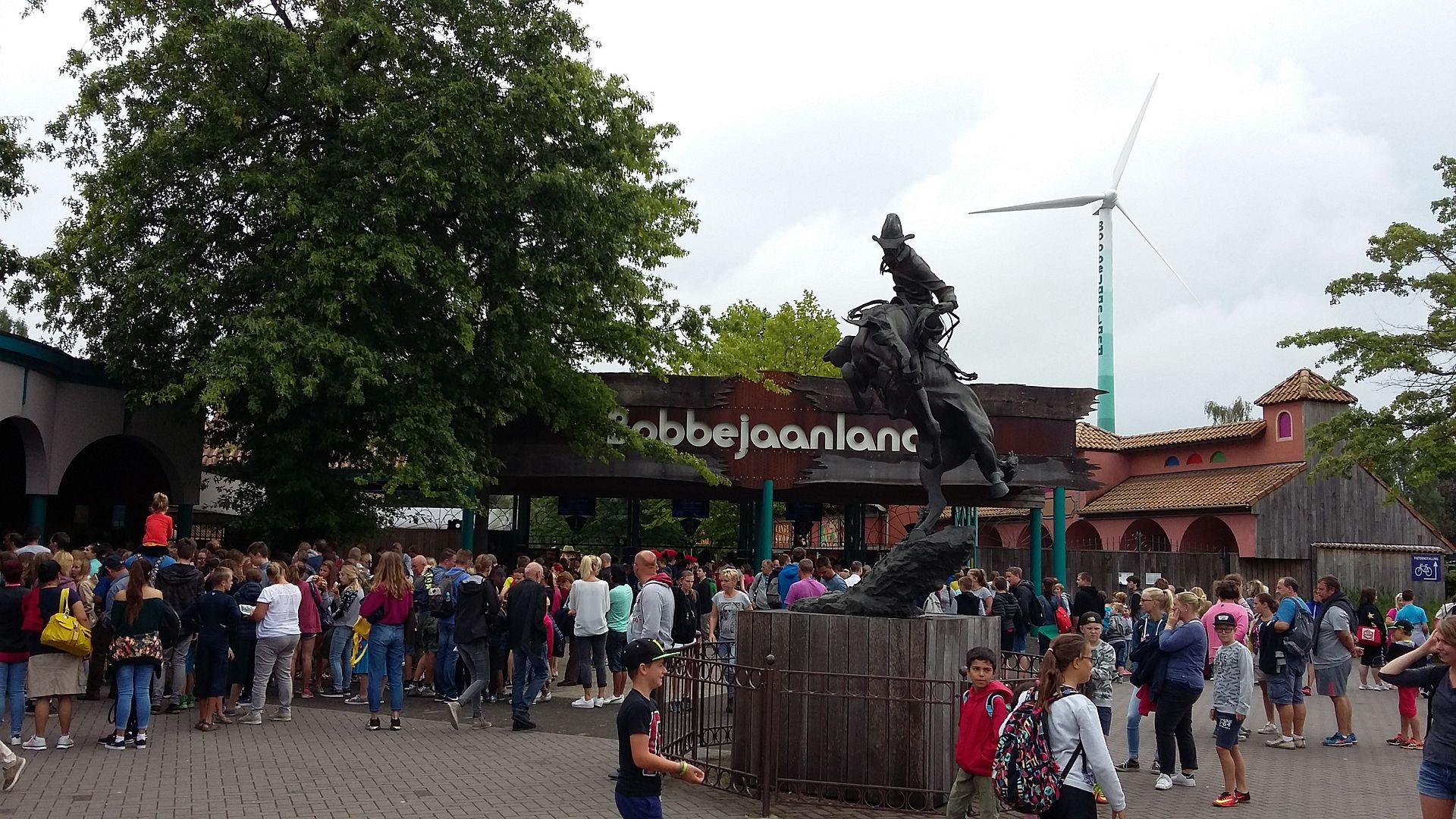 Luckily we had pre-booked tickets so didn't have to wait too long to get in, so once we got through the gates we headed straight to the back of the park to ride Dream Catcher.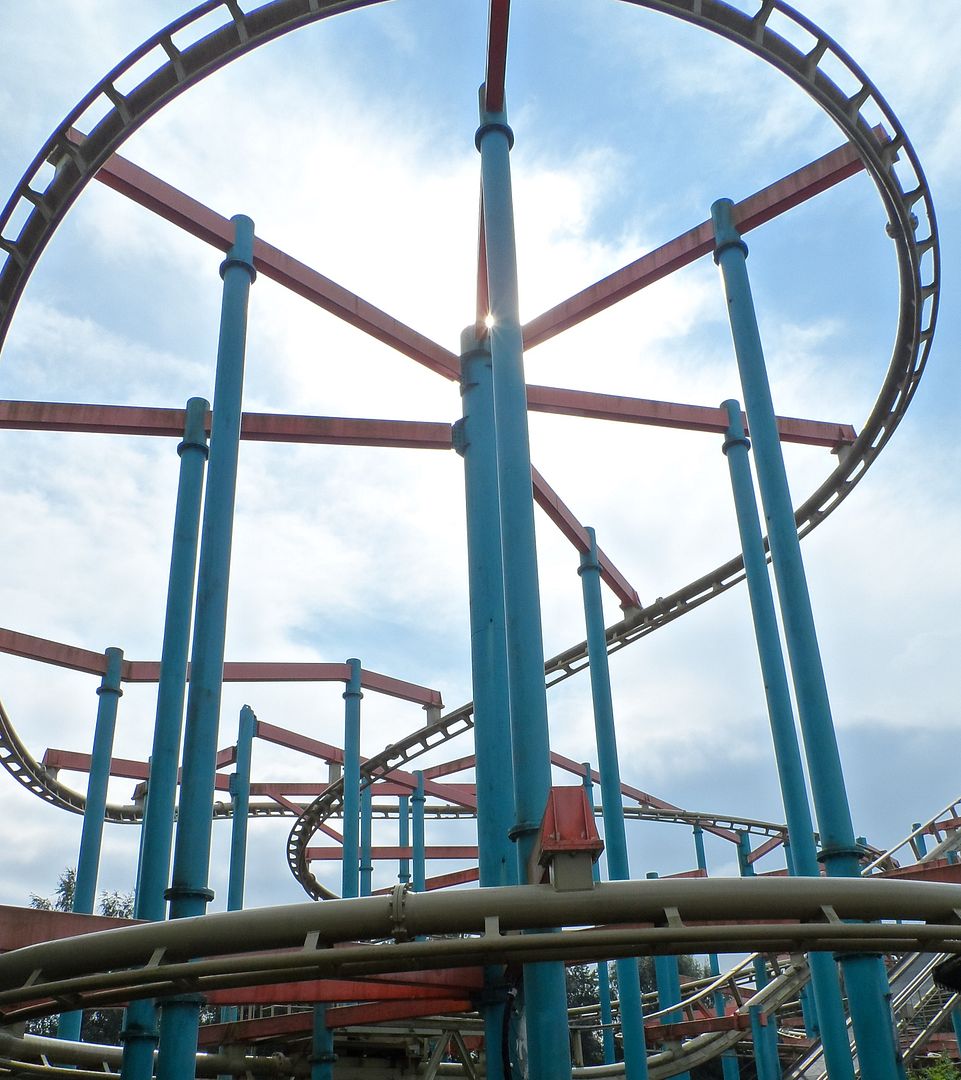 This was the ride my wife most wanted to try, as she loves Vampire at Chessington. We queued about 40 minutes, though when we joined the queue we had no idea how long it was due to the lack of info signs, and finally got on fairly near the front. And it was 'meh' really! Mostly just a load of helixes as you make your way back down to the station with a green lake below you. The swinging cars are a fairly unique touch but otherwise this isn't much different to the more modern Vekoma SFCs. It sure could do with a clean-up or a new paint job too!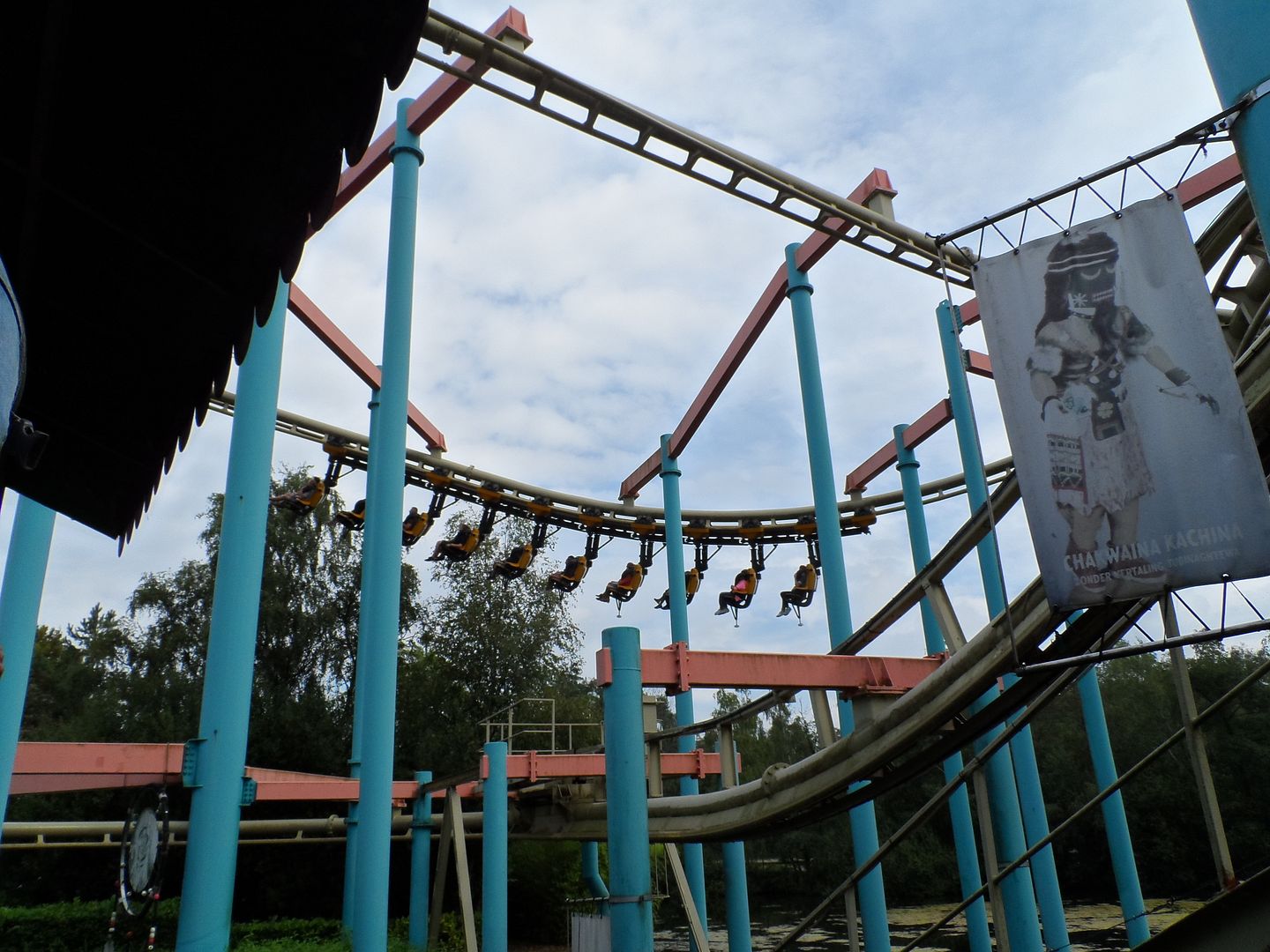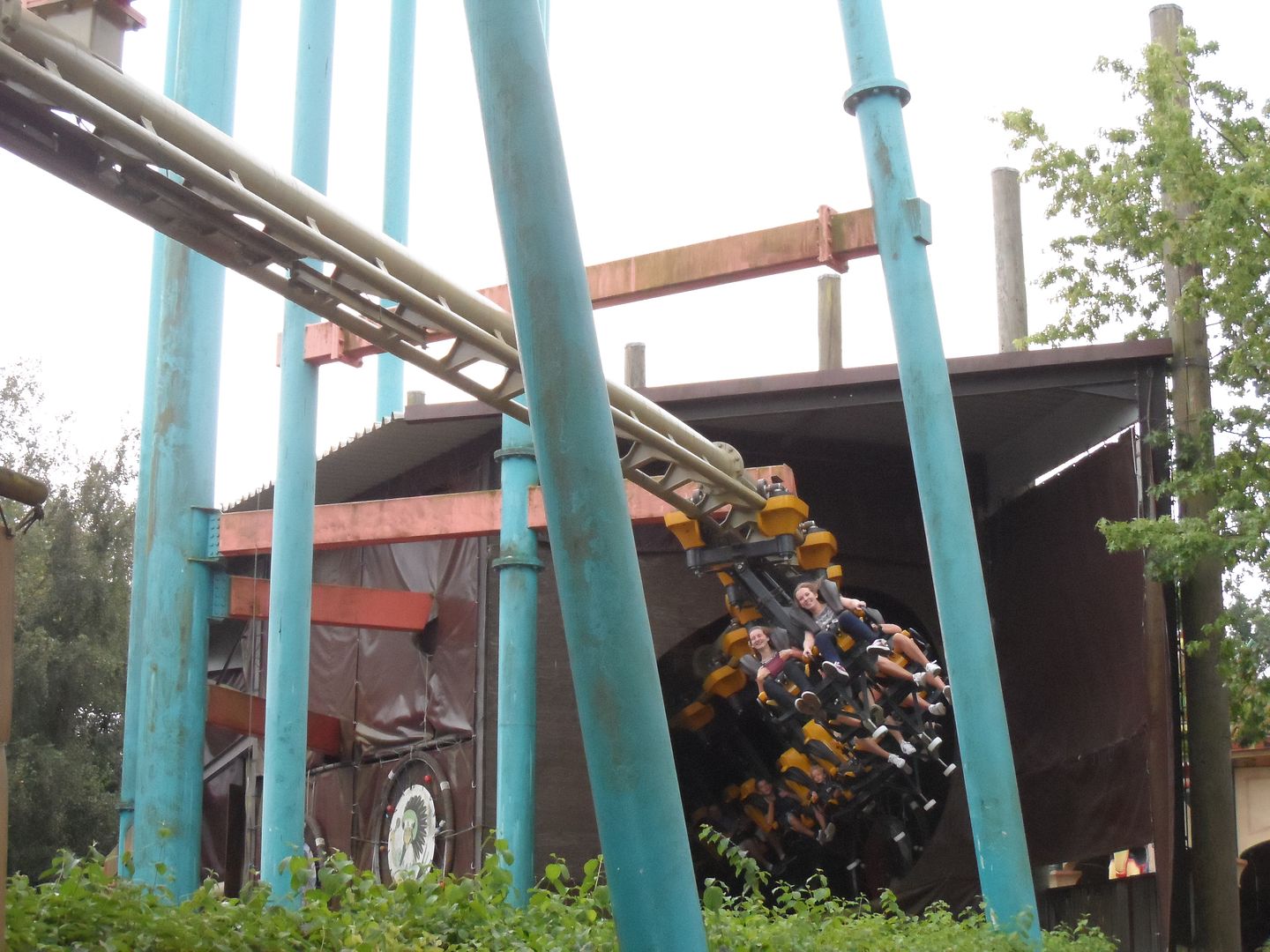 Next we walked around the lake in an anti-clockwise direction, passing the sadly closed Oki Doki, which looked like one of the best coasters in the park...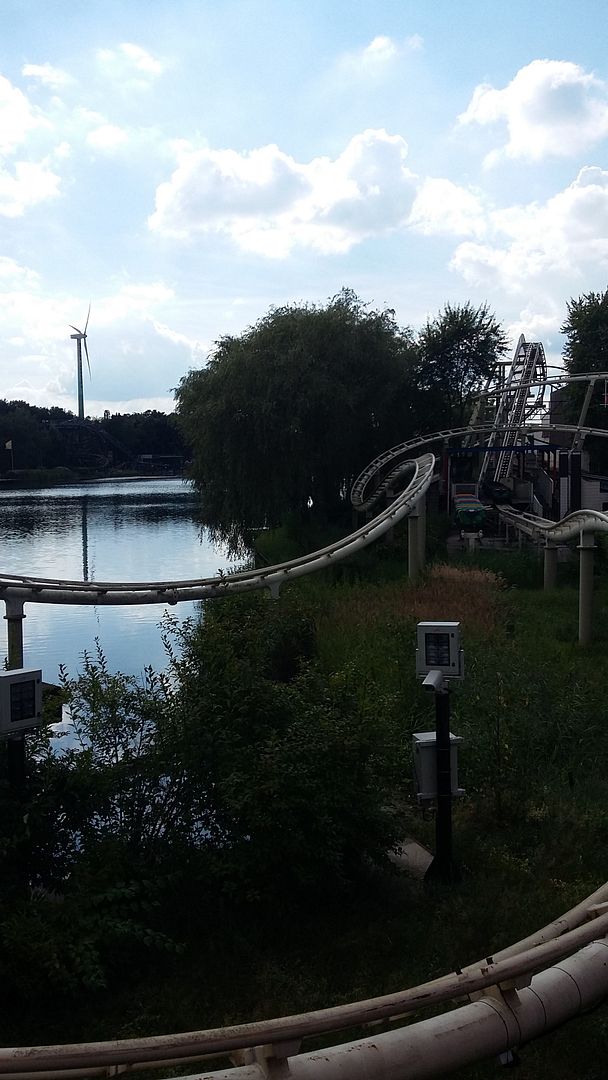 ...and ended up at Bob Express, the park's powered mine train coaster. There was about a 20 minute queue for this, which was better than expected. For the first time ever riding one of these types of coaster, I go to ride on the front row and sit in the train!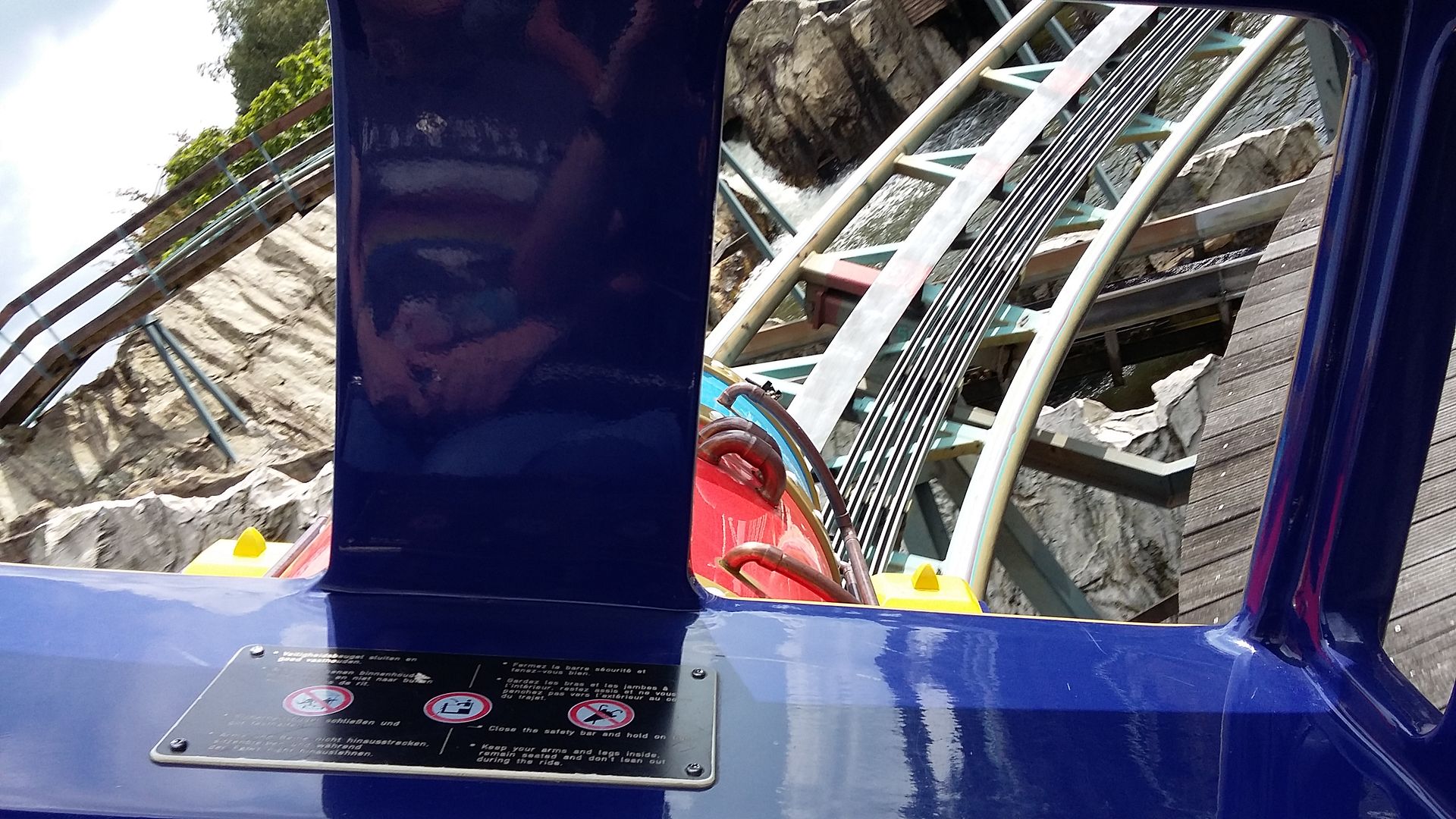 This one has a good layout that goes out over the lake and interacts with the adjacent log flume, and picks up a nice bit of pace on the final helix before the station. So I'd say it's as good as the one at Alton Towers and better than the average powered family coaster.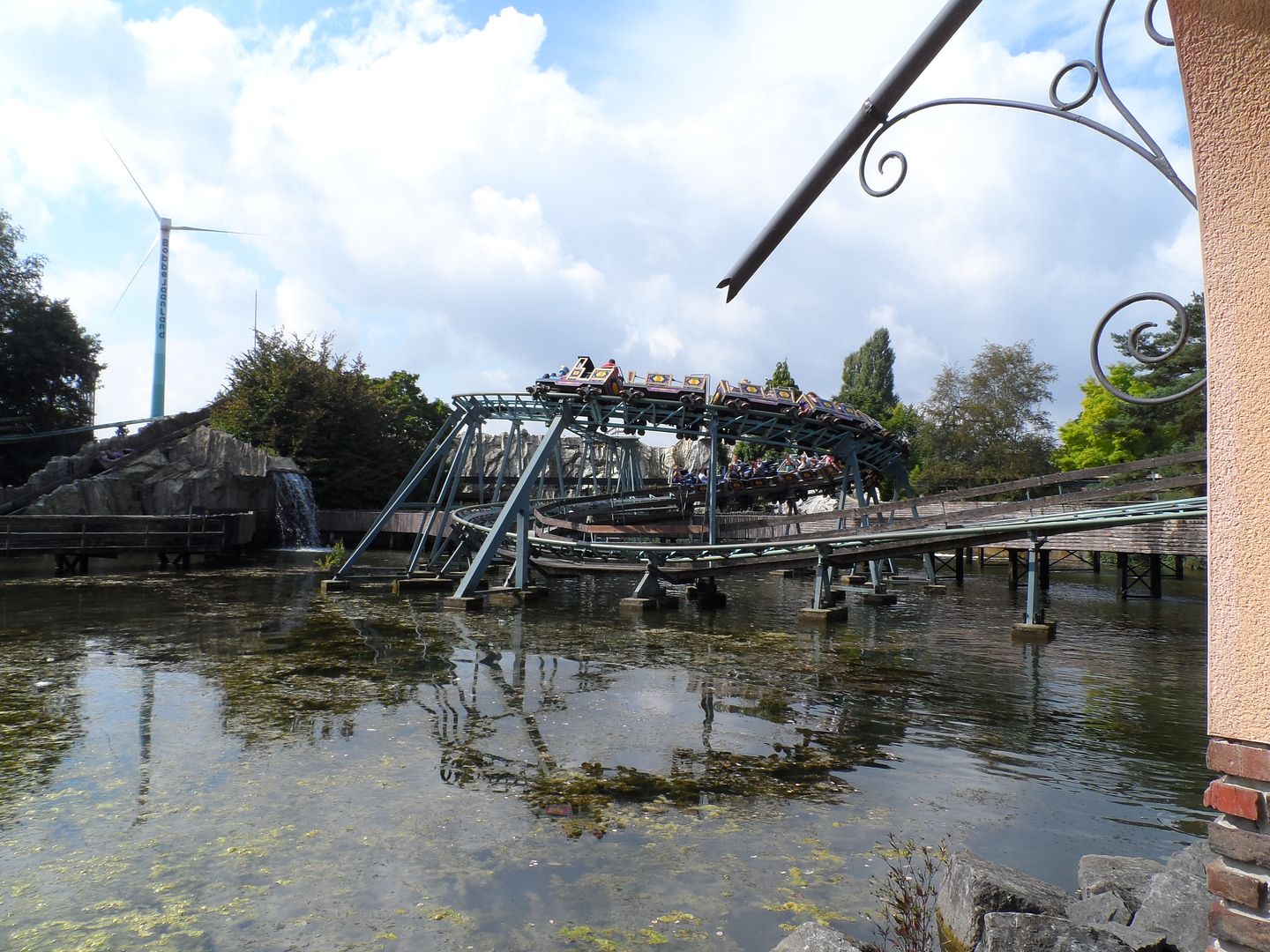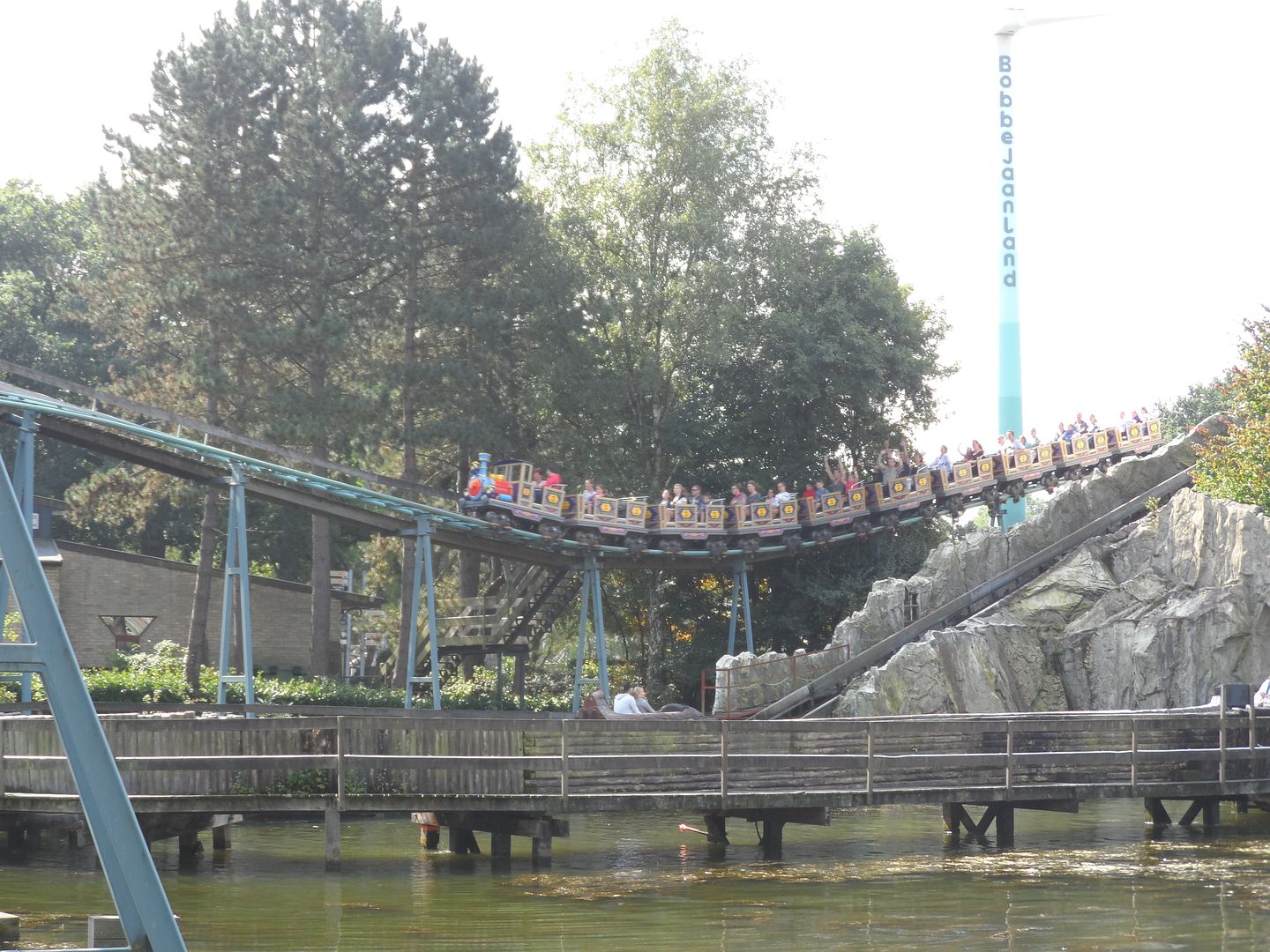 Next we rode that log flume I mentioned (one of two at this park) which had an important warning about not using mobile phones from the 1990s... :--D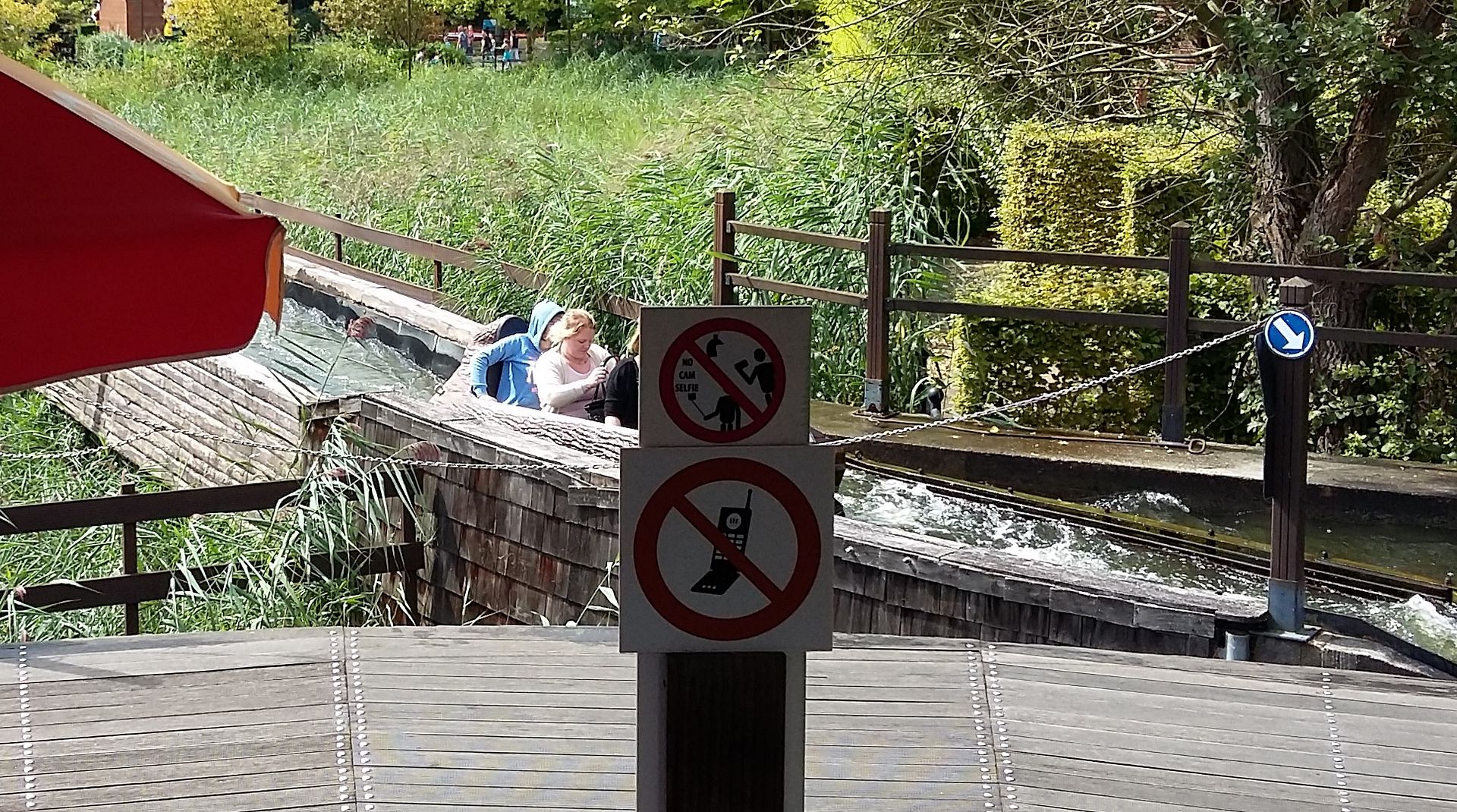 The ride itself was a typical 80s log flume, nothing spectacular but with just the right amount of splashing on a hot day.
Continuing our walk around the lake, but skipping a couple of rides for now, we ended up at Typhoon, the biggest and most thrilling coaster at the park. The queue had diminished to less than ten minutes (probably because it was lunchtime) so I took advantage of this. The missus skipped this one as she doesn't like loops and is intimidated by the vertical lift hill!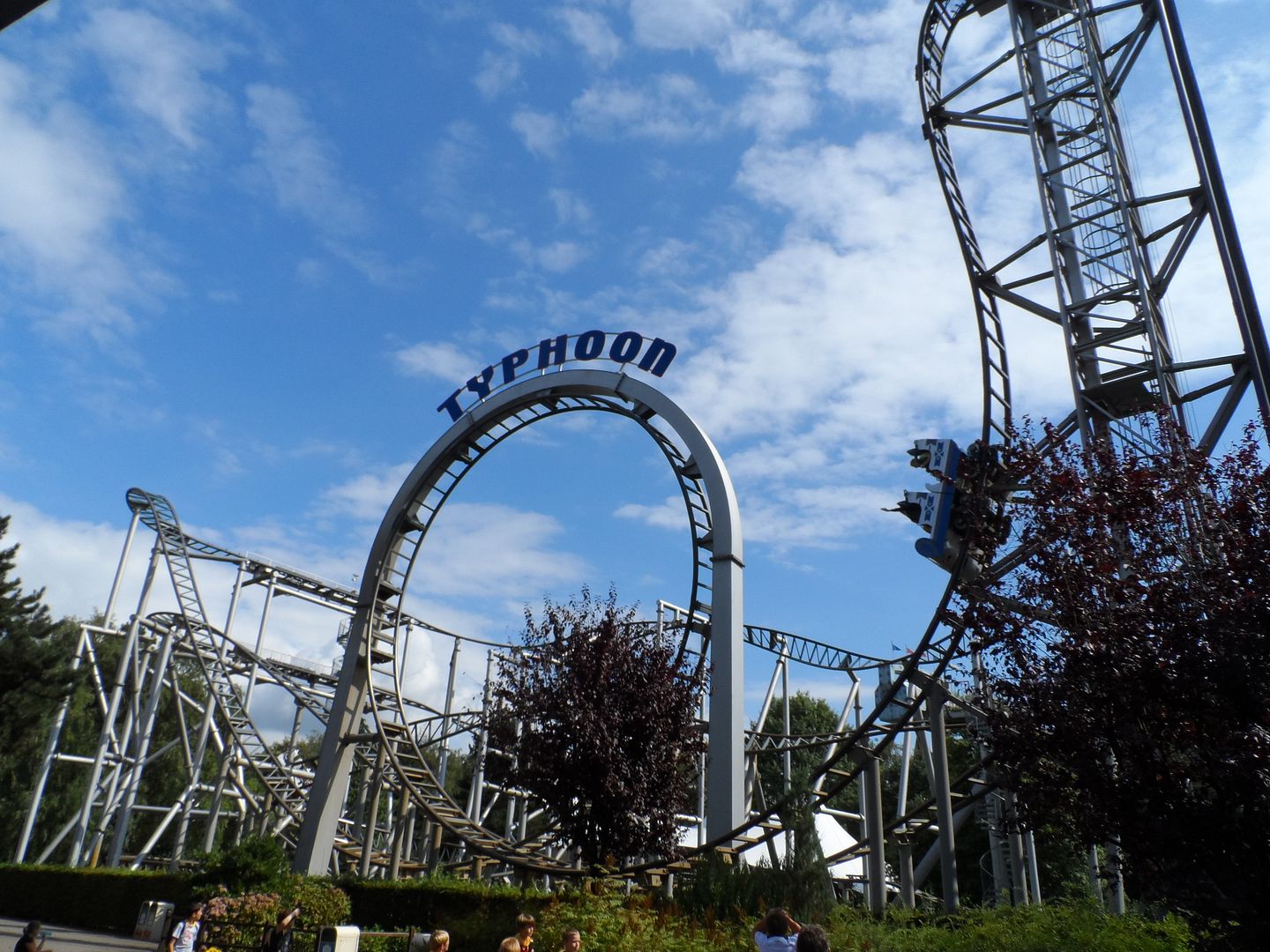 It wasn't too bad. A bit rough in places but I enjoyed it. I can't explain why, but I do love the vertical hill/beyond vertical drop/loop combo on these Euro-Fighters. More from a standing and watching perspective than actually riding though.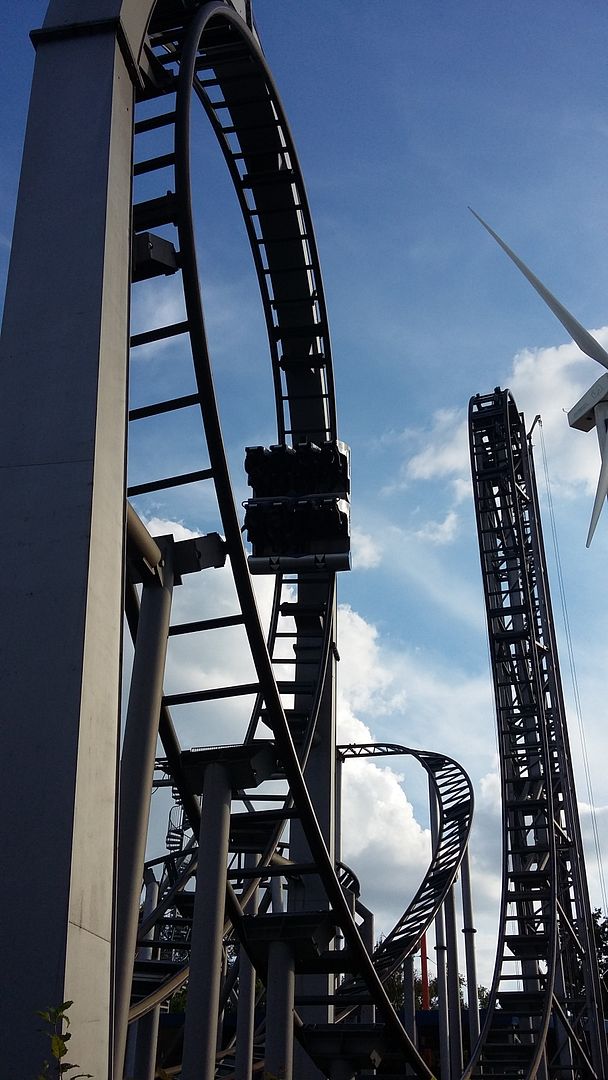 Next up was lunch. Most places had huge queues but we found that the Desperado Grill has just opened, serving hot dogs with some nice German bratwursts in them. Add curry sauce and a beer for 6 Euros all-in and I'd say that's pretty decent theme park food!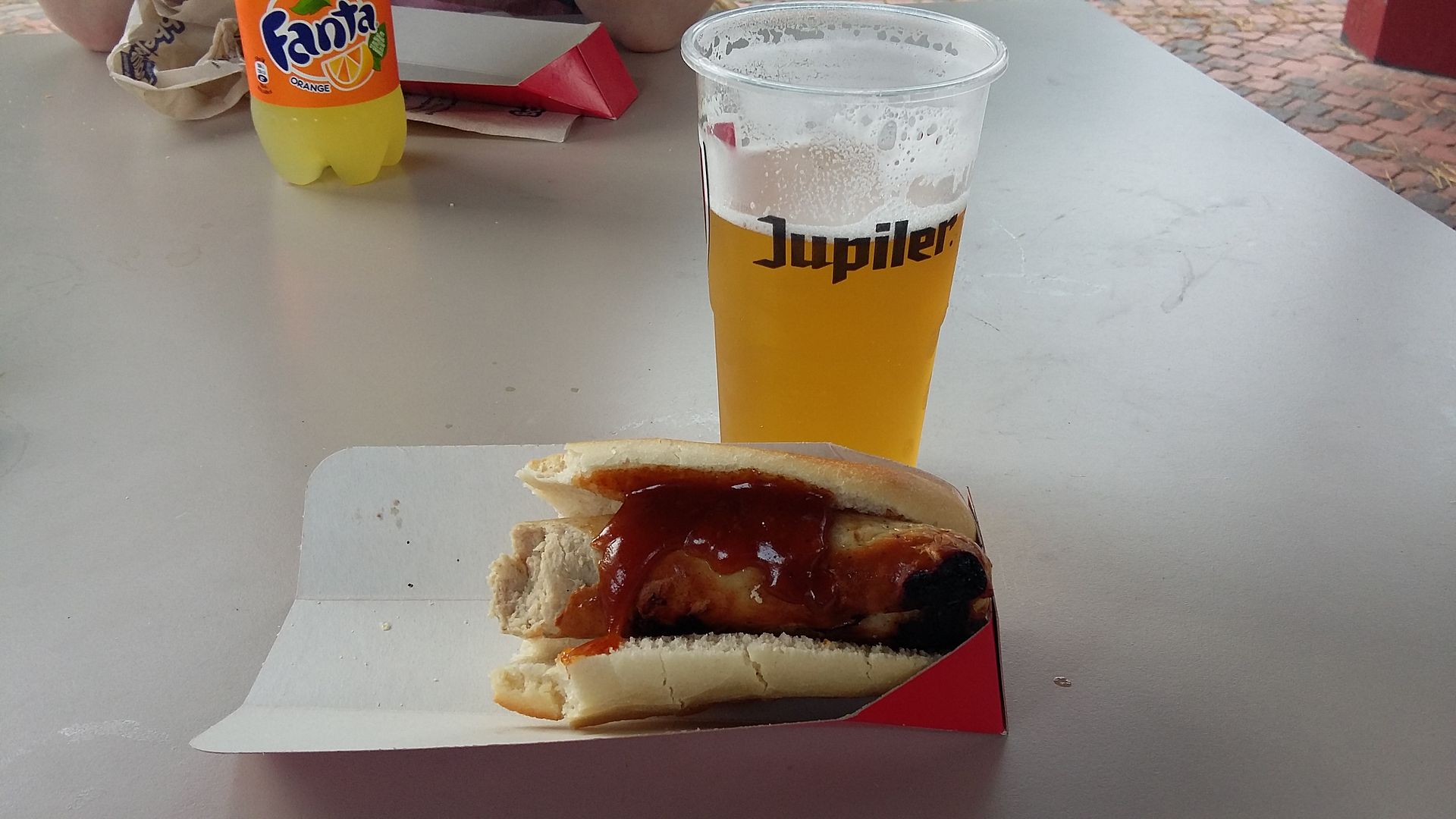 After lunch we did the rapids, which again didn't get us too wet but had a fun layout – this was my first rapids with a whirlpool element which I thought was great.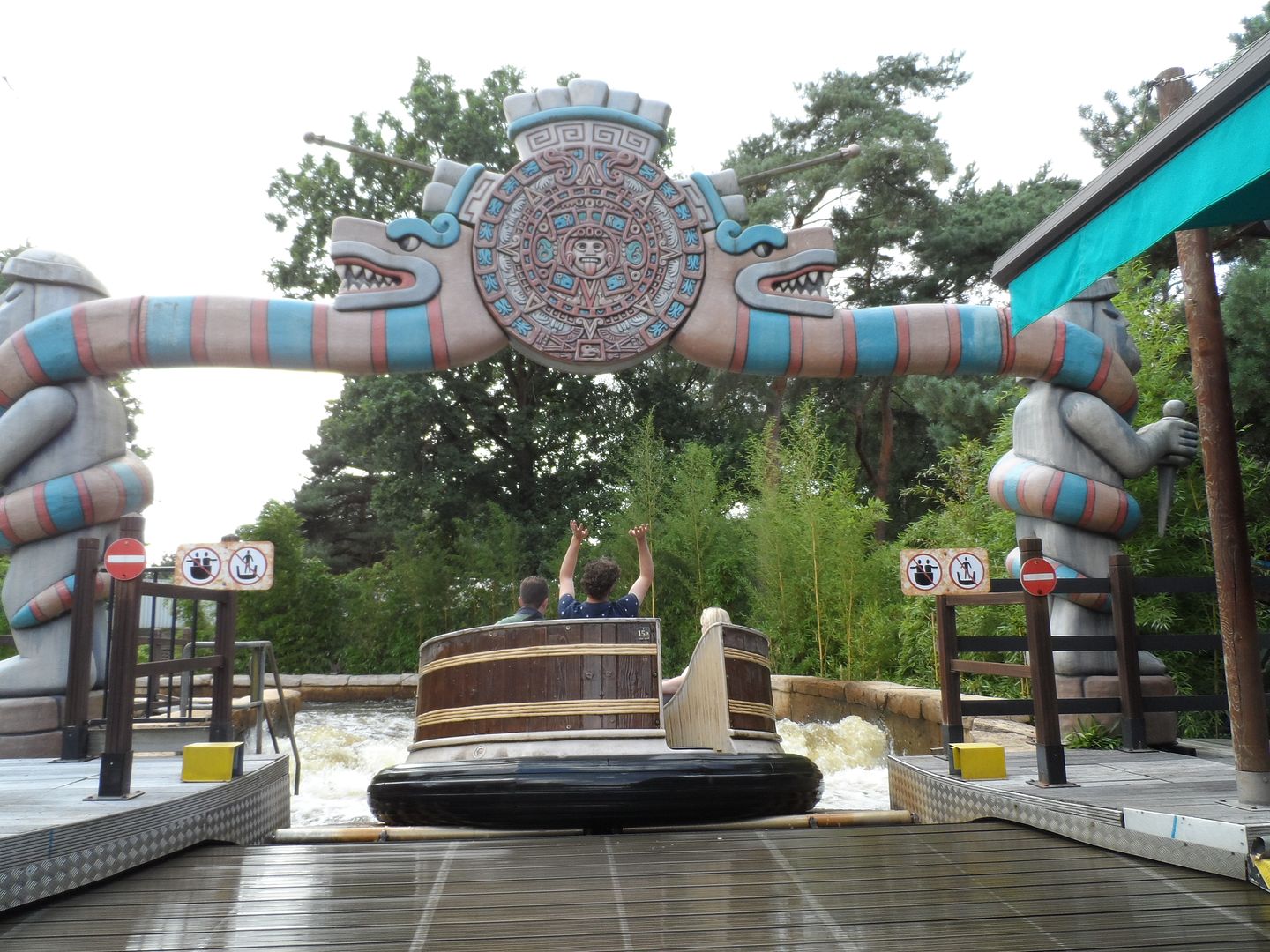 Riding the rapids was also as close as I got to Speedy Bob, the park's wild mouse coaster. Just didn't have the time or inclination to ride this one given how busy the park was.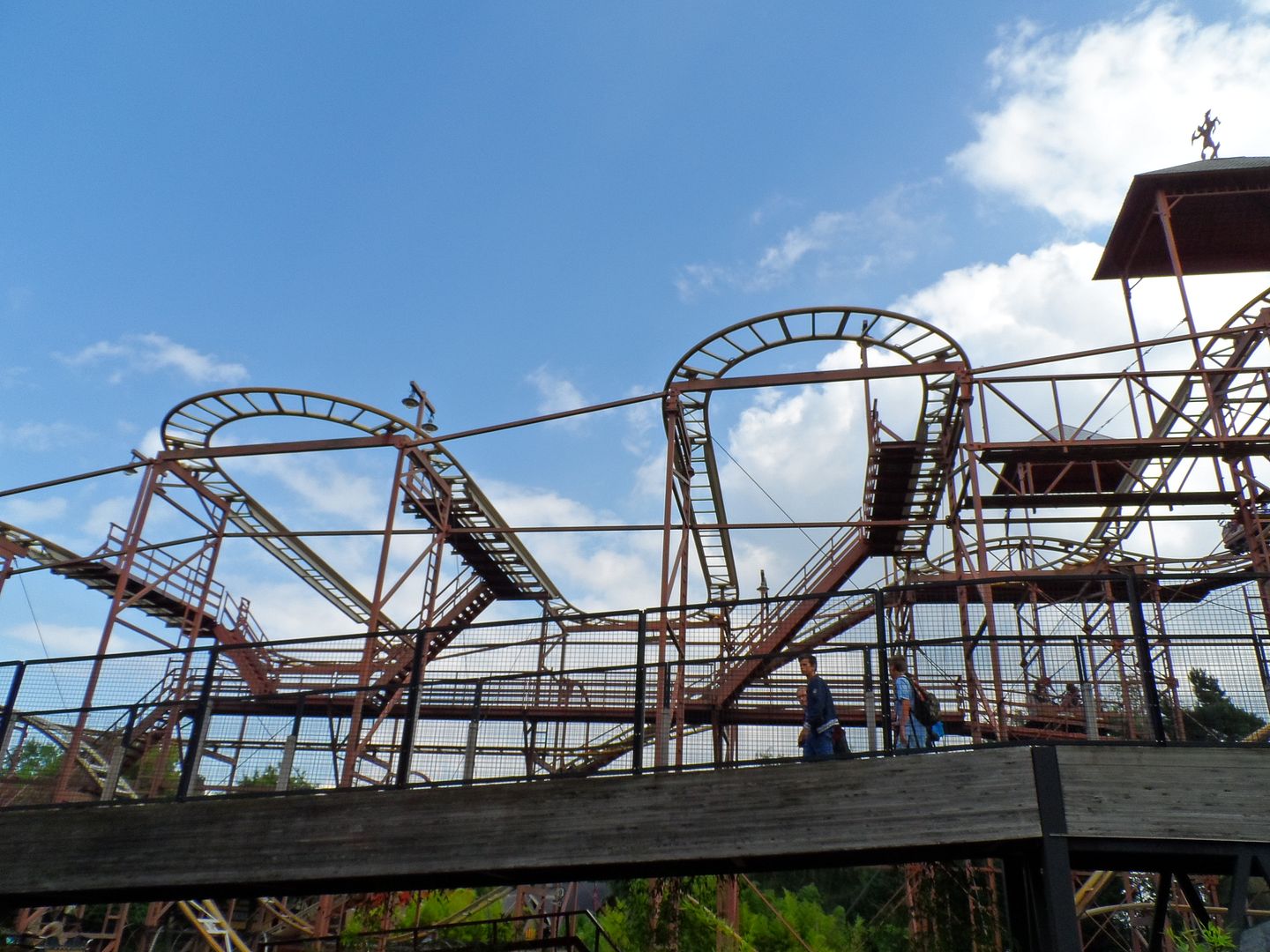 We then headed down to start queuing for Mount Mara, the VR coaster conversion of Revolution. As with all the rides in the park, there's no indication of how long the waiting time was but we overheard somebody saying they'd waited over 2 hours (at least we thought that's what they were saying in Dutch!) so we abandoned that idea. We did however notice that there was another queue for Revolution. It turns out they only run half of the ride's massive train with VR on it, but more on that later...
Instead we tried the other ride in the same building as Revolution, Banana Battle. This was my first experience of a splash battle ride and we certainly got wet!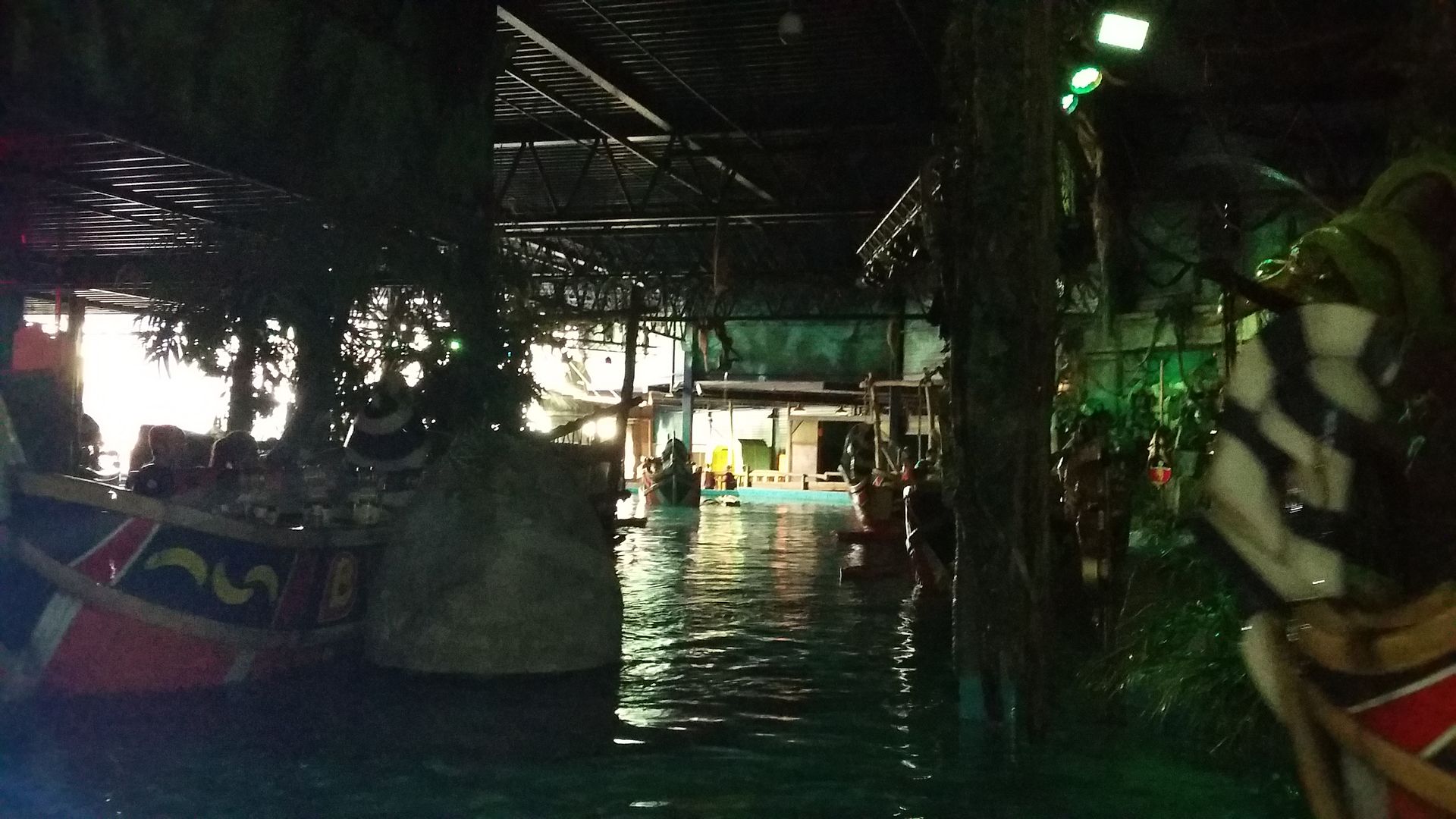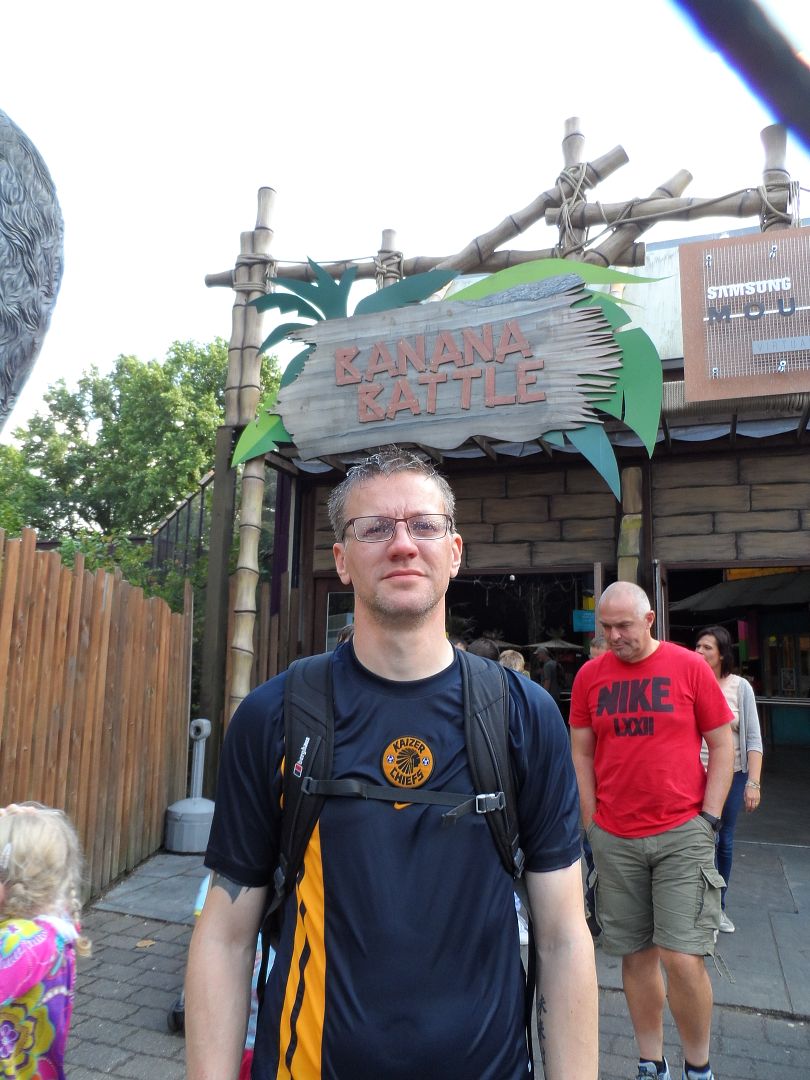 Fun ride though, but I wouldn't do it on a cool day. Luckily the sun was out so we dried off reasonably quickly. Next we rode King Kong (or the train he was holding, more specifically) which was not particularly exciting but pretty unique as far as I know, and had virtually no queue all day!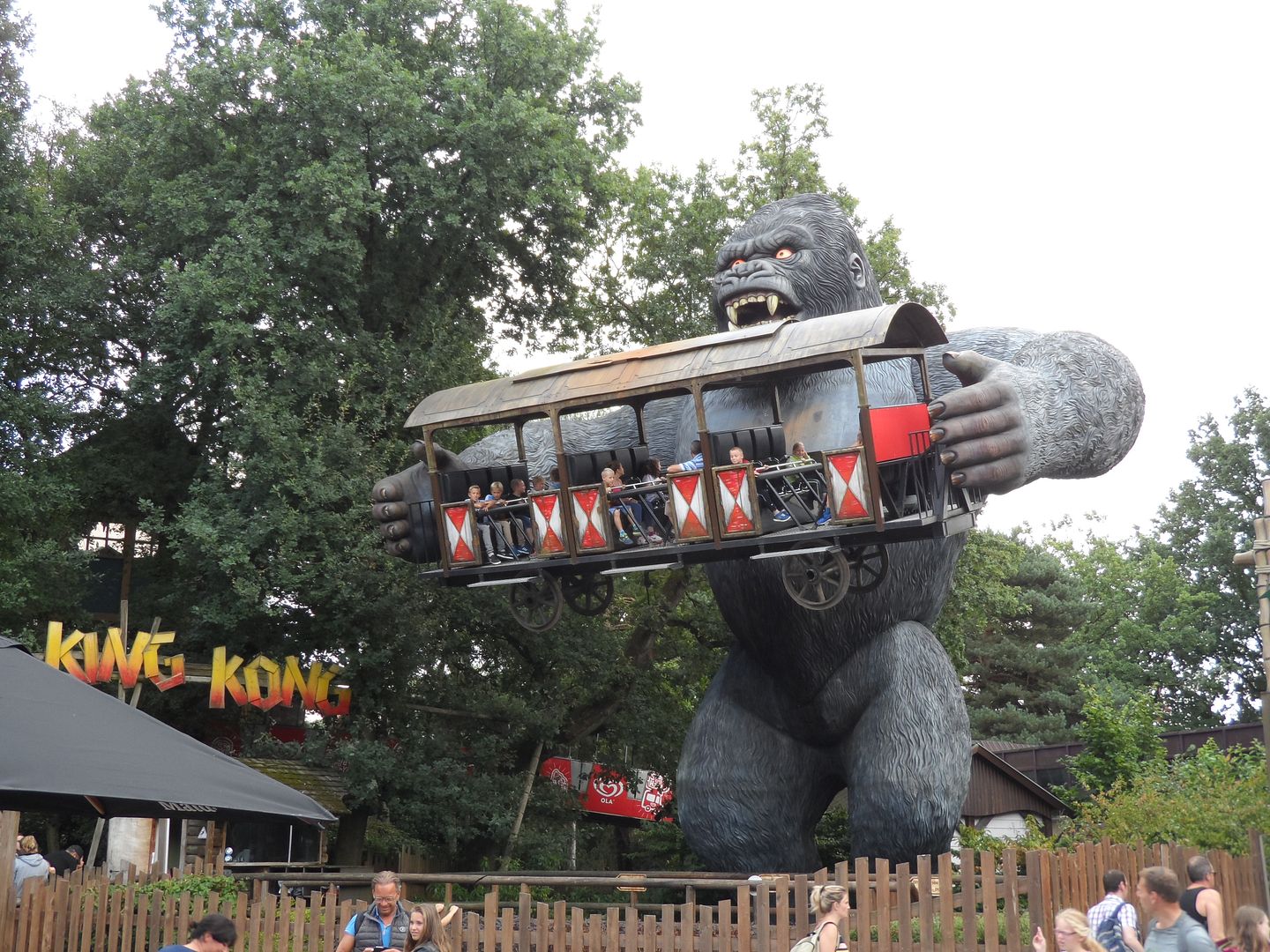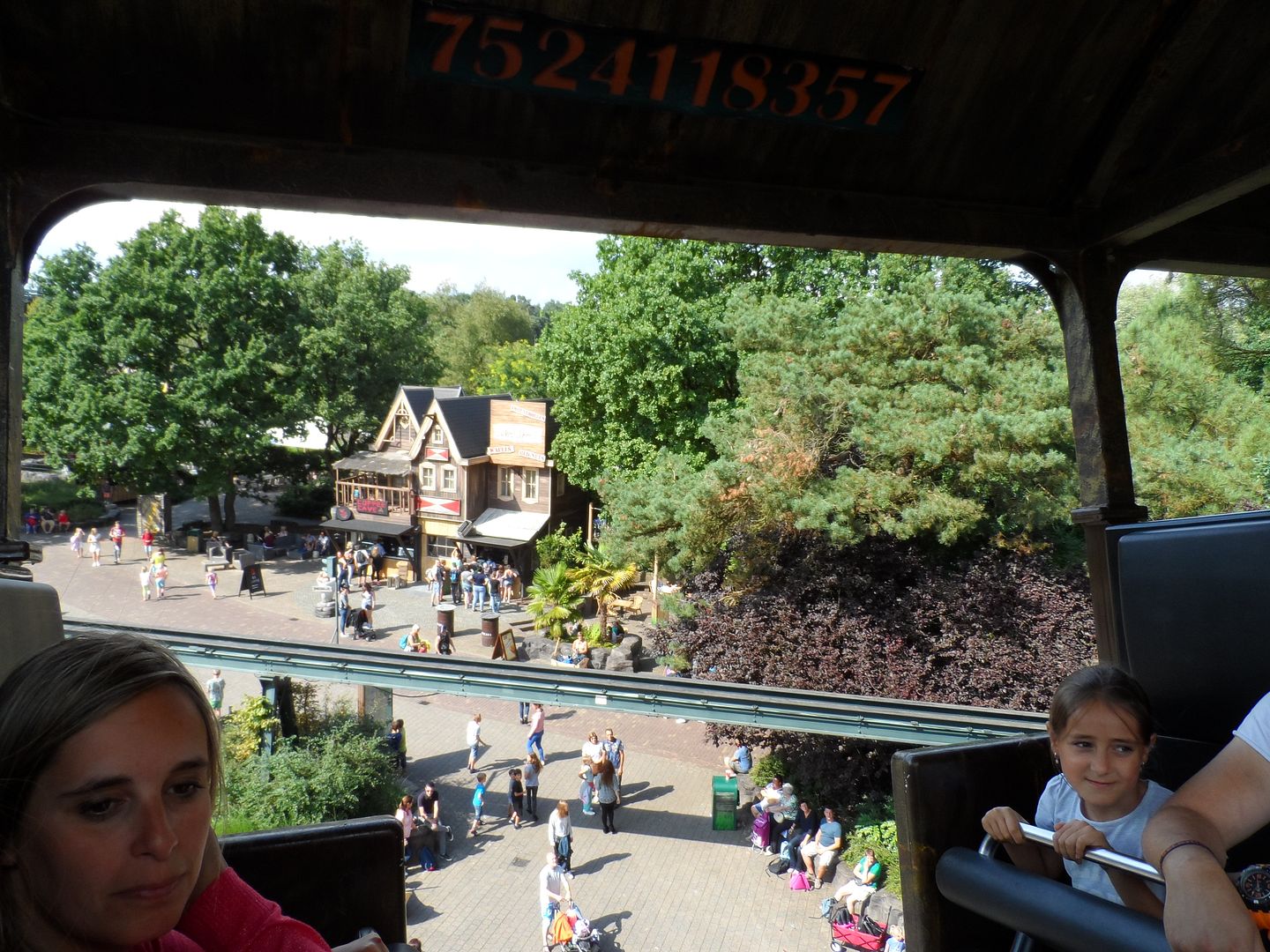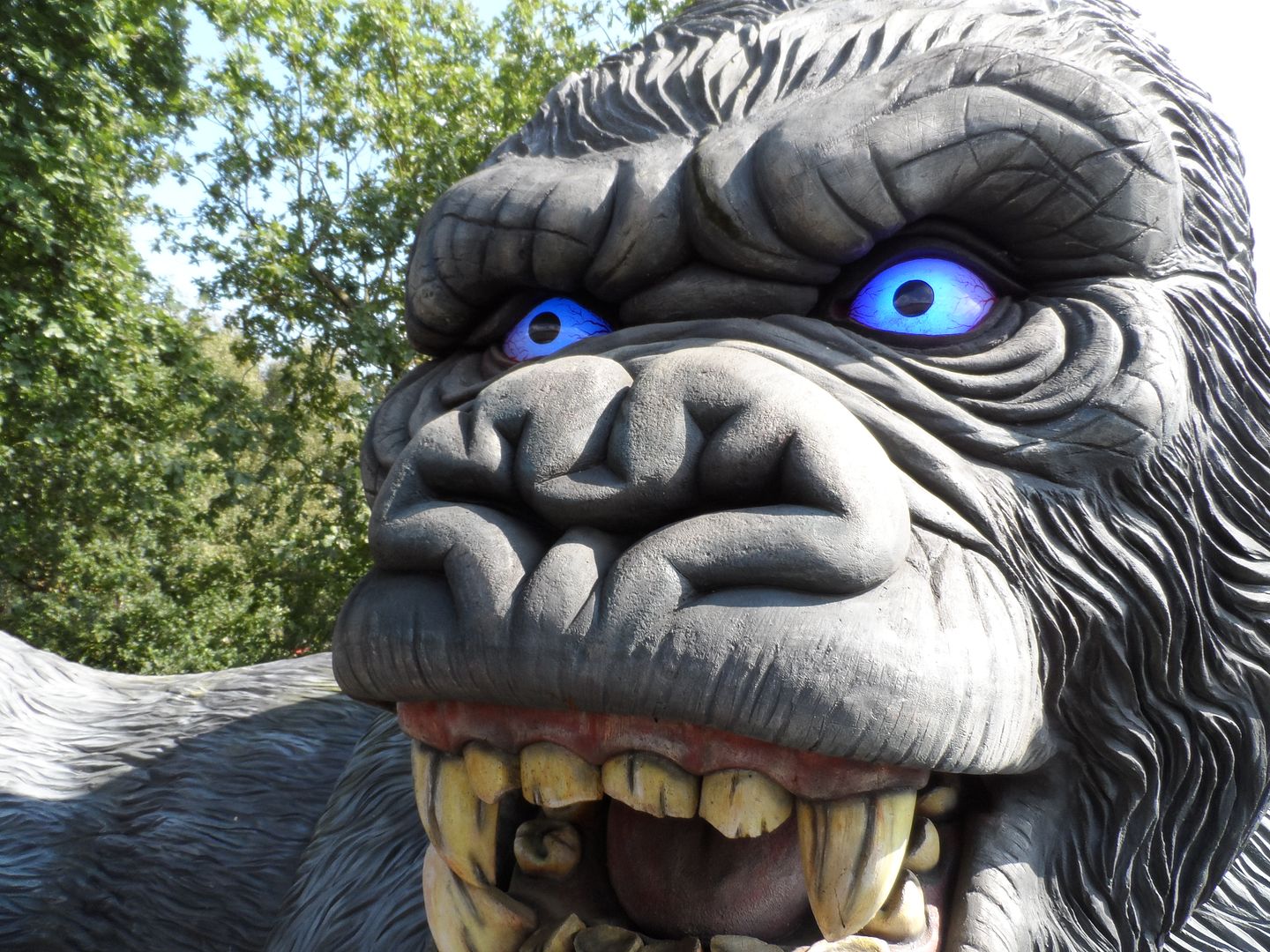 Time for another coaster then - Dizz. I'd read that this didn't have much spin to it compared to many of the other Maurer spinners. I noticed that the track is different to the others I've ridden, looking more like Vekoma track with a spine running down the middle. Could that be why it spins less somehow?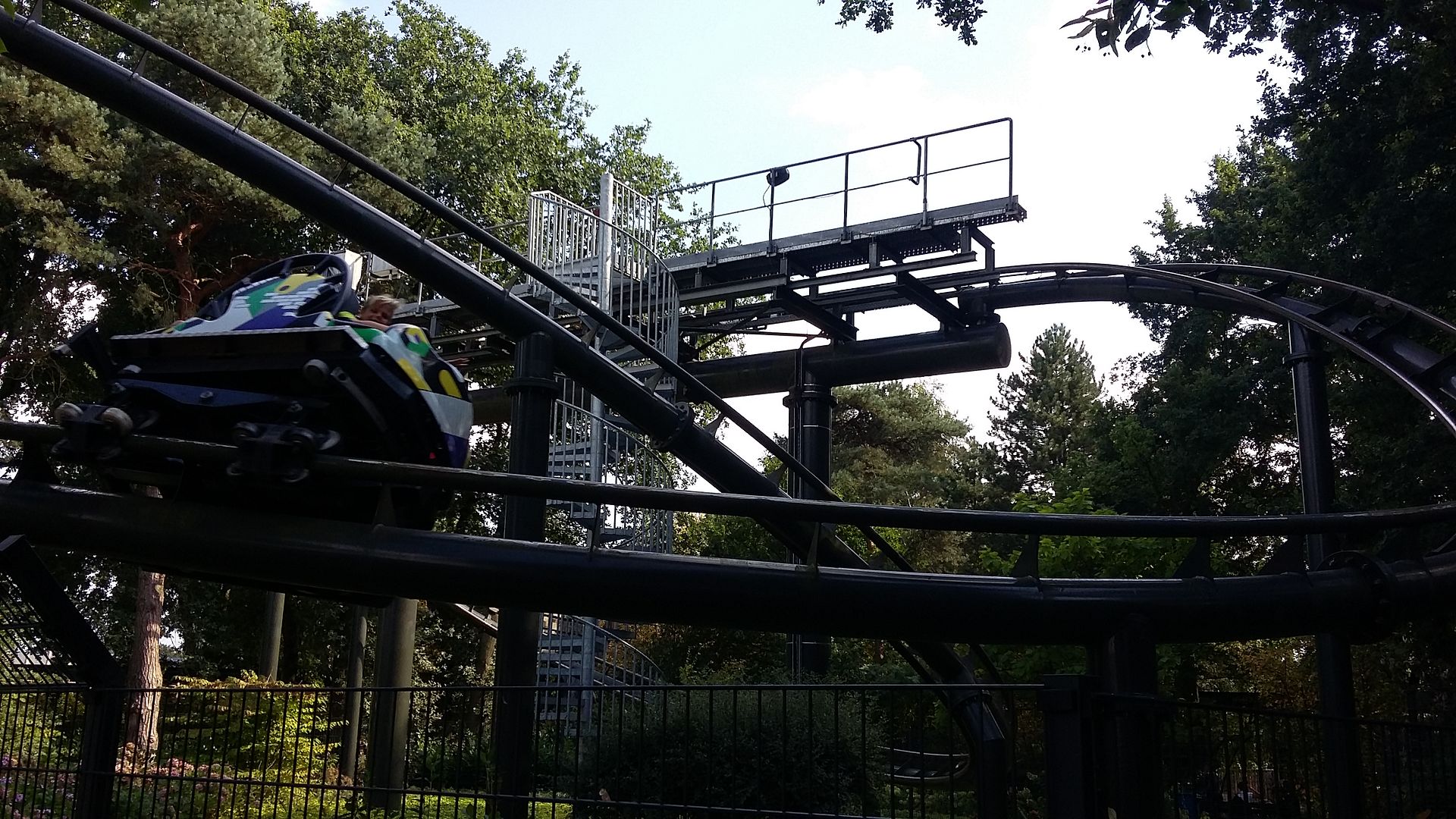 Anyway, due to the lack of intense spinning my wife finally agreed to ride one of these. I thought it was quite fun as it swooped through the trees and out over the lake, and it was certainly less rough than Spinball Whizzer when I rode that earlier this year. She didn't like it though, but not because of the spinning – it was the exposed style of the cars she didn't like!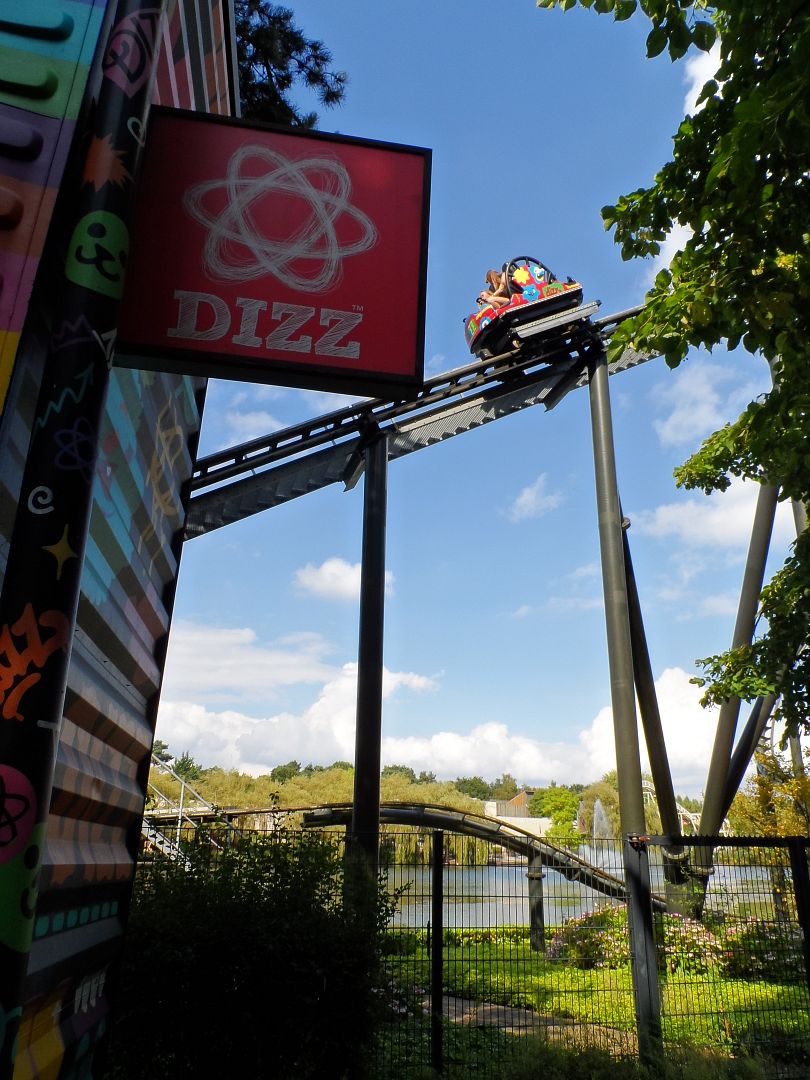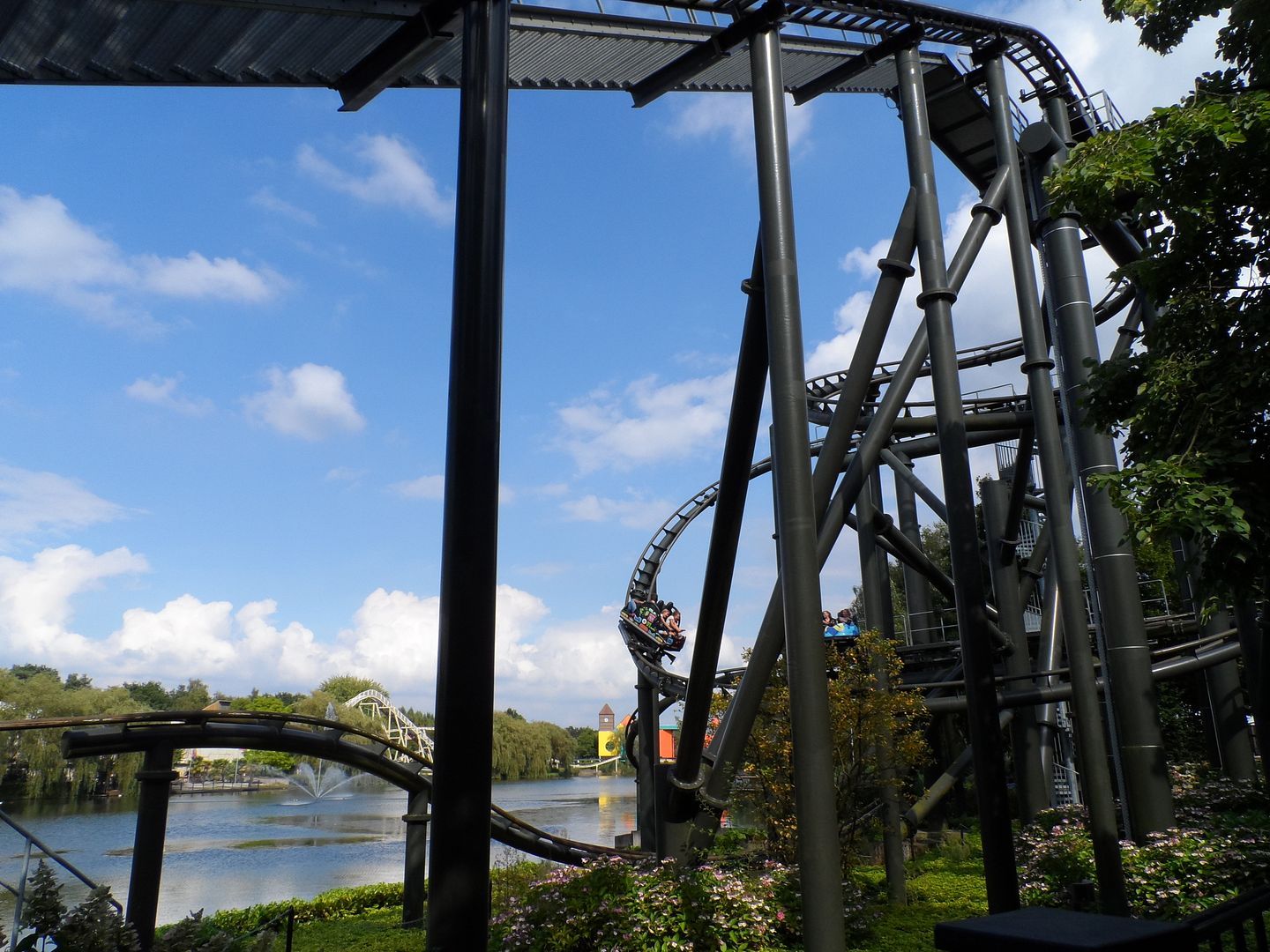 So with only Revolution/Mount Mara left coaster-wise, we decided to leave that until the end of the day and instead take a ride around the park on the Monorail, which allowed some more photos to be taken…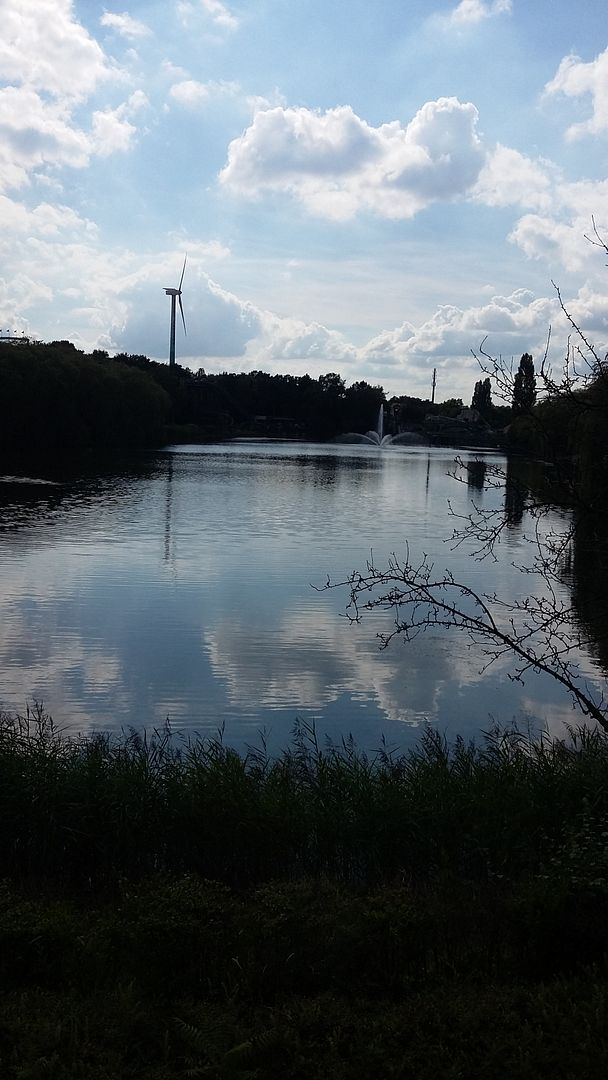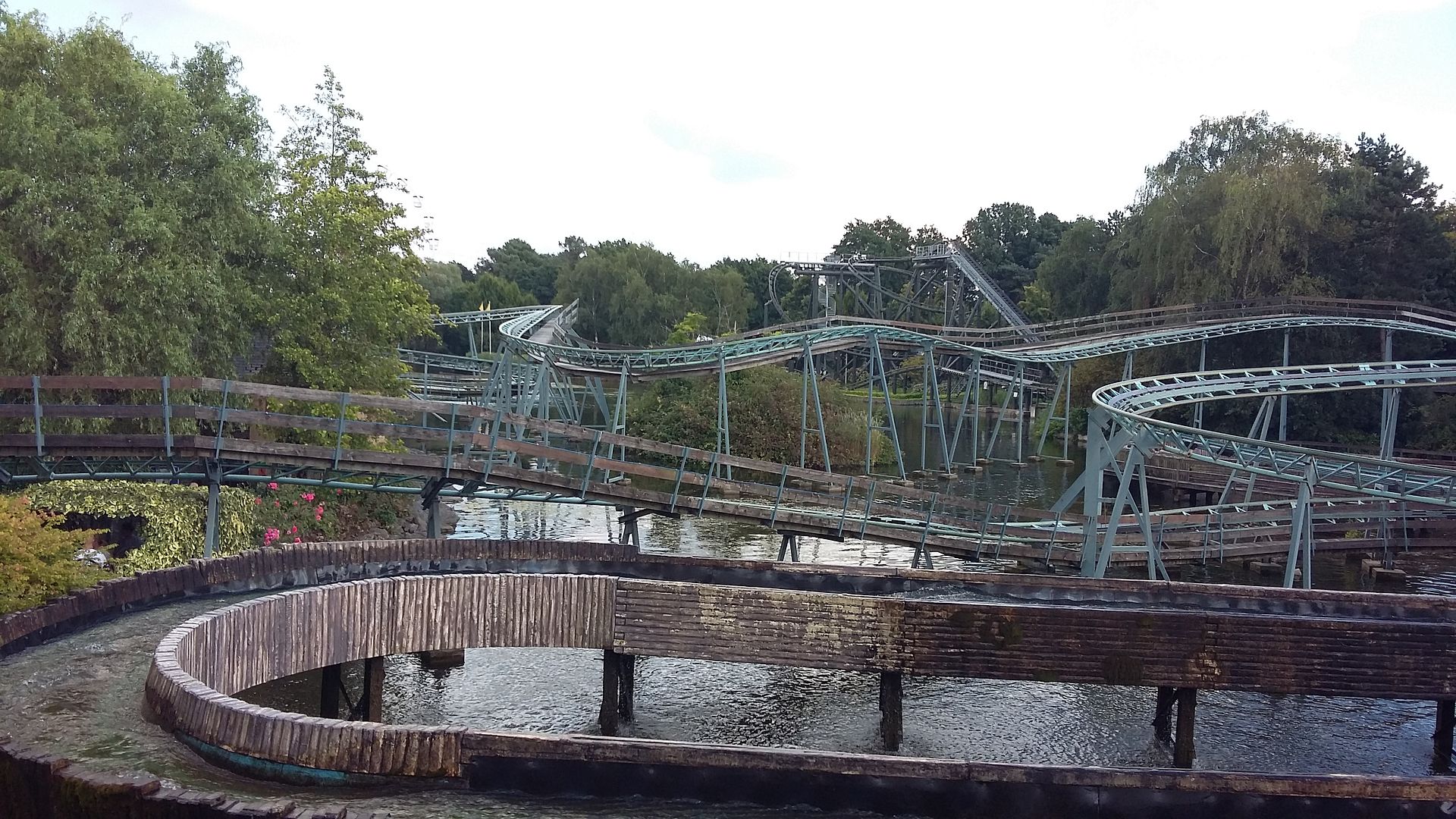 We got off at the station near the rides we had skipped earlier in the day, and started with Indiana River, the indoor log flume. Again we had no clue how long the queue was, since it began outside, but it ended up only being around 15 minutes. We really enjoyed this one – it had some great theming (by this park's standards) and the final drop in the dark was quite intimidating. Definitely the best water ride in the park!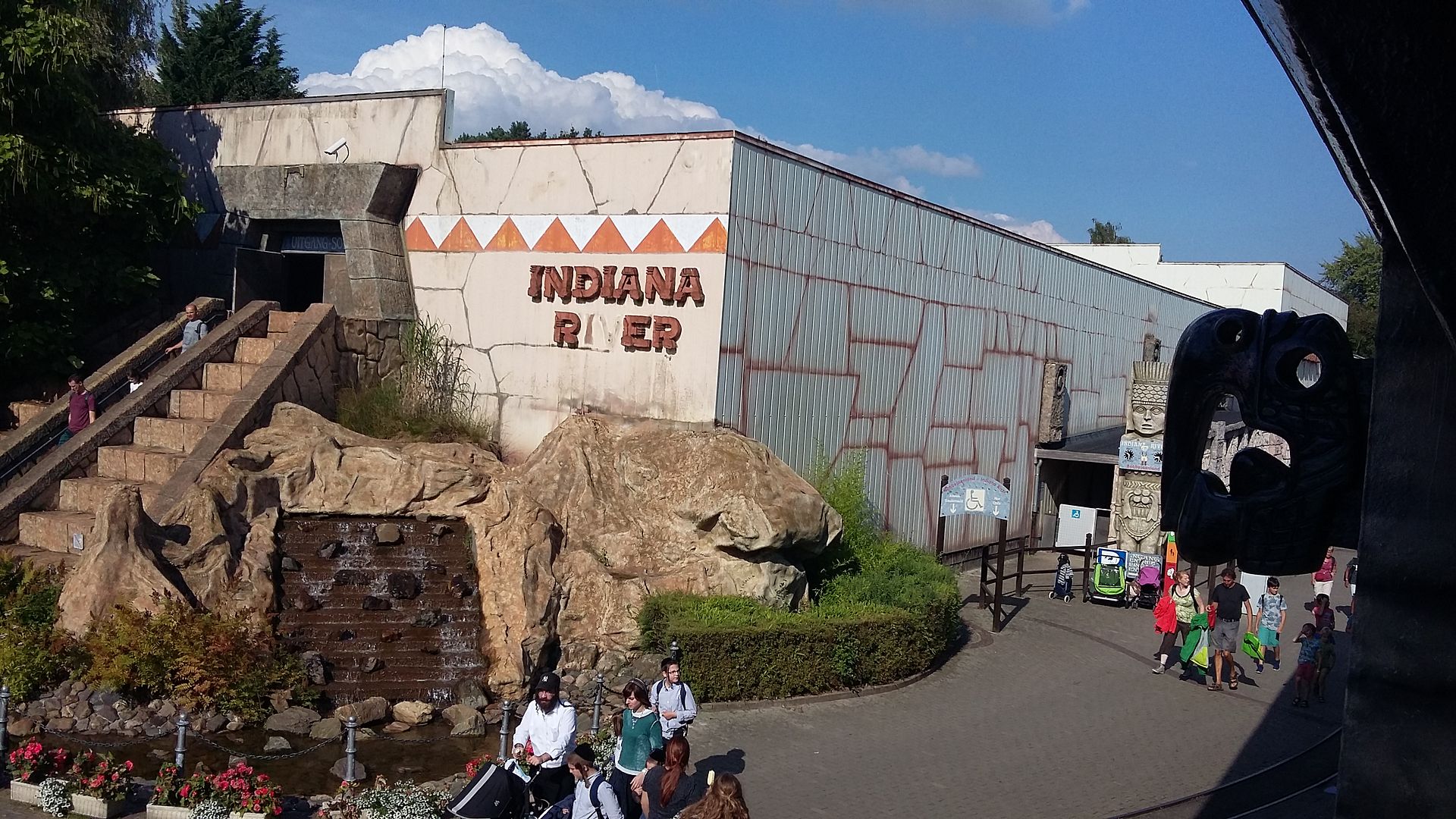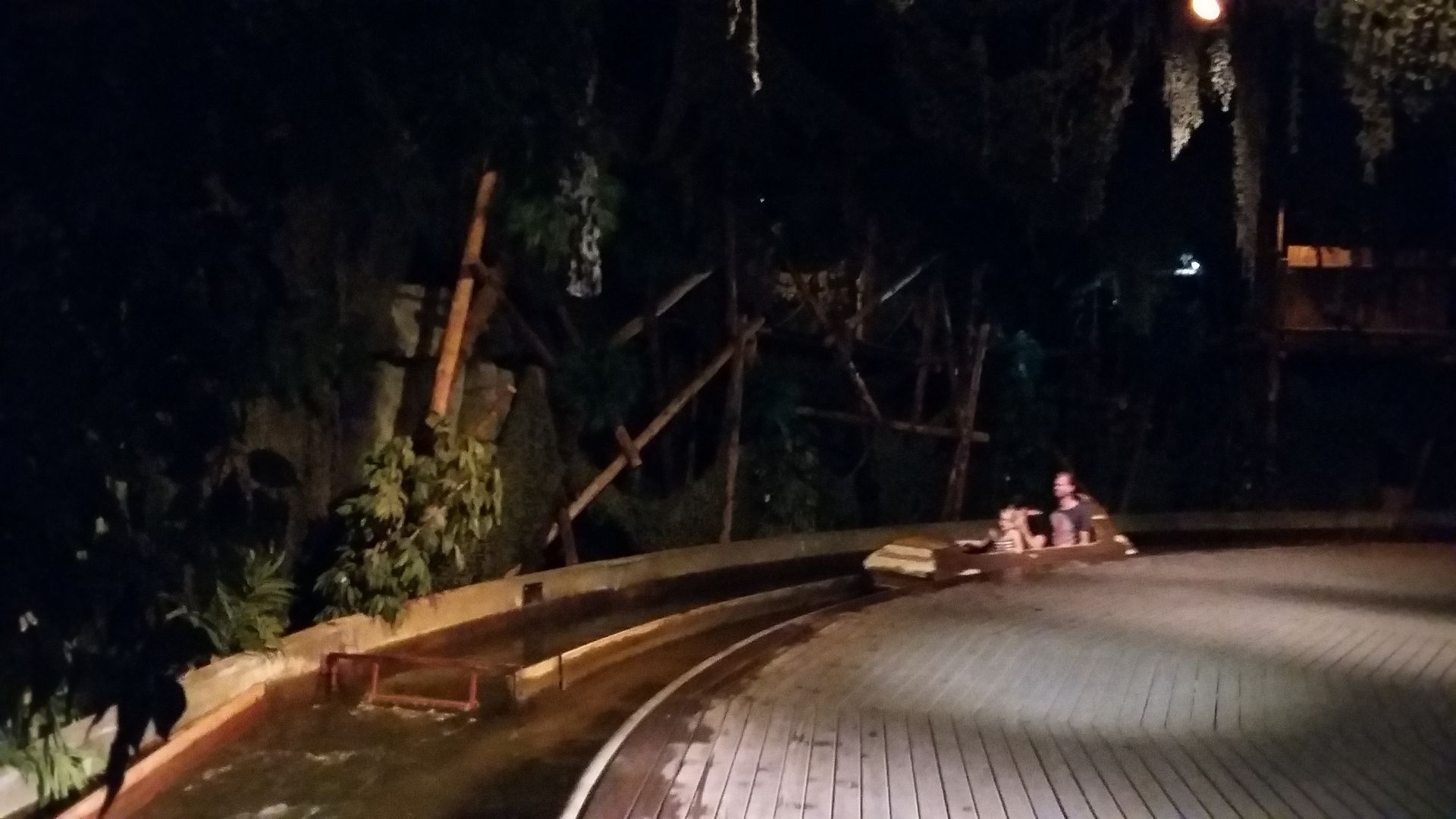 We then had a ride on the Wild West themed dark ride/shooter, El Paso, which was equal parts awful and brilliant…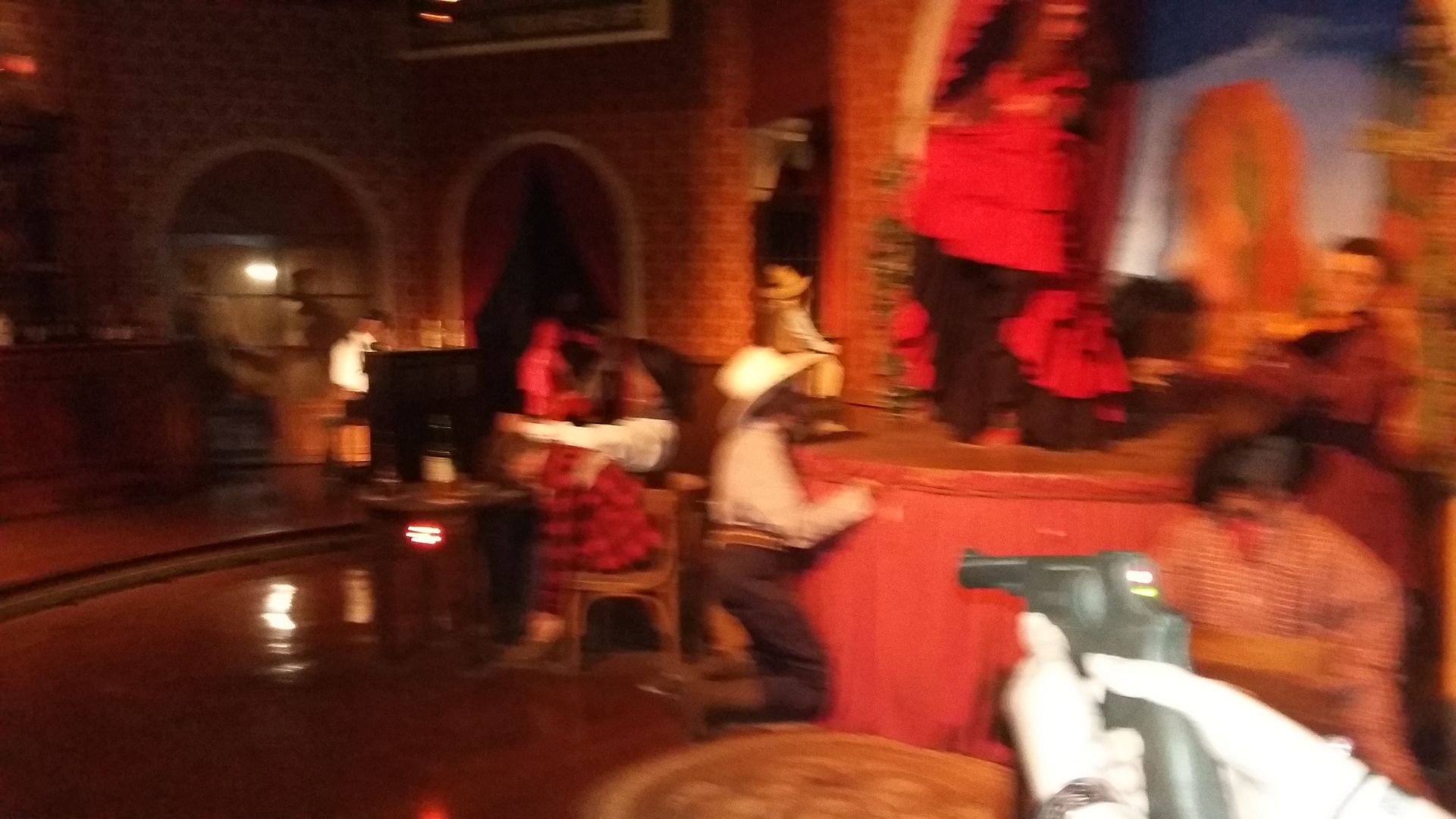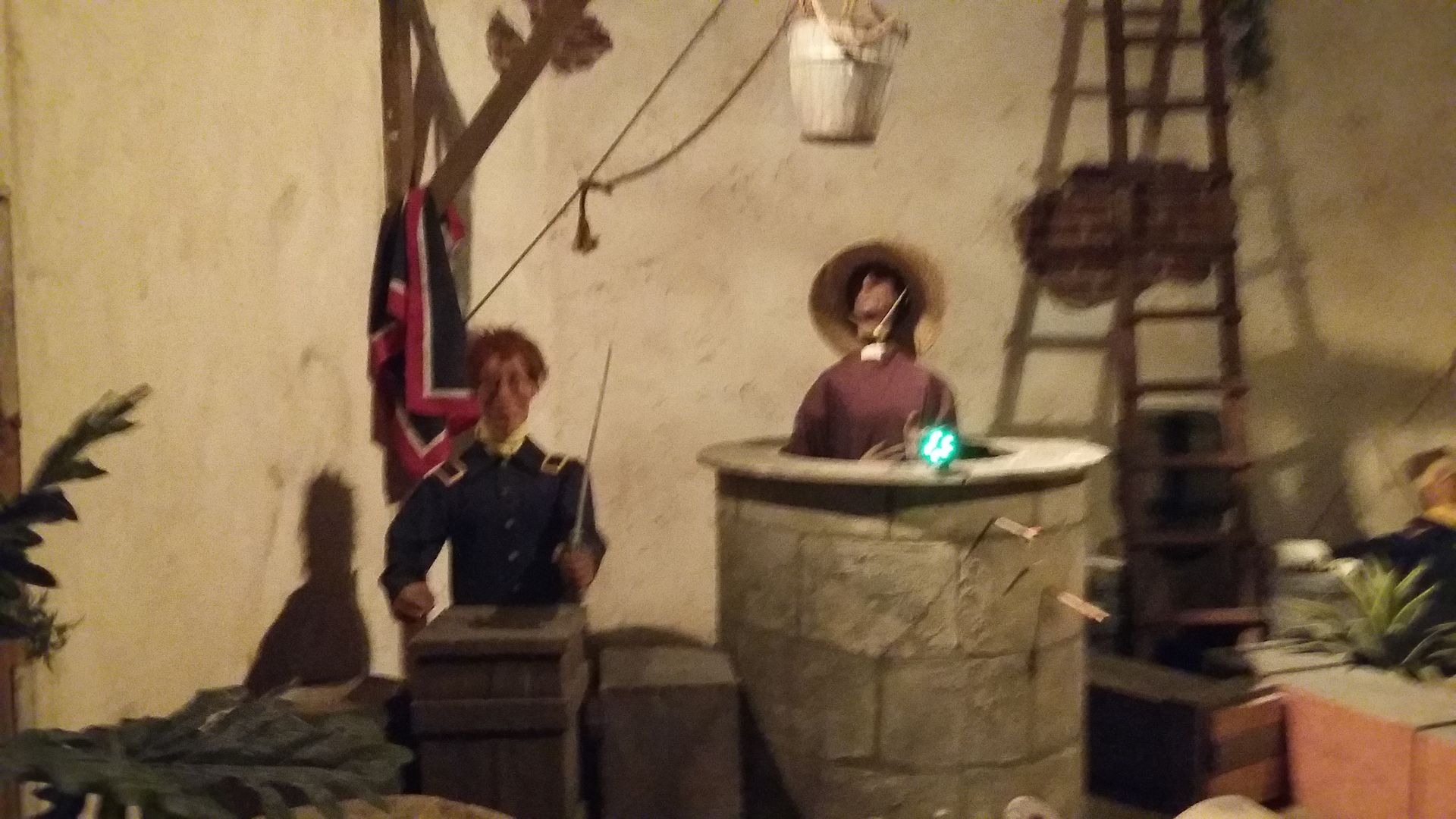 Then we jumped back on the monorail to complete a full circuit of the park, ending up back at the station nearest to the Revolution building with around half an hour to go until closing time. This station has all the models of the park's main rides on display, which is quite cool.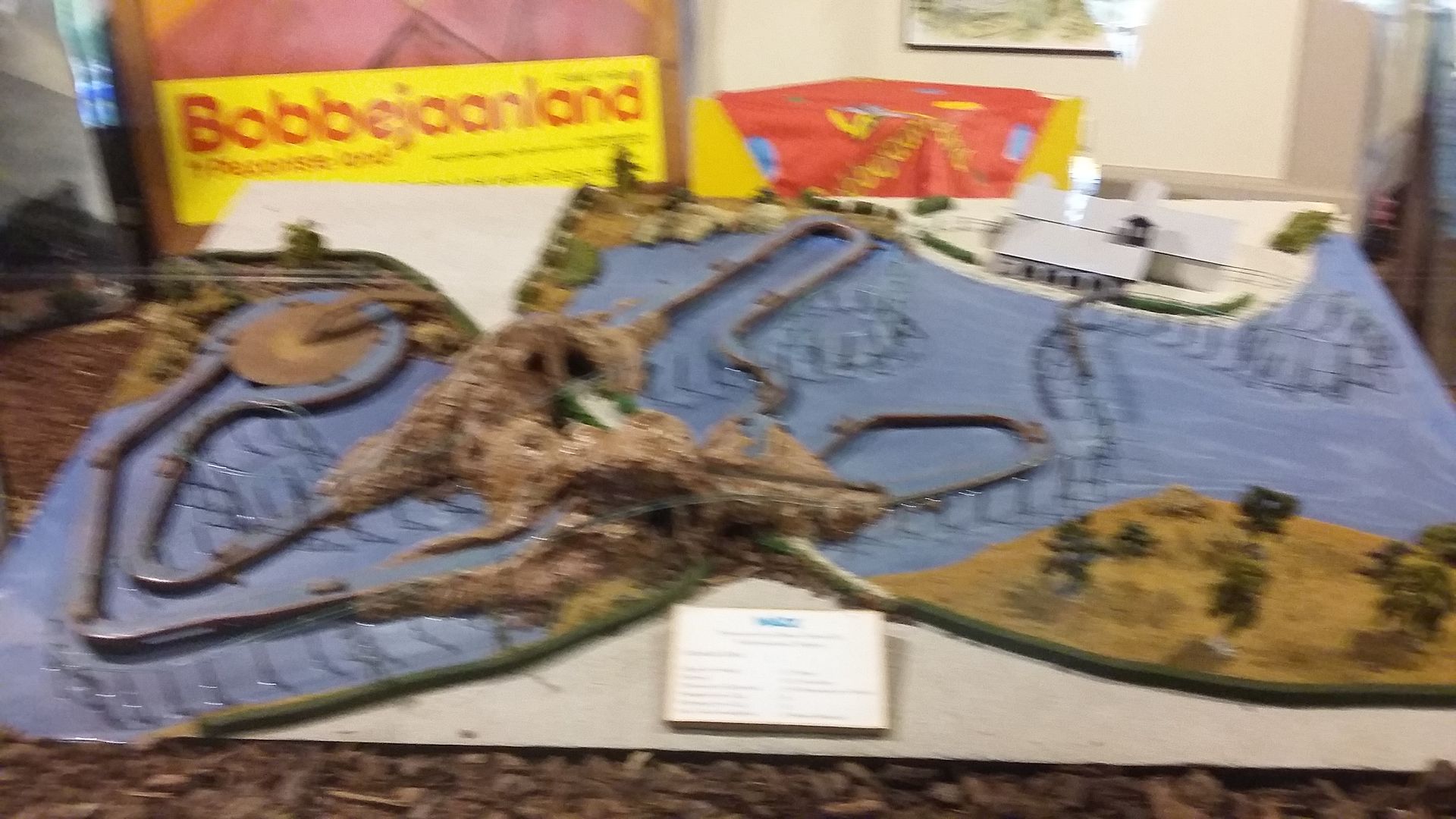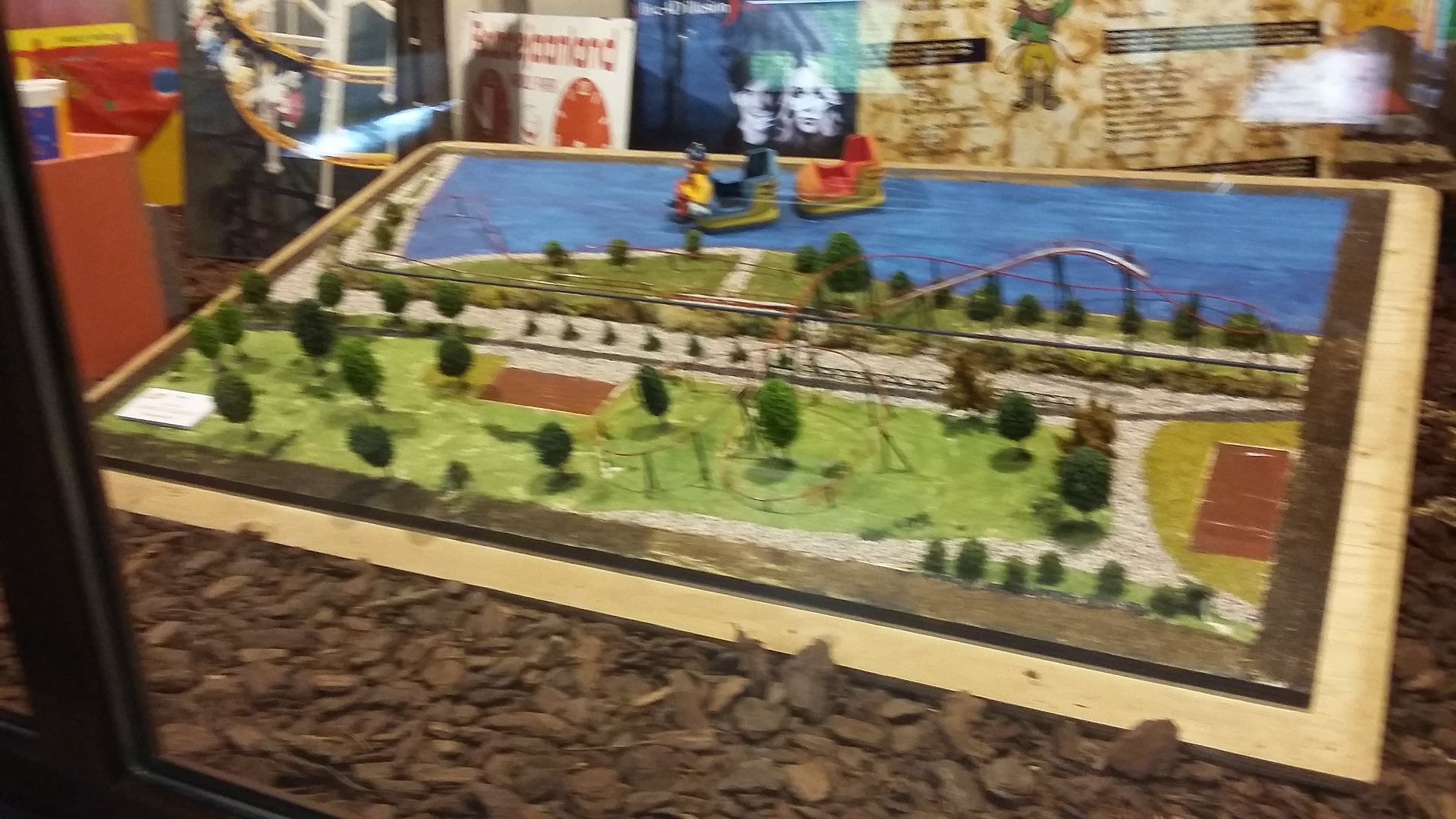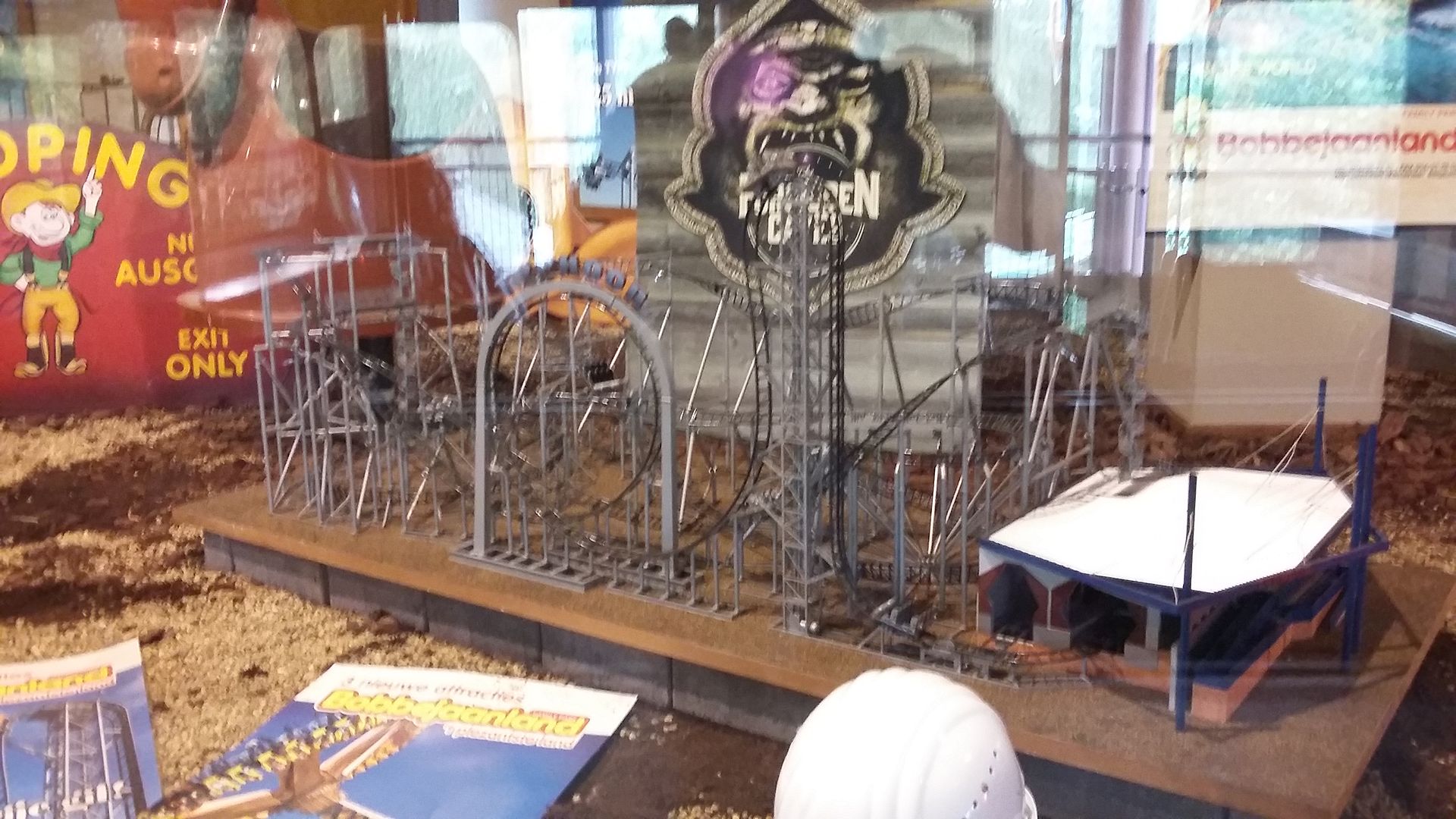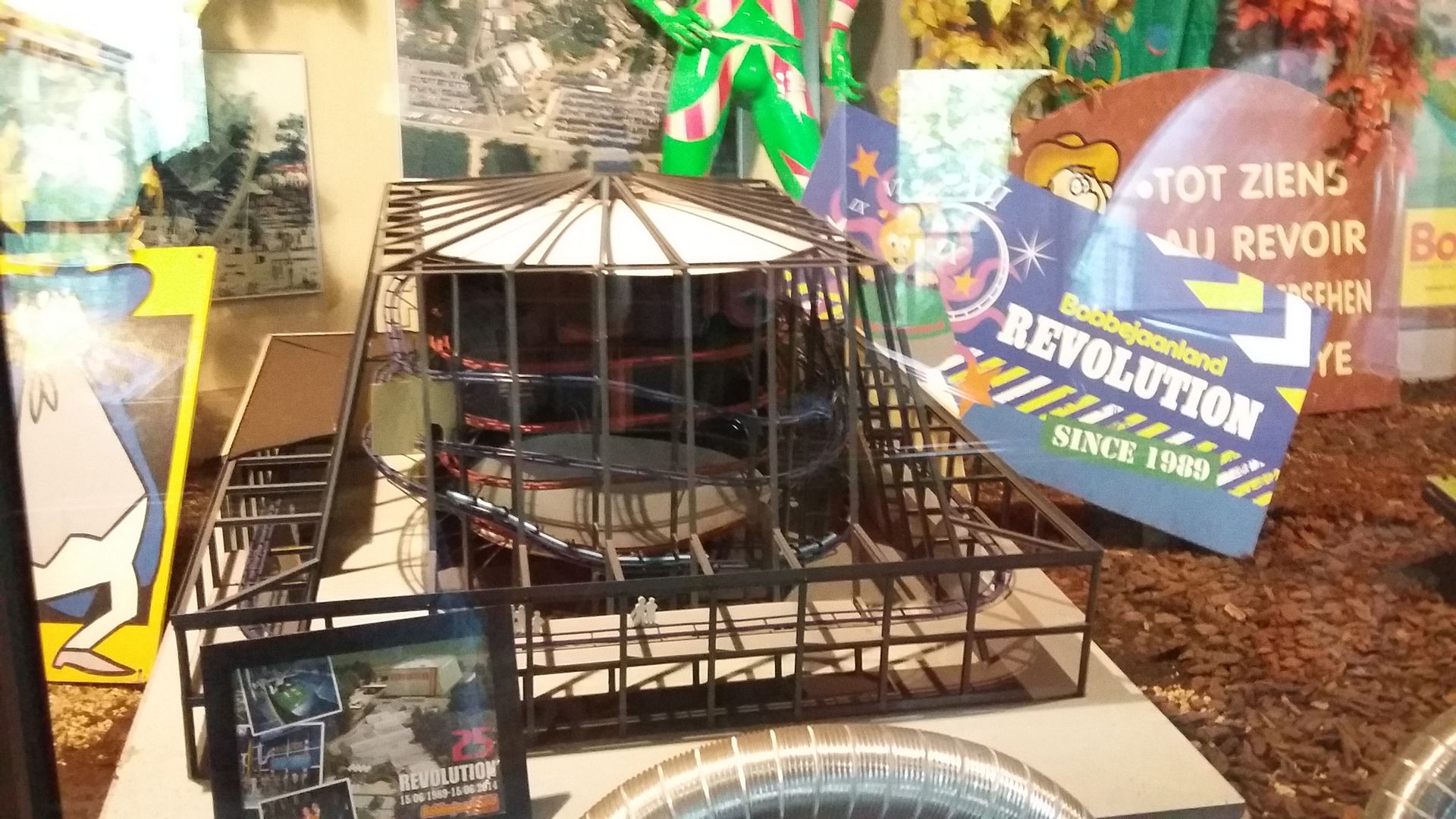 So that just left Revolution. As I mentioned earlier, the train for the ride is split 50/50 between VR and non VR riders, and the queue for the VR side had long since closed but was still much longer than the non-VR side.
Revolution end-of-day queue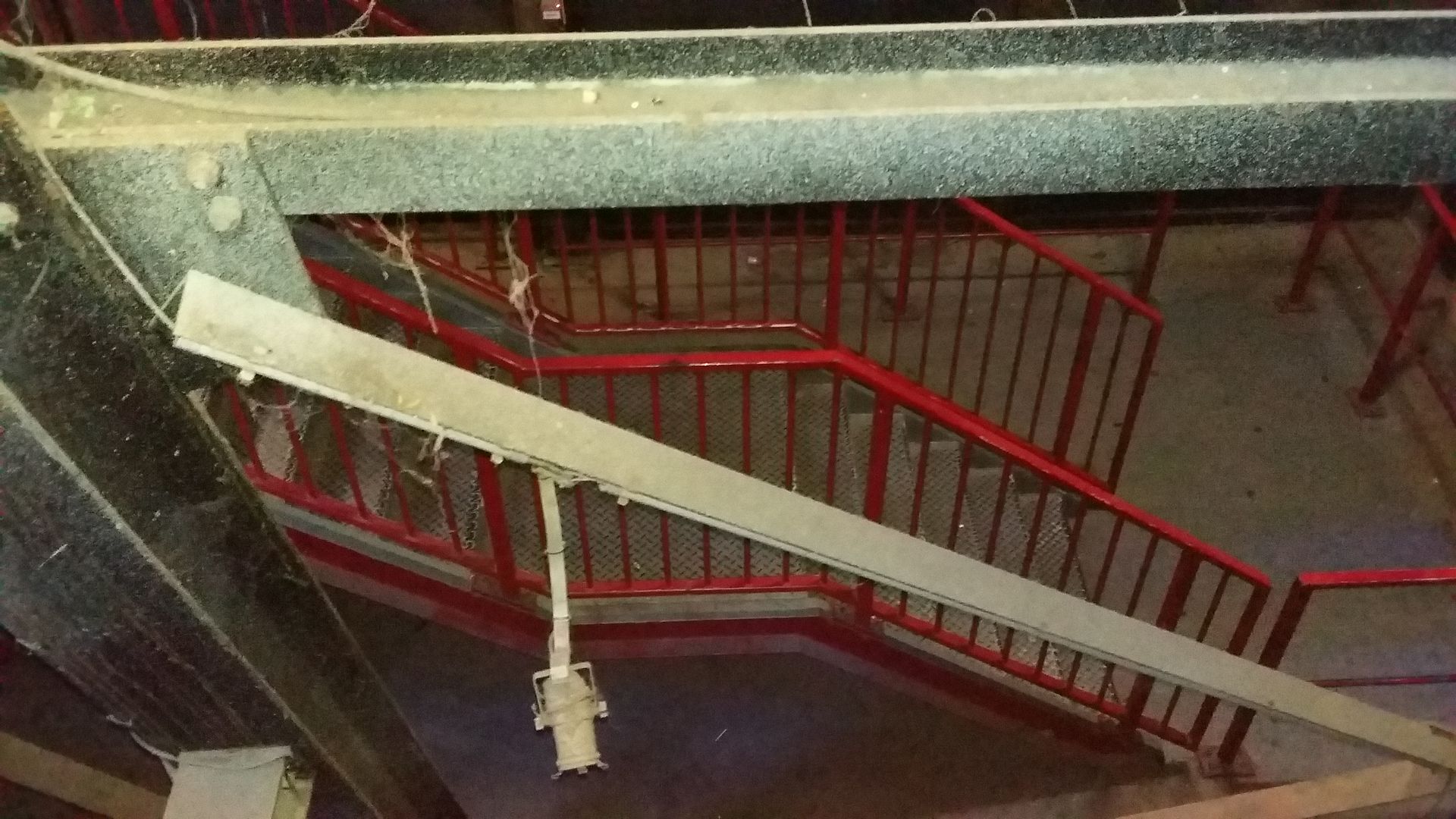 Mount Mara end-of-day queue!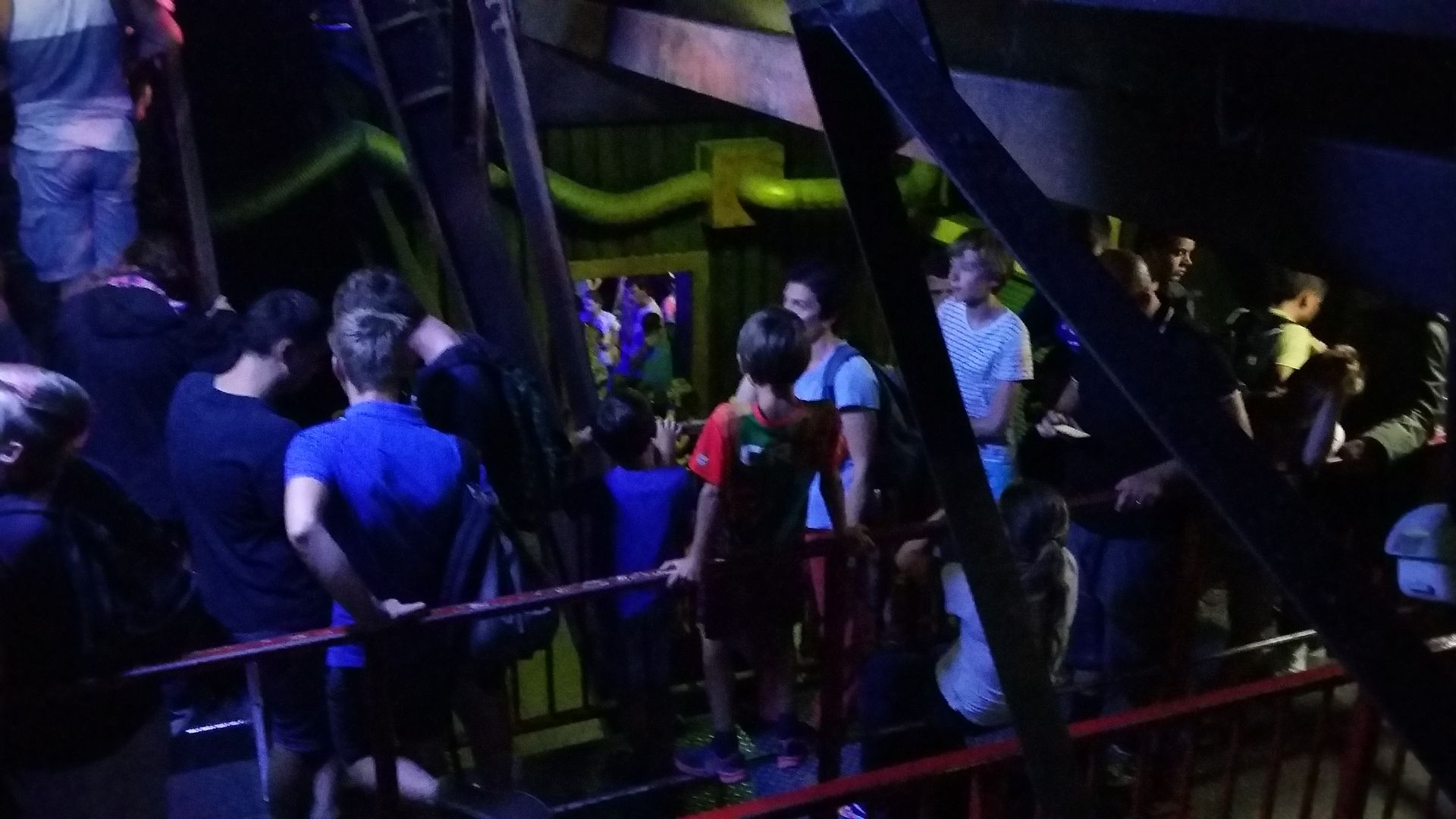 We ended up on the last train of the day for the Revolution half of the coaster, after which I think they filled all those seats with VR riders to clear that queue faster. I think it's a great idea to have two separate queues and I'm hopeful that other parks that are insisting on putting VR on their coasters adopt this approach.
As for the ride, well, it's certainly unique! There's not much for non-VR riders to see apart from a few flashing lights and the weird projection on the roof of the building, and the ride itself is rather boring on the way up, whilst the journey back down was fairly quick without doing anything spectacular. I can imagine this one works pretty well with the VR to be fair, which is based on a journey up and down a volcano. Bit of a shame we didn't have chance to try that, but at least I got the cred!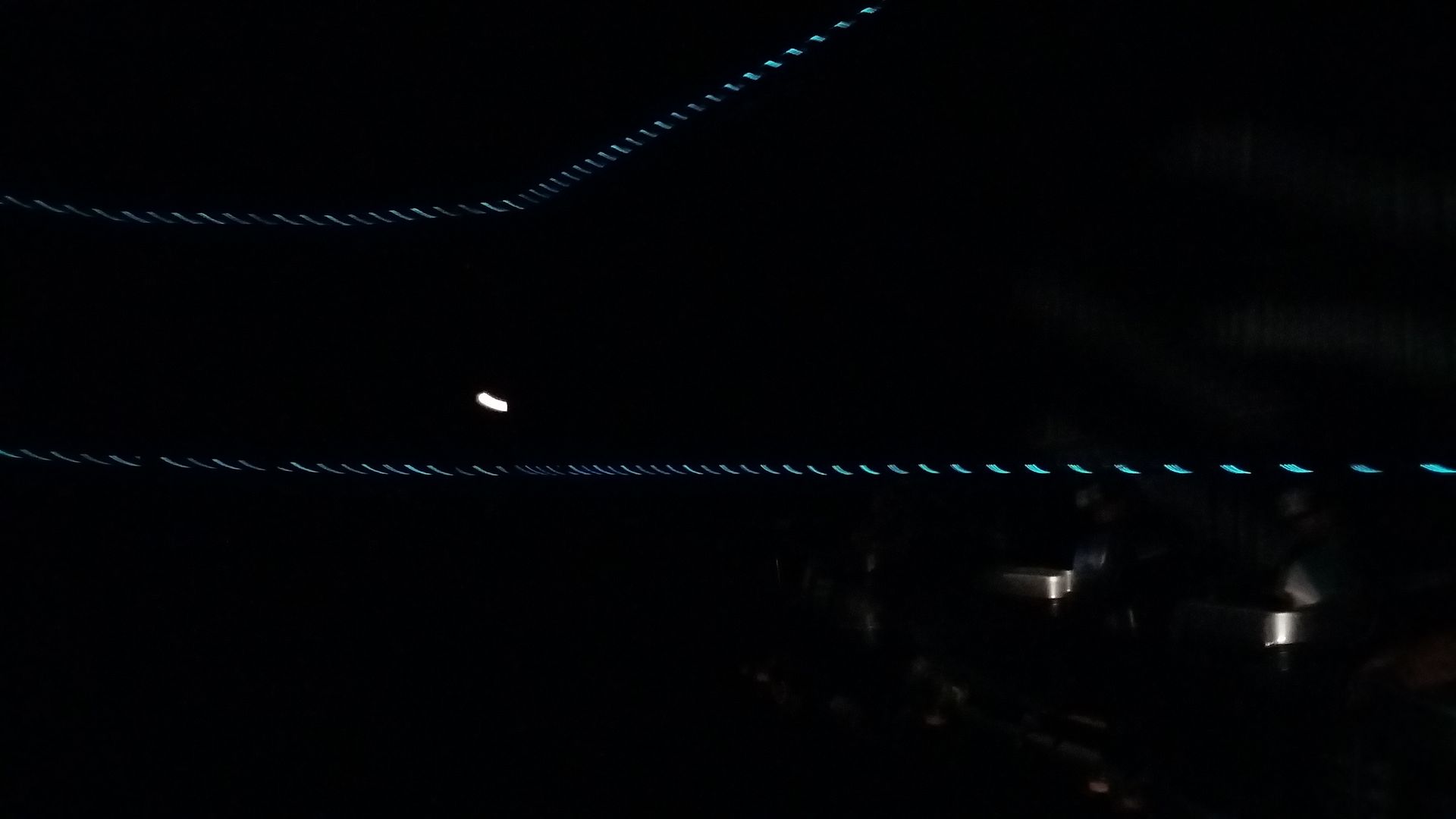 So that was Bobbejaanland. Final thoughts – quite a fun family park, with a layout that is fairly easy to navigate. There are no really great rides, but plenty that were fun and quite unique, and the food we had was tasty and reasonably priced. All in all we had a fun day but the crowds were annoying and we missed a few rides because of them, though it wasn't as bad as we first expected.
The biggest issue was the fact they give no information about what the queue times are anywhere in the park, which is really frustrating. There were also lots of people smoking all over the place, including in queues, which is disgusting for a family park and was not discouraged by any of the staff. Also the parking fee was a bit rich (I think it was 8 Euros) and the only place you could pay it was two places inside the park which made it mayhem at the end of the day, especially if like me you forgot to pay it before walking back to your car…
Next up Phantasialand, which is in a completely different league! :--D