I've done plenty of overseas trips, helped by the fact that my sister lives in the US (And even Mum and Dad were working over there for a few years),
but I do like exploring domestically.
In 2019 I turned 30 and realised that I had still yet to set foot in Tasmania or the Northern Territory.
I had visited Western Australia and the Australian Capital Territory Previously, had lived in South Australia, Victoria and Queensland, and lived within a short distance of New South Wales on two non consecutive occasions, so plenty of travel around those places...sorta.
Anyhow, during 2019 I did a 10 day trip down to Tasmania, visiting the capital of Hobart and most parts of the state.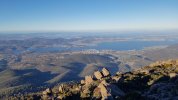 And also and a long weekend in the Northern Territory later in the year, mostly spent in the capital of Darwin and surrounds.
With those out of the way, every state and every capital visited, I started thinking that it could be entirely possible to actually visit
every
substantial settlement in Australia (And some other cool places too)
So what constitutes a substantial settlement? I'd say one big enough to have a McDonalds, which typically might be around the 7000 person mark.
Or big enough to have a Coles or Woolworths, which tend to be around the 4000 person mark.
You can sort of see they both roughly correlate to where people mostly live here.
So with the goal defined then I started thinking, what are the actual broad regions of Australia I hadn't seen either, and devised myself a bit of a hit list to bring it all together.
-Outback Queensland and Northern Territory
-The Northern Parts of South Australia
-The Central West of New South Wales
-South Western Victoria
-The Nullarbor
The biggie is the Outback trip and quite frankly I felt visiting Uluru was the most fundamental Australian place I hadn't been to.
In 2019 I had managed trips to both the US and Japan, so I had resolved to not go overseas in 2020, and to finally do the outback instead.
I mapped out a trip....
-West from Brisbane to Roma
-North to Longreach for the Qantas museum
-To Winton for the dinosaur trackways,
-West to Mt Isa home of one of the worlds biggest mines
- Across the Barkly tablelands to Tennant Creek and the Devils Marbles
-Down to Alice Springs, the town in the middle of the country
- Then Uluru and Kings Canyon
-South to Coober Pedy, a town where everyone lives underground
-To Port Augusta, the crossroads of the south
-East to Broken Hill, a famous outback town featured in Priscilla Queen of the Desert
-And finally straight shooting across New South Wales back home to Brisbane.
As destiny would have it, nobody would be going overseas anyway in 2020, and I felt rather smug that I didn't have to cancel any expensive overseas flights.
However this excitement was short lived. I had planned my trip for Easter onwards, but the Northern Territory closed their borders, and Queensland closed to New South Wales, making it impossible. I deferred until August.
Things had been calm for a couple of months, but another outbreak in NSW meant Queensland closed entry from there off, and as you can see from the map, there is no direct highway link from South Australia to Queensland (Unless you have a 4x4 to tackle the Oodnadatta Track).
I didn't feel like cancelling again, so I reshaped it, chopping off Coober Pedy, Port Augusta and Broken Hill, and instead doing a huge back track, and visiting a friend in Townsville instead:
The trip was a success, but for now I'll do the one that is most fresh in my mind...The N.W. of Western Australia.....
Last edited: