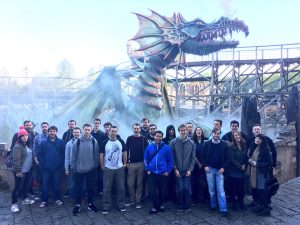 Various parks in the Netherlands & Germany

October 13, 2016 – For the first time in 13 years, CoasterForce held their signature Halloween event, GhosterForce, outside of the UK. Twenty four CoasterForce members headed to Walibi Holland, Toverland, Phantasialand and Efteling for four days of theme park fun. The group enjoyed exclusive ride time on Baron 1898 and Joris en de Draak at Efteling, a complimentary and awesome scare maze – Jefferson Manor – at Walibi Holland and a hour riding the new-for-2016 Taron roller coaster at Phantasialand! All attendees obtained reduced entry prices and managed to ride all of the coasters at every park! CoasterForce social media manager Ben Fry also rode his 1,000th coaster making the trip extra special for him.
See lots of photos and find out what the attendees thought in the Forum Discussion.