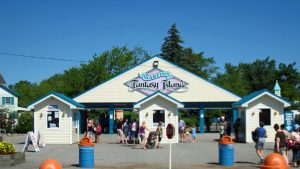 Grand Island, New York, USA
July 9, 2020 – A company formed for the purpose of acquiring and reopening the shuttered Fantasy Island amusement park formally introduced itself Thursday. Empire Adventures, led by a longtime familiar face within the Grand Island attraction, hopes to restart Fantasy Island next spring, coinciding with the 60th anniversary of the original park's debut.
Bill Baldwin, chief executive officer of Empire Adventures, was better known to countless Fantasy Island patrons over the years as Black Bart, one of the characters in the park's wild west shootout shows. "The people that are here around us are season pass holders. We've heard from them since day one, 'what are we going to do? Our park is gone,'" Baldwin said at a press conference with partners, town and state officials.
Empire Adventures is actively negotiating with banks to secure financing for the project. The price to buy the land and its remaining assets is estimated at a minimum of $5 million. State Assemblyman Angelo Morinello stated that it's so early in the process to say whether the state would provide any assistance, but he credited Empire Adventures for trying to raise their own funds rather than rely on public dollars.
Grand Island Town Supervisor John Whitney said the town, through working with the Erie County Industrial Development Agency, would be willing to provide a tax break if necessary. Even before the COVID-19 pandemic forced many businesses to close for several weeks, the town stood to take a significant hit to its sales tax revenue with Fantasy Island not opening this summer.
Fantasy Island opened in 1961, but previous owners, Apex Parks Group, closed the park in February and sold off some of its rides. Others remain, and one of the Empire Adventures partners has rides available. Marenna Amusements of Connecticut has offered to sell 14 classic rides, including a vintage carousel, to the group. The Flying Bison Brewing Company has also offered its support as a potential sponsor, perhaps within a restaurant or beer garden on the grounds.
See what our members are saying about the park closure and the possible re-opening in our Forum discussion.