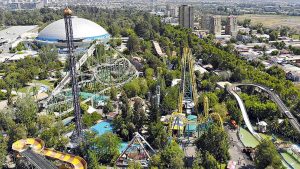 Parque O Higgins, Santiago, Chile
November 1, 2020 – Fantasilandia reopened with new safety guidelines after closing in March due to the coronavirus pandemic. In addition to the usual measures like mandatory face masks and social distancing, only season pass holders are allowed entry after making online reservations to limit capacity.
Other measures include guest temperature check upon park entry, limited operating hours (noon-6pm) and the closure of indoor dining facilities as well as attractions that take place in closed spaces or in which the distance between guests cannot be ensured. For example, the Enchanted Castle, Astroliner, Monga, Tagadá, Restaurantoon and Palacio de Cristal, among others, remain closed.
The park was scheduled to move from Parque O Higgins to a new location, as its lease with the city was set to expire in October 2022. However, that contract was extended until 2027 by a narrow city council vote last month, in spite of ongoing noise pollution complaints from neighboring residents.
See what our members are saying about how the COVID-19 pandemic is affecting the theme park industry in our Forum discussion.