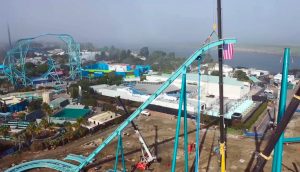 San Diego, California, USA
December 13, 2019 – SeaWorld San Diego topped off Emperor, the park's 153 feet (46.6m) tall B&M (Bolliger & Mabillard) dive coaster scheduled to open in 2020. With a top speed of 60 mph (96.5 km/h), the new coaster features a vertical 143 foot (43.5m) drop and three inversions: an Immelmann, barrel roll and corkscrew, along 2,411 feet (735m) of track.
The ride's theme is inspired by the Emperor Penguins' journey from icy cliffs to their deep dive into the depths of the ocean. As with the park's other coasters, Emperor utilizes a teal and blue color scheme that helps it to blend into the park's surroundings.
See what our members are saying and follow the construction of the park's largest coaster in our Forum discussion.