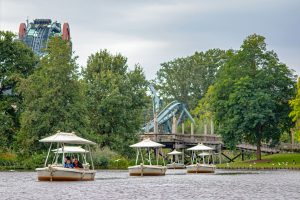 Kaatsheuvel, North Brabant, Netherlands
May 20, 2020 – Efteling theme park reopened under strict guidelines to protect guests and employees. The park was closed for two months due to the global coronavirus crisis. Park staff initiated several methods to limit crowds and stem the spread of disease, including installing screens, crush barriers and one-way pedestrian paths. The maximum number of guests admitted per day has been lowered to one-third the park's capacity and advanced reservations are required to enter.
"Above all, I am very happy that we can be open again," Efteling director Fons Jurgens said at the reopening. "We have tested everything extensively in recent days and we have become much wiser."
"By removing the fences and ribbons in some places and making adjustments elsewhere, it has become more beautiful and yet remains safe. We tried to maintain the Efteling atmosphere as much as possible."
See what our members are saying about how the COVID-19 pandemic is affecting the theme park industry in our Forum discussion.