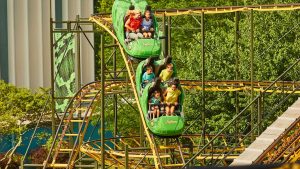 Cincinnati, Ohio, USA
September 9, 2019 – Coney Island Amusement Park, not New York City's famous Brooklyn beach-side amusement park neighborhood, will remove all amusement rides and attractions at the end of the 2019 season in order to focus on their water park operations. With limited funds and resources available to go into both parks, management determined that guests are more interested in the water park and they plan on concentrating on that operation as well as expanding it in the future.
Over the next five years the park will work on a huge renovation project that will culminate in a 100th anniversary celebration in 2025, with the hope of making it the region's "premier swim and play destination."
The historic park has a collection of classic rides, including a Zyklon coaster, a Rock-O-Plane, Tempest, Scrambler, Tilt-a-Whirl, Carousel, Ferris wheel and was once home of many well known wooden coasters. Those include classic Herbert Schmeck coasters like Twister (1926-1936), Wildcat (1926-1964) and the Shooting Star (1937-1971), as well as T. M. Harton's Figure 8 and Dip The Dips that operated in the early 1900's.
See what our members are saying about the sad news in our Forum Discussion.