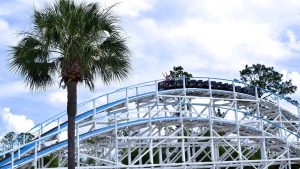 Gulf Shores, Alabama, USA
June 28, 2018 – Waterville USA announced that they plan to retire Cannonball Run, their wooden roller coaster, at the end of the 2018 season. Cannonball Run is an out and back coaster that opened in 1995 and was built by CCI (Custom Coasters International), a defunct manufacturer that built 34 wooden coasters during the 1990s and early 2000s. Cannonball Run will be the fourth of those to close, while one other, Medusa at Six Flags Mexico, received Rocky Mountain Construction's steel I-box track conversion in 2014.
Cannonball Run stands 65 feet tall (20m), is 1,700 feet (518m) in length and reaches a top speed of 43 mph (69 km/h). It uses a five car PTC (Philadelphia Toboggan Coasters) train and guests will have until September 16th to get their final rides in.
The park is primarily focused on water park attractions, but also includes a small selection of kiddie rides, go karts and a miniature golf course along with the coaster. The owner stated that the coaster is being removed to make room for new attractions, even though it runs mostly over and along the park's parking lot.