Hershey, Pennsylvania, USA
July 3, 2020 – Candymonium, the tallest, fastest, longest and sweetest coaster in Hersheypark, opened to the public. The Hyper Coaster – the 17th tallest in the USA – is part of a $150,000,000 new area development called "Chocolatetown". This is the largest one-off investment on Hersheyparks' history, which also saw the reimaging of the guest arrival experience.
"We are so excited to welcome our guests to Hershey's Chocolatetown and debut Candymonium as part of our summer opening weekend," said Vikki Hultquist, General Manager at Hersheypark. "From the distinctive Hershey's candy theme that welcomes guests to our sweetest coaster Candymonium, this is an experience that can only exist in Hersheypark."
Designed by coaster manufacturer Bolliger & Mabillard (B&M), the out-and-back style coaster begins with a heart-pounding, 210 foot (64 m) ascent up the tallest hill in Hersheypark in a candy-themed train. Each train represents the world-renowned Hershey Company brands of Hershey's Kisses candies, Reese's Peanut Butter Cups and Twizzlers twists. The coaster then dips into thrilling drops including seven camelback hills and a 123-degree hammerhead curve, and ends with an impressive panoramic banked curve around the iconic Kisses Fountain. The thrilling ride experience lasts 2 minutes and 26 seconds and spans 7 acres (28,328 m2) of Hershey's Chocolatetown.
Inspired by the legacy of Milton S. Hershey, the 23 acre (93,078 m2) Chocolatetown development also features a new home for the carousel, a virtual reality experience called "Hyperdeck" and a 10,000 square foot flagship retail store.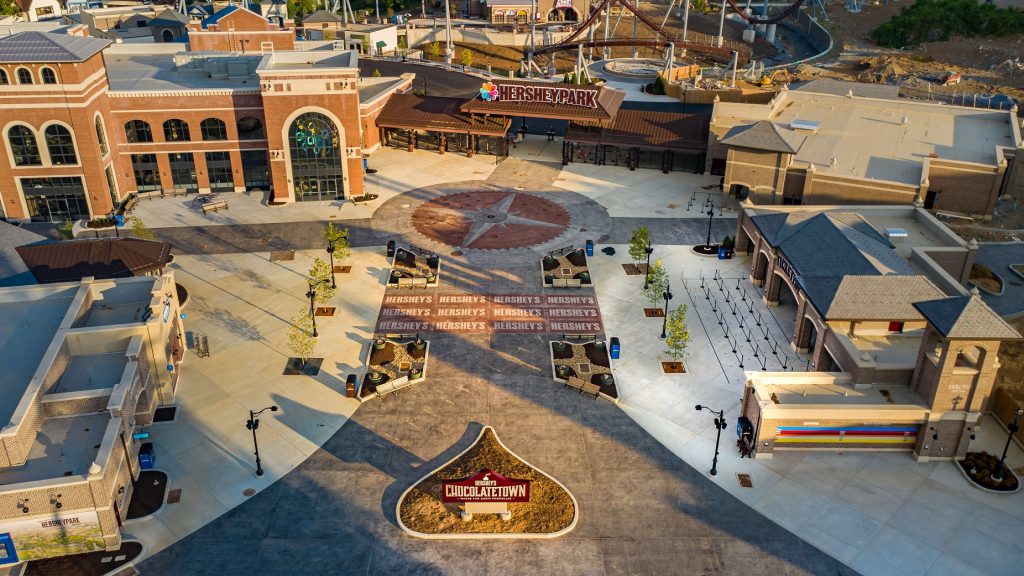 See what people think of the new coaster and area on our forums.