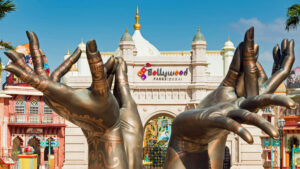 Dubai, United Arab Emirates
January 21, 2021 – Bollywood Parks Dubai reopened with nine new rides, including the world's second tallest swing ride – the Bollywood Skyflyer – which stands 460 feet (140m) high and the Wheel of Stars – a 180 feet tall (55m) Ferris Wheel. The other new attractions are more child friendly, including Taxi No. 1 – a Zamperla Family Gravity Coaster. The record setting Bombay Express, featuring the most airtime on a wooden roller coaster, will also debut later this year. A Mack Rides PowerSplash is also being built at the park.
Most of the new rides are heavily themed to India culture with the kiddie coaster inspired by Mumbai's famous cabs, the spinning Rodeo Ki Sawari, influenced by the traditional Indian rodeo experience, and Tanga No 13, a ride that centers on a trip around the Gateway of India in ornate horse-drawn carriages.
Prior to the reopening, the park did not feature mechanical rides and focused on theming, entertainment and shows. The major departure is due to the cancellation of the Six Flags Dubai park that was planned to open nearby. All the attractions from that project have been split between Bollywood Parks Dubai and the neighboring Motiongate theme park, which is getting an S&S Free Spin and Maurer Spinning coaster.
The world's tallest Starflyer is the 492 feet (150m) tall Allgäuflieger at Skyline Park in Germany, which opened in 2020 and took the record from the 420 feet (128m) tall Star Flyer at Icon Park in Orlando, Florida.
See what our members are saying about these additions and the new wooden coaster coming to the park in our Forum discussion.