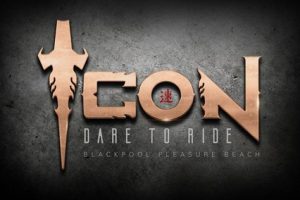 Blackpool, England, UK
April 10, 2017 – Blackpool Pleasure Beach announced the name and unveiled the logo for their new-for-2018 Mack Rides double LSM launch coaster. Called Icon, the logo features a sword as the "I", a Japanese Kanji character that means "speed" and has the tagline "Dare To Ride".
Until now the £16.25 million ($20.8 million) project was simply called "Construction 2018". The coaster will go over and around 15 of the park's other rides, including The Big One. When it opens next spring, riders will experience the same acceleration as that felt by a Formula 1 driver, and will reach speeds of up to 80 mph (129 km/h).
"This is Blackpool Pleasure Beach's biggest investment to date and will have a real impact on the town and region as a whole," Pleasure Beach managing director Amanda Thompson said. "Icon is going to be one of the most talked about, iconic roller coasters of the future. The name speaks for itself as it will be one of the most iconic rides on the planet."
Follow construction and read more about the coaster in our Forum Discussion.