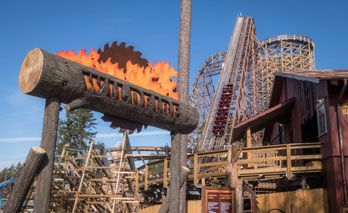 Kolmården, Norrköping, Sweden
October 28, 20116 – Europe's first coaster by RMC, Wildfire at Kolmården, has been closed in a permit dispute. Despite the park fulfilling all of their obligations before building Wildfire began, The Land and Environment Court in Norrköping, Sweden, has declared that the original permit application should have contained more detailed information and have revoked it. The operation of Wildfire has ceased until further and the park are working with the Land and Environment Court to resolve the problem.
Kolmården CEO Christer Fogelmarck said this in regard to the decision: "In cooperation with the authorities, the municipality received notice of how this process would go from the beginning. We have kept to it, and now we get a completely different answer."
In a press release (translated from Swedish), the park explained the situation in detail:
In April 2014 Kolmården announced plans to build a roller coaster of wood with the estimated premiere season in 2016. In October 2014 granted the construction and environmental protection committee planning application for the course, Wildfire. Interested parties, which consists mainly of local residents, appealed the decision. In December 2014 stopped the county government building to investigate if zoning was needed, and Kolmarden interrupted thereby preparatory earthworks for the runway. In February 2015 lifted the provincial government building permit and demanded that a detailed plan would be drawn up before the decision on the building permit could be taken. In March 2015 the County Administrative Board appealed the decision to the Land and Environment Court gave Kolmården right thing. Then chose the party concerned to appeal against the above decision to the Land and Environmental Court. Wildfire was inaugurated 28 June 2016. Today, the Land and Environmental Court announced that zoning is required. Thus terminated the building permit.
Wildfire closure Forum Discussion